Why Framebridge is the Best Custom Framing Service

What makes Framebridge different?

Before Framebridge, custom framing was an expensive, cumbersome process. Let's say you want to frame something special, a piece of art you bought on the street in Paris. In the traditional model, you would pack up your art and make your way to a frame store. Once there, you quickly discover that custom framing prices ring up at four times what you paid for your art and that the process will take weeks. So you have two bad options: go forward and pay more than you want and feel bad about it or roll your art back up and tuck it away in a closet to gather dust. Yikes.

Our founder Susan Tynan experienced this disheartening process for herself. She spent weeks trying to frame four National Parks posters. When they rang up at $1600, she was shocked. She thought, there has to be a better way. We're it.

We are the world's first custom framing company built to make both the process and the end product truly delightful. We know your art, photos, and mementos are one-of-a-kind, so we treat every piece like it's the only piece. Once it arrives in our factory, your art is handled by expert designers and craftspeople. We custom cut and craft the perfect frame for your art and photos for a third of the price and in half the time of traditional custom framing, not to mention "big box" custom framers. Plus, our mail-in and upload processes mean you can custom frame your art and photos from home.

We take it a step even further; with Framebridge, you can also directly upload your digital photos and art prints. We'll print your image with archival paper and ink, then frame it and send it back to you ready to hang. It's truly the easiest way to frame your photos. You can even upload photos directly from your Instagram feed!

We believe nothing should stand between you and getting your memories on wall. Every part of the Framebridge experience - from exceptional materials to a price you can get behind to our 100% happiness guarantee - has been intentionally designed to make framing your art easy and fun.
Want to know more?
Here's why we're a cut above the rest.
(Pun fully intended).
True custom framing.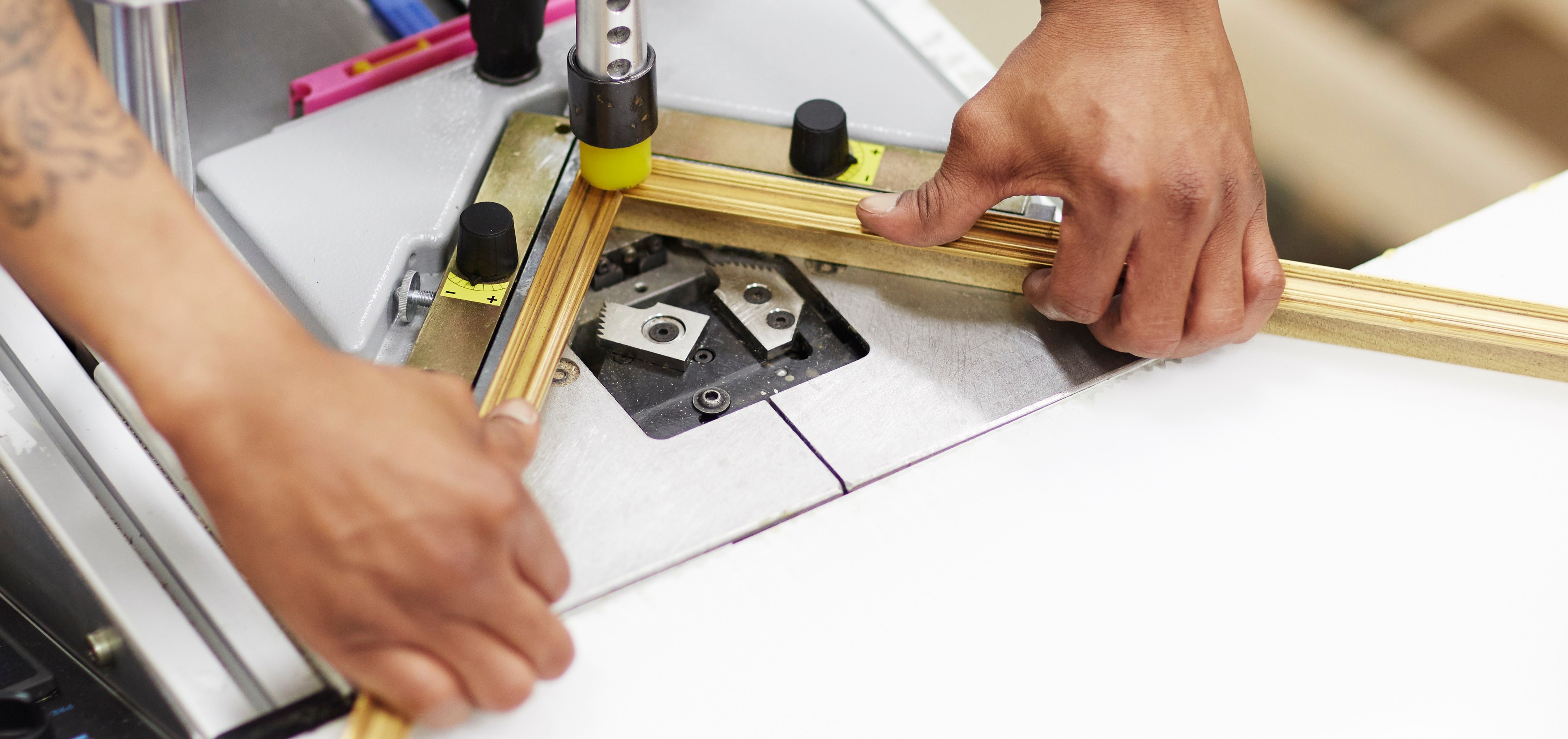 That means we painstakingly measure, cut, and craft every piece of your frame from the mat to the moulding. And "we" means the expert designers, artisans, and craftsmen who work in our U.S. factory and personally build and inspect every single frame. We create museum quality frames with premium materials - acid-free mats, archival papers and inks, and solid wood mouldings with beautiful finishes. We use acrylic in all our frames, even though it's more expensive than glass, because it offers superior protection from dust, moisture, and UV rays. All these materials add up to quality picture frames that will last a lifetime (and longer). Plus, we always include your hanging hardware so you can get your piece on the wall right away.
Clear pricing.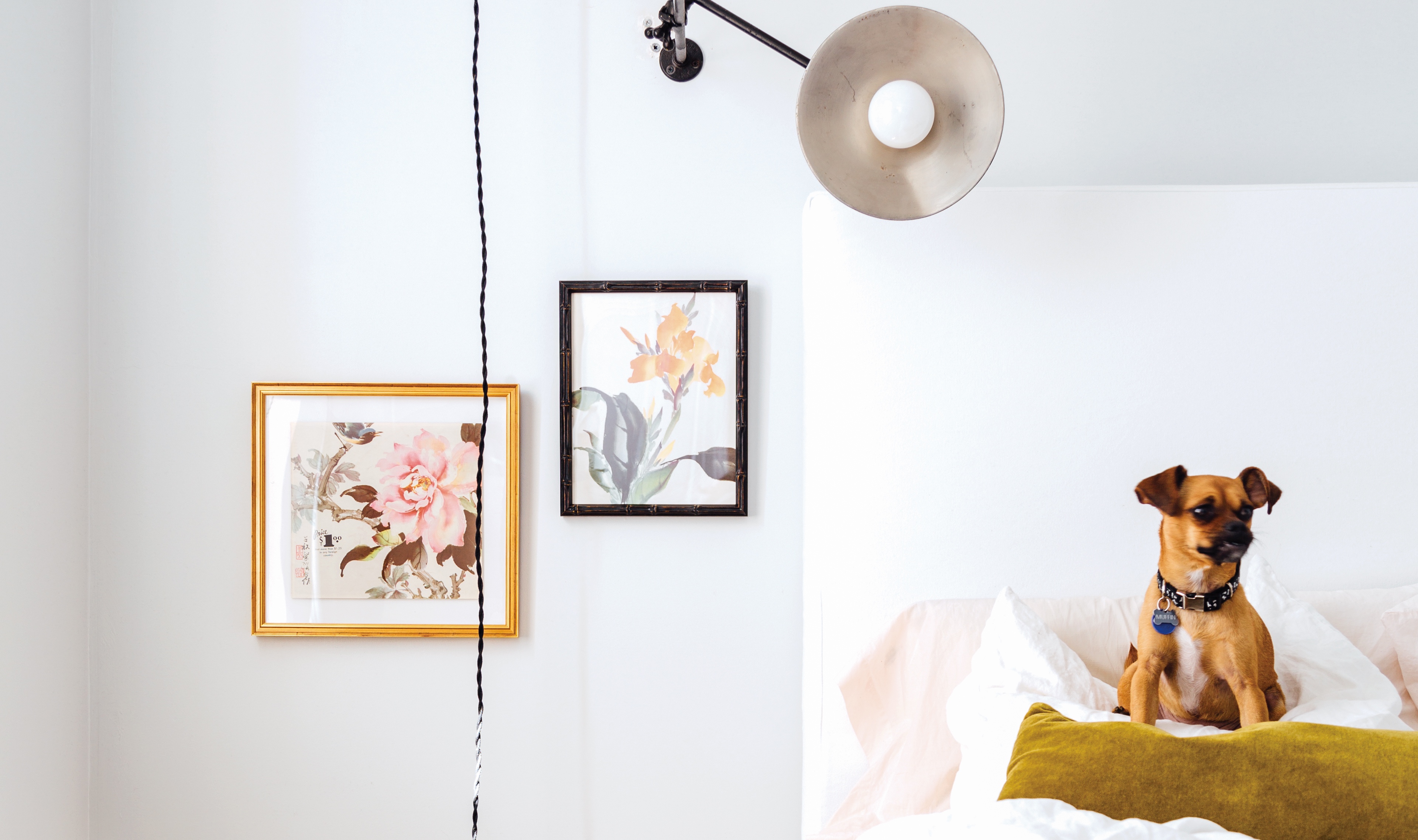 So the real questions: How much does custom framing cost? Why is it so expensive?

These questions persist in part because big-box custom framers don't advertise their prices online. You only get a quote once you bring your art into one of their stores. Because there's no standard pricing, you don't have a benchmark to tell if you're getting a fair price. For stores like these, custom framing prices can vary from location to location, but are almost always higher than they should be. Unlike them, we cut through the BS. What you see is what you pay.

Our pricing for individual frames ranges from $50 to $250 and is determined by the size of your art. That includes the printing for uploaded digital photos (if you want it), the mat, the frame, and the shipping (both ways). No hidden fees, no sneaky upcharges. You can see exactly what you'll pay with our custom framing cost calculator. Our prices are a third of cost of traditional custom framing.

No Middle Man.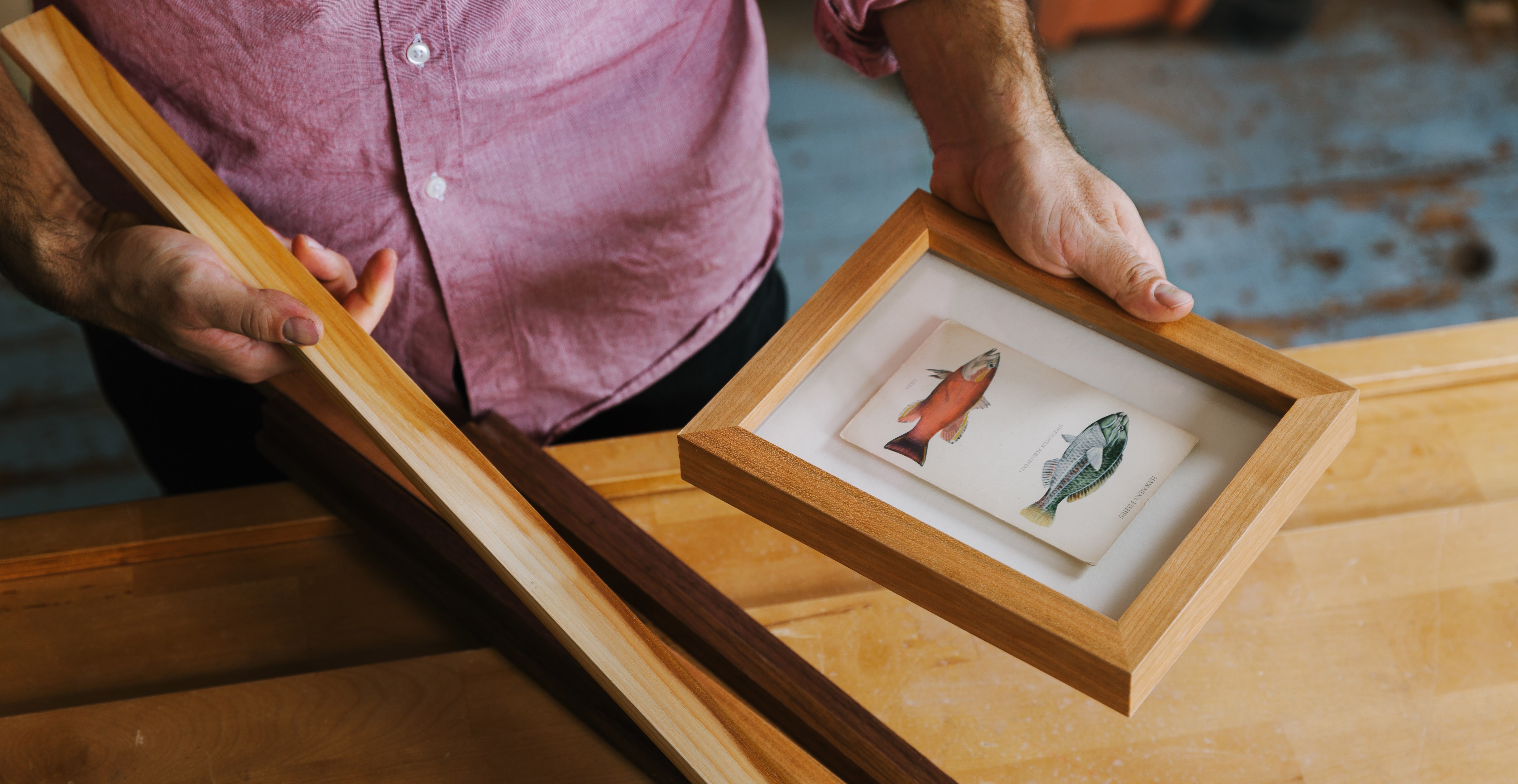 So how are our frames so affordable, you ask. They must be lower quality, right? Wrong. We source all our materials directly from the best manufacturers. By cutting out the middle men, we are able to cut down the costs and kick up the speed of traditional custom framing. Plus, we frame every piece in our Kentucky factory, where expert craftspeople (yes, real people!) handcraft and assemble each frame.

Faster than the rest.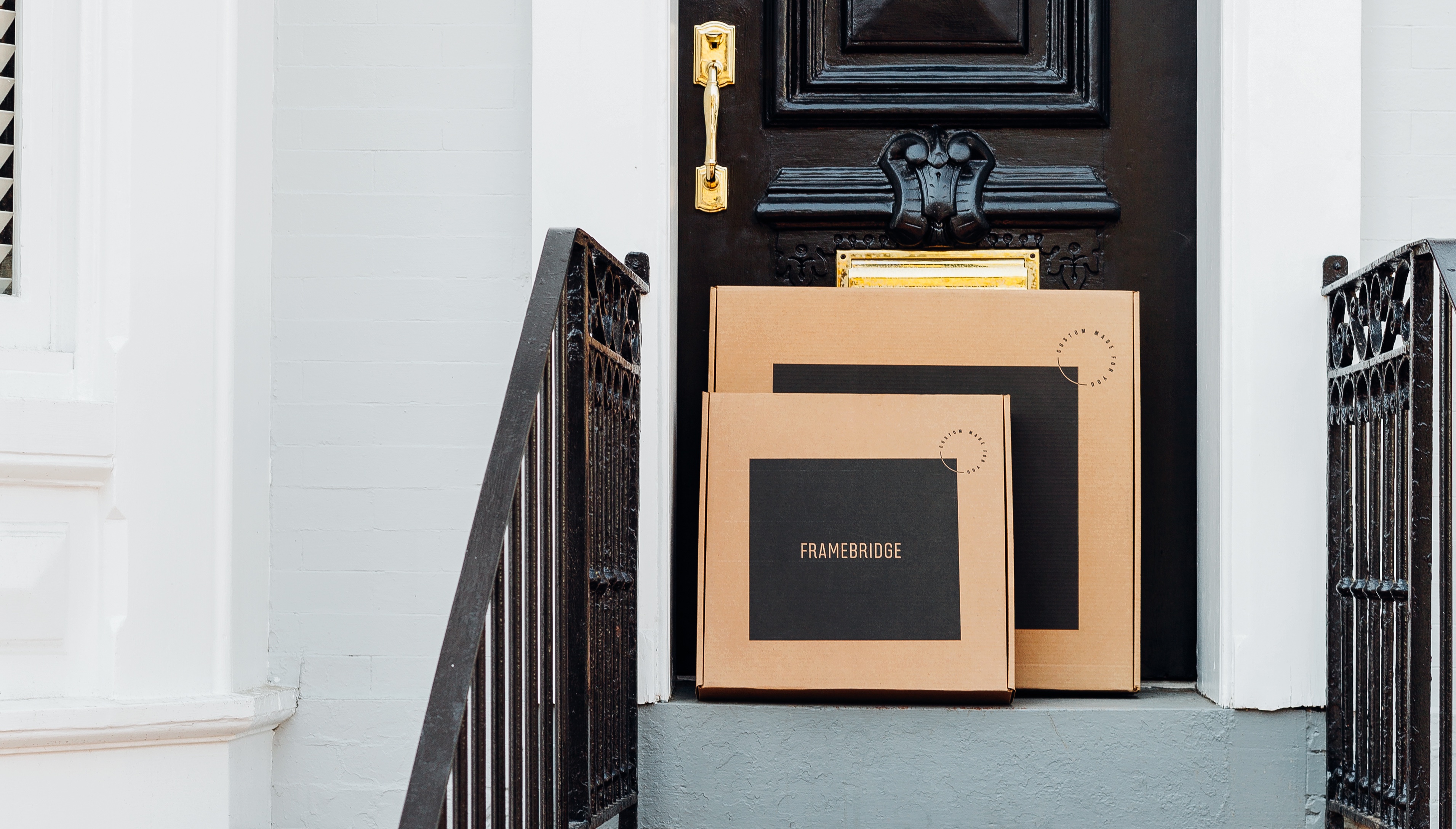 Most custom framing takes weeks. Not us. From the time you place your order, it will only take 3-7 days for printed art and 7-10 days for mail-in pieces before your framed art arrives on your doorstep, ready to hang. That's less than half the time of traditional custom framing. And shipping is always free, both ways - when you ship your art to us and when we ship the frame back to you!

We also believe in absolute transparency into the framing process. You should know what's happening to your art. You can see how it all works here.

Beautiful frames.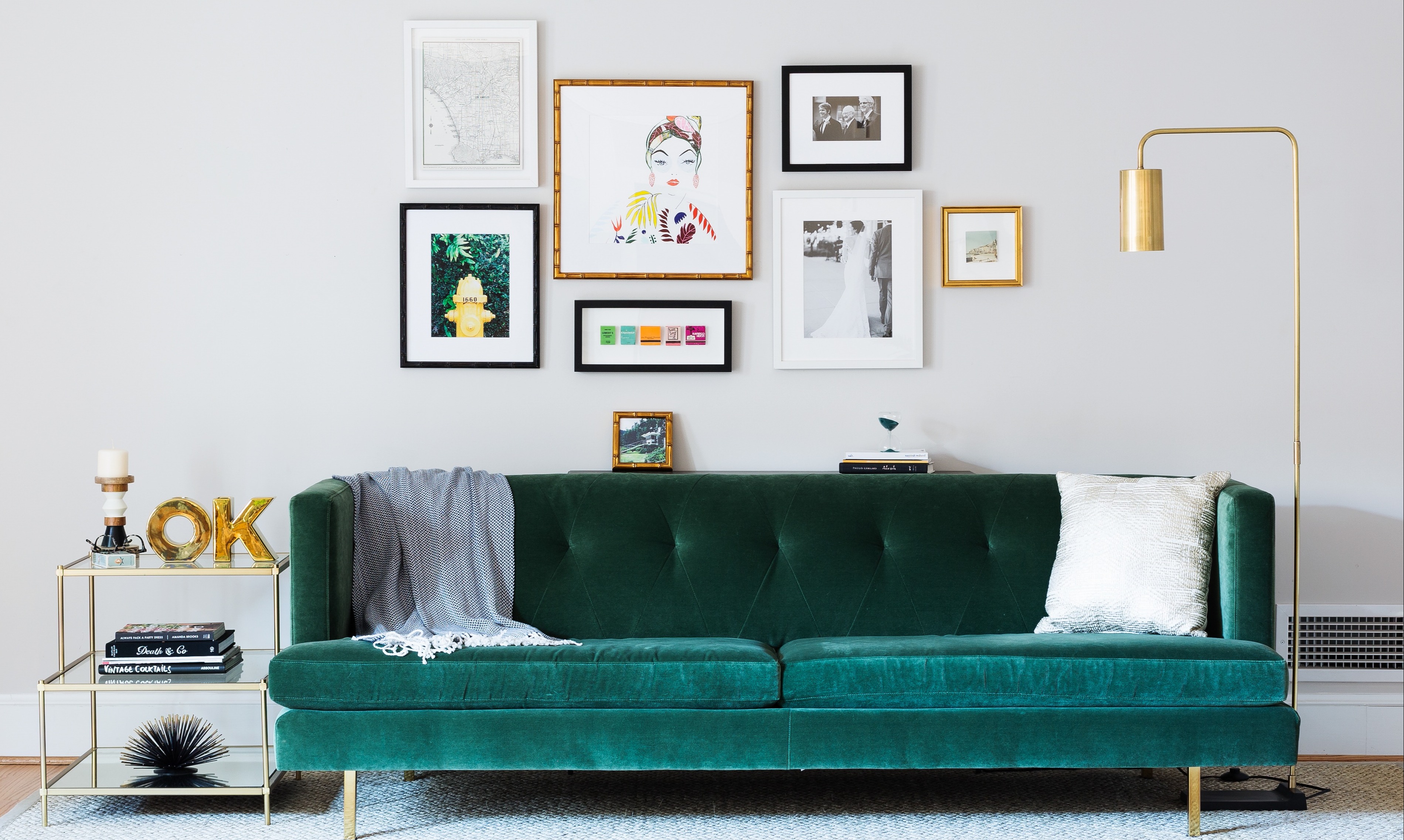 It's no secret that we're design obsessed. Our frames aren't just of the highest quality; they're genuinely beautiful styles that are trend-driven, timeless, and guaranteed to look incredible, whatever decor style you favor. Walking into a frame store can be overwhelming. With seemingly endless styles to choose from, you can start to doubt your own tastes.

We believe that you know what you like best, and with our curated frame selections, there are no bad choices. It's easy to choose a frame yourself, or if you want some help, our expert designers will give you a free consultation and help you choose the perfect frame for your art and home. Let's just say there's a reason why iconic designer Nate Berkus stands behind Framebridge as our Creative Advisor. (Hint: gorgeous handcrafted frames that are always chic.)

We're the best.


Basically, we're the best choice for custom framing, whatever your style or budget. We frame everything from art prints to original canvases to jerseys to weird stuff, like passports, flags, matchbooks, and just about anything else. If you saved it, we can frame it. With Framebridge, what you see is what you get, and we're betting you'll love what you see. Our 100% Happiness Guarantee means you can order with confidence. If you don't love your frame (for any reason), we'll make it right.

Ready to take the leap and never go back to traditional custom framing?