What We're Framing: Tattooed Mermaid
Say hello to Framebridge team member, Rob. Rob has been with Framebridge from the start, and has always been the first to help us celebrate each milestone. So, we're excited to take some time to celebrate him. Rob is an important part of our finishing team, which means he assembles all the component pieces of your frame: moulding, mat, art, acrylic, and so on. His team then seals it all up with our signature hardware and kraft paper, so our shipping team can get to work on getting your piece to you! Rob sees tons of beautiful pieces come through the warehouse every day, so we're excited to share his favorite framed piece and why it's special to him.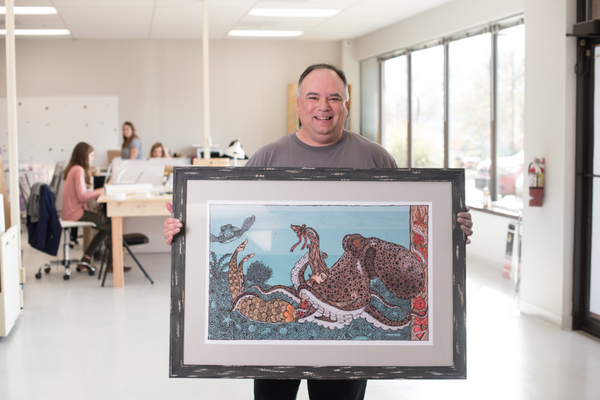 Hi! Where are you from? Baltimore, Maryland

How would your friends describe you? Energetic, fun, spontaneous. (Rob's friends at Framebridge would also add thoughtful, warm and enthusiastic)

Favorite thing? I love to bowl. I'm actually on a team!

What is your favorite part about your job? All the different kinds of people I work with. We have a tight team and I like the quality that we put out every day.

What did you frame? This is actually a gift that's going to be going to a friend of mind for a housewarming. It's from the UK, and we actually framed this artist's originals here at Framebridge. I loved it so much I searched her out.

Why this particular piece? My friend has a lot of tattoos, and you can see that the mermaid has tattoos, too. I also really like that the octopus plays into the idea of ink. We framed another one of this artist's pieces in Seabrook, and I thought it looked really nice. So, I went with Seabrook's sister frame, Hatteras.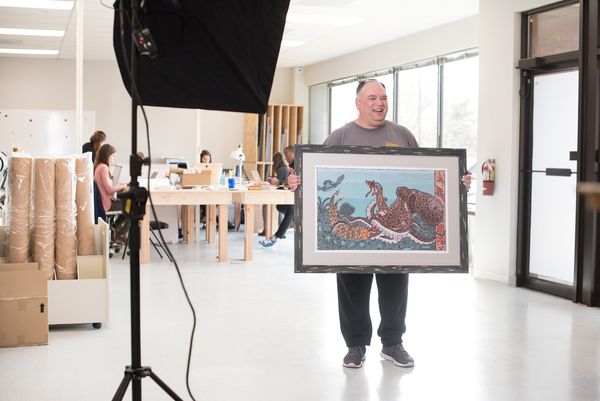 Thanks, Rob! Stay tuned for more special stories from the Framebridge Team.