What We're Framing: Red Bicycles
Meet our Product Manager and one woman tiger team, Julia! She's the brains behind all things product and customer experience and an infectious source of positivity and enthusiasm. Julia was one of the very first members of our team so we're excited to share the story behind one of the first pieces she framed with Framebridge.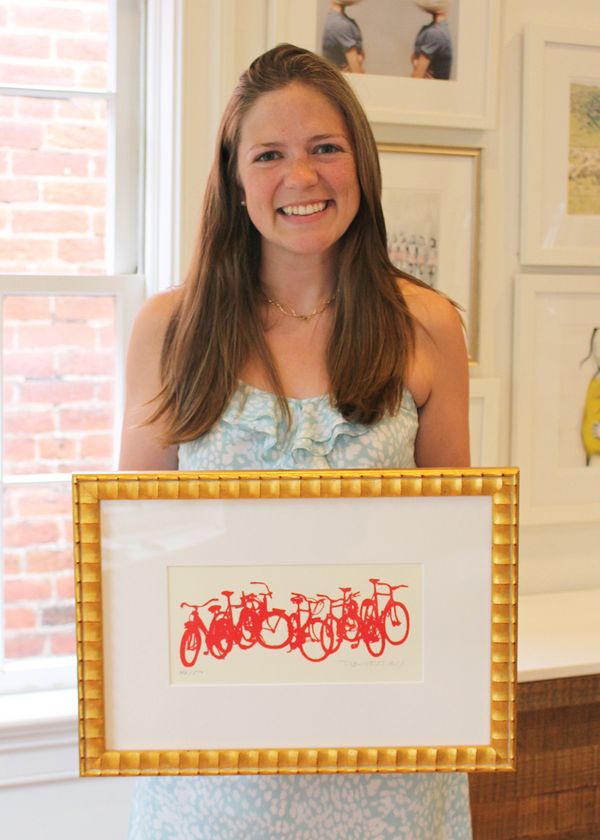 "I framed one of Taliah Lempert's Bicycle Paintings in our rippled gold Lafayette frame. I discovered Taliah Lempert's Bicycle Paintings on a whirlwind New York day trip in the Summer of 2012. I took a crack-of-dawn train from DC to New York and met Coco (one of my best and oldest friends) at a random summer street fair in Brooklyn where Taliah had a booth.
I'm an avid biker and enthusiast for all things bicycles, so I loved browsing and admiring her prints, but didn't buy anything in dread of schlepping art around with me the rest of the day. A few months later, I received a 24th birthday package from Coco and was delighted to open it up and find this awesome red bicycle print!
My print is hanging above a dresser in my bedroom, and I smile every time I see it and remember Coco and I's day of summer adventure exploring street fairs, the Brooklyn Botanical Gardens, and more!"