What We're Framing: Festival Poster
Say hello to Framebridge team member, Mark. An artist himself, Mark truly understands the value of the craftsmanship that goes into each frame. His artistic eye comes in handy in his role on our finishing team - where he assembles all the component pieces of your frame: moulding, mat, art, acrylic, and so on. And where he gets to see all of the amazing art that comes in every day. We're excited to steal him away from framing for a few minutes to share the story behind his favorite framed piece, and why it's so special to him.
Hi Mark! First things first - where are you from? Originally? Hawaii. Oahu.
Follow-up: Why did you leave?! Well, I didn't really appreciate it as a kid, but it's a great place to visit. I moved from there to California, and from California to here. I'm a bit of a nomad. I live in Annapolis now.
How would your friends describe you? My close friends? Probably as a crazy, animal-loving dude.
What is your favorite part about working here? Two things. The people that work here and the amount of art I get to see.
What's been your favorite thing you've seen come through here recently? I don't know how to describe it. I really like seeing all of the unique art, and how diverse it is. There's really good stuff that comes through here that covers the whole gamut.
So, what did you frame? This poster that I made. I did all of the art. Basically, I painted a painting, and then photographed it. Ran it through filters. Put it in Illustrator and did all the font based stuff.
It was for a three day music festival that happened earlier this year. It's underground heavy metal stuff that was happening already and I was just a fan. (Still am a big fan.) I noticed they were struggling with their art and merchandise, so I created something in a graphics program on my phone and sent it to them to help them promote. Long story short, I'm now a major part in putting on this event every year.
For this one (shown in the frame) I was the artist and the merchandiser. Because that went really well, I'm now full partners with the other person that puts this on. This is theoretically gonna end up drawing thousands of people, so I've been planning 2016 since the day this one ended. Now there are expectations. When I did this everyone was like "Oh, cool. This is awesome. Thanks." Now we have to think about where we're going from here. Kinda like Framebridge. We have to continue to be mindful and meticulous about everything.
So, have you started the poster for this year? I've done several, but none that are going to be the final. Hopefully, in the last four months I'll come up with the final.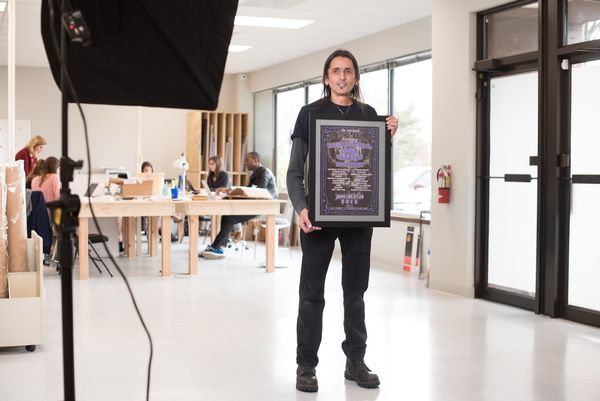 Mark's poster is in our Mercer frame with a grey mat. More on poster frames here.



---
We're so proud to have so many artists as a part of the Framebridge family.
What projects are you proud of? Show them off!