What We're Framing: Australian Bird
We've been sharing stories of what our customers and artists frame, so we thought it was time to share what we frame! Today, Claudia, our Head of Content, is sharing one of the first things she framed with Framebridge and why it's meaningful to her.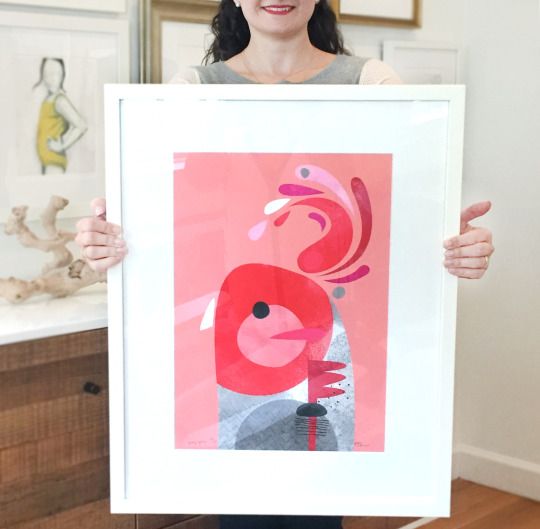 "One of the first things I framed with Framebridge was this colorful Australian bird print by Pete Cromer.
And here's the story: I had started a blog a couple of months before called The Boss Aesthetic. The blog is about art and design, from both a creative and a business perspective. It combines my love of finding and sharing new artists and designers with my thinking on how art and design inform business. (Can you tell why I love working at Framebridge?!)
I posted Pete's work early on and this bird stuck out as one of my favorites. So, I finally decided to buy it for myself. It was the first thing I bought that I had featured on the blog and it was a great representation of the aesthetic of the work I love - colorful, cool and clean. I chose our Irvine Slim frame because I love the polish of it, and felt the clean lines would let the print shine. It sits on my desk at home with a bunch of other prints I've collected over the years.
Recently, a friend came over and as I was showing her my new place she stopped by my desk and said, "it looks like The Boss Aesthetic!" I loved that! I loved that by moving something out of my virtual world and into my physical space it made it more real and that she immediately connected it back to the blog. It kinda clicked for me then that Framebridge had helped me connect my virtual home and my physical home in a really special way."