My (Love) Story: Burgers
We told you last week that month's stories were all about what you love and what you frame. Last week we had Larry talkin' travel. This week, meet "burger pervert" and friend of Framebridge, Mathew Ramsey. He's a food lover, chef and stylist and today he's dishing on his first (burger) love. We had so much fun talking to Mat, and we thought it was appropriate to take a page out of his book... er, cookbook, and describe him the way he describes his Spamela Anderson burger: "stacked with all kinds of salty, sweet and is not afraid to flaunt it." Meet Mat.


[caption id="" align="alignnone" width="5806.0"]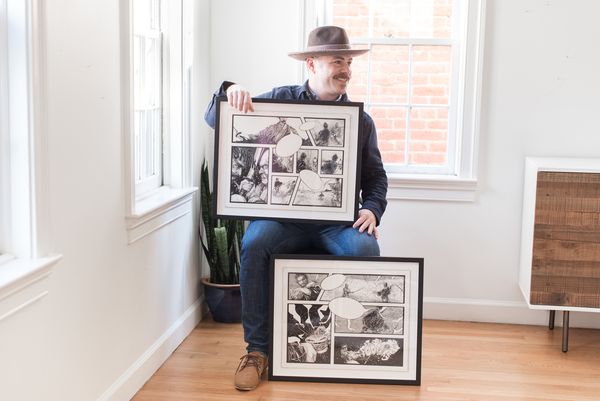 Samurai burger comic by Martin Swift in our Mercer Slim frame. [/caption]



Where did your love of burgers begin?
The first Big Mac I ever had. I was five years old and my grandmother took me out when my parents were out of town. Oh man. Eating that first Big Mac. I ate the whole thing. It was my first love. I couldn't get enough of that secret sauce and to this day it still kinda makes me a little weak in the knees.
Fast forward. How did you get into cooking?
When I decided to go to culinary school I was actually working at National Geographic. I did this ten day walk without food to raise funds for schools for Afghan Girls. It was during this period where I was literally starving that I realized there's this whole other passion I haven't explored. So, I quit my job when I got back, and moved out to the west coast to go to culinary school at 27.
"I couldn't get enough of that secret sauce. To this day it still kinda makes me a little weak in the knees."
Where did the idea for PornBurger come from?
Like most great ideas, it came while I was in the shower. It was winter, and I was looking for a challenge. I was fighting the winter doldrums so I started this burger blog, PornBurger, and it helped me break through them. I made one fantastical burger a week. It forced me to work with new ingredients, try new techniques, and work on my photography skills. It was the perfect project for me to get all of my passions out. My background is in photography, video production, and cooking. It allowed me to do all of those things.
Tell us about what you framed.
I framed these two pieces of art by Martin Swift - he's a local DC artist extraordinaire. I commissioned him to do this piece: a burger comic. The only two criteria were that there had to be burgers and there had to be samurais. I have a book based on the blog coming out in May, and these will go on the front and back pages. I told my publisher from the get-go that I wanted a burger comic in the book. (I also wanted there to be burger trading cards but that didn't make the cut.)
So, at the end of a long day, when you're tired and don't want to cook - what's your go-to meal?
My biggest poison is White Castle cheeseburgers. You microwave them and they taste just as good. Their patties are created to be steam cooked so it's a perfect candidate for the microwave.
---
Hungry? (Yes. Us too.) Check out Mat's awesome burger blog and Instagram for more. And pick up his book here!