Vintage Art Framing with Lofty
We're always on the lookout for gorgeous, unique art, and we can't deny that vintage art pieces hold a special place in our hearts. Thankfully, our friends at Lofty have given us all a head start by building and curating an evolving collection of vintage art and antiques that are reviewed and valued by their network of experts. These experts have handpicked some of their favorite Lofty prints, photographs, and posters for you, and we've chosen two different Framebridge custom frames to complement each. Check out the combinations below and visit Lofty's blog for even more pairings and inspiration!
1. "Lolita" Movie Poster, 1962
The movie poster for Stanley Kubrick's 1962 film adaptation of Vladimir Nabokov's Lolita is one of the most memorable and provocative images in cinematic history.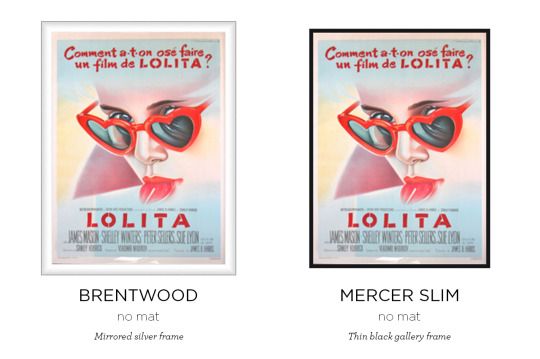 frame or very casual and clean with our Mercer Slim gallery frame. Both are sharp and pair perfectly with the piece.
2. Virgil Apger, Portrait of Elvis Presley, ca. 1957
Shot by legendary Hollywood photographer Virgil Apger, this image of Elvis Presley was used as a promotional still for the MGM film Jailhouse Rock, co-starring Judy Tyler.
frame (so industrial it literally looks like it has screws in it) and with our very warm, delicate Newport antique silver frame, which pulls out the soft tones in the photo.
3. LeRoy Neiman, "Florida Gators"
Leroy Neiman is best known for his impressionistic sketches of American sporting events.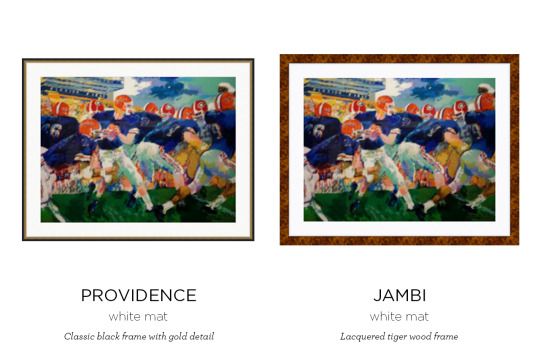 frame (think diplomas, awards, etc.) and we're totally into the masculine Jambi tiger wood frame option, too!
4. Jean Dubuffet "Painted Sculptures" Pace Gallery Exhibition Poster
French artist Jean Dubuffet's interest in art brut, the art of the insane or that of an untrained person, has distinguished him as an outstanding innovator in postwar European painting.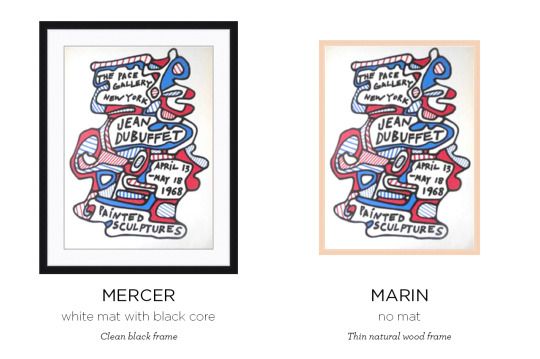 frame is given an extra punch here with a mat with a black core (adding a clean black line on the mat opening), and we love the Danish modern feel of the bright poster with our Marin natural wood frame, as well.
5. Frank Romero, "Untitled (Car)", 1986
As a dedicated member of the Chicano art collective, Los Four, Los-Angeles based artist Frank Romero has produced numerous artworks that have helped define and promote Hispanic culture.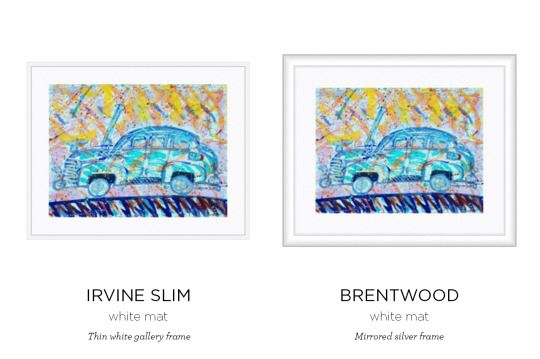 frame with a white mat (who doesn't love white on white?), but we also really like it with our glam Brentwood mirrored frame for a little more drama.
6. Bradford Washburn, "South Crillon Glacier Alaska"
Bradford Washburn was Founding Director of the Museum of Science, Boston, where he worked for 40 years. Known as a mountaineer, explorer, cartographer, and aerial photographer, Washburn traveled the world for eight decades, documenting diverse landscapes including the Grand Canyon, the Alps, Mount McKinley and the Matterhorn.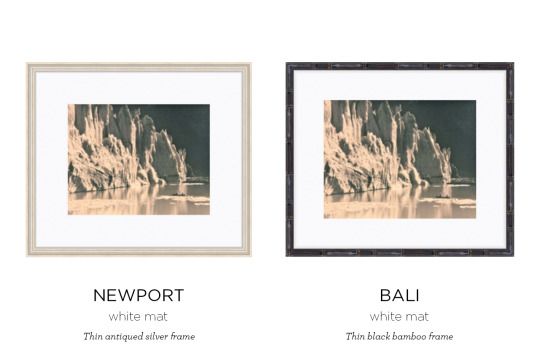 silver frame and Bali black bamboo frame with this stunning piece.
---
Lofty is offering Framebridge customers $50 off orders of $1000 or more on their site using promo code FRAMEBRIDGE50. Have fun!