This Wall Deserves a Grammy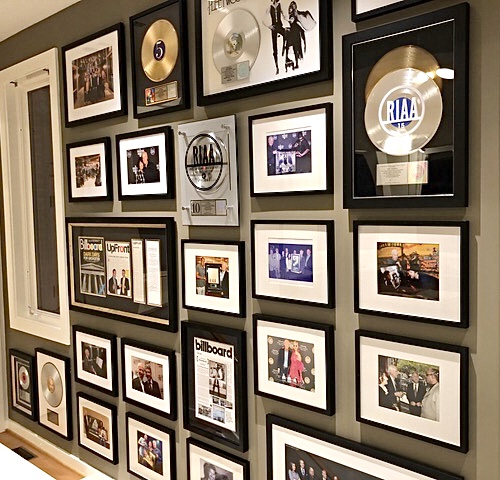 Fair warning: there's a lot of name-dropping ahead.
From a young age, music was very important to Cary Sherman. He considered a career as an artist, but recognizing the slim chances of "making it" in the industry, he ultimately became a lawyer instead. Luckily, music found him. As a junior lawyer, he ended up representing the Recording Industry Association of America (RIAA). "It was a totally random assignment, which could have gone to anyone, but it changed my life," Cary says. It led to 45 years of continuous work representing record companies and ultimately seven years as chairman and CEO of the RIAA.
He's met countless artists and dignitaries, received awards, and presided over the recording industry during a period of seismic change (hello streaming). When he retired, he came away from a long career with boxes and boxes of music memorabilia that had filled his office. Photos with Stevie Wonder, Billy Joel and Jon Bon Jovi; an original poster for The Beatles concert at Shea stadium in 1965; and perhaps the crown jewel: a faux platinum award from Rihanna she gave to him as a gift after a photoshoot—"Congratulations on your Platinum Smile!!!" it says.
On Rihanna: "She's not just warm and wonderful, she's also a class act."
What to do with all of his amazing photos and awards (real and faux)? Put them in a gallery wall, of course. "I realized that they would just gather dust down in my basement unless I made the effort to re-hang them," Cary says, "My daughter suggested using a wall over a staircase in my home office for this collection because they're such interesting, fun and colorful pieces. I loved the idea, but I was completely intimidated by how to arrange a gallery of over 50 pieces!"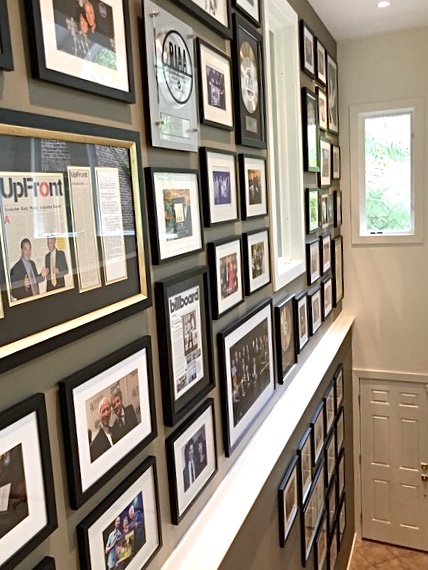 Cary worked with our designer, Kacey, to create an epic two-story gallery wall filled with stories from his years in the recording industry. With so many varied pieces, she kept things consistent and sophisticated with mostly black Mercer and Mercer Slim frames (Thinking about a big gallery wall of your own? Find out more about our Gallery Wall Service and already designed gallery walls).
So just one question left: when's RiRi coming over to admire the wall?