The Emily Henderson Way to Shop, Frame and Hang Gallery Walls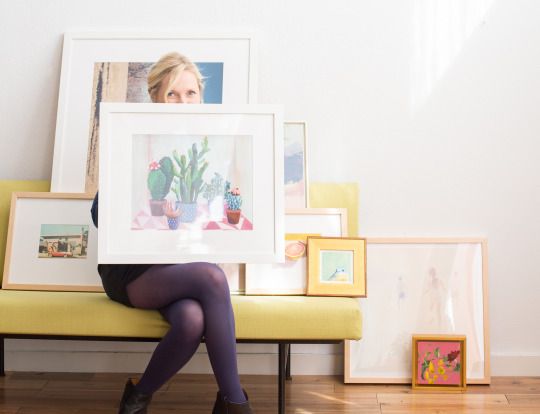 We all love the idea of being surrounded by a thoughtful, curated mix of beautiful art, photos and mementos, but the reality is that the process of buying, framing and hanging art can feel pretty intimidating. But, with the amazing online resources available today, it really doesn't have to be. Design genius and our top blogger crush Emily Henderson recently teamed up with Etsy and Framebridge to curate and install two gorgeous gallery walls--one bright and poppy, and one with a little more attitude.
| | |
| --- | --- |
| | |

Emily sourced a diverse collection of Etsy art pieces for this project, ranging in medium--photographs, art prints, wood block and canvas paintings, color--fresh pastels paired with punchier brights and muted, deeper blues and neutrals, and size--from tiny 5x5's to a giant 16x40 canvas. To wade through the many, many works Etsy sellers are offering at any given time, she carefully narrows her search using specific search terms and filters. "Abstract, watercolor, and vintage painting are some of my favorites, then I might put in a color to narrow it down a bit. I tend to go more for originals so I'll use that filter." In the end, she had a rich mix of works from some amazing artists.
Next, Emily chose how she wanted to frame each piece using Framebridge. She chose frames that worked uniquely with each piece, but stuck with a few colors for each collection (whites, naturals and golds for the poppy wall and dark blacks and browns with a hint of bamboo for the moody arrangement), and incorporated complimentary canvas floater frames into both walls. "We frame first for the art, not the home, but we always consider the collection together and make sure that there isn't all of a sudden a random bright blue frame in there. Generally we keep the frames simple so that the art pops and the collection isn't distracted by one million frames. If there is some black in the piece then I might go for a darker frame, but if the whole piece is colorful and airy then sticking to a lighter frame is always a good idea." Words to live by, if you ask us!
In the end, both walls were stunning. We'd expect nothing less from Emily, but it was wild to see them come to life! Now you'll have to excuse us as we refine our Etsy searches for the next pieces to frame for our office!
We are huge fans of Etsy art and Etsy artists! If you want to frame something you found on Etsy, send us an email at support@framebridge.com and we'll help you ship it directly to our studio to be framed.
Are you an Etsy artist? Framebridge has referral and wholesale opportunities that make it easy for Etsy sellers to offer custom-framed versions of their work. Learn more about our programs here.
Shop Emily's Etsy and Framebridge Picks: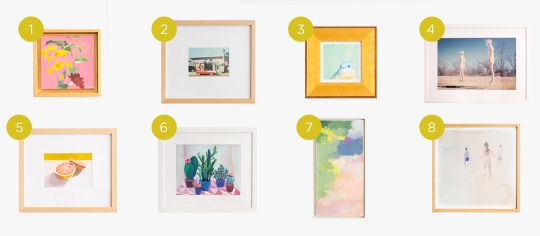 1. "Happy Day" by Leah Jesse Arts in Valencia Gold Floater Frame (original art; similar options available)
2. "Laguna Beach Photograph" by Sybil Maxine in Marin Natural Wood Frame
3. "Will You Please Put Down That US Magazine and Listen to Me" by Mincing Mockingbird in Potomac Gold Frame
4. "Metaphysical Libertarianism" by Suzanne Koett Photography in Irvine White Frame
5. "Grapefruit 12'' by Elizabeth Mayville in Marin Natural Wood Frame
6. "Cactus Garden" by Art and People in Irvine White Frame
7. "The Drive Home" by Source + Summit Co. in Palermo White Floater Frame (original art; similar options available)
8. "Last One In" by Kiki and Polly in Marin Natural Wood Frame

1. "Above" by Kai Samuels-Davis in Bali Black Bamboo Frame
2. "Long Abstract Original Canvas Painting White Purple Yellow Green" by Sofie's Gallery in Heathrow Black Floater Frame (original art; similar options available)
3. "Picnic in the Park" by Kiki and Polly in Mercer Black Frame
4. "Original Nude Figure Painting Sketch" by David Lloyd Gallery in Bali Black Bamboo Frame (original art; similar options available)
5. "Dune" by Pamela Munger in Heathrow Black Floater Frame (original art; similar options available)
6. "Coast" by Anna Magruder in Tacoma Dark Wood Frame
You Might Also Like...