Pride Wall: "Standing on the Shoulders of Giants"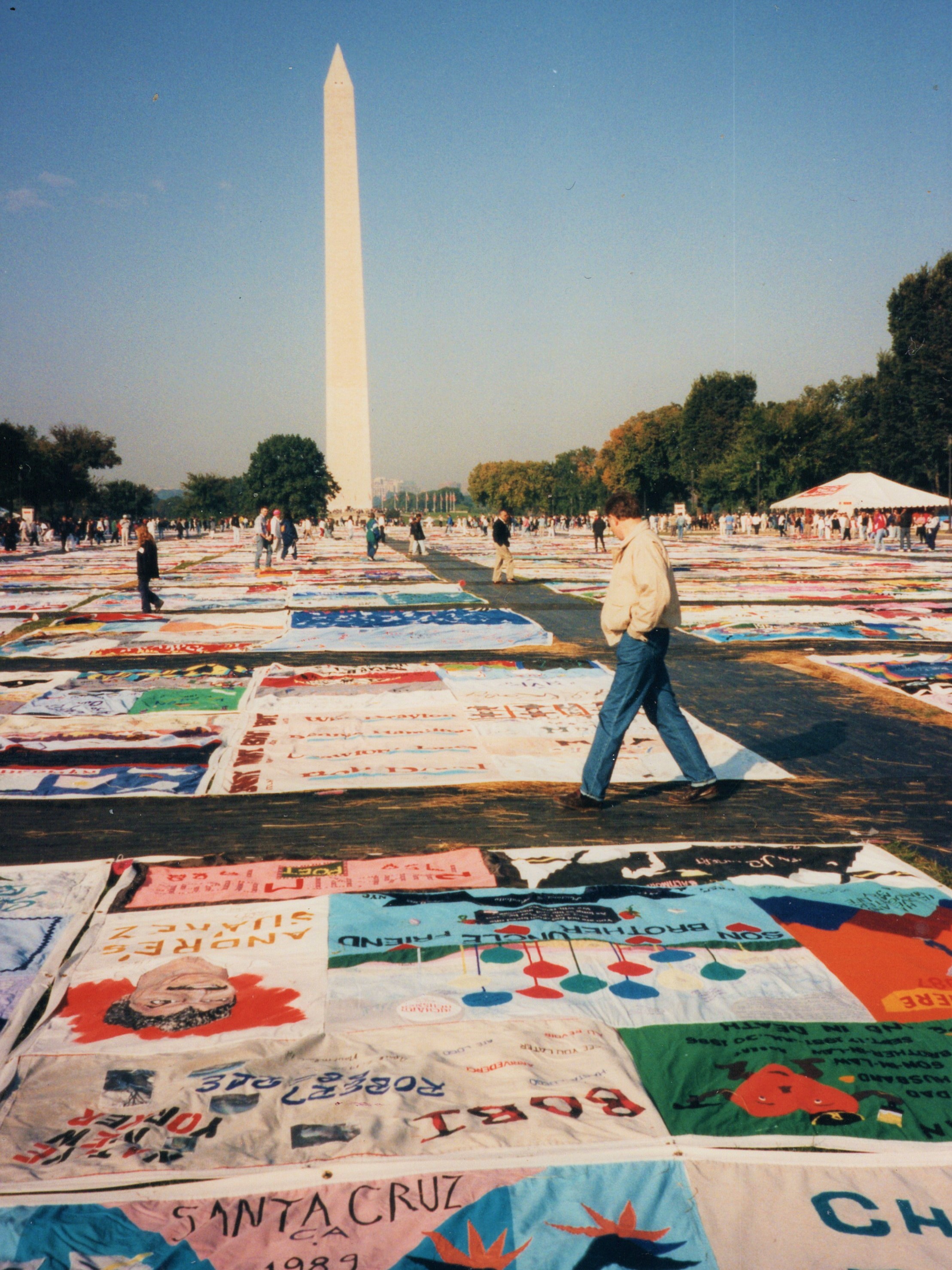 Alan Zingale and Michael Hallinan met in New York City in 1997, but both had life-changing experiences with the NAMES Project AIDS Memorial Quilt while it was on tour in Washington, D.C. the previous year.
The Quilt was first conceived by gay rights activist Cleve Jones with panels created as memorials for victims of the AIDS crisis. Since 1987, over 14 million people have visited the Quilt at thousands of displays worldwide, but the 1996 display in Washington, D.C was the last in its entirety. It remains the largest community art project in the world.
We spoke with Alan and Michael about their relationship to the Quilt and the pieces they've contributed to our Pride Wall.
What was your experience with the Quilt tour?
Alan Zingale: Michael had three encounters with the Quilt. I only saw it during its last full showing in Washington DC. I felt compelled to go there because I had lost my best friend the year before. So Michael and I were both there at the same time and volunteering, but we never knew each other at that point.
Michael Hallinan: The first time was in Seattle where I lived. That was just after Stan's [my partner's] best friend died. He was the first casualty in Seattle. The next one was the first showing of the Quilt in D.C. and at that time Stan had just been diagnosed as HIV positive. And then the last time I saw it (in D.C.), Stan had just died.
We probably would have been married like Alan and I are now, except of course back then we couldn't.
How did you two meet?
AZ: I was living in Hawaii at the time. In 1995, my best friend Jeff Michaels passed away in September. I was taking care of him most of that year. I didn't know much about the Quilt, but when I found out about it, I felt really compelled to do something. I didn't have a Quilt panel because this had happened so recently. When I got there I literally volunteered on the spot. I sold T-shirts at one of the concession vendors on behalf of the NAMES Project and read names of victims from many different stages on the Mall. And again, Michael and I were doing the same thing but at different stages, different times.
We didn't actually meet until I moved to New York and Michael was working on a special project for Newsweek. I met him in New York and we dated in 1997.
I think what makes the Quilt so important to us is that was a common thread of our experiences even though they were different. We lost very close friends, in fact Michael lost his partner. Jeff Michaels was almost like a surrogate parent to me. I was not fully out at that point. For me, it was as if I'd lost a parent. The Quilt gave me something I could look at and see that people were not just standing around. They were protesting and trying to get the attention of the government for funding and action. So I got on that plane in October and I didn't know exactly what I would be doing but I knew I had to be there.
What was the general feeling in D.C. when you saw the Quilt? Do you remember any of the experiences other people shared when you were there?
MH: Stan had just died so I hadn't made a quilt for him yet. I was walking around and I remember one of the quilts said: "Oh honey, I had a wonderful time." I adopted it as Stan's quilt, it was so like him.
AZ: What was striking to me was the reverence with which this all took place. It wasn't like rolling out the fabric by some third party organization. In almost all cases, the quilts were laid by people that either made them or had connections to the people they were made for. There was an exquisite ceremony that took place every time a section of the Quilt was laid. The way I recall, people held hands and they walked around the area where they were going to place the quilt. They bowed their heads in reverence. It was definitely a spiritual experience, but it wasn't an exuberant experience. At that point it was difficult to say it was about celebrating people's lives. Everyone was at different stages of grief. It was done with incredible dignity.
People spent time seeing as many quilts as they could. The more you could see, the more you could feel connected to families and friends that made these quilts. Whenever I could break away from selling T-shirts, I would go look at them. Every quilt told a story—a very personal story. It gave the impression that this disease was indiscriminate. It took people at the height of their career. It took people before they reached the start of their career. It took people that had lovers, like Michael. And it took people like myself who at that age were just coming into their own. It was terribly frightening and there was an urgency to it.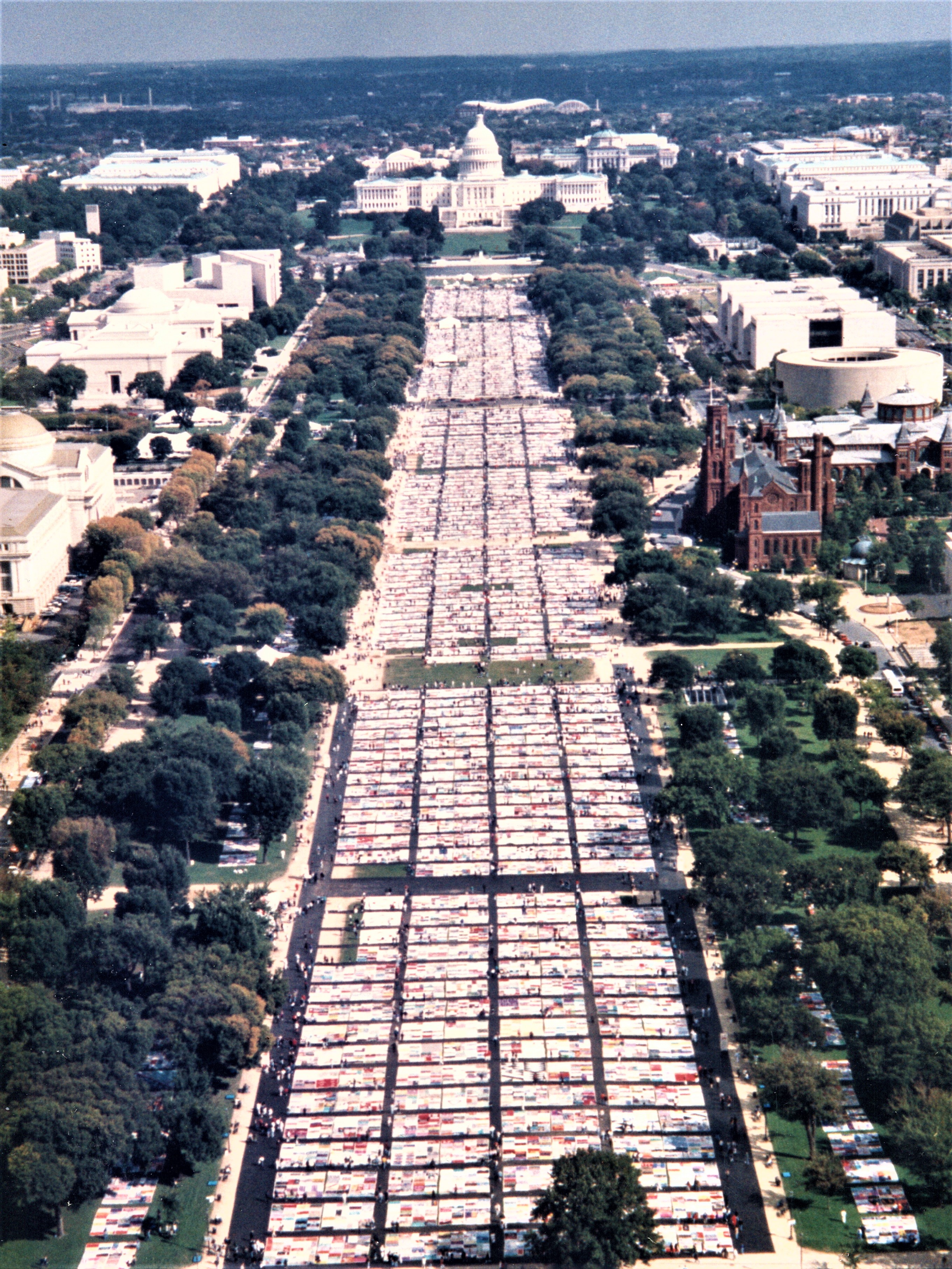 When you left D.C., at the end of this experience, how did you feel? Were you ignited to further action? Was it a part of your grieving process?
MH: It was a statement to me how many people were victims of this disease because all those quilts were a very small number of people who had actually died.
The Reagan administration had ignored it for so long. It spread so widely. So there was anger, too. Seeing all these quilts laid out. It didn't have to happen. But it did.
AZ: Many of my friends and coworkers didn't understand why I went especially since I didn't have a quilt, it seemed kind of odd. And coming back, it was very clear to me, you didn't need to have a quilt to feel the emotion, to feel the grief, to feel the loss of people that never got the opportunity to do so many things.
There was a point in our wedding vows where we said "We are standing on the shoulders of giants." We are so lucky because so many other people never had the opportunity to show their love to each other and do it a public way with the rights we deserve. We celebrate Pride with the knowledge that we have the opportunity that these other people didn't have.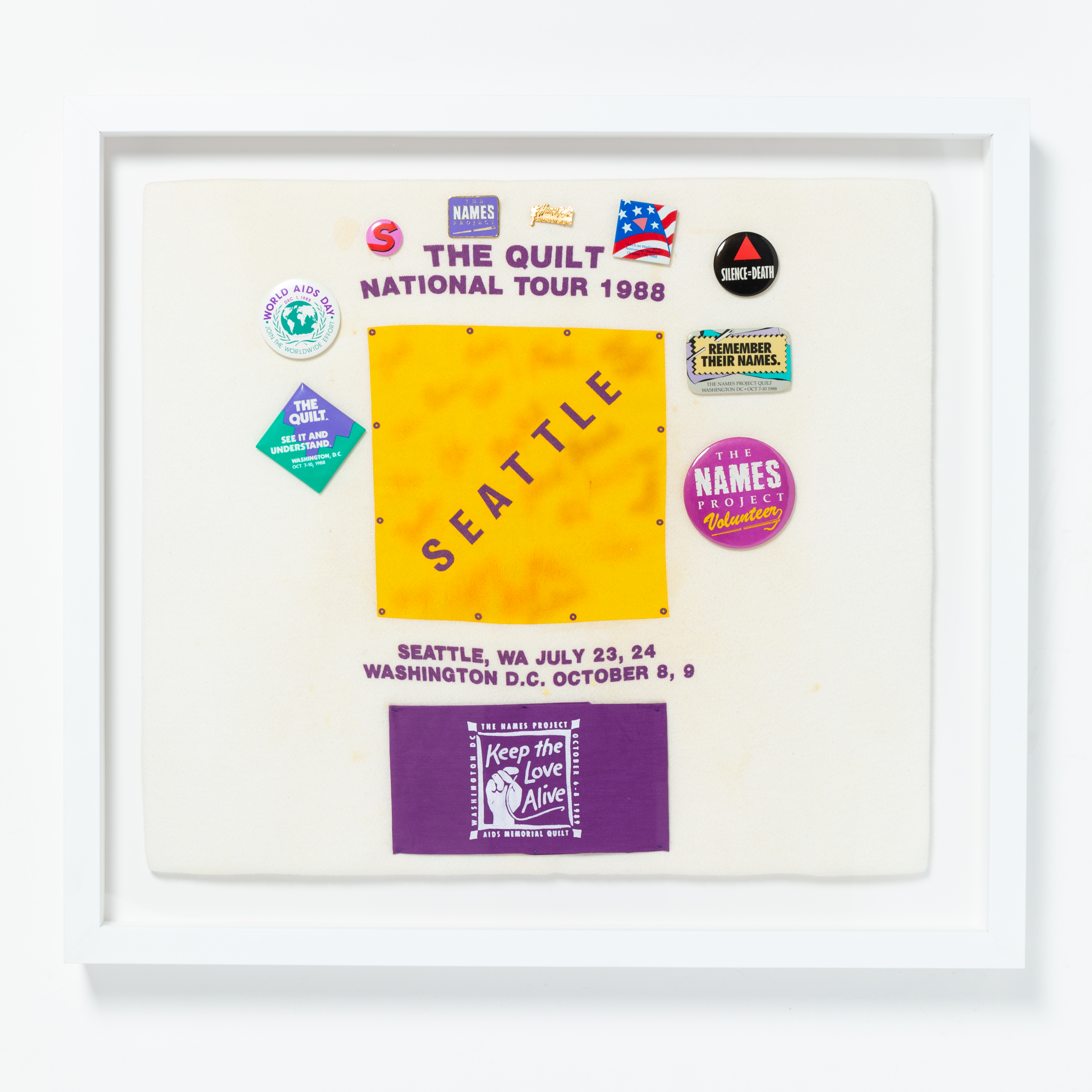 Can you speak about the sweatshirt you framed from the Quilt tour?
MH: The idea was that I went to Quilt showing after Quilt showing, I would pick up these mementos and put them on the sweatshirt. In that way, it's sort of like a memento of my relationship to Stan and also to the quilt. I wore it whenever I went to see the Quilt.
AZ: It's interesting because some of these photos I took from the Washington Monument, of people laying the quilts, they were sort of buried away. Even Michael's sweatshirt, it wasn't something we took off the wall and sent to you guys.
I was concerned about sending a submission which seemed to me like such a downer. And yet, it had a connection to us to a very positive thing in finding each other and getting married. Knowing that we were so inspired by the people that went before us. In a way, I suppose there are various different routes to get to where you want to be.
See these pieces and many others on our Pride Wall.