Molly and Sara Jo frame three generations
The only thing better than seeing family photos come through our studio, is hearing the stories. As you know, as we get ready for Mother's Day we've been hearing and sharing a stories from real moms that inspire us. Today, we get dig deep into the story behind three generations of women. Meet Molly, her Mom Sara Jo, and her sweet daughter Lucy. They're reflecting on what motherhood (and grandmotherhood) has meant to them, and how they've captured it in a frame.
---
Name: Molly Nizhnikov
Occupation: Operations Manager at LookThink
Favorite things: Lucy, reading, taking long walks around DC, and vacations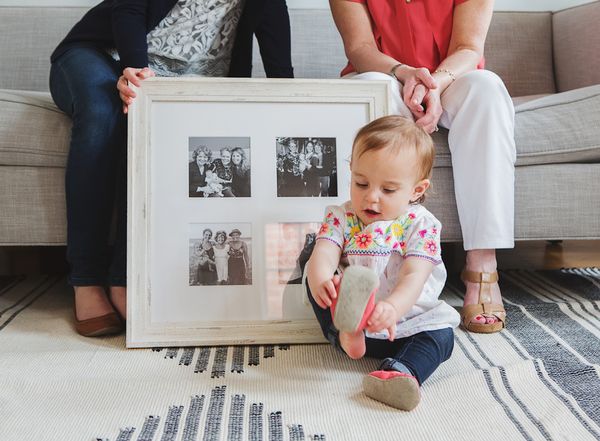 Multiple mat opening piece in our Seabrook frame.



What's a day in your life like? It's pretty hectic these days - but being busy is my happy place. We've figured out how to get ready and entertain our 16 month old in the mornings, so getting out the door isn't too bad. I listen to music on my walk to work to reset and switch my brain over to work mode. The day races and then 5:30pm is here before I am ready for it and I hightail it to daycare. My heart bursts everyday when Lucy runs into my arms. My husband and I have made a real effort to be home and ignore work from 6-8pm so we can really enjoy our time with Lucy.
What have you learned from being a mom? My husband actually said it best the other day - being a parent is so much harder and so much better than you could ever imagine. The biggest thing I have learned is that I am capable of a lot more than I thought and I really believe that the challenges I have faced as a mom have made me a more competent and confident person all around.
From Molly's mom: It is heartwarming for me to sit back and watch Molly as a Mom. My Mother had a very close relationship with her Mother who lived to be 100. I had so hoped she would have a little girl in order to continue the legacy of raising a daughter who becomes a best friend.
From Molly's mom: The first photo is from when my granddaughter Lucy was born. Once Molly called and said she was in labor, we jumped in the car and drove from Virginia Beach to DC. We made it there just a few hours before Lucy's birth. My daughter Molly called me into the room right after Lucy was born. What a moment! To see my daughter holding her own daughter in her arms. It was beautiful.



Most surprising thing you have learned from your daughter? That I am actually good with kids! I don't have younger siblings, I never babysat, never changed a diaper, never was a camp counselor - so I worried I wouldn't know what to do but caring for and interacting with Lucy has felt incredibly natural all along.
From Molly's Mom: Well I would not say I was surprised about this, but Molly is so loving and attentive as a Mother. She actually never was particularly interested in babysitting as a teenager, but as a Mother she can't stop kissing and hugging Lucy. She is extremely nurturing and a wonderful, patient Mother.
"You don't have the perspective to appreciate how much your parents did for you until you become a parent."
Has becoming a mom changed how you look at your mom? Absolutely! You don't have the perspective to appreciate how much your parents did for you until you become a parent. What makes me the most excited is recognizing how my relationship with my mom evolved into a friendship as I got older - and I'm hoping the same happens for me and Lucy.
From Molly's mom: As everyone says, when you are a Grandmother, you can just play and have fun, without the responsibility. It is so exciting when they first recognize you and reach out their arms to you. I have been living for this moment and now it is here...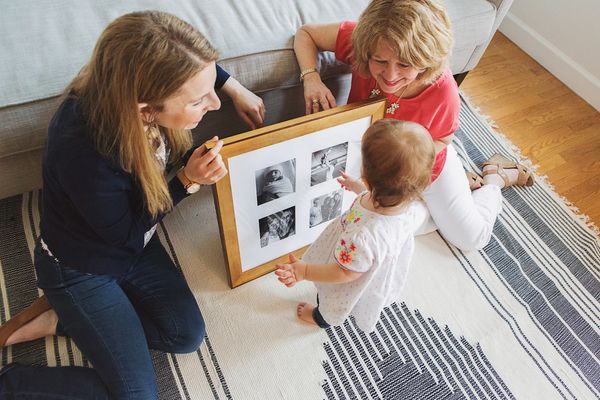 From Molly's mom: The second photo is of Molly and me at the wedding of a relative. I just love how how happy we were and what fun we had at this special wedding of my nephew.



What do you admire most about your mom? I admire my mom's quiet power. Anyone will tell you that she is the nicest person they have ever met - and that is definitely true. But she is also is a powerful business women, committed community organizer, and savvy advocate for friends and family. She has shown me that you can accomplish a hell of a lot by being kind, a good listener, and purposeful with your words and actions.
Proudest mom moment? It's impossible to pick one! I get especially proud when I see Lucy interacting with other people. She is so social and friendly and really lights up a room. There is nothing better than watching her bring smiles to a whole group of people.
"My mom and grandma are two of the sweetest, kindest, and most generous women they have ever met. I hope that Lucy and I will fill their shoes one day."
What do you hope to pass down to your daughter? My parents taught me to work hard and chase dreams for myself, not for them or anyone else. I see others stumble because they make decisions based on other people. If I can teach Lucy to set meaningful goals, achieve them, and feel a sense of pride for her own accomplishments, I will know I have done a good job.
From Molly's mom: I hope to pass on the importance of looking out for others and making people feel comfortable, especially someone who seems to be an outsider. I want them to always be kind to people, hold doors for strangers, be polite, and treat everyone as equals. Never judge a person by their appearance as you never know who they are or what they offer to the world.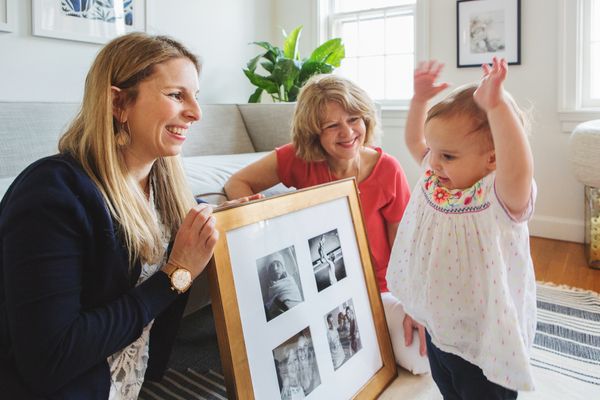 From Molly's mom: The third photo represents all the great times we have as a family at Virginia Beach. We have a family condo at the oceanfront and have spent countless days together at the beach since Molly was born. I love the look on both their faces in this photo. In the fourth photo, we were at a baby shower for my sister-in-law. The shower was held at the home of my daughter-in-law. I love this four generation photo. It doesn't get any better than this!



Why are these photos special to you? I framed four photos of my grandma, mom, daughter and I from my Lucy's first year of life. My relationships with my mom and grandma are so pivotal to my life. Growing up, you never know what direction life will take, but I always wanted to have a daughter to add to our family line. Putting these pictures on my wall is an important reminder of how lucky I am to see this dream come true. Ask anyone - they will tell you that my mom and grandma are two of the sweetest, kindest, and most generous women they have ever met. I hope that Lucy and I will fill their shoes one day.
How do you feel when you look at your frame? Immense pride!
---
Such a beautiful story and a perfect gift idea! Find a few photos you love and follow Molly's lead. Want to frame multiple photos together? Chat with us here and let our designer's know you're looking for a multiple mat opening. They'll get you started!