A Tribute to Abuela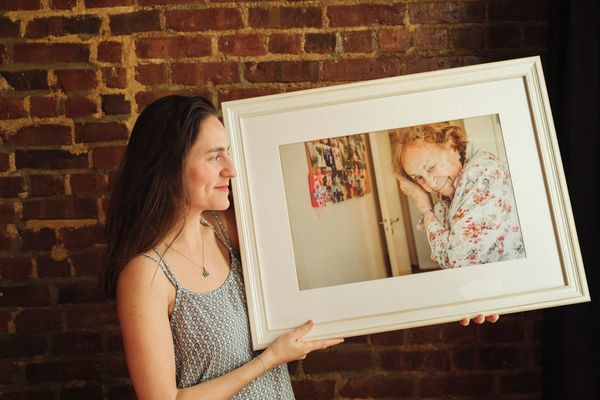 Sometimes we have to ask people to tell us the stories behind the things they frame. Sometimes they just tell us.
For photographer Romina Hendlin it was natural for her to share without us asking. After escaping the Nazi regime and emigrating to Argentina, Romina's grandmother, Lucia Lebwohl, built a beautiful life for her family. In this bilingual reflection, Romina beautifully captures why she chose to frame a portrait of her abuela, and why it's so important (especially on Mother's Day) to honor the people you love most in your life.
---
Me pregunto porque esperamos hasta que alguien muera para dedicarles un post lleno de amor, apreciacion y agradecimiento ante su trabajo inspirador.
I wonder why we have to wait until someone dies, to give him or her the love, appreciation or thanks to their inspiring work.
Hoy, sin ningun motivo especifico, podemos rendirle tributo a alguien que este vivo, quien sea, conocido o no para todos, asi lo puede leer y apreciar.
Today, let's give that tribute to someone alive, whoever it is, known or unknown so that they know it and appreciate it.
Quiero dedicar mi post a mi abuela, conocida para mi familia y ahora para todos ustedes. Ella tiene 90 anos y una energia impresionante, la cual herede y le agradezco mas que nada en este mundo. Con un espiritu luchador que la saco de las manos de los nazis hasta llegar a Argentina que le abrio las puertas para formar una hermosa familia y tras luchar y luchar tener una gran vida.
I'll dedicate mine to my grandmother, known to my family and now to you. She is 90 years old and has an incredible energy that I inherited for which I'm extremely grateful. With a fighting spirit she was able to get away from the Nazis and arrive to Argentina where she had a beautiful family. By working very hard she was able to build for herself and her family, a beautiful life.
Hoy le agradezco su existencia y como me demuestra todos los dias lo valioso que es vivir y lo importante que es ser optimista.

Today, I thank her for her existence and how she teaches me everyday how valuable it is to be alive and live with optimism.
Te amo abuela Lucia Lebwohl!
I love you Abuela Lucia Lebwohl!
You Might Also Like...