My Motherhood Story: Sweet Selfies
[caption id="" align="alignnone" width="5739.0"]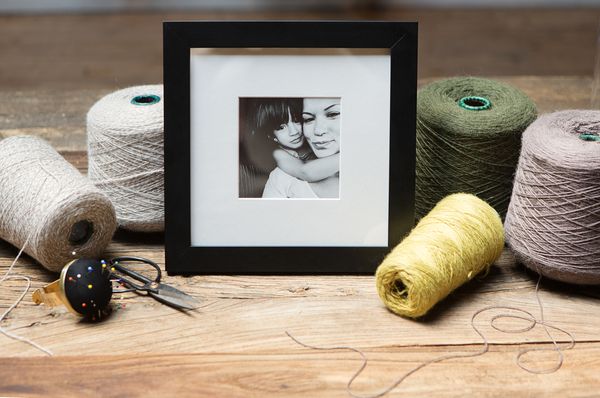 Instagram Mini in Mercer[/caption]



Every day in our studio we see an amazing array of items come in for framing: baby photos, art destined for a new mom, mementos that will be passed down for generations to come. Online we see you all tag us in beautiful photos of babies and mamas shared with the comment: "you should @framebridge that." As our founder Susan recently said, "we feel honored that our product is associated with that goodness."
Most of all, we love hearing the stories, and we thought you might too! So, between now and Mother's Day we will be sharing stories from throughout the Framebridge customer community about art and photos that connect to moms and the meaningful roles they play in our lives.
Today, we're kicking off this series with a mom that epitomizes casual cool. Meet Virginia Arrisueno, the owner and designer of DeNada Design. Flanked by her two dogs Mia and Kobe, she invited us into her skylit loft for a crash course in weaving (she weaves everything for her line of knitwear by hand!), and the scoop on how her beautiful son Atticus has transformed her life for the better.
---
Name: Virginia Blanca Arrisueno

Occupation: Owner and Designer of DeNada

Favorite Things: My husband, my son, and two dogs.

Favorite Instagram accounts: @isabelmarant, @_hollyburnham, @aitanabaeza_knits
What is a day in your life like? Every day is different with different chores and to do's to finish. What stays the same is that I wake up around 4am to start work early so that I can spend quality time with my family in the evenings and during the weekends.
How do you stay inspired? When possible, I try to travel as much as I can so that I can experience outside environments other than what I am familiar with.
How has being a mom changed your life? Being a mom has changed my life completely, but in the best possible way. It has taught me and made me realize many things including the type of woman, mother, and wife that I want and strive to become daily for my family.
What do you admire most about your mom? I admire my mother's strength and perseverance. She is such a strong woman, who raised my three siblings and I outside her home country with no support system around her other than my father. And though I wasn't too keen on her strict rules while I was growing up, I am truly thankful for all that she has done for me and has instilled in me.
How were you creative as a child? My parents made sure to keep me busy throughout my childhood with many extracurricular activities - lots of sports and some creative activities. One of the creative activities was learning how to play the piano, and I loved it instantly. Taking lessons for several years opened my ears to so many different kinds of music including my favorite, classical. I would practice the sheet music that was given to me by my teacher, but I would also improvise and create my own tunes as well.
"I realized that I needed to reprioritize my life."
What is the most important thing motherhood has taught you? The most important thing that motherhood has taught me is having patience and taking the time to slow down and focus on the things that matter most in life. Prior to my son, my life was always - go, go, go - without any moments to stop and "smell the roses." Having my son and raising him up with my husband made realize that I could no longer live a fast paced life. To enjoy my son and to be able to listen to his needs and take in all the precious moments with him, I realized that I needed to reprioritize my life.

Proudest mom moment? When my son said, "I love you, momma."
How do you see creativity developing in your son? He loves to draw and paint. When he is with his father in his studio, he loves to play around with his spray paint cans. When he is with me in my studio, he loves to either drape the mannequin that we have with yarn or play with my knitting machine - with my supervision, of course!

What did you frame with us? I framed two photos: one photo of my son and I in Hawaii - a "selfie" moment. And the second photo of my husband and son in Marfa, Texas.
"When we had Atticus, my husband and I knew that we wanted to be able to travel with him and show him the world."


[caption id="" align="alignnone" width="3705.0"]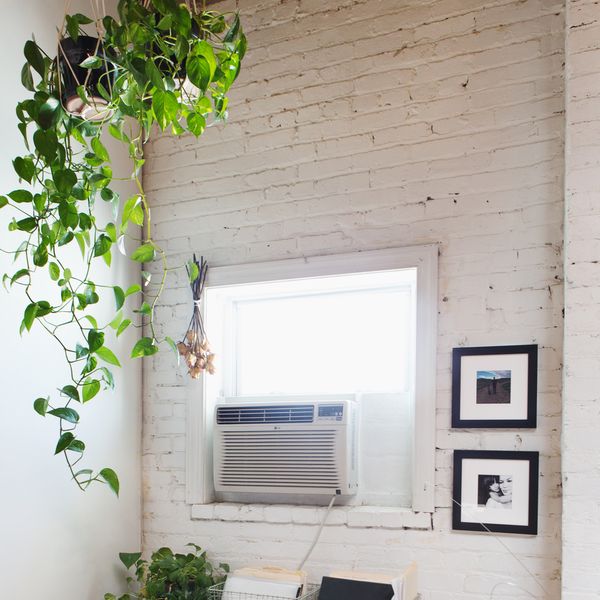 Instagram Minis in Mercer[/caption]



What's so special about it? When I was younger, I remember traveling with my family to many different places around the world and the positive effect it had on me creatively and as an individual. To be exposed to so many different environments and cultures - to me - is a positive thing. So when we had Atticus, my husband and I knew that we wanted to be able to travel with him and show him the world as much as we can. These two photos were the start of our travels together. So far, we've been to New York City, Las Vegas, Honolulu, Austin, Marfa, and Peru, South America as a family. And in just a few weeks we will be going to Japan.

How do you feel when you look at your frames? Pure happiness.
---
<3
Check out Virginia's line of gorgeous knits at DeNada Design and be sure to follow her on Instagram.