Annie frames a street scene
[caption id="" align="alignnone" width="5457.0"]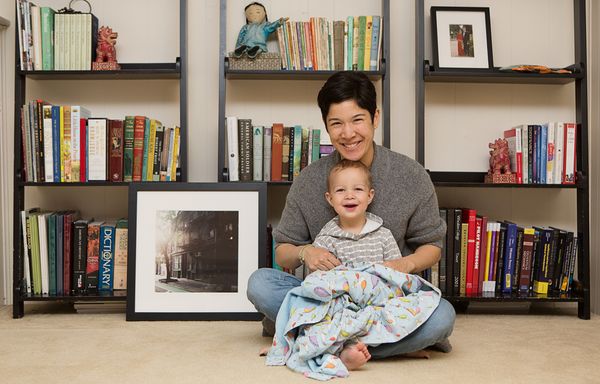 Annie Messing with her son, Shiloh. Photo by Emily Johnston in our Mercer frame. [/caption]



You can just see the pride on her face. There's something amazing about hearing moms talk about how motherhood has changed them, how their children inspire them, and how they've held on to their me-ness through different stages of motherhood. We've been taken aback by the wisdom, light, and kindness all of the moms we've featured recently have shared with us as they've welcome us into their homes. This week we're turning the spotlight on Annie Messing. In addition to being a military wife and mom of four, Annie is the co-owner of Brimful - an online toy shop full of modern, whimsical, and beautifully crafted toys. On a recent rainy spring day, she shared her thoughts on how she defines motherhood.
---
Name: Annie Messing
Occupation: Co-Owner of Brimful, a modern, whimsical toy shop for babies. My business partner, Kari Spikkeland, oversees order fulfillment, product photography, and the bookkeeping on the West Coast. I do the social media, marketing, and vendor orders from the East Coast.
Favorite Things: I love to run, explore DC on the weekends with my family, and spend the summers back in my hometown, Portland, OR. I also love to sleep ;). I try to take a nap almost every afternoon - because a grouchy Annie is not a nice Annie to be around!
Favorite Instagram Accounts: While I enjoy following many well-known Instagrammers - it's often the small accounts of women around the world that inspire me the most: @betsycurlin on a farm in Tennessee, @soloskates in busy London, @arabiansunshine in exotic Bahrain.
Walk us through a day in your life. When my husband isn't traveling, he takes the older two children, ages 10 and 8, to school - they leave around 7:45am. This leaves me with the younger two, ages 4 and 1.5. We turn on silly music, tidy up the house from the morning rush. After lunch and naps, we pick the older kids up from school. The house gets really loud in the afternoon as they play together and get their wiggles out before they settle in to do homework. Evenings are always a little stressful with dinner, homework, and whatever else needs to get done before bedtime. I'm a major night owl, so I get a lot of Brimful tasks done once the kids are in bed.
Can you tell us a little about Brimful? Brimful is an online toy shop, full of interesting wooden toys, intricately knit soft toys, colorful board books, and other baby-related accessories. It's the kind of shop that caters to the first time parents, wanting to invest in heirloom quality gifts for their new little.
How did it start? Brimful began because I missed working from the day I stayed home with my eldest! It took me some years to figure out how to create something to fill that void, but when I discovered that my friend Kari and I shared this same passion of well made, beautifully designed toys, we decided to take the entrepreneurial leap together. We are fortunate for the success we have received and the business grows in proportion to what we put into it. That being said, we always maintain that raising our families come first - Brimful comes second.
"While my daily habits and routines have changed, I'm determined to still be "me" apart from being a mother. "
How has being a mom changed your life? I probably should say it's changed me a lot and for the better, but I've actually tried really hard NOT to let it define who I am. I adore my four children and all the love and incredible moments they've added to my life, but I like who I was before motherhood! While my daily habits and routines have changed, I'm determined to still be "me" apart from being a mother.
What do you admire most about your mom? My mother immigrated to the US from Taiwan for graduate school when she was in her mid-20s. She came alone and carved out a life for herself - I think about how scary that must have been and am so inspired by her incredible courage. "Be brave and don't run away from the hard things in life" is a motto she repeated to me as a girl - and still does.
"I believe very strongly that free play is integral to children developing their creativity."
How do you see creativity developing in your kids? My older three children all have wonderful imaginations and spend much of their free time pretend playing with their stuffed animals, drawing, and of course building Legos. They are still young and figuring out what interests they like best, but I think exposure to good art, music, and books is extremely important. I believe very strongly that free play is integral to children developing their creativity.
What is the best piece of motherhood advice you've ever gotten? Just before the birth of my eldest, my then boss told me, "Annie, you do not need to thank your husband for taking care of the baby - it's his baby too." I am of course so grateful for all that Dustin does for our children, but I'm also thankful for my friend's acknowledgement that I don't need to feel guilty when I need a break from our kids.
Proudest mom moment? My proudest moments as a parent are when I see how tough my children can be, like when my oldest daughter was 5 years old and got thrown from a horse for the first time during a riding lesson. Her cheek got terribly bruised and scratched, but she got right back up on that horse and bravely kept riding. She has loved riding ever since. My heart swells thinking back to the times when we've taken the kids to the ER for stitches or a broken collarbone and they tried their very best to be brave. As a military family, we move a lot and the kids have had to learn to adjust, adapt, and re-root. I am so proud of their resilience.
What did you frame? I chose to frame an enlarged photograph that I had purchased a few years ago: it's a street scene in NYC. The photo was taken by Emily Johnston, a very talented fine art photographer based in New York. Her work has so much depth, and this piece is simultaneously a little mysterious and endearing. Emily happens to be a friend from college, so there's a personal connection to the piece as well.
"I was quite taken aback by her very spiritual interpretation, because that perspective had never dawned on me before!"
What do your kids think of it? When I asked my older two what they thought, my son said very matter-of-factly - "It looks like an alley". But then my daughter said "Ooo, it's like God is shining a light on all the sin in the world!" I was quite taken aback by her very spiritual interpretation, because that perspective had never dawned on me before!
How do you feel when you look at your frame? It makes me happy to see this piece framed so nicely and proudly hanging in our front sitting room. I'm grateful that Framebridge gave me such a wonderful gift. Framebridge takes such care in making each order feel personal and I love that.
---
Our Mother's Day deadline has passed, but it's always a good time to send mom something special.