Rachel frames a cute, candid moment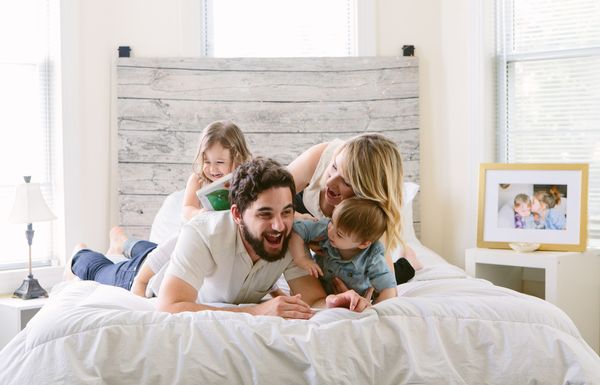 From left to right: Judeth, Phil, Rachel, and Sam Maucieri.



There's a funny thing that happens when you ask someone to describe why they framed something for someone they love. They talk about why that moment was special, but they kind of end up talking about life and love in general. And we have the incredible luck of getting to just listen. And we *loved* listening to Rachel talk about her husband Phil. Keep reading for your own peek into this beautiful family and what they're celebrating this Father's Day.
---
How did you and Phil meet? We actually met in high school! We had some really great mutual friends that brought Phil to our church and he quickly became one of my best guy friends. We eventually went to the same college where he and my brother were roommates for two years! We were just friends this whole time and I was always really drawn to him as a close friend who I knew was looking out for me and cared about my well being. We had a similar sense of humor and liked a lot of the same music so we always really got along. One summer we both moved to Elizabethtown, Kentucky for a summer internship and that is where we both started feeling something more than friendship. We had an amazing summer together and each realized how great the other was and how we were starting to feel about each other. We went back to Oklahoma for school that fall and started officially dating.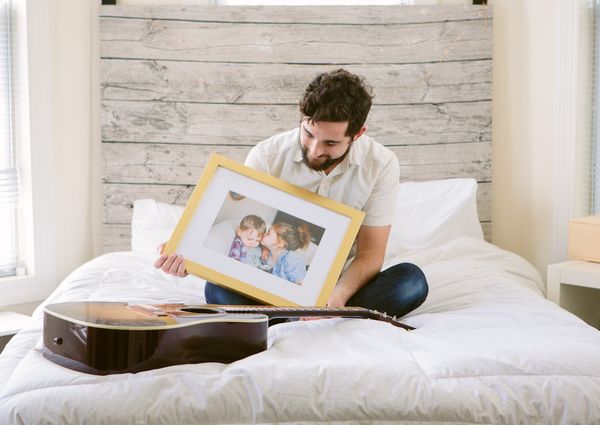 Family photo in our Carson frame with a white mat.



Tell us about your husband. How would you describe him? Phil, even in high school and college, was always seen as everyone's wisest friend. Our friends, and myself included, always felt like we could go to Phil for advice, but maybe we should also be prepared to get our butts kicked a little because we knew he wouldn't be someone to just tell you what you want to hear. He is always going to step back from a situation and see the bigger picture and ultimately help figure out what would be best and not just easiest.

What quality about him do you admire most? Oh my goodness, this is a tough question! I admire him so much in so many ways, but I think my favorite thing is just the way he is always seeking truth and finding the bigger picture. He values people's hearts and passions and wants to always point them towards truth. He is the same with our family and I love that so much.
"His jeans are literally wearing out in the knees these days and it says so much about him as a father."
Cutest dad moment you've witnessed? Gosh, I don't know if I have one specific moment that I can think of, but every moment he is on the floor with them or chatting with them is adorable. His jeans are literally wearing out in the knees these days and it says so much about him as a father. It's awesome when we hear the front door unlock at the end of the day and they both stop what they're doing and say "daddyyyy!"

What do you love most about your family? I love the friendship that exists in our family. Phil and I are best friends and have been for a long time. We are exactly who we want to hang out with and find so much joy in each other and in our kids. We love spending time together and would choose it every time. Our kids are 13 months apart, so they are best friends too and I'm praying that it stays that way! We were very surprised (terrified even) to find out we were pregnant with Sam when Jude was only 4 months old. Though this past year has been super hard in a lot of ways, I wouldn't change it. The design of our family is beautiful and perfect for us and these two babies love each other and find comfort and friendship in each other which is just so amazing to watch.
"I love him more as a father than I ever knew I could."
How would you describe Phil as a dad? He is THE BEST dad in the world. Seriously, this guy amazes me with his love and devotion to our kids. He adores these babies and it is so evident even if you're just around him for a few minutes. He is always talking about them, playing with them, writing songs about/for them, and spending so much time just being near them and meeting them right where they're at. I love him more as a father than I ever knew I could.

What parts of Phil do you see in Jude and Sam? Aside from Judeth's curls and Sam's inquisitive face, I see him in their love for music. Neither of them can help but move their little bodies to any music they hear, especially dad's guitar. I see him in Sam when he is being quiet and studying something, figuring out how it works. And I see him in Jude when she makes a crowd laugh as she entertains them all on her own terms, of course.
"I love where we're at and I don't want to miss any of these sweet moments!"
Can you tell us a little bit about the photo you framed? Where was it taken? What makes it special? I took this photo on Sam's birthday, actually! I was trying to get a few shots of him sitting in this chair in our living room, and before I knew it Judeth was climbing up there with him. Sometimes it's hard to get them to sit together or cooperate for photos, so I clicked away as fast as I could and asked her if she wanted to give him a birthday kiss.

What made you want to give this to your husband for Father's Day? Phil really loved those photos I took that day of Sam. I knew he would think it was so sweet.

How do you feel when you look at your frame? I just feel so thankful for these two and for our life. I love where we're at and I don't want to miss any of these sweet moments!
---
What photo captures your life beautifully? We'd love to frame it for you.