Meet the Curator of Our Union Market Gallery Wall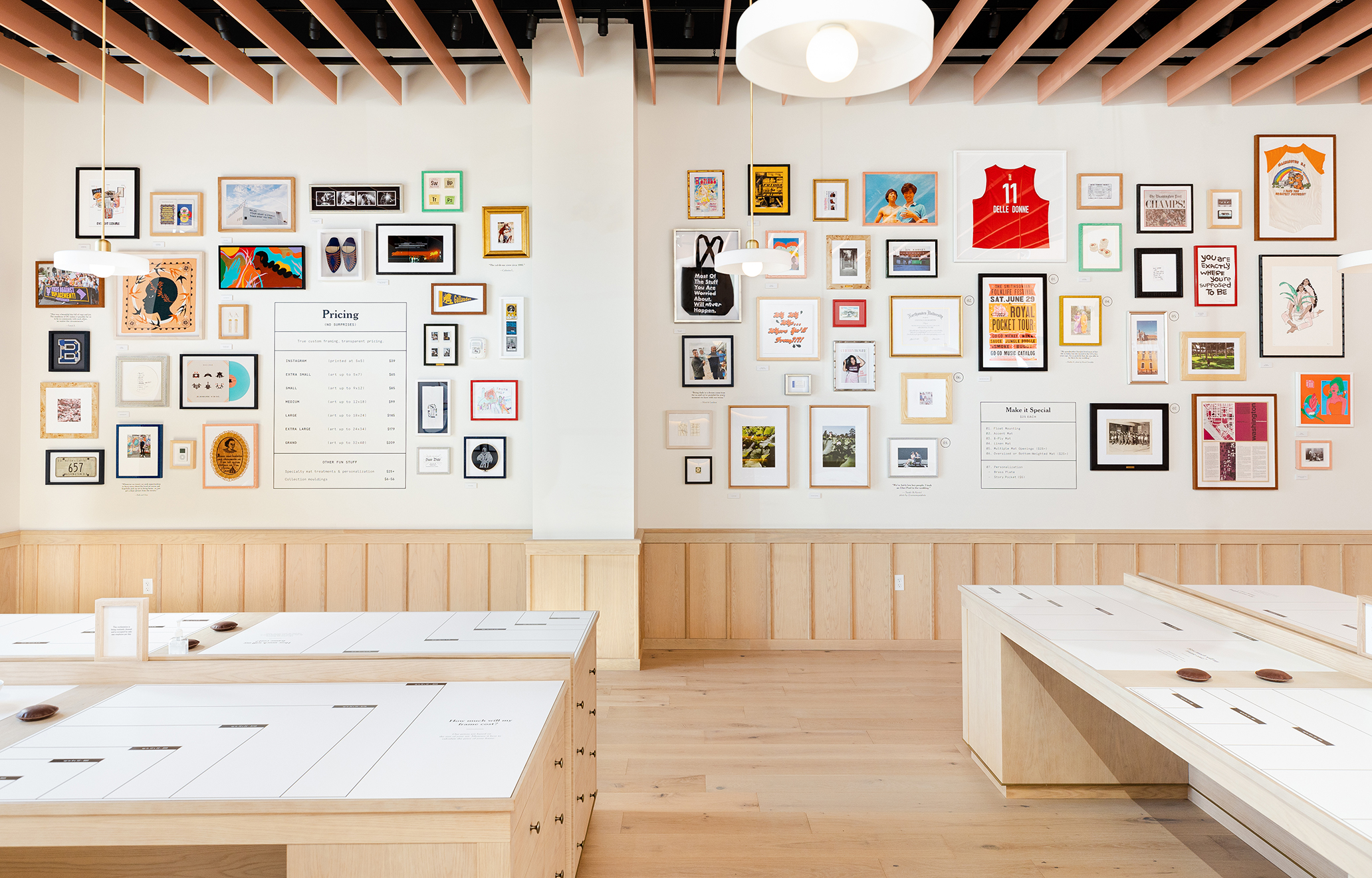 We knew the curator for the gallery wall in our new Union Market store had to be someone deeply embedded in the creative community of DC. The location has grown to be a melting pot of commerce, a meeting place for those seeking inspiration and a canvas for local artists. We could not have asked for a more perfect collaborator than Farrah Skeiky, a DC photographer and creative director whose open spirit, curious eye, and dedication to BIPOC artists brought the gallery wall to life. We thought you should know more about her story and get a closer look at the amazing pieces she selected for the wall.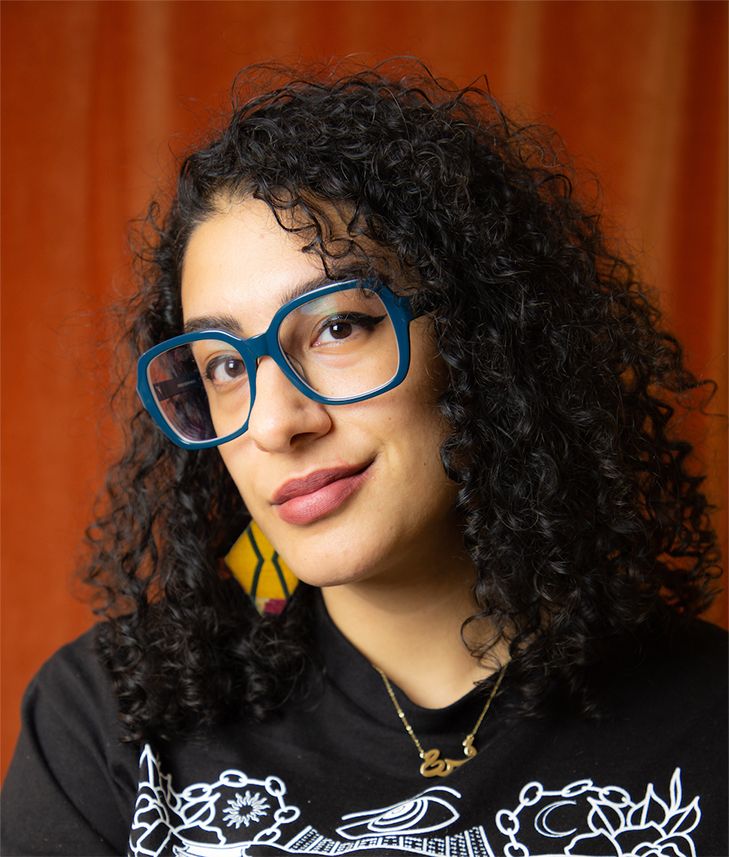 Can you start by telling us a little bit about your background as an artist yourself?
I've been a photographer for about 13 years. I started being obsessive with having some kind of camera everywhere I go with me other than the one that's on my phone. That's an important part of my practice—to make at least one photo every day no matter what kind of camera. I hold all those different methods at equal esteem and am not snobby about it. There's merit to all of it.
I really love having the honor of telling a story, whether it is someone else's that they are trusting with me and they are trying to tap into and maybe need a little help, or if it is a story I realize I've been carrying myself. At the end of the day, that's what it is for me—telling those stories and communicating what it feels like to be a part of the scene or part of the moment. I'm making a photo so that other people might be able to feel that same feeling when they're looking at it.
As a member of the DC artistic community, what are some characteristics and conditions that are unique to artists in the city?
I think there is so much freedom being an artist here because everybody can be a big fish in a small pond. There isn't a need to outdo each other, show each other up, or fight each other for jobs. Working as an artist in DC has opened my eyes to the fact that there is room for everybody. People have gravitated towards collaboration and community rather than competition. People are making really amazing, unique work and it's the kind of work where you see it and you know who made it, whether that's in a gallery or out on the street or on your screen. I don't think that happens in a lot of other cities. I think that's something really special we have here which is often overlooked.
You document DC and its subcultures in lots of different ways—the punk scene and in the editorial work you do. What does it mean to you to document and reflect the city in this way?
Everybody grows up at a point of intersection of so many different things. It would be a disservice of anybody to paint any one experience or story with one very specific brush. Covering, documenting and spending time in various subcultures in DC is really important because that's what my life is like.
It's important for me to document the subcultures that come together with my formative experiences—things that make me myself. None of us are one-sided. I've always loved punk music and hardcore music. When I moved from Seattle to suburban Maryland as a teenager, it wasn't my choice, but the reputation of DC music and hardcore and all ages shows was the one thing that made me feel better about moving to the suburbs.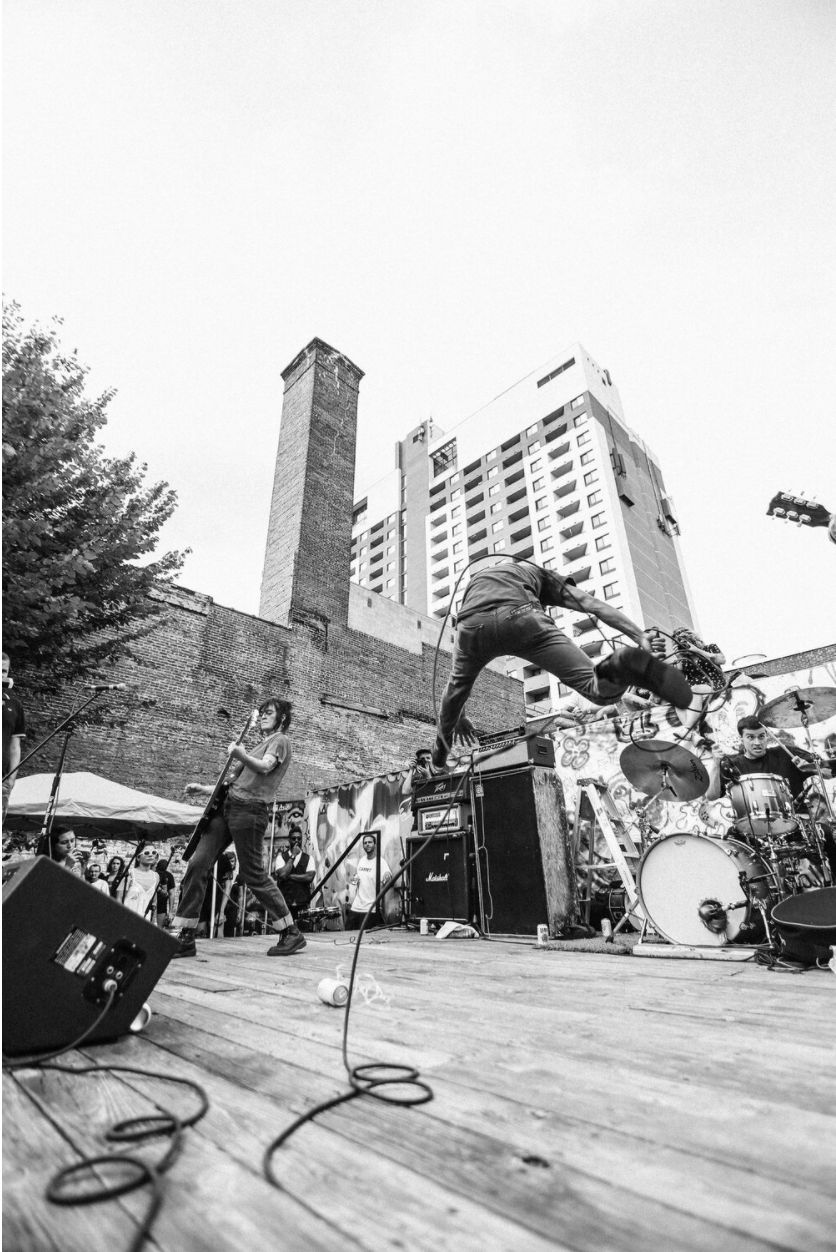 I have a really deep appreciation for drag and alternative drag. There's an intersection because I was in a band with one of my favorite alternative drag queens in DC. That opened the door to all other kinds of performance and expression that I didn't even know about because I had also subscribed to this idea of drag being a caricature of femininity—a guy dressing up as a girl, trying to make it believable. Then I met all of these performers and had my idea of that shattered. It wasn't just character queens. You weren't going out for a night and seeing a Cher or a Tina Turner. You were seeing queens who were really playing with the idea of gender in really interesting ways, expressing themselves in different ways every night, every week.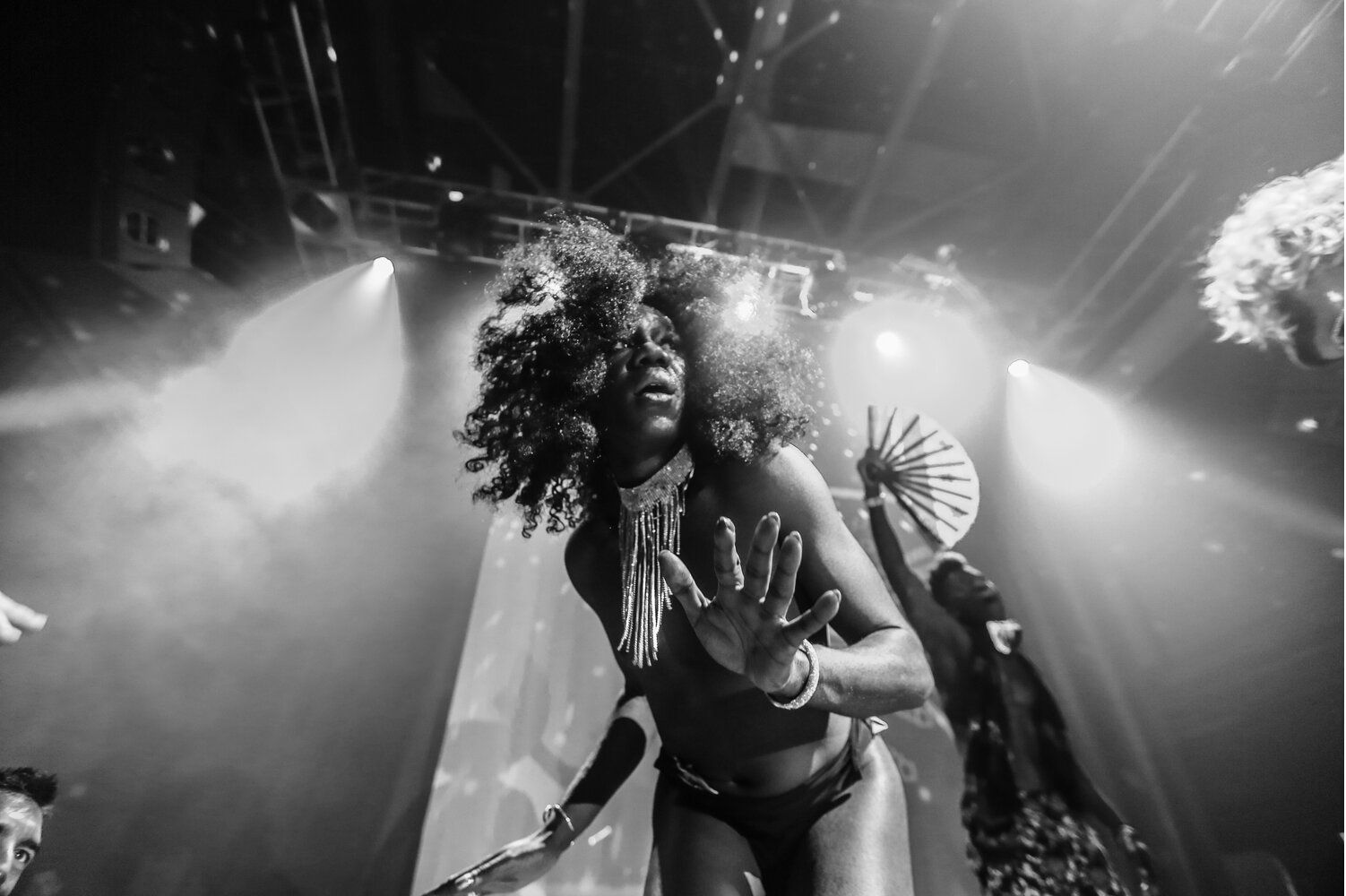 There's so much beauty in DC that isn't championed because it's not what people expect of the city. A lot of people don't know that DC has a really rich punk past and present. I made a whole photo book about current DC punk because a lot of the people that may know about DC's really rich punk past may not know that you could walk down the street on any given night of the week and see newer bands, current bands, younger bands, playing a show right now. I also learned this from another DC artist: there's a very good chance that drag was conceived in Washington, DC.
Some of my own photos on the wall are really quiet photos that are special to me in other ways. I have a couple of photos of the lily pads and leaves at the Kenilworth Aquatic Gardens—a corner of DC that isn't as obvious as the cherry blossoms, but I think they are more beautiful. That was a really beautiful afternoon during the pandemic when being outside is really what kept my mental health intact. Taking walks and being able to enjoy things at a less crowded capacity kept me going and I also got to experience that with my partner who is newish to DC. Somehow I had never been there with a camera in my hand. It felt really warm and inviting and I wanted people to look at it and almost feel it on their skin.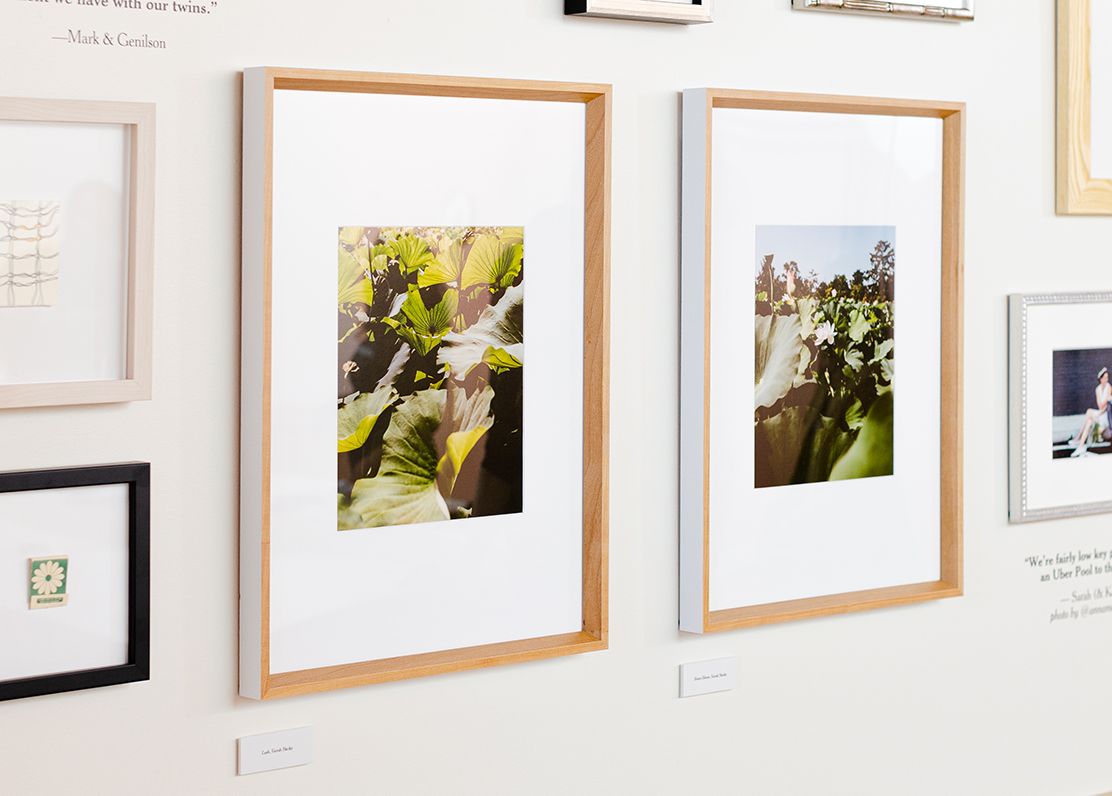 What was your approach to curating the pieces on the wall?
I knew right away what I wanted to do. I wanted all of the art to be by Black and Brown and Indigenous artists in the DC area. I wanted it to be less obvious than the things that are on Thrillist and Buzzfeed lists; things that make up my DC and how I experience it. That is a big part of how experience the city as an Arab American photographer—through the work of BIPOC artists. These artists are peers who inspire me so deeply and make me want to keep creating."
It's not just art, I really wanted to challenge people's ideas of what is worth framing and what is worth celebrating. What is special. I was even able to do some personal storytelling. All of these items on the wall are points of connection. You yourself can connect with the art, you can connect with a location, or the person you're experiencing the art with —and when I say "art" I'm including the personal items.
I hadn't really done any curating before, I had done creative directing. What I've heard from people who have done curation was to be careful that you're keeping an eye on the wall along the way because it's very easy for your vision to turn into something else with a lot of input from other people. When I'm looking at the finished wall it feels special and feels like a really good encapsulation of how I experience DC and what I really love about this city. I hope that people will look at it and take some of that away with them. Hopefully they'll learn something new.
A Closer Look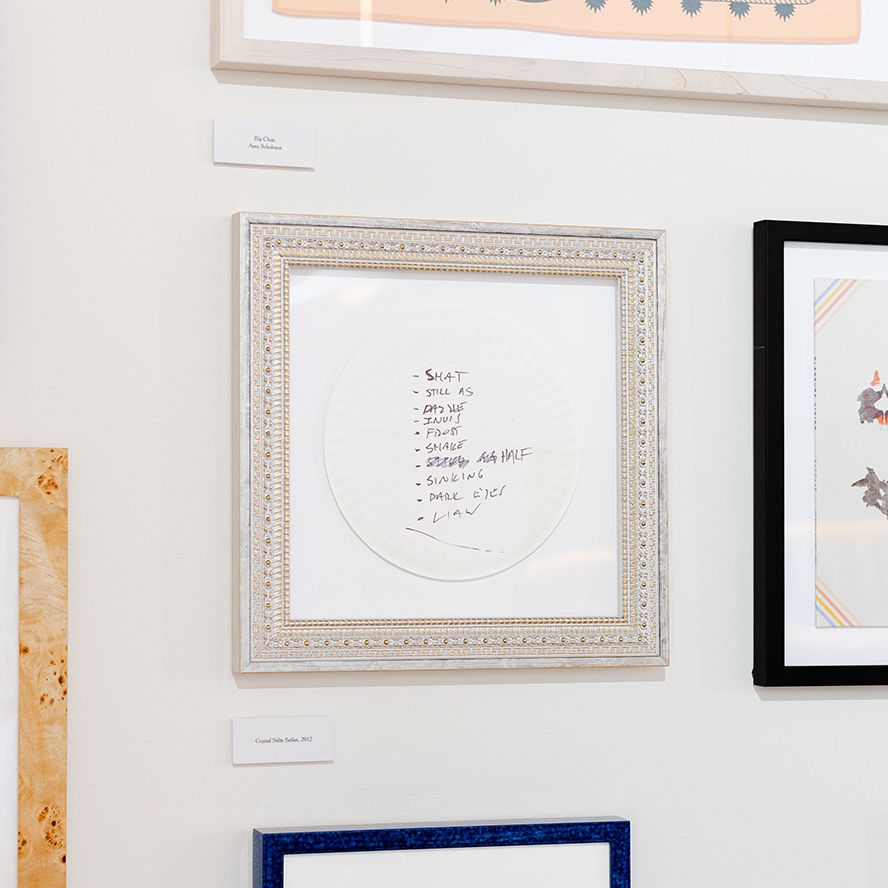 "This band Crystal Stilts played in DC and they wrote a set list on a paper plate because that's what was available to them. They just pulled it out of whatever green room they were in."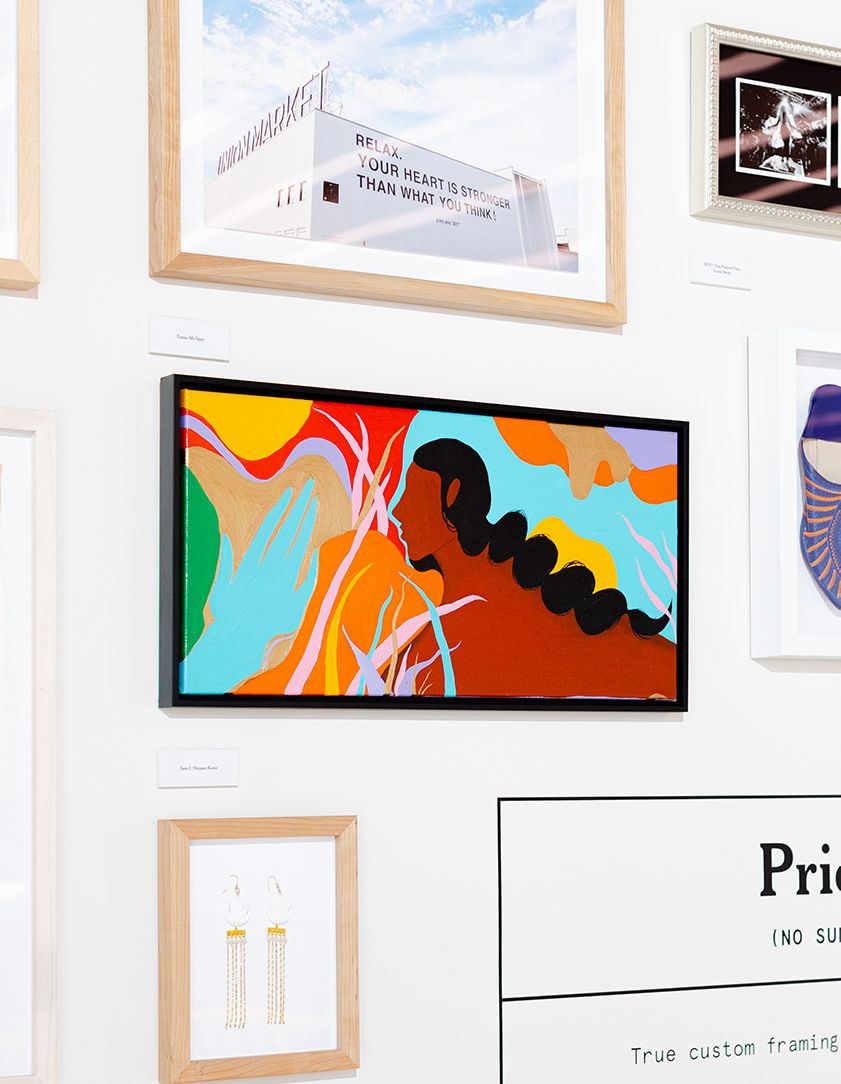 "The artist Shyama Kuver, also goes by Heart Over Crown. The richness and warmth of her art tells so many stories. The work is very textured. Nothing about it is perfectly smooth. I love how many ways her work can be interpreted and what she's saying through those pieces about identity, experience, multiculturalism and, in a lot of cases, those are threads and stories I really connect with. I know I'm not alone in that. It speaks to a lot of different people and experiences."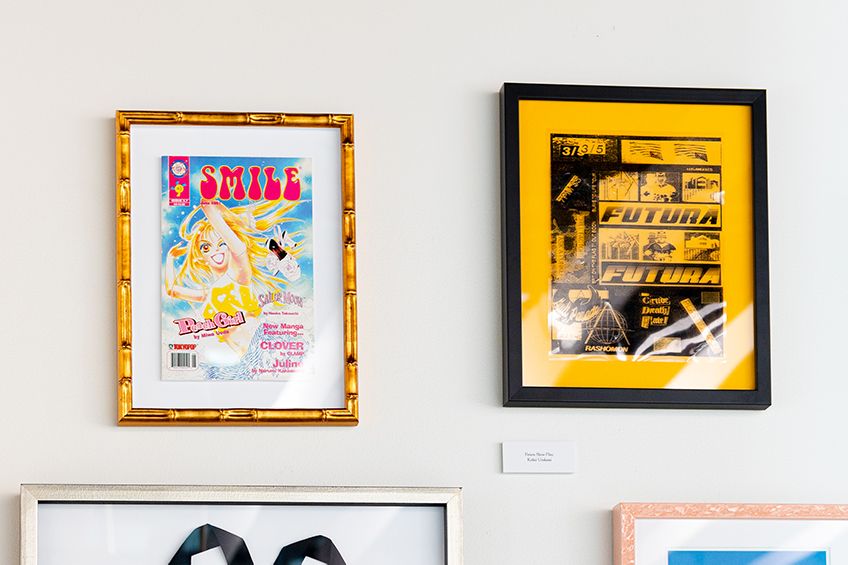 "I had a very strong Manga Japanese comics phase of my life, which is not completely a phase."
"My friend Kohei Urakami lives in Japan and he came to DC for a short time to study at Corcoran. He made a show flier and printed it on the kind of thing you would use as an overhead transparency."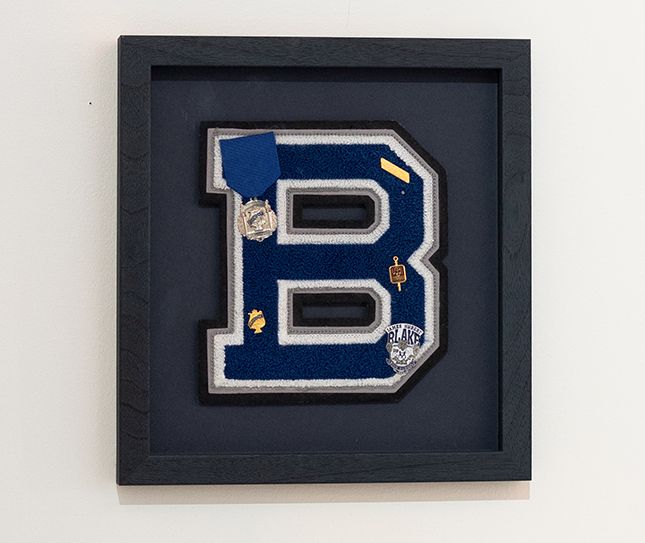 "I had forgotten at my high school you could letter in music if you were playing in honors or AP music. If you look closely you'll see the pins are for Honor Society and not for physical sports."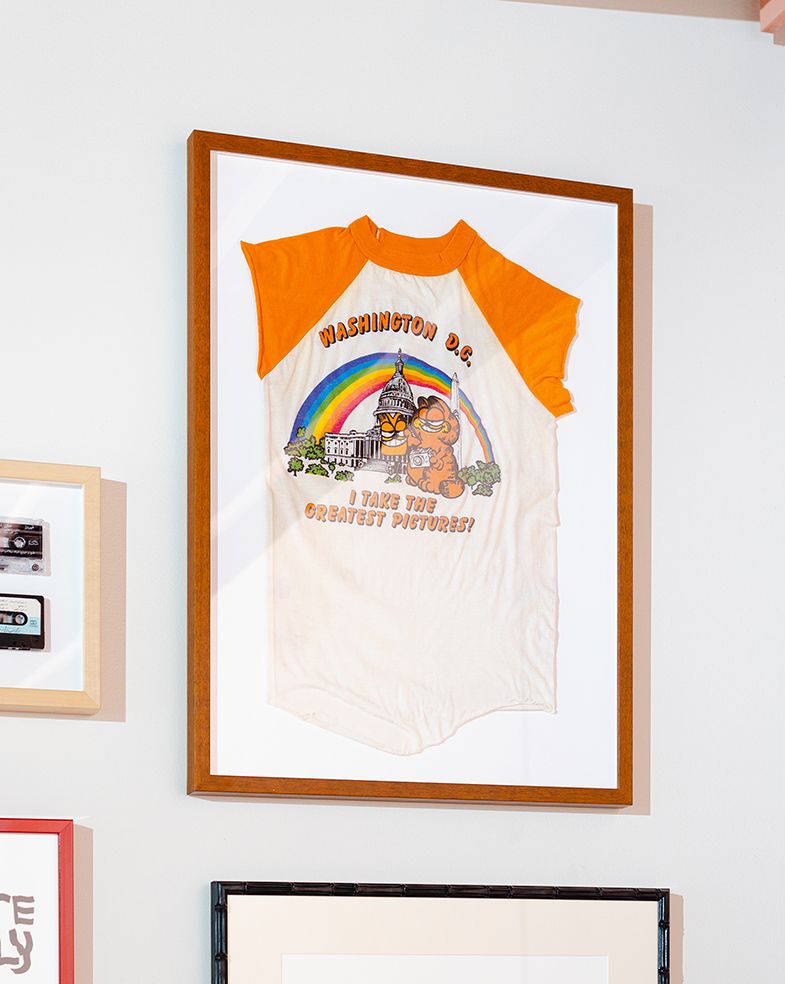 "I wanted to avoid anything on here that was obvious DC, touristy DC, but sometimes that's what we are to people. The vintage Garfield shirt was the perfect funny way to talk about it."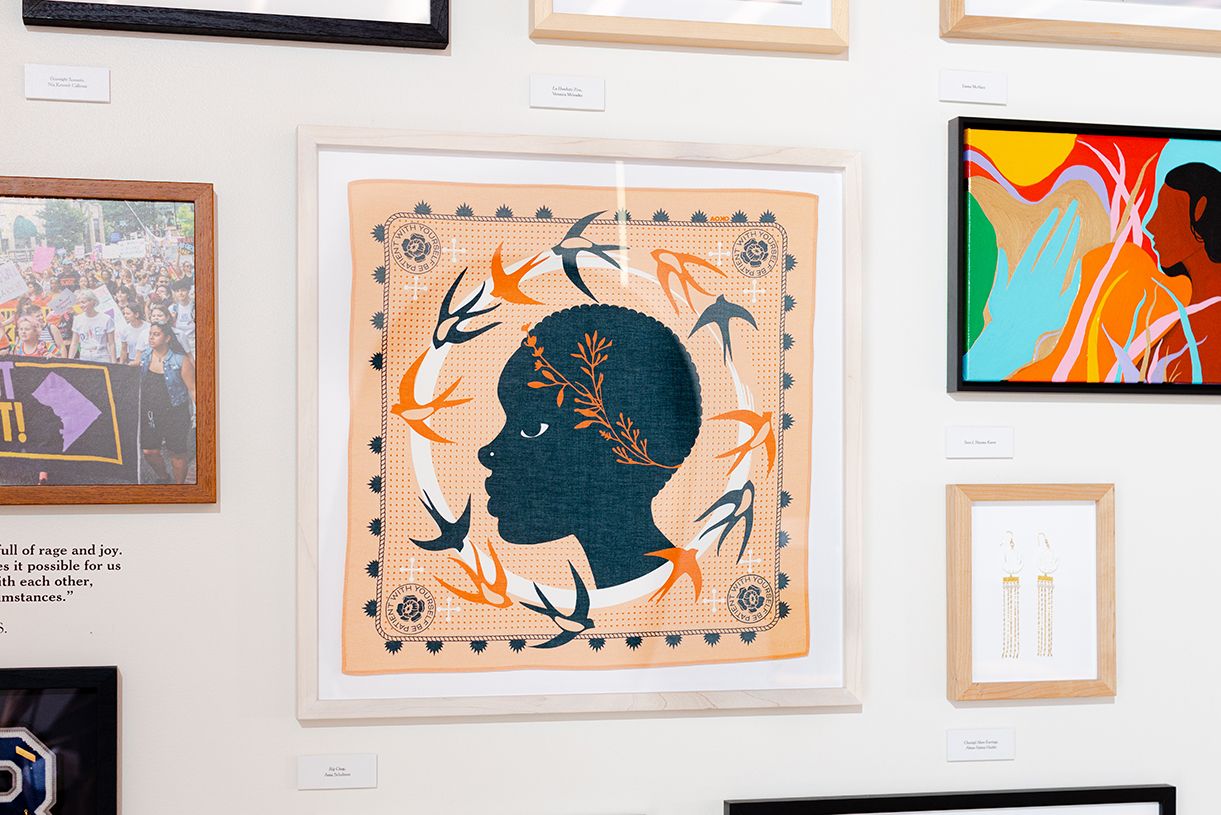 " 'The big chop' is a Black ritual and idea—this idea of freeing yourself and starting from scratch with your natural hair, letting go of the weight of the past, the weight of expectations and doing your own thing. While that's something I might not be able to see myself in, I know that other people are going to look at this wall and recognize that and feel seen, heard, and appreciated. "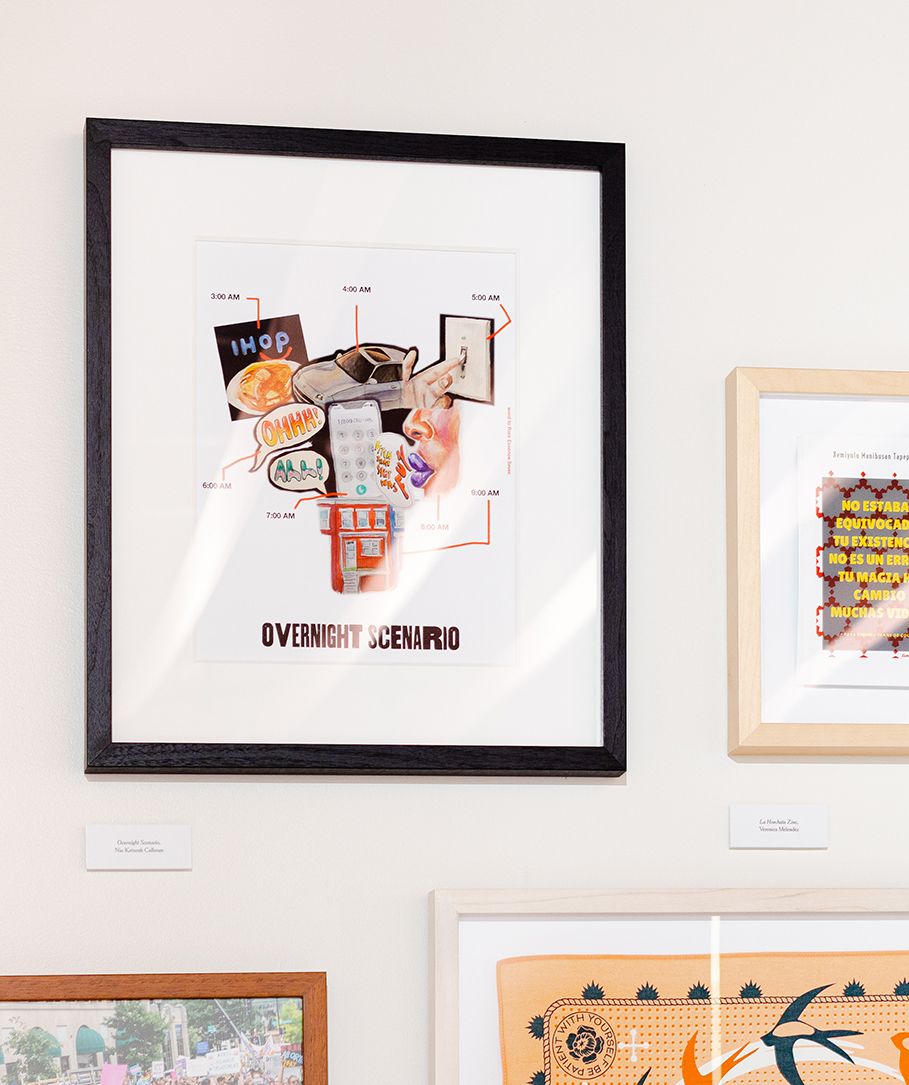 "If you've heard the song Overnight Scenario by Rare Essence, you know exactly what is happening in the song. This is a collage of all the different things happening in the chorus. I didn't know anything about go-go before moving to the DC area 15-odd years ago and now I see these songs as classics. I can't think of a single moment that hasn't been made better by that song."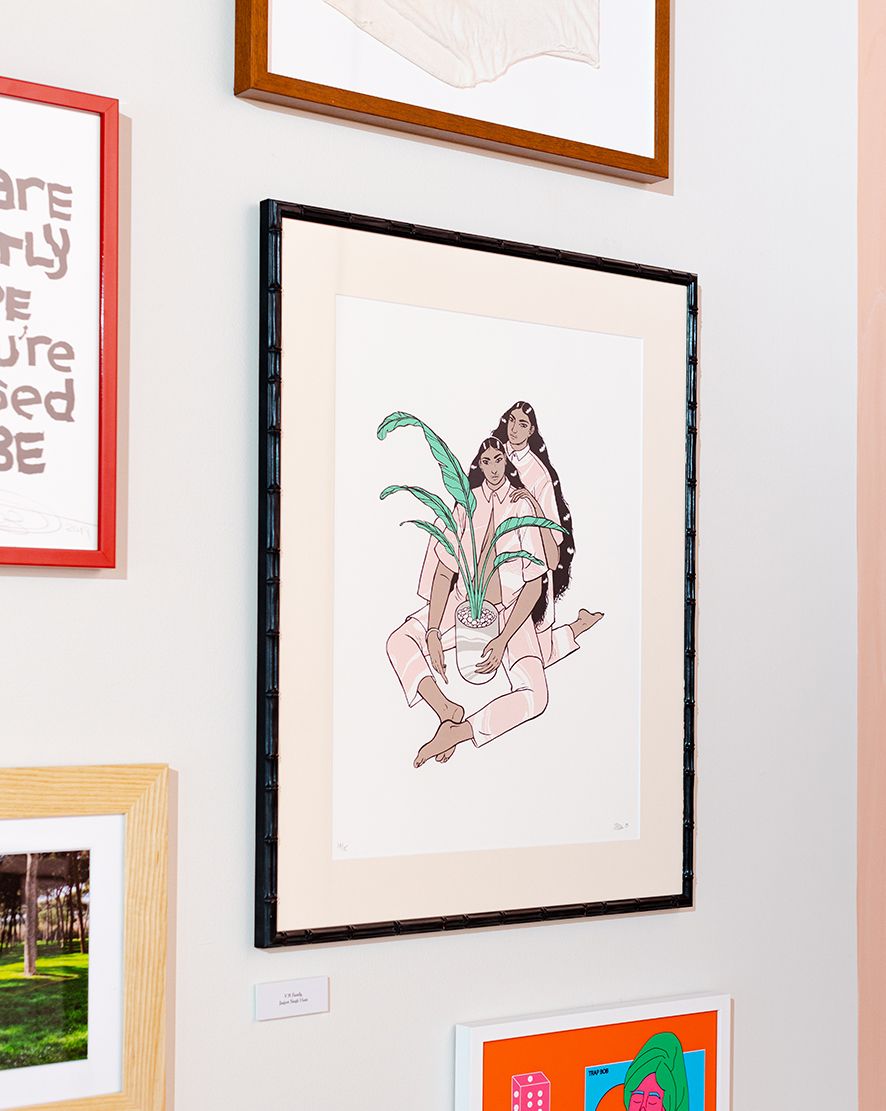 "Even with all of the hard lines and angles, there's still so much softness being conveyed through what is actually happening in the image. The fact that it's a five-color screen print really impressed me, too."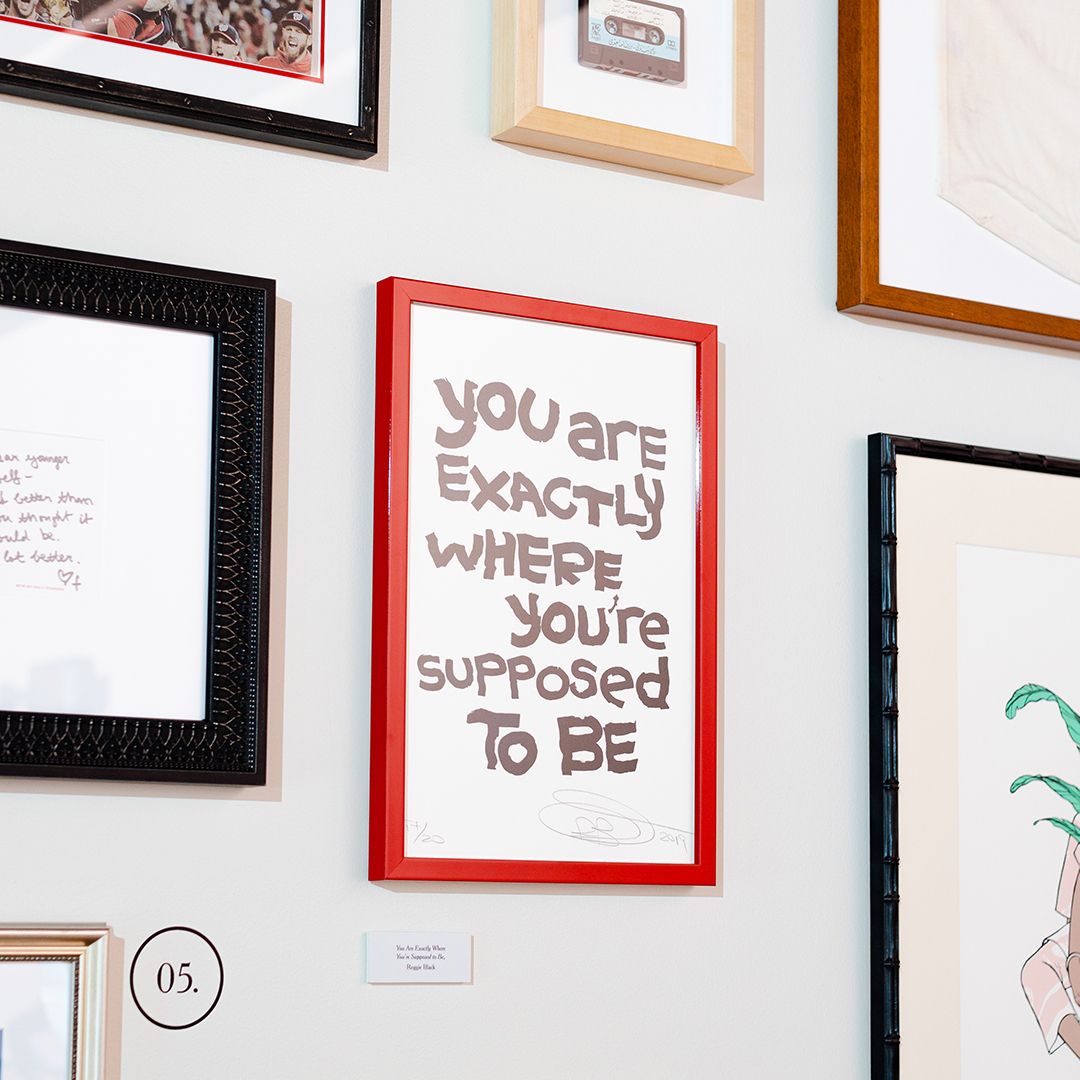 "With Reggie's work, it's both the medium and the message. It's this idea of receiving confirmations and affirmations in everyday life."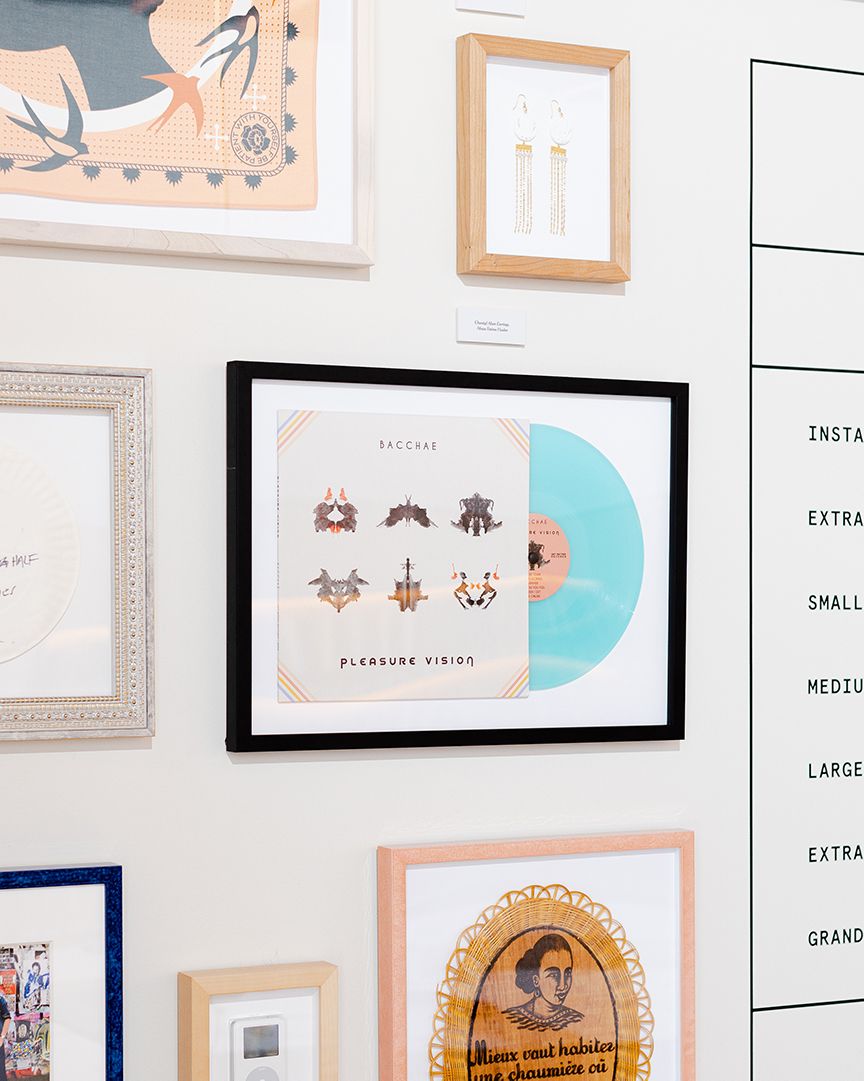 "Bacchae are a local experimental, post-punk-ish band in DC. Katie McD, the singer and keyboardist, made the album art that's printed on the sleeve. It's never just about the music, it's about the entire presentation. That's something that—especially in punk—people pore over. People take time to read the liner notes and take a look at the art. People will ask their friends to make art. A lot of punks are also visual artists or artists in other mediums besides music. I'm always impressed by how talented people in the music scene are and this is just another example. It looks good and it sounds really good."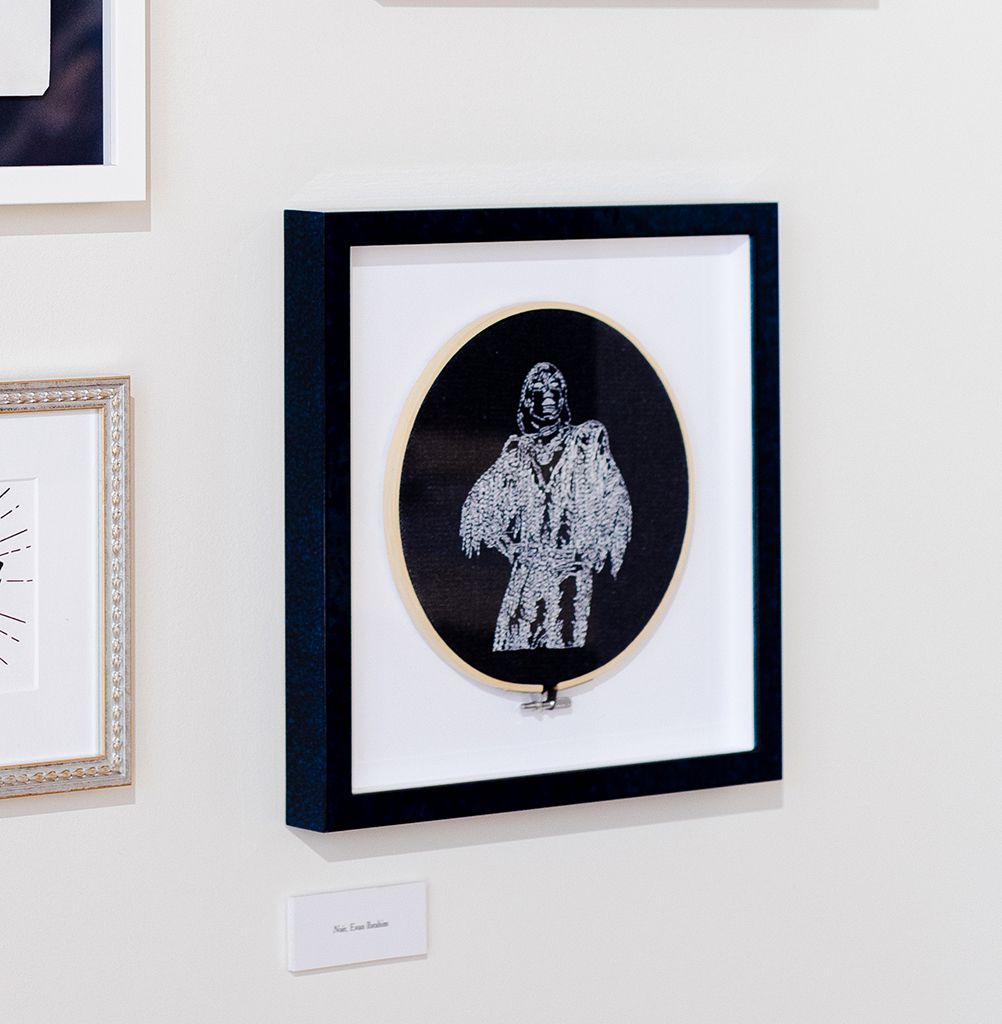 "I came across Evan because my drag queen friends were wearing things that he had custom made for them for performances. What we actually have from him is a portrait of DC drag queen Pussy Noir embroidered onto recycled denim. The ability to frame the whole hoop to see part of the process was really exciting to me, too."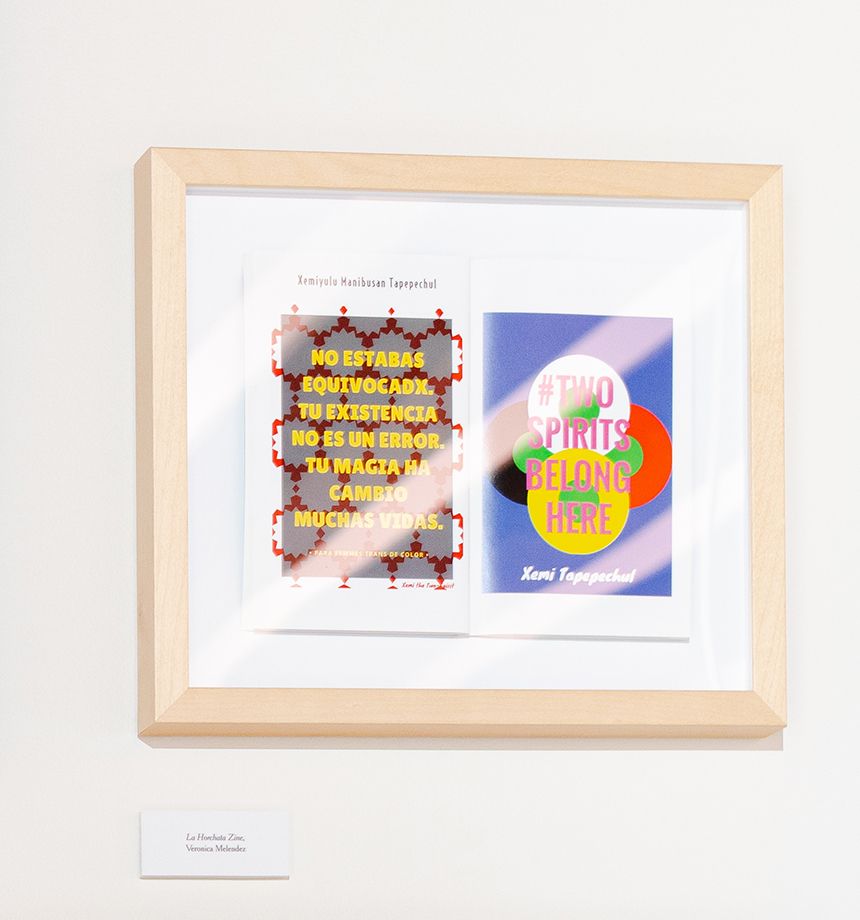 "This is a scene that celebrates Central American and Latinx artists. Xemi is such a huge presence in DC, especially when it comes to art and different kinds of performance. They are a huge advocate for trans and non-binary folks in DC, especially trans and non-binary Indigeneous folks. I think a lot of people look at Indigenious art or Indigenous people as something in the past tense. Indigenous people are here, they're part of the present, they're part of the future and their art represents that."
---
See the wall in person (and see our in-store offer)!