Meet the Artist: Tracy Murrell
Tracy Murrell is an Atlanta-based visual artist and recipient of multiple artist residencies. Her work has appeared in Create! Magazine, ArtVoices Magazine and numerous past or forthcoming exhibitions at places including Hammonds House Museum, the Hudgens Center for the Art and Agnes Scott College. In her work, she creates silhouettes of Black women as figures personifying grace and strength. She is featured in this iteration of the Black Artists Print Shop.


How did you find your aptitude for the female form, particularly the silhouettes?
The Jackie Ormes series is what made me start focusing on the female form. I joined a mentorship program and my mentor made me do research on family members who are artists. I came across this great book, "Jackie Ormes: The First African American Woman Cartoonist" (who I had never heard about) and her images were so amazing. I connected with her for so many reasons. One, she is a self-taught artist. Two, she had no fear. Three, her imagery of women in the 30s, 40s and 50s was not like anything else I'd seen, yet she was tackling serious issues. But she was making sure that her female characters always had grace, strength and a sense of humor. She became a role model.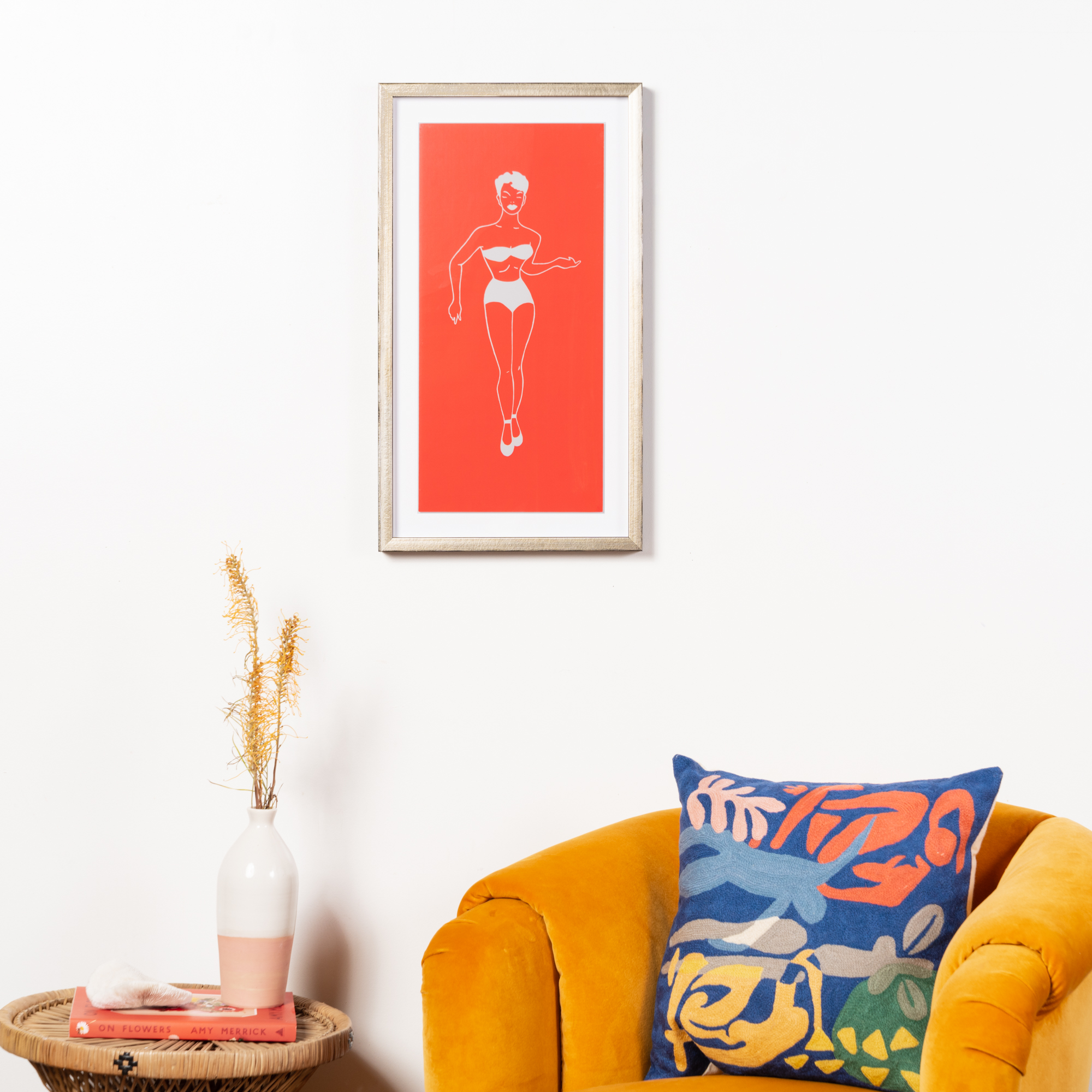 How do patterns and color factor their way into your work?
I am a paper hoarder. We have this amazing paper store and I would go and collect these sheets of paper from all over the world. I'd put them in my flat files, look at them, touch them and bring them out. One day I realized,"Tracy, you're an artist. You've got to take the scissors and cut them and start using them." And I started with one and that became the dress. Now, I'm going all the time because I'm running out and people are saying, "I like that pattern. I want to commission you to do one that way." It really was my love of color and pattern, and my inability to stop shopping for them.
You work in a variety of mediums, from illustration to painting to papercuts. How did you form this multifaceted skill set?
If it's a project that I'm not commissioned for, I'm just in my studio experimenting. Right now, I have different patterns and different panels that are out. The size of the panel dictates whether I can use the paper or whether I'm painting or doing a collage or resin. My 12' by 12's are my experimentation; I see if patterns go together. Because, when I resin them, they change. The colors get intensified, muted or transparent. I always experiment in a smaller size and then I upgrade. In my head, all my paintings are 20 feet tall and I'm working my way to that size. Once I started incorporating the patterns into one element, which may be the background or the clothing, it just took off. I've moved from using paper that I purchased to creating my own paper.
I have a piece that is encaustic paper that I designed with wax, rice paper and ink. It's just evolving. I get bored sometimes and I just play. I have the best job in the world, I get to play 24/7 and I get paid. Can't beat that.
You've done public commissions before. How do you approach a project like that, that will be seen in a specific, public setting?
Usually, I have a consultation with a client. They are always referencing work that I've already completed. Once, I tried to have a client give me their ideas, and then I tried to give my version of it, but it did not work. It was the most painful process. So I tell everybody upfront that I do silhouettes of female women that are Black. I give them options and I will do a mock up. Then, I send them like three options that they can choose from. We move forward that way. But, I try not to get outside of what I'm currently doing. It's stressful doing commissions; I want the experimentation to stay fun. For some reason, when I'm doing a commission for somebody, that fun element is just elusive.
What statement does your art make?
The female figure is beautiful and has clean lines. In all of my work, it's the lines that draw you in. If you don't know that my work is based upon images, real people and Black women, you may not get the fact that they are my subject. But, you do get the beauty and grace of the female form. You get the interaction of patterns and how it can be very subtle and still have a strong element to it. The female form is strong, graceful and worth studying. With the majority of my work, I do a resin pour, so you see your reflection in the piece. I like to have some negative space, whether that's the silhouette or that's the background. You're able to see yourself in the work. I get a big kick out of that.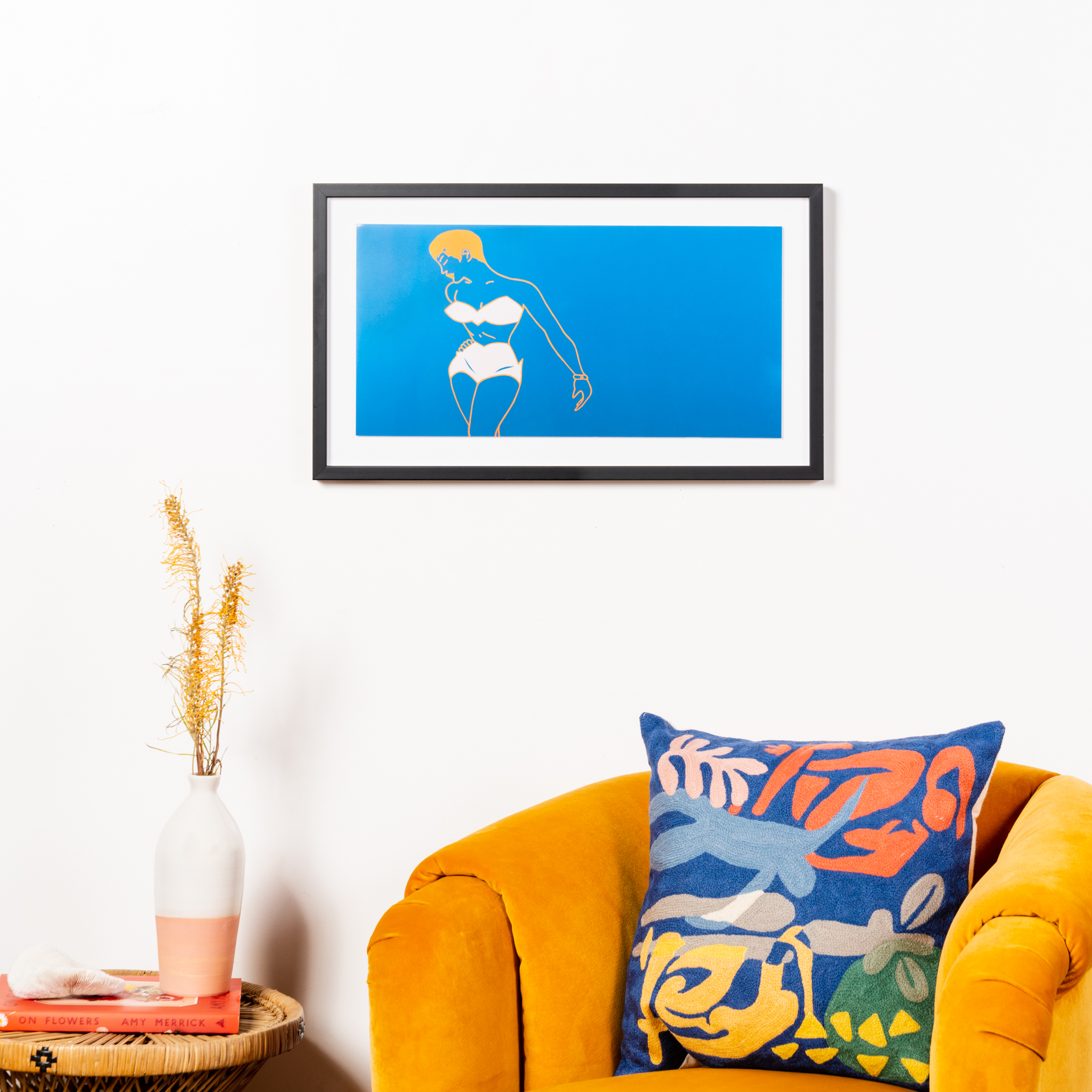 How does Atlanta's creative scene contribute to your work and creative process?
Wow, I live in a very rich, creative community. We get a lot of support internally, as well as from the city itself. There's tons of galleries: the major blue chip galleries to the artists-run collective galleries. My studio space is in an old church and we have three floors. There are around 16 visual artists that are in my space and we're in each other's studios all the time. Atlanta is an easy place to create work and show work. There are not a lot of barriers to that.
I have my circle of artists that I am in communication with. And I have to make myself go to a new event, so I can start meeting other people. There's no lack of shows and work to apply for. The movie industry is here, so there's a lot for film. Artists are constantly having studio visits. I constantly have art consultants come through and say that they are ready to start putting work in [a building's] lobby. It's a really rich community, very supportive.
What is your ideal setting for creativity? A bustling workroom? A silent studio?
I have different playlists. There's a high energy playlist when it's time to clean up and organize (Cleo Sol, Aaron Taylor, Montana, St. Germain, Anderson .Paak). If I'm writing something, a proposal or applying for residency, it's jazz. Very mellow, it keeps me moving a little on the upbeat, not too much interference. If it's late at night and I need to stay up, I listen to the Black Keys for instrumentation. When you walk in my studio, you will hear music or you will hear an audiobook ("Back Channel" by Stephen Carter. The narrator, Bahni Turpin, her voice is incredible. Anything she narrates, I listen to). An audiobook comes in when I know what I'm doing and there's no thinking; I can listen to it and still work. Music is what drives me when I'm creating.
Learn more about Tracy and her work at her website and Instagram page.