Meet the Artist: Tess Ramirez
Tess Ramirez is the New York-based artist behind My Father's Daughter Designs, a design shop dedicated to the memory of her father who passed away from Alzheimer's Disease in 2012. Her graphic design, sketch and watercolor works capture memory—something integral to the story of her father—through still lifes and inanimate objects of sentimental significance. Particularly restaurant matchbooks. Read on to learn why restaurants are so important to her, some of her favorite places in New York City and how she feels when she overhears people viewing her work.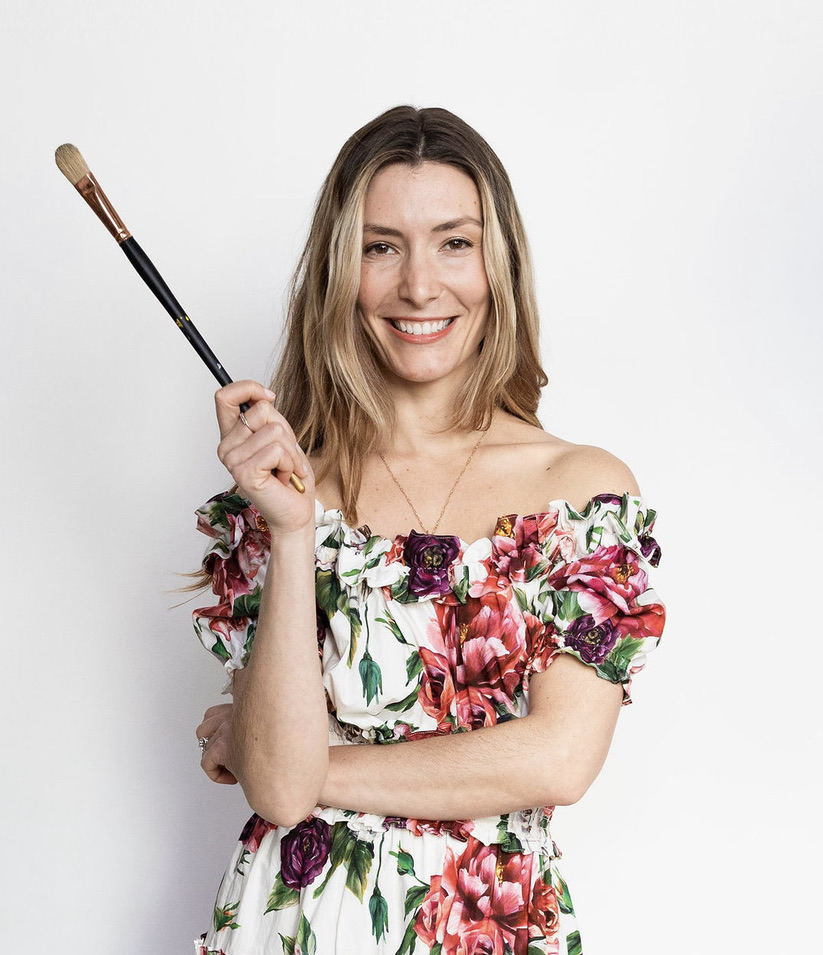 What drew you to matchbooks?
My Dad—who I started my business to honor—was also an artist and we have a lot of similarities. He collected matchbooks from his travels all over the world. He would bring them home from business trips, or ask for them from restaurants, to have as keepsakes. When he passed away from Alzheimer's in 2012, I inherited his massive collection and started adding to it on my own.
What resulted is an eclectic, worldwide matchbook collection.
Over the pandemic, I originally started doing commissions or odd jobs here and there before I [did art] full time. I was also doing wedding invitations, and as I am sure you can imagine, March 2020 came, and all my clients postponed or put their projects on hold.
Around that time, I was at my Mom's, and I spread all the matchbooks on the floor, and was grouping them by city and by country and had this idea for my now-fiancé's anniversary—to pull together our favorite New York City matchbooks and paint them in a way that would tell a story of our relationship.
That's how I really started!
Your father plays a significant role in your artistic identity—in the title of your shop and in the eloquent story on your site. How does his memory influence your practice?
He was a graphic designer, and my mom was a curator. My Dad taught me how to observe, how to draw, how to look at things as they are and put them to paper.
My mom, as a curator and art historian, taught me how to think about the history behind certain objects, famous locations etc.
Growing up, they encouraged that artistic side in me. My Dad took me under his wing and taught me everything he knew. He was diagnosed with Alzheimer's Disease—a degenerative brain disorder—so it was confusing as a middle school kid, getting to know your parent as they disappear in front of you. I was lucky to be around my Dad until sophomore year of college.
But as his memory started to decline, my mom encouraged me to connect with this side of myself—the side he taught me. She was instrumental in telling me his story and reassuring me that I am my father's daughter. I look like him, we have the exact same style of drawing.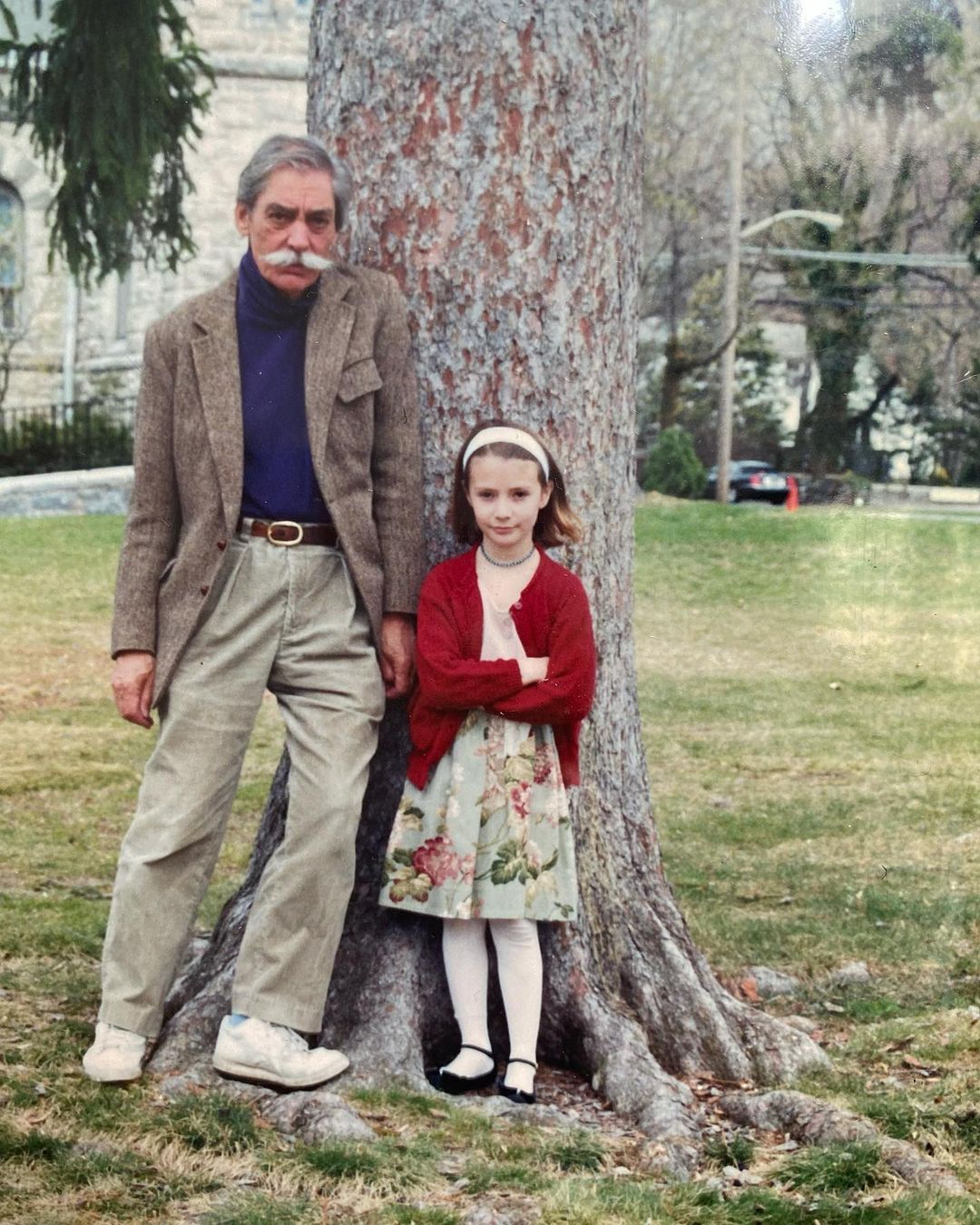 And how did he teach you art?
Everyone who knew him would remember he carried around a leather bound sketchbook. He took it everywhere—traveling, at the beach, if I was taking too much time at the mall.
He started to engage me when we were at restaurants together when I was little. I'd be getting fussy, and he would say, "Here's a pen, here's a piece of paper, I want you to draw what you see."
It's so funny now to think that my break—as you would say—came through restaurants. Because, really this all started in restaurants where he was showing me how to sketch. Whether it was what was on the table, or the people around me, he taught me how to observe.
He was a fantastic teacher. The sketchbooks he used are the legacy he left for me. It was difficult watching the person you know and love disappear due to this violently cruel disease, but having sketchbooks with his annotated notes, his wording, his doodles, helped.

I still pour over them. It's definitely the first thing I would grab if my mom's apartment was ever on fire. Aside from my mother.
Like the matchbooks, your work is about special-ness. From objects of memory to weddings. Why are you drawn to these emotional moments?
It goes back to growing up with somebody with this type of disease. I became really attached to objects that would carry special meaning. Or a memory. Tokens or sentimental items that would never disappear.
There's definitely a materiality aspect to the art—but I hope it would come across as more earnest. I like to give special objects center stage, so that every time you look at them, you think of a memory and feel a little bit happier.
My work explores memory and narrative through objects and still-lifes—chosen for their stories and sentimentality.
We know you're working on a series about nostalgia from youth, how do you source ideas for new work?
I am a serial re-watcher of old movies and TV shows. I live revisiting old books, rifling through family albums, looking at what my mother calls my "junk trunk" (half of it is crap), but I go through what I call these treasure boxes, I go through those regularly.
Also, being in a city like New York—this is so cheesy—but there's so much inspiration here. I also am influenced by pop culture. It's interesting how fashion and art have been pivoting back to the '90s.
Anything can spark an idea for me. Inspiration comes from anywhere and everywhere.
How do you feel when you see your work in a frame?
Excited! It's always a "pinch me" moment. I love individualizing frames. I love picking up antique frames at gift shops. I love pairing frames with the artwork. I think the frames are just as individual as the pieces they hold.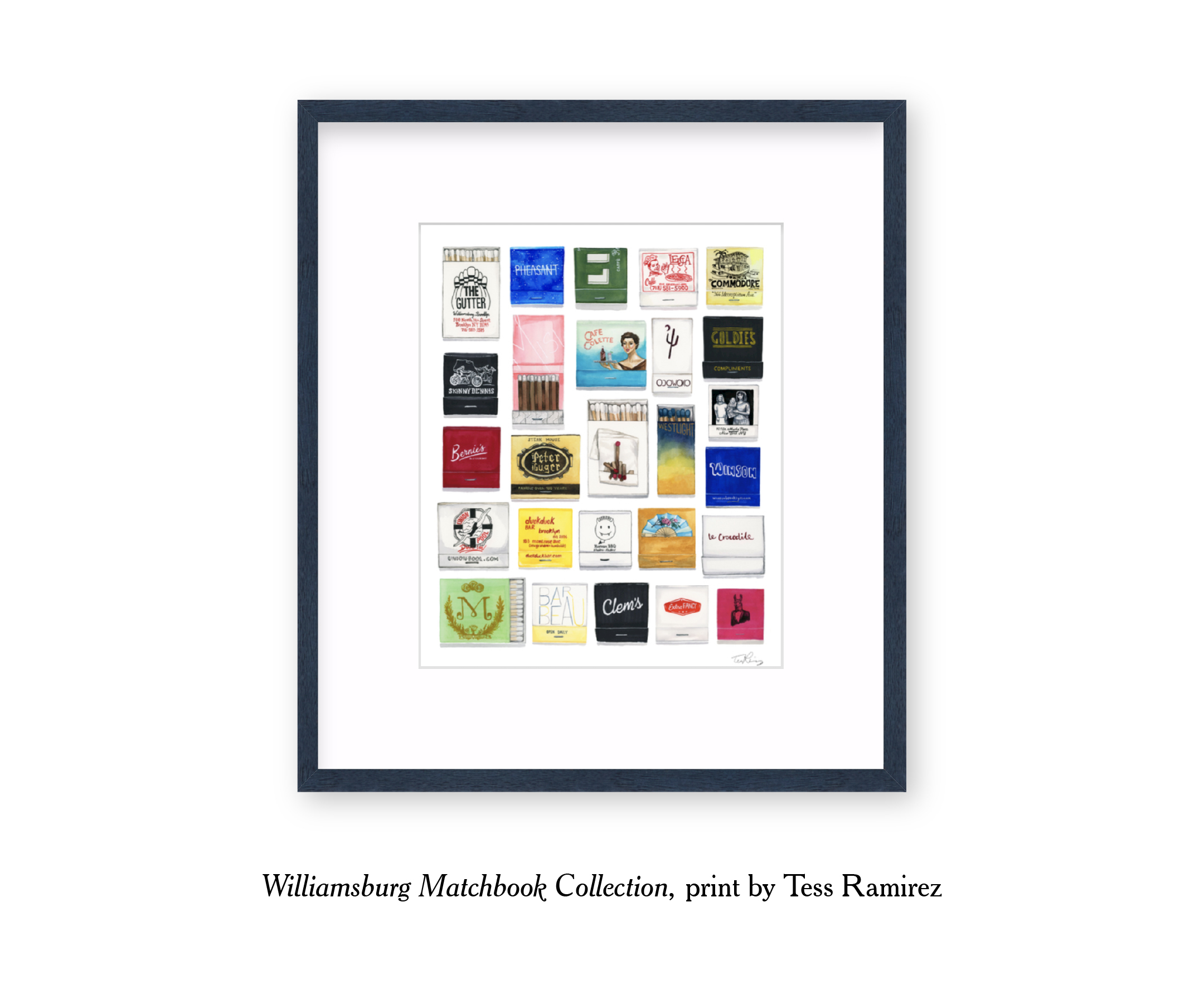 What do you hope a customer in a Framebridge store feels when they see your work?
I hope the first thing they do, especially with the matchbook pieces, is say, "Oh my god, these are some of my favorite restaurants! Do you remember when we went to Cafe Colette that Saturday and it was raining and we got the onion soup? And then we went to Gutter Bar?"
On the few occasions when I have been lucky enough to overhear people, what makes me so happy is hearing people talk about their experience when they look at these pieces. What really lights my fire is when someone sees their life in something I've created.