Meet the Artist: Carlos Carmonamedina
Carlos Carmonamedina is an artist who has created in Mexico, Romania and around the world. He has lived in DC since 2016, when he launched DC Is My City. One of his pieces—a depiction of a celebration at Black Lives Matter Plaza—hangs in the gallery wall in our Clarendon store. We learned how he got his DC start on Reddit and how his illustrations could provide a historical snapshot of an exceptional time.
Tell us about your artistic background.
I am originally from Mexico. I studied fine arts, specifically painting. I grew up inspired by the Mexican school of painting. The muralists, the cartoonists. I was born in Comarca Lagunera (North Mexico)...it had a good theater and a good couple of galleries, but art was not in the hands of everyone. I grew up highly influenced by comics. People ask me, 'When did you start drawing?' My answer is I never stopped.
How did you learn your craft?
We found a teacher that came from Mexico City whose specialty was fine arts and muralists. That influenced me to leave home when I was 16 to study art in Xalapa. Since then I've been living in many other places. I did a Masters of painting in the capital of Transylvania, in Romania, called Cluj-Napoca. From there I moved to Slovakia where I co-founded a rural art, land-art residency. We invited friends to come and create huge sculptures with stones and everything that you could find in the landscape. Those sculptures are still integrated into an open-air gallery. I lived in London, lived in France, where I married my wife, and we moved to the US where she got a job.
What do you think you learned about yourself during your years traveling?
Adapting has always been a way to challenge myself in different circumstances. Back in the day, I wouldn't stay three months in a single place. Traveling from residency to residency—my home was a backpack and a laptop. Those struggles taught me that you need to adapt, not only to your circumstances but to the people surrounding you.
What was it like when you first got to DC?
After moving to DC, I left all my contacts in Europe and was basically starting again. That's where my love for comics and illustration came back as a useful resource to start connecting with people. I started posting an illustration a week, specifically on Reddit and Instagram and that was my way to get to know the city from a different perspective. The project turned into a series. I am now at almost over 200 illustrations over five years, which has led me to a bunch of opportunities.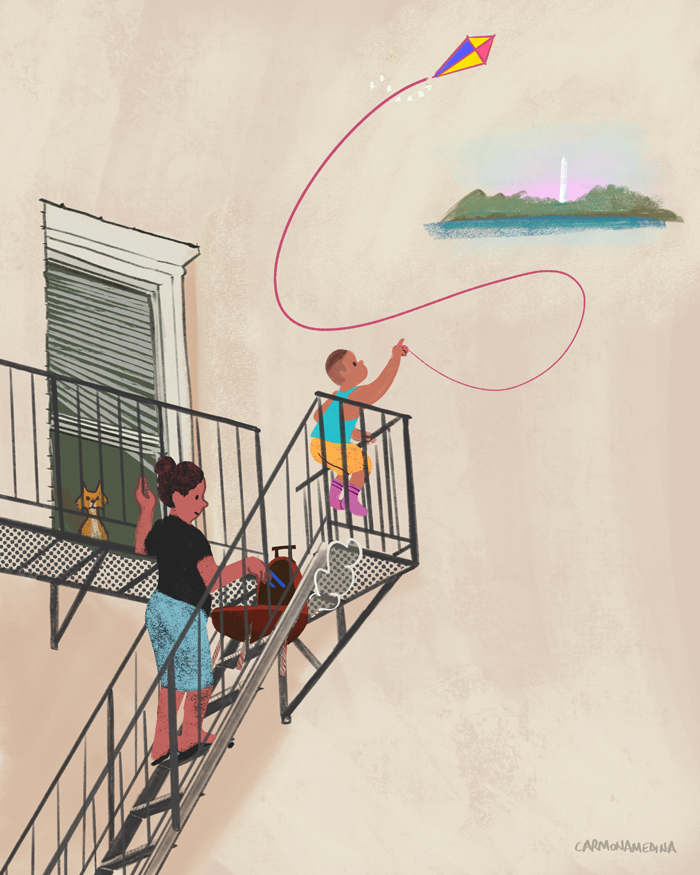 That's your 'DC Is My City' project. Can you tell us more about it?
I had been using Reddit for a couple of years before moving to DC. Reddit is always a difficult landscape to approach. It's anonymous people, and there are unspoken rules, and you have to know what those are to fit in. One of the things that was challenging at the beginning is that you cannot promote yourself. That's one of the conditions of many of the subreddits, including DC's. I guess with my perseverance and offering something unique and new, people started liking the project. Very early, there were people from Reddit asking 'Where can I buy these postcards?'
That was never really the intention. Within two or three months I had to learn the business, and production costs, and how to paint certain sizes. That turned into another business with painting in shops locally and on my website.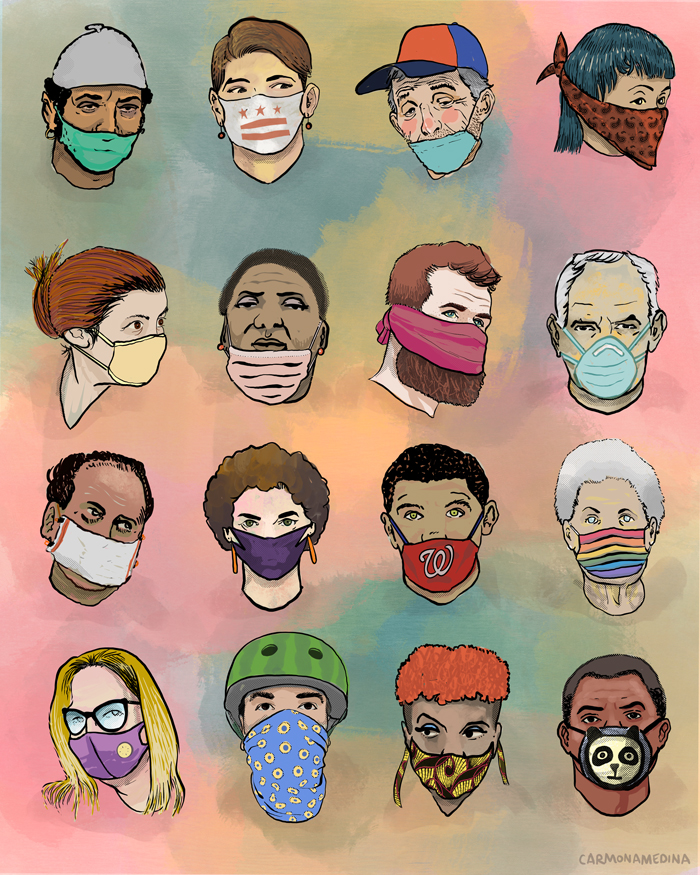 What are your goals for the project now?
It's challenging coming up with something new every week. Often, I am not as consistent. My idea was eventually to expand the project to other cities, it lended itself well to my habit of traveling. I would love to turn this into something a little bit more global. Maybe with a slight children's book touch. I have a toddler now. I feel like that's where my art should go. But I don't want to lose my connection with DC! Should I keep growing what I have?
I think, what if in 200 years someone looks at my postcards, they will see that was a period of time in which this person was in this city, and the people dressed this way, and there were these buildings. I often wonder, where will these end up?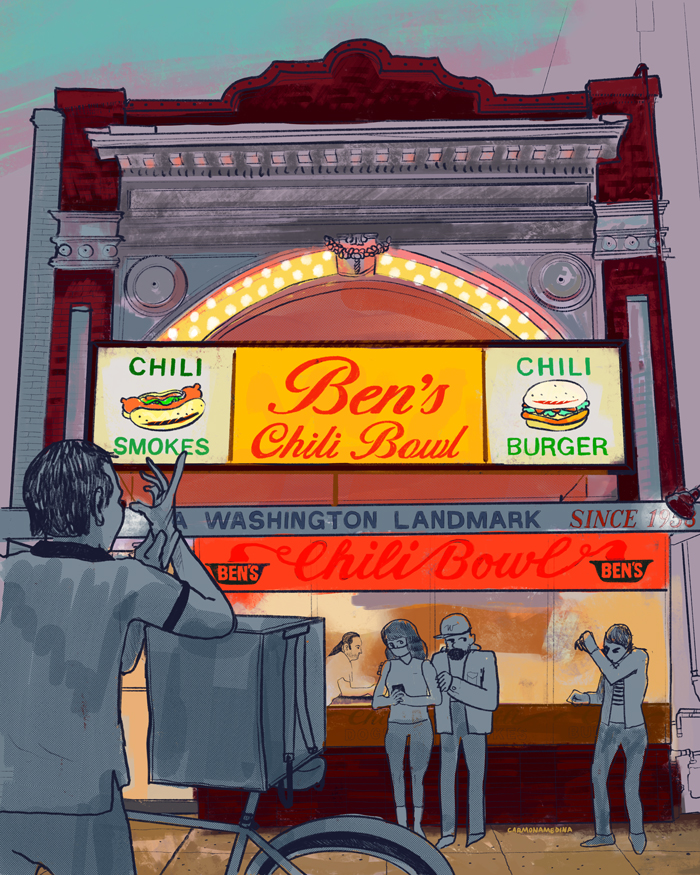 How did your relationship with DC evolve as you did so much art about it?
I am clearly no longer the person that looks at everything with awe and fresh eyes. I am also much more aware of the weight of the city in the national context, the importance of the racial relationships in DC politics and culture. I am part of a community of creators who are all doing extremely interesting things. The more time I spend in DC, the more I love it. You discover this rich community and place with a wonderful history. But I also always have in mind that it is a very transient city. There's always a lingering feeling of how long is this going to last? That maybe goes along with my sense of adapting.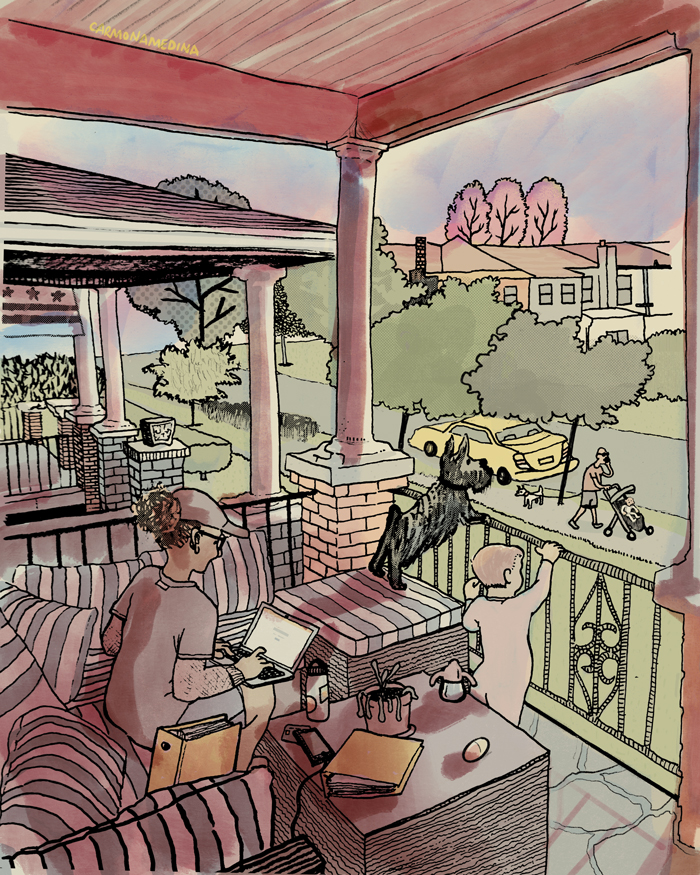 What do you think about the DC art scene?
People often compare DC to other cities. They forget to acknowledge that what we created is its own thing. It's unique and valuable, and people should be proud of their cities, or at least that's what I try to convey with my work. That being said, I am also aware of how expensive it is to live here, and how difficult or unequal it can be for artists. DC's art scene is a particular community and we all should appreciate it.
What kind of art are you pursuing outside of the 'DC Is My City' project?
I do a lot of commissions as an illustrator as well as graphic design and posters. That takes a lot of my time. I have been collaborating with DC Public Library. We did a couple of children's book illustrations last year. This is all thanks to the 'DC is My City' project. Hotels will contact me like, 'Hey, we want some illustrations.' And that takes a lot of my time too.
Some of the words that came to mind for us admiring your art are playful, imaginative, and sense of humor. Tell us about your illustrative style.
I always like to bring humor into my art. Humor is a way to connect with the people. In the 'DC Is My City' project, I tend to avoid touching politics, even though DC is a very political city. But it's something you cannot avoid engaging with—especially these last four years. My contribution is to make them a little more digestible, by touching them with a light humor.
As for colors, lines, textures, it's all a work in progress. Whenever I am in love with a new artist or illustrator, that greatly influences my work. Like I said earlier, I've been reading a lot of children's books. And I am unearthing a whole universe of possibilities.
Are there any art or artists in particular you like right now?
I've been reading Little Lulu lately. I am beginning to like old, vintage comics. The funnies!
Tell us about the piece that is hanging in the Clarendon store.
2020 was a difficult year for everybody. After doing a lot of these postcards for a long time, I hit a wall. I felt [at the beginning of the pandemic], that I was not entitled to put something out there because a lot of people were suffering. Little by little I started again, and I realized people were in need, wanting this kind of content that would distract them.
I speak of the postcards by numbers, so that period started with postcard 157 [of the Gallery Place-Chinatown metro stop]. This period of postcards, from 157 to 184 [of the election celebration in Black Lives Matter Plaza], that's the pandemic period.
That postcard is the culmination of the angst and rage. It's a closing. Finally something to smile about at the end of a very tough year.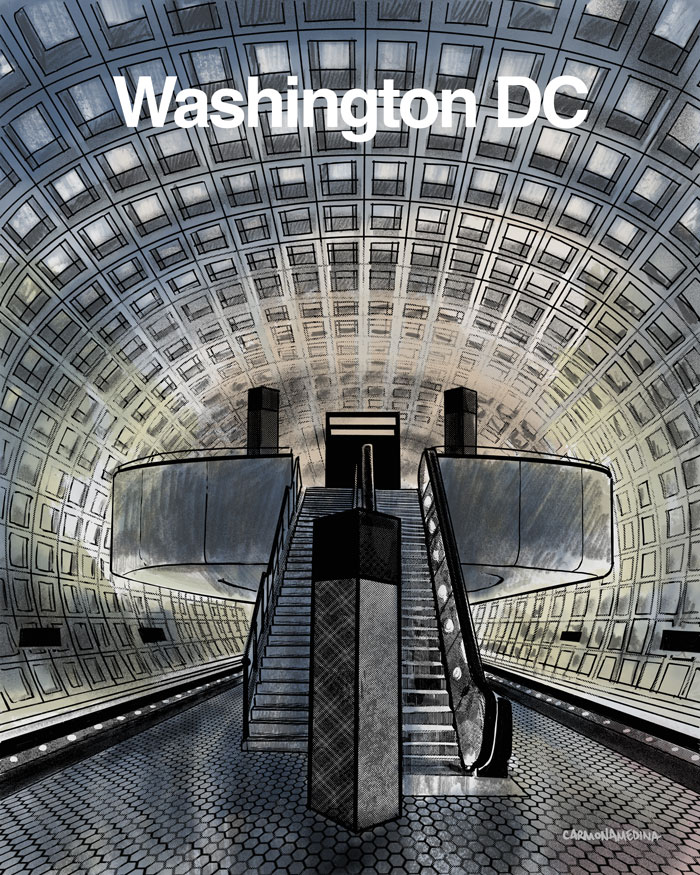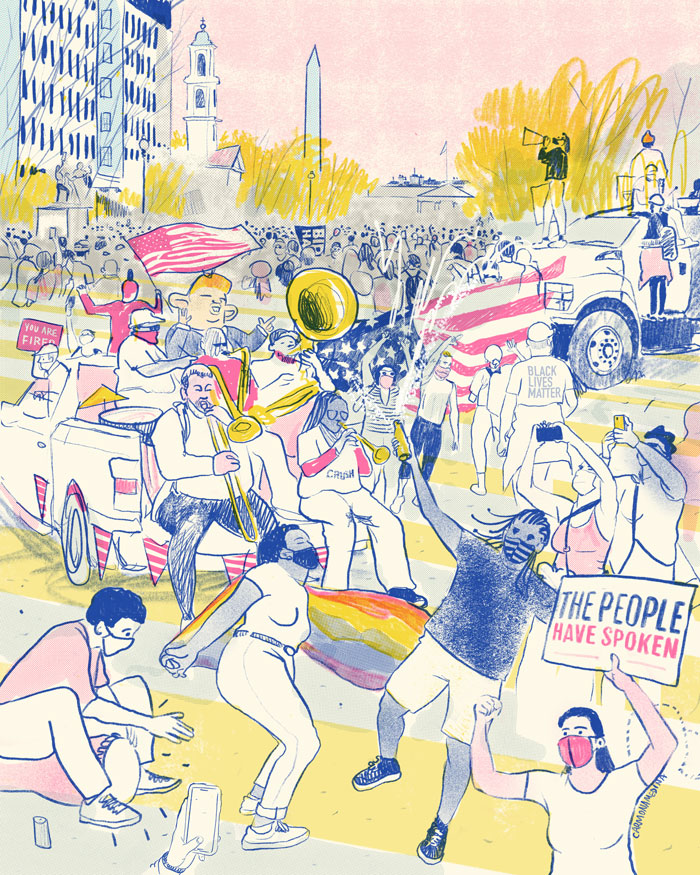 What's your hope for how people react to it on the Clarendon gallery wall?
Whenever I put my illustrations out there, I recognize that they have life on their own. I am curious to see where these things will end up in 100 years. It would make me really happy if this art can be a good indication of the time that we are living in.
Want to see it yourself (or other incredible artists)?