Meet the American Hardwoods Collection

American-grown material. Beautiful grain. Natural finish.

The American Hardwoods Collection is the first of its kind: naturally finished solid wood frames that are grown, milled, and built in America. The collection features three hardwoods prized for their unique grains, durability, and characteristic patina that comes with age. We're proud to introduce our Walnut, Cherry, and Ash frames.

When our customers (that's you!) asked us to offer more wood frames, we seized the opportunity to create a truly unique product unlike anything else available in custom framing. And as always, we put a Framebridge spin on these frames - they are affordable, sustainable, and built to last.

American to the core.

The American Hardwoods Collection is grown in Virginia, milled in Alabama, and handcrafted in our Maryland and Kentucky factories. To give each frame a rich, velvety finish we opted for a simple matte wax.


No stains. No dyes. Just the natural color and grain of the wood.

From the beginning, we knew we wanted to offer Walnut frames. It's one of few naturally dark American Hardwoods. With distinctive variations in grain, our Walnut frames are a deep chocolate brown. These frames are unlike anything we (or anyone else) have offered before.

We chose Ash for our artists and customers who asked for light, natural wood frames for gallery exhibits and shows. Its blonde tones and strong grain look equally great on white gallery walls, in tiny city studios, and in rustic mountainside cabins.

So, we had a dark wood and a light wood. We wanted to round out the collection with a medium tone even Goldilocks would approve of. When they spotted a piece of unfinished Cherry wood in our Maryland factory, the Framebridge designers noticed how soft and pretty it was, ranging in tone from warm blonde to red. Now, we don't play favorites, but let's just say our bets are on Cherry.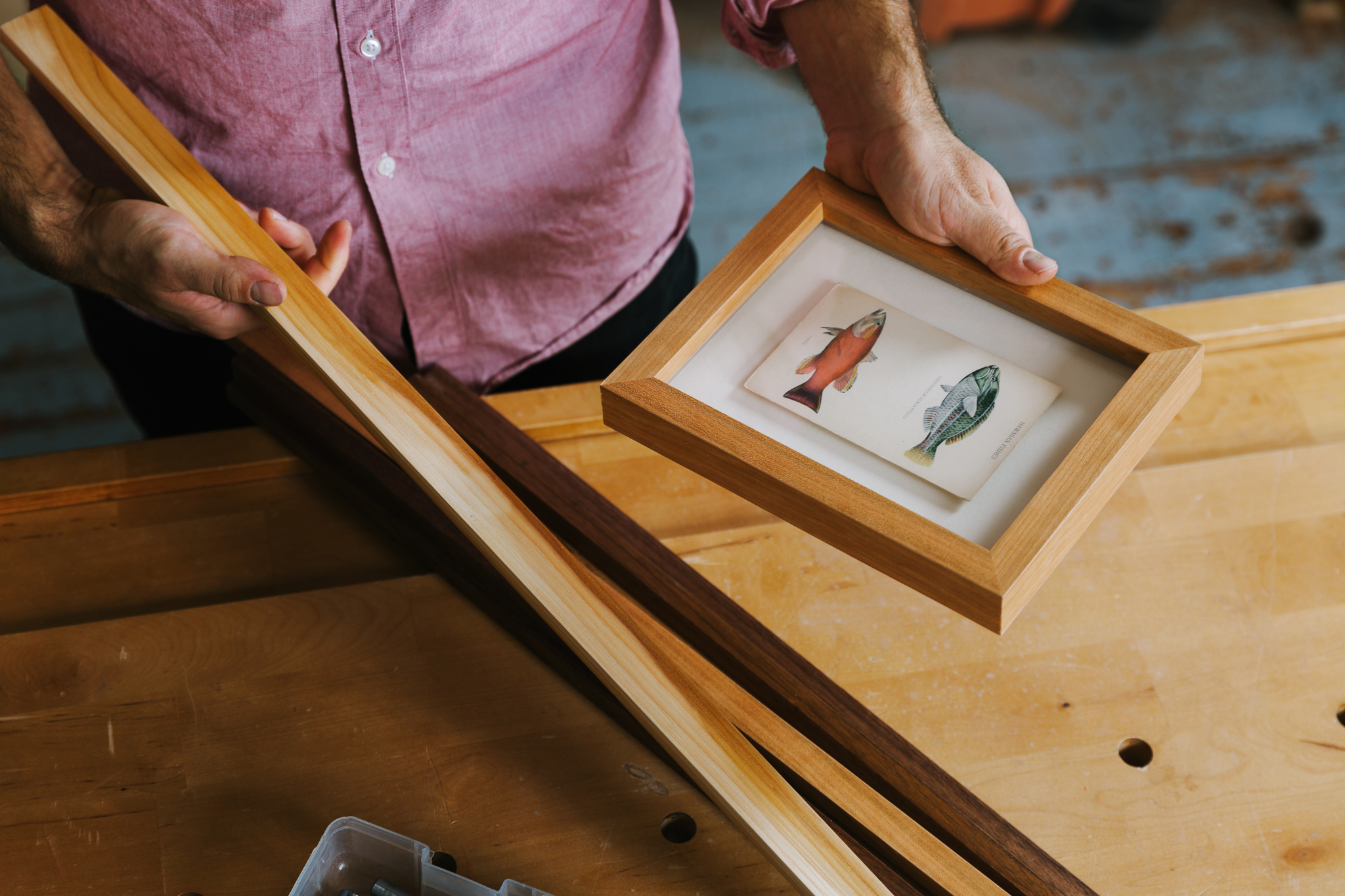 One-of-a-kind. Every time.

Every frame we build is one-of-a-kind and handcrafted to your specifications by experts. Their natural grain patterns - whorls, burls, growth rings, oh my - make every side of every frame in the American Hardwoods collection truly unique.

We're thrilled to offer you this Collection, and we can't wait to see what you frame in it.