Admits One
Their bank accounts are merged. Only one Amazon account. And they're both practicing social distancing inside together. So what could Esther do to surprise her husband on his birthday?

"I thought that I should create something," Esther says. Hence, Hubby Passes.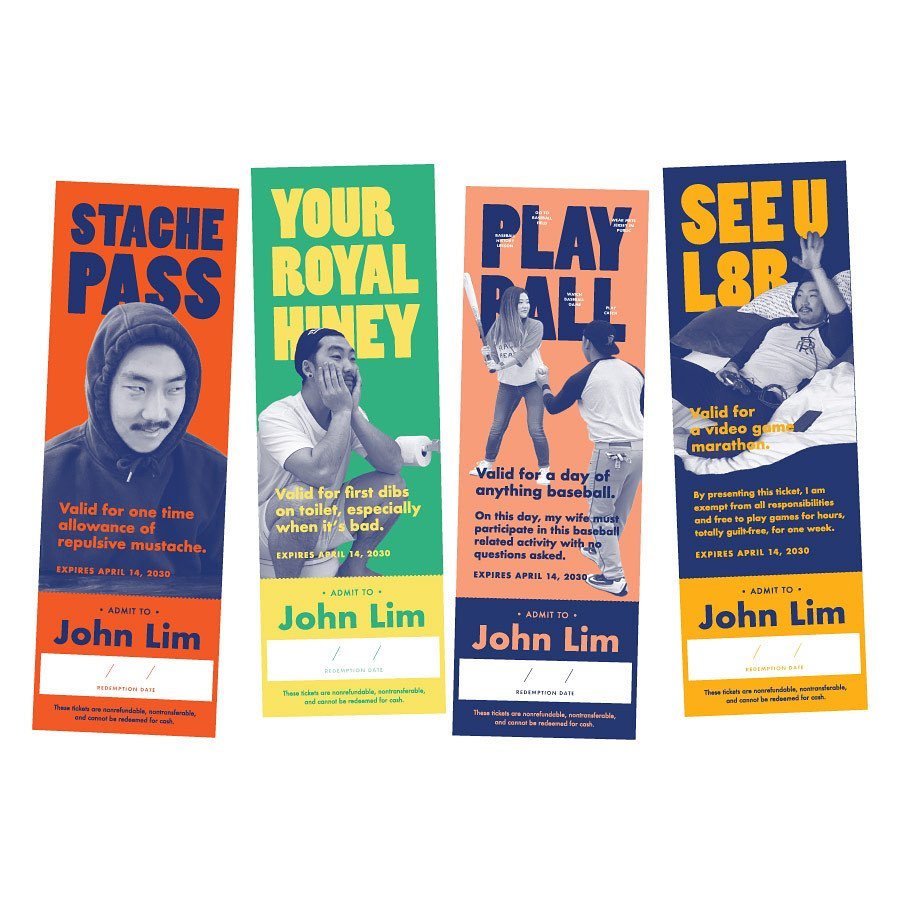 "Your Royal Hiney" — Valid for first dibs on the toilet, especially when it's bad.
"Play Ball" — Valid for a day of anything baseball.
"See U L8R" — Valid for a video game marathon.
And finally, "Stache Pass" — Valid for a one time allowance of a repulsive mustache. ("It's all personal preference, but I prefer him without a mustache.")

To make these tickets, Esther put her skills as a graphic designer to use. Because her husband, John, loves baseball so much, she wanted the look and feel to be a "baseball admission ticket vibe." She borrowed the color scheme from the Mets, his favorite team. She made two sets, one to be enjoyed, one for something like bookmarks (or framing!). She printed them on glossy sticker paper. She even recreated a tear-away stub, producing a perforated edge by hand, with an exacto knife.

Esther put the tickets into a cardboard flap, wrapped the flap, and left it on John's desk, so he'd see it when he started his work day.

He loved them. Maybe even too much, because for a second, he thought the tickets were real.

He's been playing a lot of "Call of Duty War Something." Esther says, "That one is checked off in my mind."

As for the mustache?

John thinks that practicing social distancing means he should definitely grow a mustache because nobody will see him. As the only person who definitely will see him, Esther disagrees.

But that didn't stop them from enjoying his birthday.

Check out the rest of Esther's work on her Instagram.