In Gramps We Trust
Gramps was the pillar. The rock. The rule-setter and the rule-breaker.

"He was a salt of the earth human," remembered Paige. "With a great sense of humor too."
Born and raised in Kentucky, Franklin W. Coleman (known to Paige as Gramps) was a farmer and an army veteran. His personality had many sides. Stern. A little bit gruff. Loving. Forgiving. But his most defining trait was his love for his family.
For Paige, the many sides of Gramps are all encapsulated in a specific memory: it's Christmas at Grandpa's house, and there are a bunch of rules. "Which fork to use. Fine china. Always pass your food to the left." The family is all dressed up. Feeling quite formal.
Out comes Gramps in his ugly Christmas jammies and white undershirt. But it wasn't a quick gag. That's the outfit he wore to build a snowman in the yard, to cook the ham, to bless the meal. He didn't change all day. Everybody was in stitches.
Particularly Paige, whose memory is punctuated by a moment that day where she was asking for a roll to no avail, drowned out by the family's Christmas chatter. Only Gramps heard her. And rules be damned, threw her a roll across the table—it is her fondest Christmas memory.
Gramps passed away about three years ago. There was a 21 gun salute at the funeral—his six grandkids, Paige's cousins, all collected the spent bullet casings. They put three in the American flag that went in his casket. But what to do with the others?
Some cousins kept it in a pocket or drawer or made a keychain out of it. But Paige works at Framebridge. She knew you could frame the things that matter most.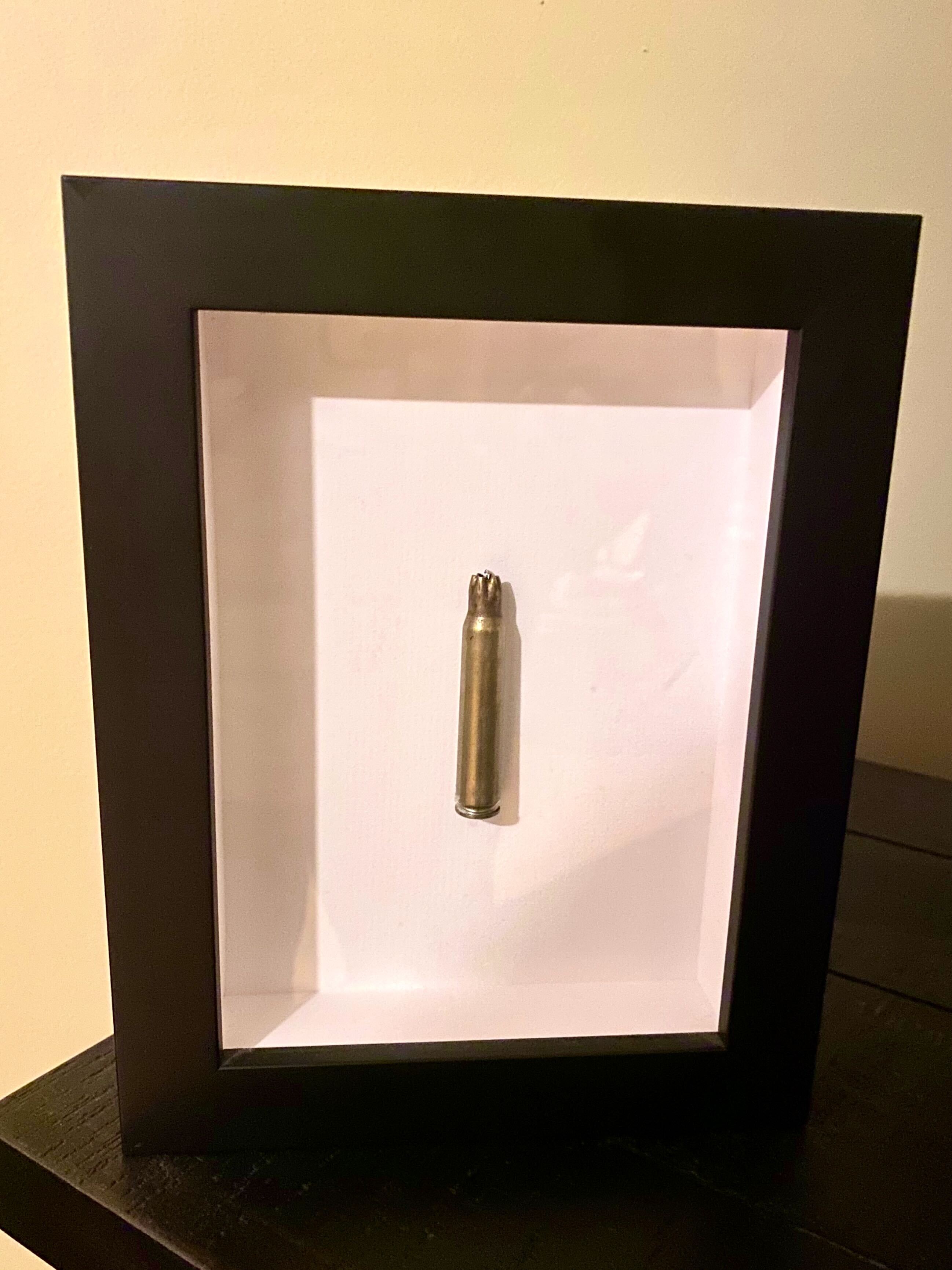 Paige works in one of our studios, where "it's always an honor to frame special things for people. But when it's something special to you, it is even more of an emotional experience." It was moving to see her coworkers take such care and attention to the bullet casing—it made her feel a shared sense of respect for Gramps' memory.
Her cousins took notice. Others framed their casings.
There was another memento special to Gramps—a chain and lock from the farm where he grew up and later ran a farm of his own. Some of Paige's earliest memories are in its tobacco fields. Or under the big weeping willow. Or during big Easter lunches, or hot summer days. On a farm, she learned about the "circle of life"—helping with births and butchering. As she recalled this place, she took a deep breath and looked up to say, "That place raised us."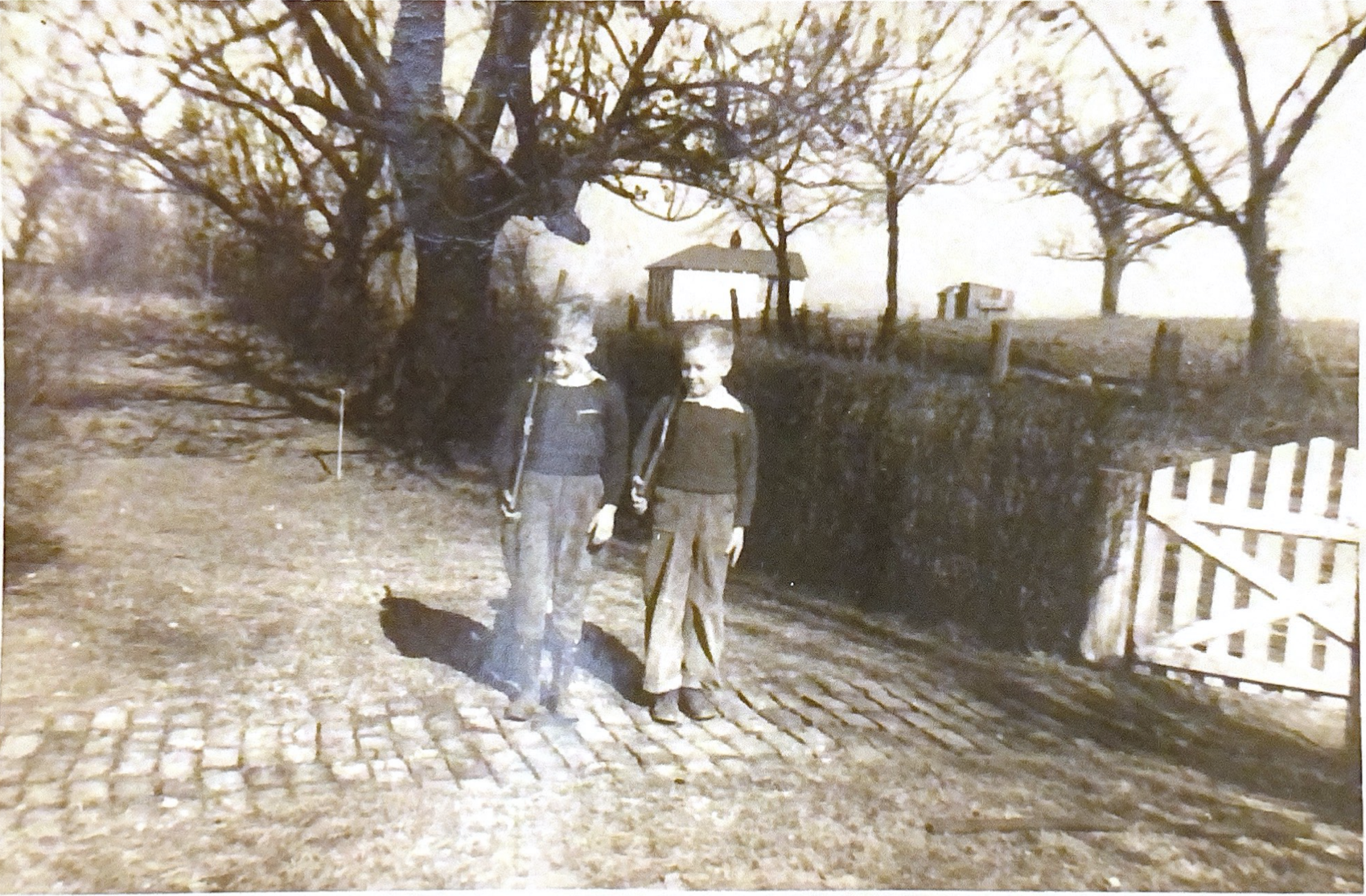 One of her aunts had the lock and chain from the farm's front gate tucked away in a drawer. So her cousin stole it without her aunt noticing, and got it framed for Christmas.

"When my aunt saw the Framebridge box under the tree, we knew there would be waterworks."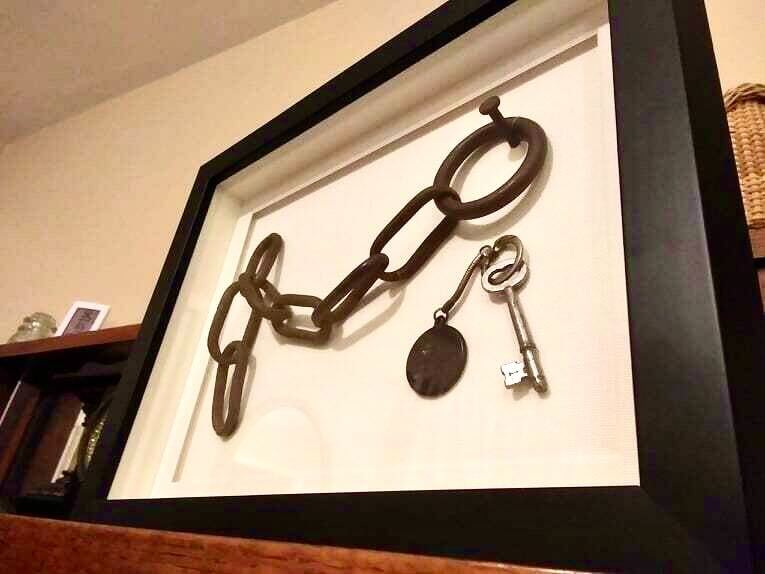 Today, the lock and chain hangs over her aunt's fireplace in the living room. Paige's bullet casing from the funeral is on her mantle.
When she sees it, she feels "a little sadness. When you love somebody so much for so long, grief can sneak up on you in weird ways. But also with the sadness, there is an overwhelming, happy feeling—of the vivid and hysterical memories."
She wiped a tear and smiled. "Like the damn, ugly Christmas pants."
Have a gift idea that will make them cry (in a good way)?

We're happy to frame your spent bullet casings. We do not frame live ammunition or weapons of any kind.