Gary Williams frames his trophy moments
My oh my. How do we begin to describe our friend and photographer Gary Williams aka @masterwilliams? Besides being easy on the eyes, this humble soul is a true professional. The first time he came to the Framebridge office, we talked for hours and, since then, we've seen in action all of the qualities that have led to his success as a photographer. As co-founder of Creative Theory agency, a GQ Insider, and photographer for brands like Nike and Timex, it's hard to believe his photo career only really started three short years ago. So, for all you creatives, dreamers, and doers out there, meet kindred spirit and fellow creative hustler, Gary.
---
First things first: how did you become a photographer? My first year in college, I was studying industrial engineering and I realized it just wasn't for me. So I transferred to an arts school nearby and really excelled. And the photography portion of it, I just really fell in love with everything about it. That's where my passion started to be nurtured.
What happened next? I ended up getting a job as a graphic designer for a government contractor. There were some photography aspects to the job, but the bulk of it was graphic design. They provided camera equipment, but we didn't really use it much. So I would always take it out on the weekends and weeknights and do my creative projects with the work equipment. The passion and the love for it grew every second.
So how did the side hustle grow into a full time thing? On the seven year mark at my government job, they laid me off. At that time I had done enough work to think "maybe I can do this on my own." I felt like this was the chance for me to prove that to myself. Not really knowing, just taking a chance.
A buddy of mine called me up like a month and a half after I was laid off and said, "We have this campaign we need shot. It's for Dick's Sporting Goods. It's two weeks on the road." I said, "Of course I'll do it." At that point it was confirmation that I could do this on my own.
What role has Instagram played in your career? It just so happened that this social and digital content thing was taking off right as I was exiting my government job. It's been amazing to look back and see the progression not only of myself, but of photography through Instagram and other platforms. It's changed not just for me, but for everybody. Even now, I'm a photographer and I have this agency and brands are coming to me more for consulting, for ideas, strategy, photographing, shooting, producing, creative direction. And it's still changing. Who knows where it will be next year or five years from now?
What would you say was the most challenging part about being on your own? Getting my business in order. I studied some business classes in school, but I really didn't know the ropes. I had to reach out to friends to find out what I needed to do and how I needed to operate. All that stuff was difficult, not because it was hard but because it was tedious.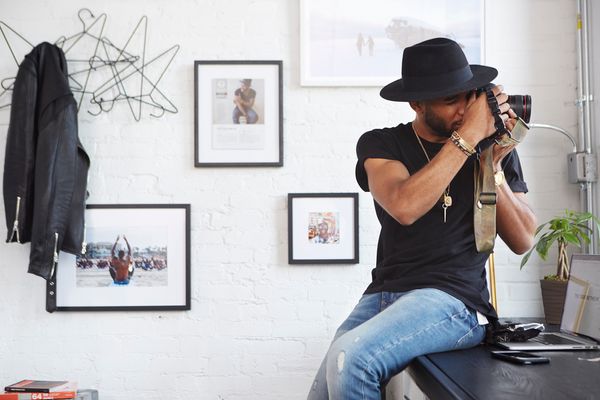 "That's a major part of the game. Being coachable.
Being able to take direction. Being a good person."
What's the best advice you've gotten as you've grown your business? Just to be a good person. I'm sure there are other photographers clients can hire that are better than I am, but at the end of the day it really comes down to relationships. It really comes down to being a person that's able to take criticism and direction. Not having an ego, but at the same time knowing your worth and knowing you're good at what you do.
I have had many clients say, "We just love your personality. We love working with you. It's easy." I was in London with a client and she was saying that I was one of the best photographers that she has worked with. And this client has worked with tons of photographers. She said the thing that separates me from them is that I take direction. I'm not snobby about my photos. If she had something to say I took that direction. That's a major part of the game. Being coachable. Being able to take direction. Being a good person. That's the best advice I've gotten.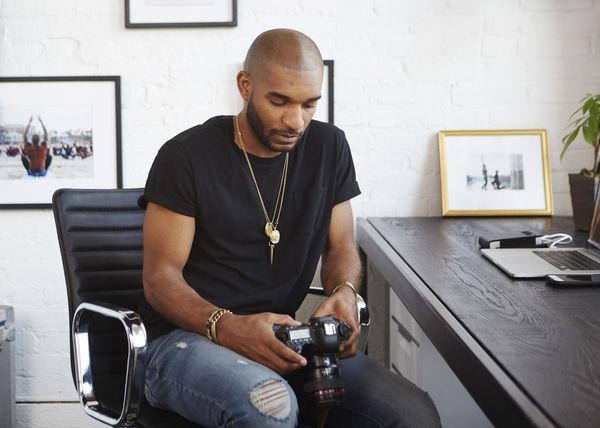 Let's talk about a few of the items you framed with us. Should we start with GQ? GQ was a dream for me. I grew up reading GQ. Me and my cousin would go to Barnes and Noble, we wouldn't buy the magazine but we would sit there and read the GQ and try to emulate everything we saw in the magazine on a budget. I've always been a fan of GQ. Even at an early age. My mom recognized that and got me a subscription as a gift. I was always reading GQ. Me and my cousin even started a street fashion blog. We would go up to Philly and I would just shoot random strangers on the street and post them on the blog. So, we were kinda ahead of our time. We got that inspiration from GQ.
Never did I think that I would be. In. the. magazine. First of all, my style was atrocious back then. Thankfully, through GQ my style started to develop as I got older. Through the relationship with GQ Insider I was producing great content with the things that they were giving me so they reached out and said they wanted to feature me in the magazine as the insider of the month.
That was surreal for me. It was a huge moment in my career, and just personally. From reading the magazine when I was young, to being in it. It's unbelievable. Sometimes I forget. Like. I was in GQ magazine. All this stuff I never planned.
My dad is a pastor, so I was a preacher's kid. There's this verse that says, "your gift will make way for you." Legit, my gift is obviously photography, and it has just made a way for me. It really has. It's opened up doors, and I've walked through those doors that I thought were the right doors. Not necessarily with a plan, but with a desire to just do photography. I just want to be creative. Do photography. Do film. And wherever that takes me that's where I'm gonna go. It just so happens that now I'm getting a little bit more deliberate with the agency and what I want to do with what I've built. But it has always been about letting my gift lead the way.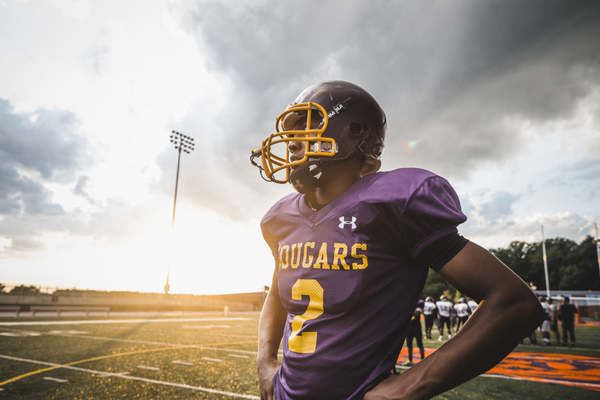 What's the story behind this gorgeous football photo? That's from the first campaign I'd ever done with Dick's Sporting Goods. It was called "Hellweek". Before school starts these players go through two-a-days to get them back in the mindset and prepare them for the season. Dick's does a short film every year based around hell week. I was capturing all the content for the social media posts. It was two weeks in an RV going to a different high school everyday, shooting, getting back on the RV, editing, then delivering images, and then doing it all the next day at a different school.
This photo was taken at the last school in Philadelphia. It was actually the school that the short film was based on. It was sunset. They had just finished doing some drills. I think that was the quarterback. He was standing there, and the light was just perfect. I just snapped it. It turned out to be one of my favorite photos that I've taken. Just based on the lighting and the moment.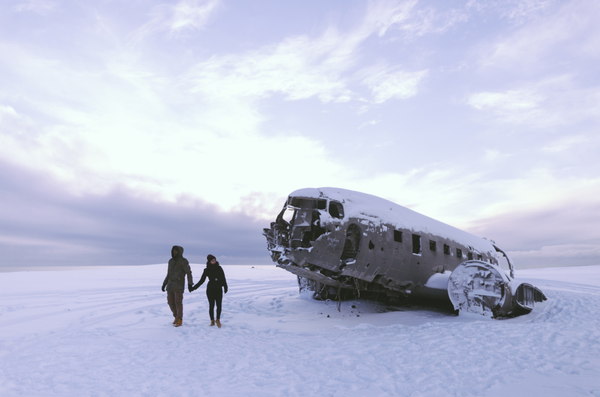 We loved the series you did on Iceland. How did you get this shot? It's unreal. My fiancee had always wanted to go to Iceland to see the Northern Lights. So we found a flight deal on an airline - $99 for a round trip to Iceland - and headed out.
Prior to heading out we looked up this plane wreckage I had seen on Instagram. We mapped it out and got all the directions. As soon as we landed we hopped in the rental, and drove to the site to get some sunrise photos. When we finally got there, the road was covered in snow. It wasn't drivable. Like, what are we going to do? Finally, we come to the conclusion we're going to walk.
We get there, and it's just us and this other couple with this amazing plane wreckage sunrise. I had my tripod and camera equipment on me. I knew we had to capture it. We trekked three miles there, and three miles back. But it was well worth it.
Ok. Tell us all about this LeBron photo. Last year I ended up getting contacted by an agency to shoot this event called the Nike Academy. This is one of Nike's largest, most star-studded events, where they bring the top high school and college basketball players out to this hanger in Santa Monica and they bring all the NBA stars out. So LeBron was there, Kobe was there, Kevin Durant was there, Chris Paul was there. All these major basketball players were there to watch the kids play, workout with them, give them 1:1 advice.
They brought me out to photograph the event.
It came up that they needed someone to shoot LeBron's yoga session on the beach in Santa Monica. I happened to be the one there at the time. Next thing you know, I was out on the beach, shooting LeBron. And I get this iconic photo of his back, and these kids doing yoga behind him. I shot this photo and showed it to my friend on the Nike side. He said, "I need that right now." So I edited it on my phone, sent it to him, and they posted it.
Immediately it went viral. And LeBron is my favorite player. I failed to mention that. So being in that space with him, and being able to capture that photo of him, and then him using it and knowing that I took it. It was crazy. Again, another moment where I look back, and I'm like, "WHAT?!" It was a very surreal moment for me.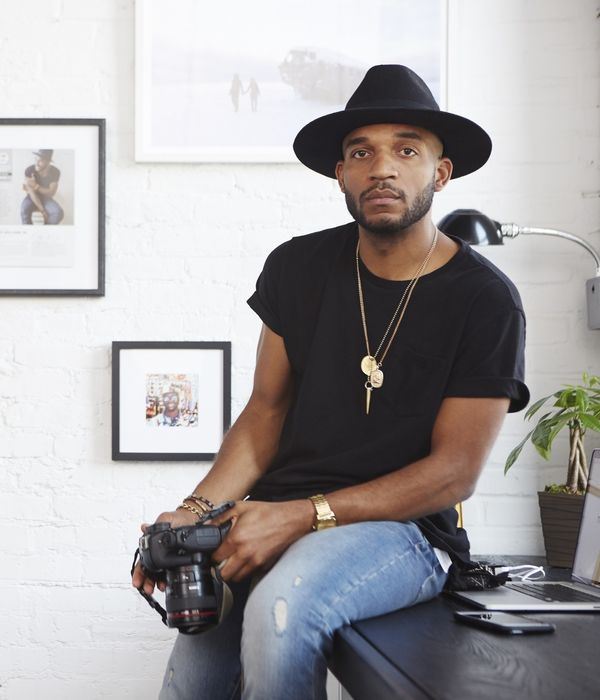 "These are moments that, for me, are trophies in my mind."
Is there anything in particular you're looking to shoot, given that your photos are typically used for social media campaigns? Something that tells a story, something that's going to captivate. I'm trying to capture the most authentic image, because I really do believe that authenticity wins the day.
Since you're shooting and working digitally, what's it like to see your work visually and printed, framed, and up on the wall? It makes me feel good. I don't print anything. So when I saw them I was like, "Wow." It was a whole 'nother feeling - almost nostalgic - seeing your work printed out. I said to myself, "I need to print more of my work out." I don't get that same feeling when I see it on Instagram. I wish I could describe it. I want to say it gave me the warm fuzzies. I just don't get the same feeling when I scroll, and I see it on my feed. I feel like it's almost like a trophy. When you get a trophy when you're a kid you put it on your mantle, and you think "Wow, I did that. I got first place." For me, that how I feel about these frames. These are moments that, for me, are trophies in my mind. They should be tangible. You guys really opened my eyes up to that.
---
What trophy moments do you want to frame?