From the Desk of Our Creative Director: How to Pick the Right Frame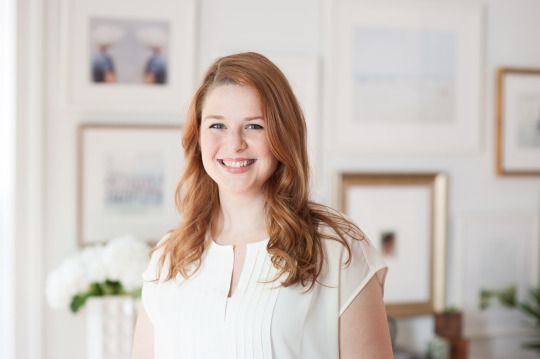 One of the greatest resources Framebridge has to offer is our wealth of design and framing experience. We've seen it all! Every mat type, every moulding style, every spacer and bevel modification. And we love using those insights to guide our customers through the framing process. We can do this by answering any questions you might have throughout the process but if you're looking at our selection of frames and you think - I'm just not sure! - you can always select our "Designer's Choice" option and let us help you pick the right frame for your piece.

Today we're sharing some great framing insights from our Creative Director - and master of all things design! - Tessa Wolf. Tessa was recently interviewed for lifestyle blog "Shut Up I Love That" and we're excited to share a few of her insights here. Read on for some great framing and design tips and click through over here for the full interview.
---
When you look at a piece of art that needs framing, what are the first things you consider?
First, the style of the art. Then, the style of the space where I plan to hang it. I try to narrow down my frame choices to a few options that really flatter the art piece, and then pick the one that looks best in the space. The great news is that clean, modern frames look great with any style of art and decor, so you can never go wrong with those!
When it comes to mat vs. No mat--what looks best with which kinds of art or photography? Any tips for deciding?
Generally, I like most pieces better with mats rather than without--they add airiness and impact to small pieces, and truly bring the viewer's eye right to the subject. Bonus--they can cover up imperfections like wrinkled corners or uneven margins, too. That said, I am always surprised by how much I love vintage posters, large-format photography, and pieces that are intended to be framed and hung together (like triptychs) without mats.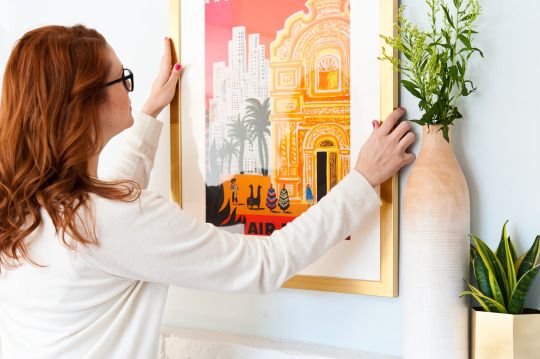 How about wall height and location? Any quick tips for placing your art?
Oh my gosh--I have a million! We created a whole page of detailed tips, but here are the biggies: People always hang art too high. If it's going above a piece of furniture, the bottom of the art should be 8 to 10 inches above the furniture. If it's hanging on a wall by itself, the center of the art should be 57 inches from the ground. If you're hanging a gallery wall or small grouping of pieces, you should think of them as one big piece for hanging purposes and follow the same rules for placement.
Yes, gallery walls! They are so popular right now. Any advice for starting one of your own?
We love gallery walls, and the best thing about them is that there are so, so many ways you can make them look great--collecting photos and memories throughout the years and framing all of them in the same frame style, finding an artist you love and framing several of her pieces in dramatically different frames, or starting with a few random pieces you love and adding to the collection vertically until you reach the ceiling like a salon wall, etc. I recommend that, if you're starting a wall from scratch, you choose one unifying element--color, size, finish--and carry that theme through all the pieces you choose. If your art is an eclectic mix of bright pieces, go with a combo of white and silver or natural wood frames--different widths, different textures, but similar color and tone. And don't be afraid to mix metallics! Some of our favorite gallery walls proudly feature gold, silver, and champagne frames.
Can you talk a bit about what goes on behind the scenes when a customer chooses "designer's choice"?
About two days after we receive your art in our studio (which is right away if you uploaded a photo or a few days after you ship your art to us), our designers will physically lay out your art with each of our mats and frames to see which combinations they like best. They'll precisely measure, photograph and photoshop each piece so color and aspect ratio are true to the work, and then mock it up in each of their favorite choices on our site. They write a short description for each option so you can better understand why they loved it, and send you the mockups to choose from. It's so much fun for our designers and for our customers. It's just so special to get to interact with our customers and their art in this way.
---
Got any other questions for Tessa? Ask away in the comments below!