The Gift That Keeps On Playing (On Repeat)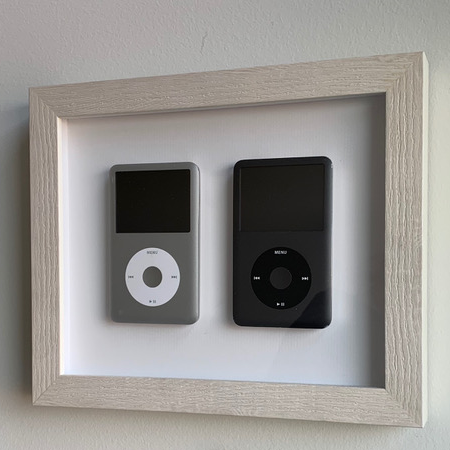 Megan and her Dad share a common language: music. Growing up, this meant she was fed her father's tastes — a diet that consisted of "60s and 70s classics (Allman Brothers, Dylan, The Who, Springsteen)" alongside "very 90s groups (Toad The Wet Sprocket, Blues Traveler, DMB)." These are the kinds of bands that filled two iPods, which were both gifts from her Dad. He even engraved them with her name and some Counting Crows lyrics.
Last holiday season, Megan repurposed these timeless gifts from her father into a gift for herself. Holding onto the iPods far past their daily use in her life, she had them framed and they now hang in her apartment.
It was her Dad who taught her to love everything encapsulated in such a piece — "music, technology, and art." Megan loves how "singular" it is, not only because "there is nothing else like it," but because it reminds her daily of her Dad's musings on music and life in general.

"I love the contrast of the sudden trend of iPods, with music and art, which are forever." And that's a tune worth putting on repeat.
Have an idea for your own creative gift?