Frame Your Journey: LA
She's nearing the end of her journey, but her updates are still heating up! This week we live vicariously through our friend Carla's oh-so-creative pass through Los Angeles where she visited museums, and tried her hand at an ancient printing technique. Read on to get Carla's point of view on the City of Angels. (And just a few questions from us in between.)
---
The Getty
One of my favorite spots to view the city - from downtown to the beach - is the Getty museum. While the art collection is world class and beyond impressive, I actually prefer experiencing the architecture from outside and exploring the impressive gardens.
It seems like you were really inspired by pattern in this space. How are you thinking of applying it? I loved the simple geometries incorporated into every aspect of the museum, from the angles of its architecture to the pattern in the paving stones. Every detail of the experience is considered.
What surprised you most about LA? The creative diversity. LA's art scene has been ramping up its game over the last few years and many creatives are making the move out west. It's no longer only a place for those in the TV and film industries, but a melting pot for artists of all kinds.
If we had only one day to spend there, what would you recommend we do? I would start with a morning at the Getty, lunch at a great new spot in Echo Park called Ostrich Farm followed by a stroll through the neighborhood. In the afternoon I would head downtown and spend a few hours at The Last Bookstore with a coffee from Verve nearby.
Katazome Printing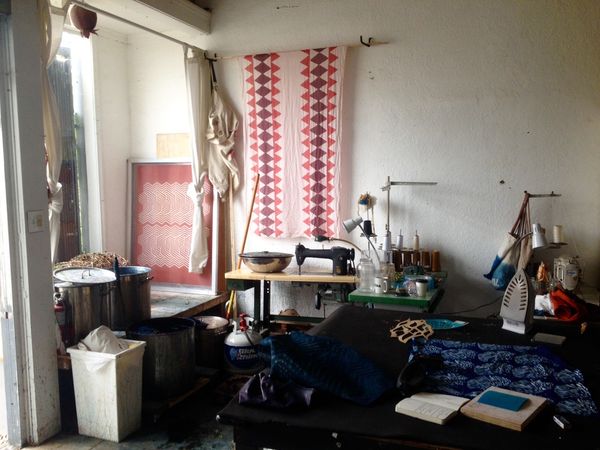 I had a wonderful day at the studio of textile artist Graham Keegan in Echo Park. I got a hands on lesson in the art of Katazome, a Japanese printing technique using a rice paste resist through a template. I was able to interpret one of my earlier paintings from Oregon as an indigo Katazome print. As well as creating beautiful textiles using natural dye processes, Graham gives amazing indigo and printing workshops right from his studio. LA folks - go check him out ASAP!
How did you meet Graham? How did you find out about his workshops? Graham is an friend of another great artist I know. It's such a wonderful feeling to be put in touch with like-minded people and connect over a craft or technique. I stopped by for a quick chat in his studio and it turned into a full day of printing!
Hardest part of Katazome printing? Probably the application of the rice paste onto the cotton. It's a thick, sticky paste and gets messy really quickly - definitely a skill earned through much practice and patience!
"It's such a wonderful feeling to be put in touch with like-minded people and connect over a craft or technique."
---
Stay tuned for the last(!!!) update from Carla next week, and in the meantime head over here for more inspiration from her journey.