Curating a collected gallery wall with Desiree Venn Frederic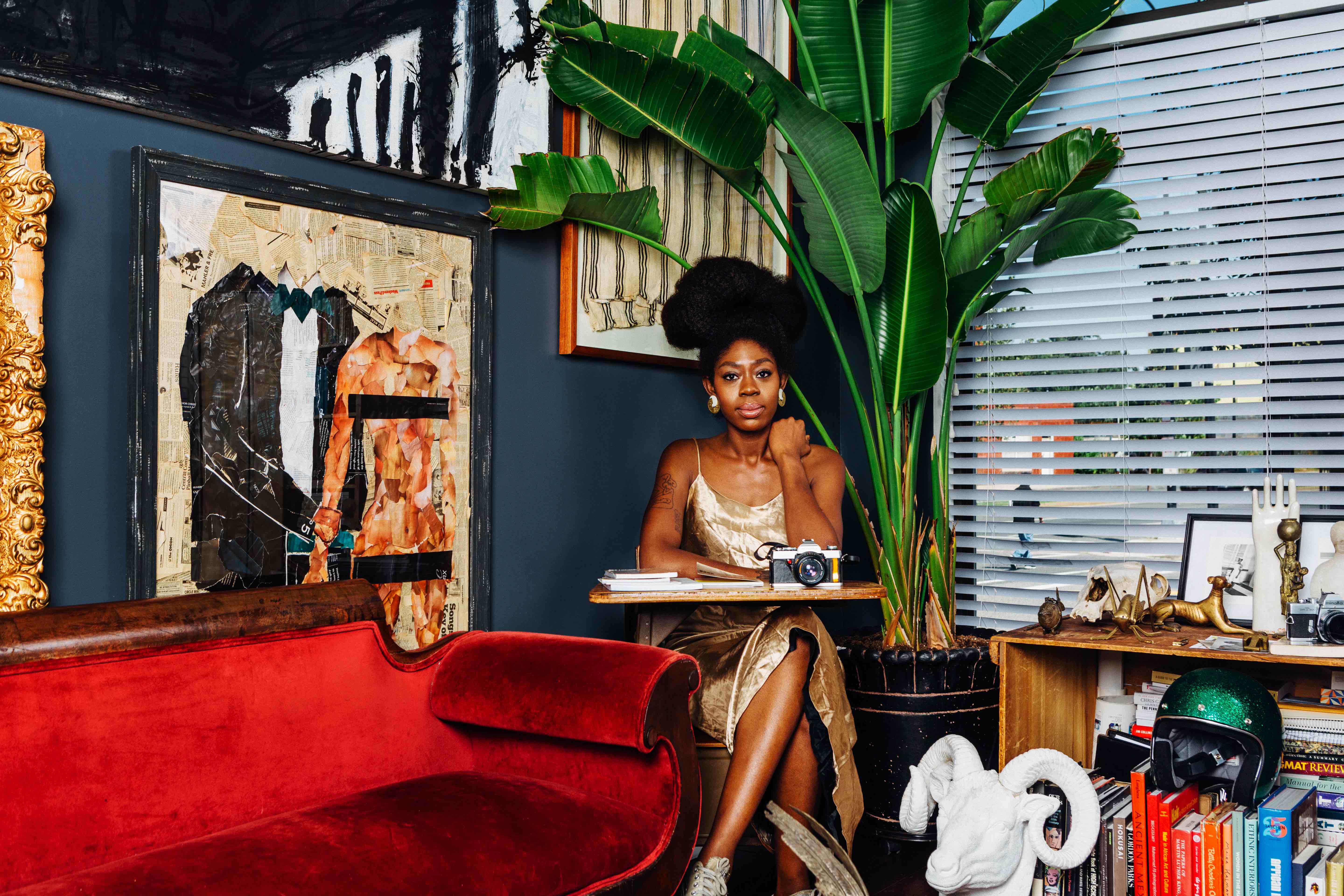 Here's the thing about Desiree Venn Frederic - she just has so much STYLE. We'd been fans of hers from afar - read: Instagram - for some time, so we were very (very) excited to have the chance to frame a few pieces for her collection at home. There's just something about seeing how someone's style translates into their home that is so personal and unique.
Desiree's home is a lot like her sartorial style - overwhelmingly layered and colorful and so. You're barely one foot in the door and you're immediately hit with sensory overload - the intoxicating scent of homemade chai, luscious red velvet upholstery, mellow tunes rotating on the record player, and large, bold art climbing from the baseboard to the ceiling. Set a quick walk from D.C.'s flourishing H-Street corridor, the apartment is vibrant, warm, and to home to Desiree - curator and founder of Nomad Yard - and her partner Tony Gyepi-Garbrah, the brains behind Gentleman's Brim. It's a sanctuary full of artifacts gifted and collected through the years, and pieces that reflect them and their stories. Relaxed and barefoot, we chatted with this one-of-a-kind vintage curator and her partner about investing in artists, picking the best vintage items, and what goes into mastering such a beautiful curated space - together. Take it away, Desiree.
| | | |
| --- | --- | --- |
| A pair of stunning green heels highlighted by a beautiful piece of abstract art in our Heathrow canvas frame | | Desiree and Tony's wall effortlessly balances texture, color, and scale to create a truly one of a kind look |
On Decor
The tone was set and locked when we found this Ralph Lauren Paint; paired with rich browns, burgundies and blacks--it screams all kinds of deliciousness.
A home should feel "collected" and not merely "decorated".
Permanence is the goal, so I view each piece as an investment seeking timelessness and quality that will translate throughout your life journey. Our approach in this home was a masculine, heritage-inspired tone. However, we prefer less literal translations. So no, pinstripes and tartan. Rather, grounded classic pieces... bring in the vintage.
We like industrial, weathered, warm and raw elements like dark wood, and materials that will patina over time, like brass, copper, and leather.
The key element is texture: for every smooth surface, there is a counter-acting thick texture. And then delve into richness: the reddish toned hardwood floors bring warmth, elegance and depth to the look paired with the burgundy velvet victorian sofa.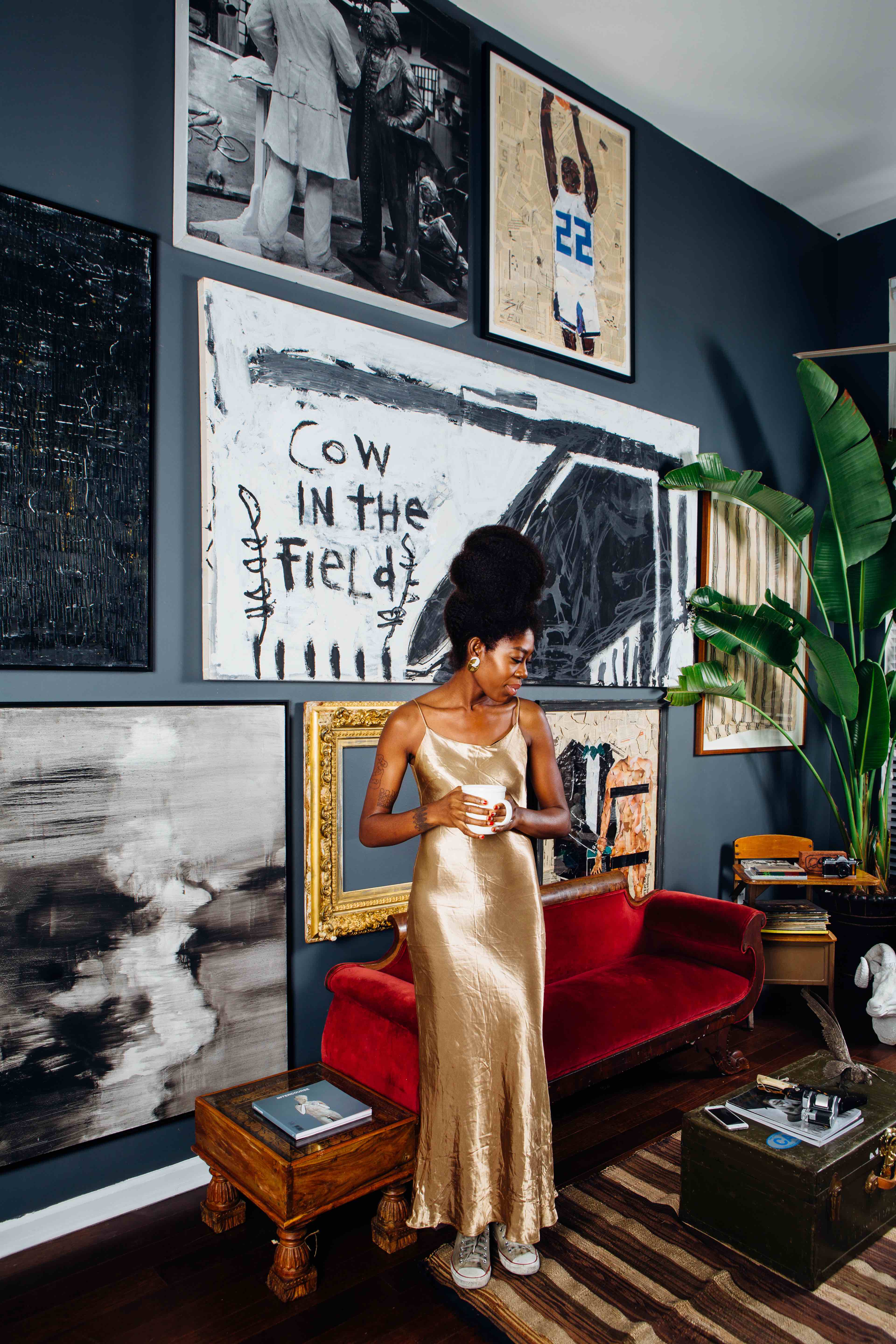 On Art
Unlike most collectors, we don't usually buy individual works. And, although we use them for research, we do not buy through auction catalogues.
Our connection is as much with the artist as with the art. Hence a burgeoning Washington focused collection.
The thrill is in discovering the new. Outside of the Elizabeth Catlett, Victor Ekpuk, Alex Gardner, we focus on collecting works from people we build friendships with. For example, Julian Alexander Barnes' work evokes a dense textural quality and to know the man behind the work.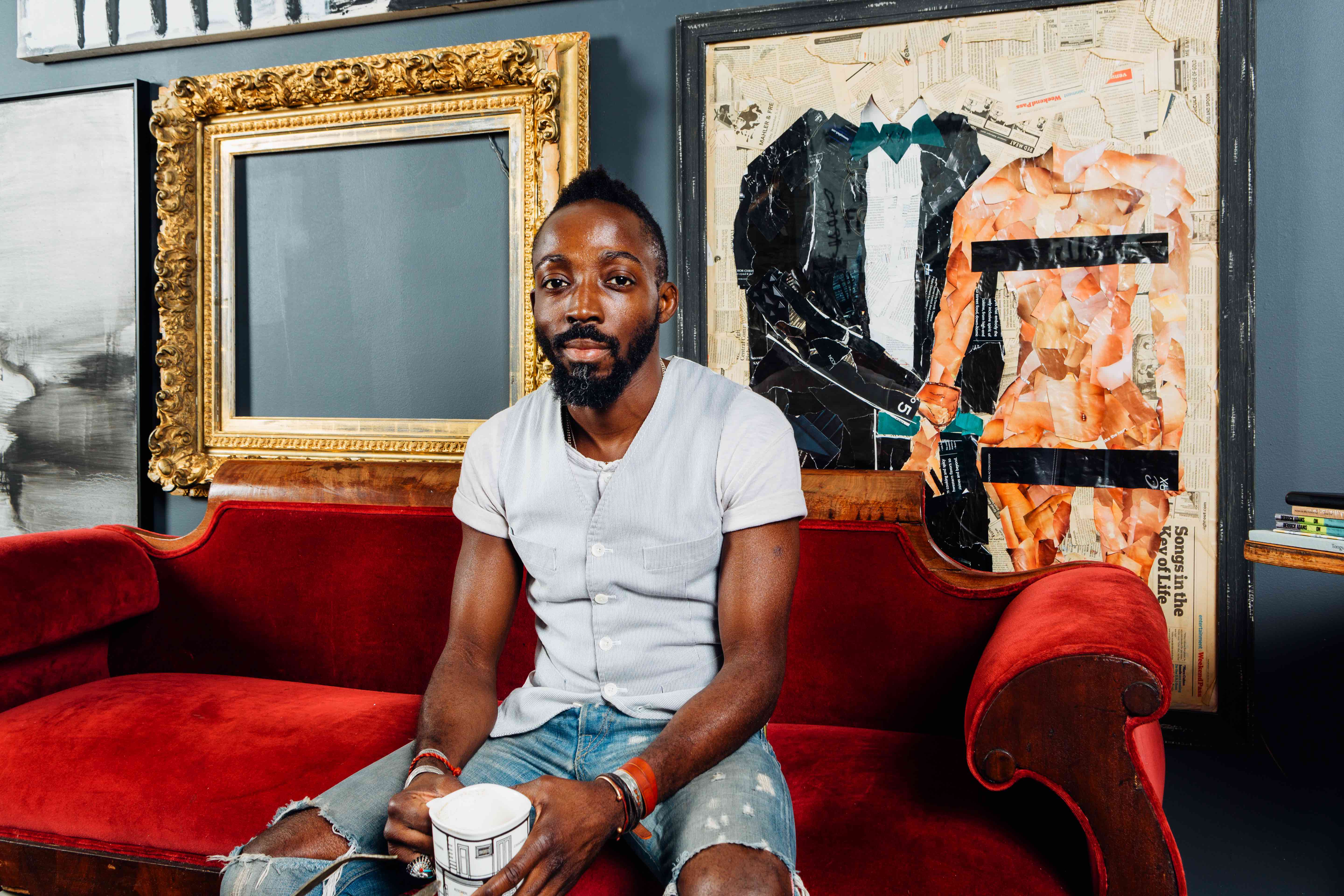 Sir E.U. is a multi-disciplinary artist who won my interest years ago. His ability to transform his artistry from collage to music ensures he will continue to inspire for years to come. I commissioned the 2nd piece commemorating my brother's 18th birthday.
As vintage educator focused on indigenous groups, much of my work demands I explore both archeological and anthropological studies. The handwoven antique country cloth was gifted to my mother in the 1970's while she worked as a traveling midwife.
The exchange of goods for services is one that inspires the best of humanity--barter as commerce.
On Curation
It is a process that begins with intention and is guided by thoughtfulness. The goal of curating a gallery wall requires an examination of the primary content, in our case, Andrew Cressman's 'Cow in the Fields'. In an effort to strengthen the elements of the piece, we positioned it with related content. Any activity that involves culling and selecting allows me to draw on the etymology of curating. It's a process that demands intention, patience and a certain fluidity of mind and eye.
A few tips:
Vintage items: Research the history behind the piece. Understand the functionality behind it as well as the current events that played a role in its design/maturity. Try to place yourself in the shoes of the person who would've utilized it. Bottom line: it's a chance to collect an artifact of history.
Art: Research as much as you can. If you find something that speaks to you, research the artist as well as their contemporaries. Seek direct engagement. If they have a web page, email them. If they have a social media account (i.e. Instagram), direct message them. Go to their exhibitions, reach out to galleries that carry them. Don't be afraid to buy a giant painting or a series that fills up an entire wall... it can be fantastically dramatic. Quite often I'll see one small painting on a fairly large wall and it just seems lost.
Hanging: When it comes time to hang, don't be scared. You just have to dive in. The worst thing that can happen is you have to touch up a little nail hole with paint. One tip - start lower than you may think. The bottom of the painting should be just a few inches above the top of whatever it's hanging over -- a sofa, table, mantel, etc.