Dos Toros frames their restaurant menus
This story combines a few of our favorite things: burritos, framing, and a great origin story. Founded by brothers Leo and Oliver Kremer in 2009, Dos Toros brings the best of San Francisco style Mexican food to the East Coast. This new chain offers a seriously delicious burrito, but also serves up top quality ingredients, customer service, and overall experience. Oh, and have we mentioned they're blowing up? We've loved working with the Dos Toros team over the last few months to get their menus and mission up on the walls of their new locations. We recently sat down with Leo and Oliver's partner Tyler Lohman, and Head of Marketing Marcus Byrd to reflect on their journey so far, what differentiates Dos Toros from the other guys, and how Framebridge was able to simplify framing for this rapidly growing company.
---
Tell us about Dos Toros and how you got started.
Tyler: I got started back in 2009. Leo and Oliver first moved out to New York in early 2008 with the intention of bringing the Northern California burrito that we all grew up with to NY.
The tacquerias of San Francisco have a huge presence in many people's diets--ours included. We felt--having friends and family on the east coast, and having spent a lot of time in NYC--that no place on the East Coast really did that justice. They moved out in 2008 and set to it. Started looking for real estate, started testing some recipes, and found this amazing location (the recession helped) on 4th avenue at the southeast corner of Union Square. Very similar to the taquerias in California it was very long and lean not a lot of seats, but fit the mold of counter service we wanted to serve. We had every intention of staying true to the taquerias we grew up with, but add our spice to it when we could--the sustainability, the design, etc. making sure no aspect aesthetic or flavor was overlooked. Even the customer service.
"For us, it's such a badge of honor to be rolling a burrito in the lunchtime rush."
You're up to 12 locations. What does that feel like?
Tyler: Uh, it's pretty surreal. The past 18 months have been a whirlwind--we've gone from five to ten stores with a quick eleven and twelve soon thereafter. And all the newer stores we've been opening up are much larger square footage, they're in downtown business districts, they have a lot higher rent, and a lot higher pedestrian volume. Just really trying to garner that lunchtime business traffic.
What makes Dos Toros different?
Marcus: There are a million answers I could give you, but I think it comes down to two things: expertise and warmth.
Expertise: A lot of Mexican taquerias and grills specialize in bowls. The authentic San Francisco mission-style burrito and taqueria experience is unique to Dos Toros, at least in NY. There's tangible things that we can point to, like the fact that we steam the cheese onto the tortilla. But it even gets down to the more minute things that you can't see, for example, we have the thirty laws of lime mastery. You have to know those before you can roll a burrito. At many places in your first or second week you could find yourself on the line rolling a burrito. For us, it's such a badge of honor to be rolling a burrito in the lunchtime rush. To do that you have to have rolled hundreds of burritos first.
Warmth: I credit a lot of this to us being from the Bay Area of California, and having an amazing attitude toward customer service--making every guest feel special and engaging them on a personal level.
How do you go about curating company culture and keeping that top of mind?
Tyler: If we want to deliver a great product and make our customers happy we have to treat our employees well. We hire for attitude because ability will follow. We can teach you how to roll that perfect burrito, we can teach you how to count a drawer, we can teach you how to cook the beans, but one of the things we can't teach you is that emotional strength and that personality.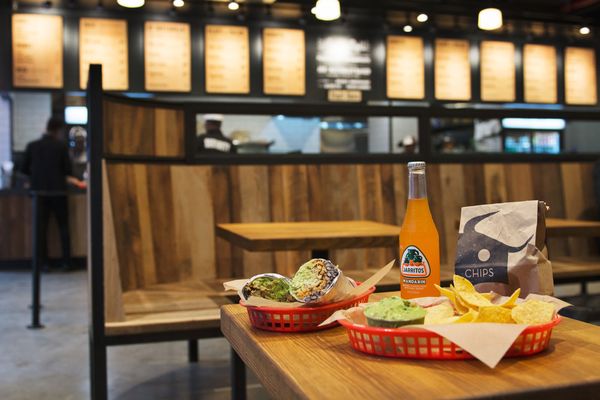 "Now Framebridge is our one-stop-shop for everything we need framed."
What did you frame with us for your Dos Toros stores?
Tyler: We framed all of the menu boards at our stores, in-house marketing for our sustainability pages and hot sauces descriptions, our start here signs, and our mandatory NYC choking poster which was illustrated by a local artist. Everything that's framed is Framebridge.
Marcus: The menu is really our most important piece of signage. And that hot sauce and sustainability statement really speak to Tyler's point about how we fret over the details so you don't have to. I wonder how many people actually read those everyday. If they only knew the hours we spent and the sixteen drafts we went through to get the wording right. That's emblematic of Dos Toros and of Framebridge. Something so simple can be so detailed.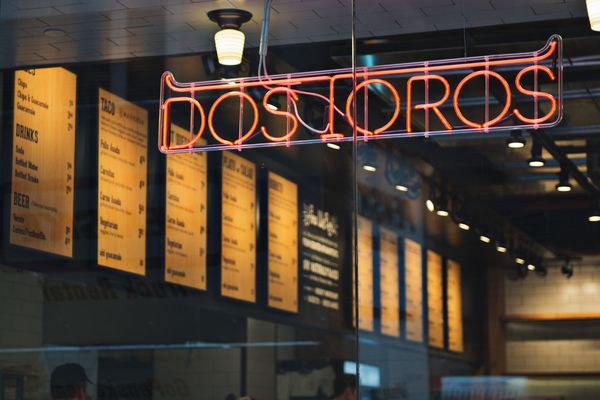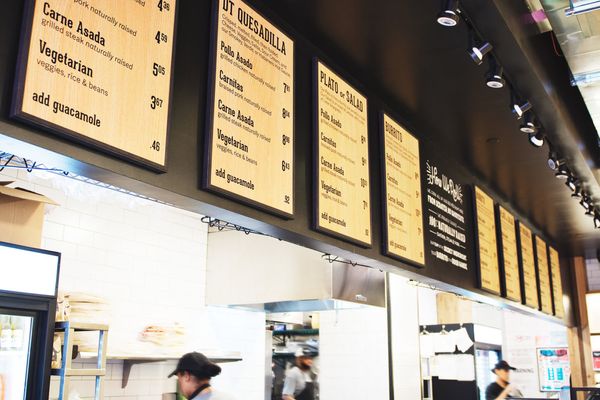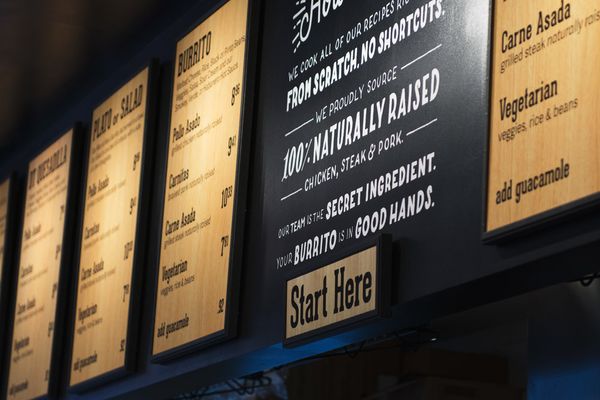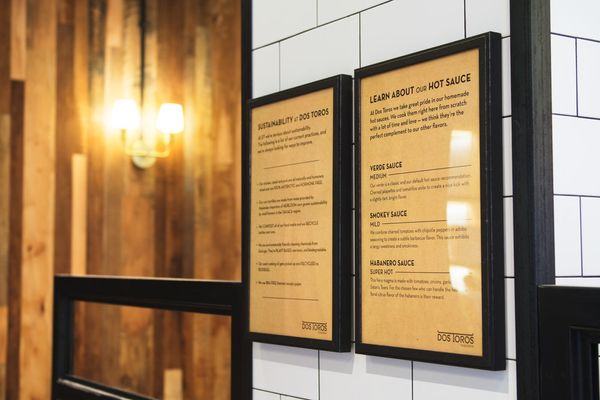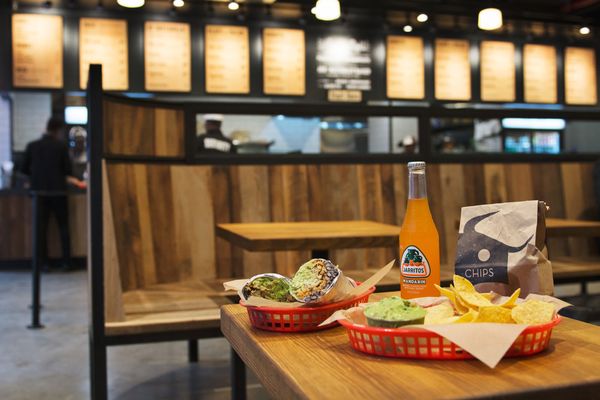 What was the process like of managing framing in the midst of rapidly opening new stores?
Tyler: Everything was super smooth. It was nice to have a direct point of contact to work with. Being able to upload a file and select no mat and the Bolton frame was so easy.
Marcus: I have taken some of Tyler's responsibilities over recently. He asked me to frame menus for a new store and I said, "Ok, I've never done this before. I don't know what I'm looking for!" He just told me those three things (upload, no mat, Bolton) and I got it done in fifteen minutes. I was incredibly relieved to not have to stress about something. The interface was so smooth--it maybe took me eight clicks and a credit card number to get the mission accomplished.
Everything has been a joy and a pleasure. Honestly, it allowed us to save time. We used to have to haggle over it. We had three of four different companies doing what you guys were doing. Now Framebridge is our one-stop-shop for everything we need framed.
Our first reflex is - can Framebridge do it?
---
What can we help you frame?