My Story: Berlin Architecture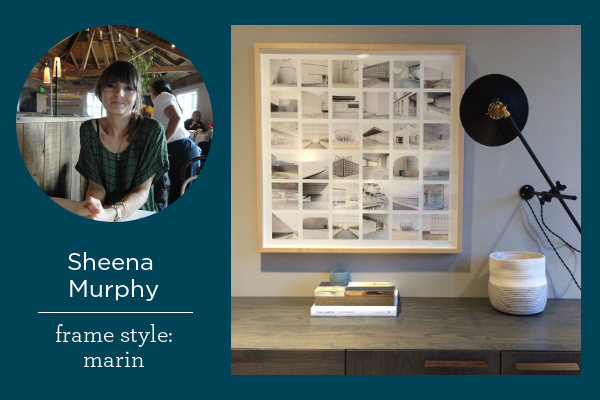 Sheena Murphy is from London, lives in Brooklyn, and is an Interior Designer who loves dogs, granny smith apples, and vintage and handmade ceramics.
What did you frame and why is it special? I framed 36 images of architecture in Berlin. I visited the city about 18 months ago and was blown away by everything about it, not least it's built environment. I stayed at the airbnb apartment of an illustrator, and her partner was a photographer who took these images. I held onto them until I finally decided to frame them for a new apartment I just moved into.
Why did you choose your specific frame style? I love the simplicity of the Marin frame, and because there is a lot of black and white in my living room, I wanted to add a little warmth and dimension, and the tone of the wood on this frame is perfect for that.
Where is your final framed piece hanging? The piece is hanging above a large wall-mounted cabinet in my living room, opposite the sofa, so it's a focal point in the room.
What are you excited to frame next? I am looking forward to finally framing some personal photos, which have been sitting in a box for about 5 years!
---
We loved working on this beautiful multiple mat opening piece with Sheena! Interested in framing a custom multiple mat opening piece with us? Email support@framebridge.com and we'll help you get started!