My Story: Inspirational Art
Today we're catching up with jewelry designer (and Framebridge customer) Sarah Briggs and getting the dish on her three newest Framebridge additions. Spoiler alert: They're gorgeous.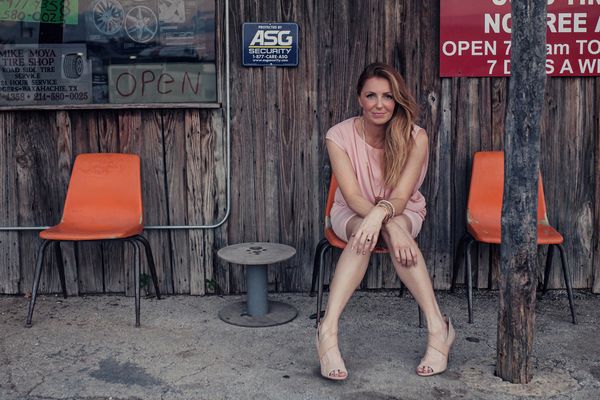 A native Texan, Sarah Briggs is the owner and designer of her eponymously named jewelry company. For the past 12 years, Sarah has been running her small business and following her passion for art, design, and supporting fellow small business owners.
How did you find out about Framebridge? I first found Framebridge through Amber Fillerup on Instagram and started to follow y'all. As a small business owner I was so impressed with your business model and marketing. I cannot wait to use the Designers Choice feature someday - I know whatever I let y'all pick would be amazing!
What did you frame with us? I have now done three prints from Snoogs and Wilde; a snake, a cow skull, and some feathers.
Why are these pieces special to you? I bought the feather print first. She (Sarah Martinez) showed up in my Instagram suggested feed and I fell in love with her work! I posted the feathers on my idea board with my future son's room in mind. (I am 7 months pregnant!) I ended up getting so inspired I incorporated feather-like designs into two different seasons of jewelry. I then knew I needed to own this print- so I got it! Not long after, she ran a sale and it gave me the excuse to buy two more I'd been ogling over.
Which frame(s) style(s) did you choose? I have now used Irvine, Brentwood, and Marin. I am INCREDIBLY picky so the perfectly curated collection Framebridge has put together is a playground I can be at ease in. The online images are so well done, but the finished product needs to be seen in person- truly incredible!
What made you choose those frame styles? I chose the Marin for the feathers because they needed a soft, textured tone with a modern edge. Brentwood was a perfect fit for the black and white cow skull since it needed something more rocker. The clean finish of the Irvine frame was a great fit for the snakes. I am guessing this is a frame I will go back to a lot.
What are you excited to frame next? Well, I just got a colorful 30'' x 40'' print in the mail, and can't wait to get it to Framebridge!
---
What special art are you dying to frame? Share with us below and get started here!