My Story: Punchy Painting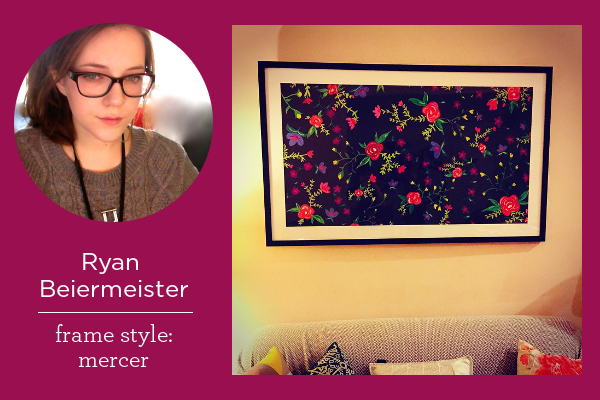 Ryan Beiermeister lives in Washington, D.C., works in technology, and loves pops of color, peppermint tea, making art, and great doodling pens.
What did you frame and why is it special? I have a large blank wall in my home that was craving something special, so one Sunday I whipped out a large black piece of paper and some paint to create a piece that would give my room some punch. I loved the colorful floral that resulted, and I knew it deserved the perfect frame to really elevate and polish the look. Whenever I walk by the painting, it reminds me to act when inspiration strikes; I now have a gorgeous piece to follow me through life!
Why did you choose your specific frame style? I wanted something streamlined to contrast with the intricate pattern in my piece, so I chose the Mercer frame because of its clean lines and gallery-style look. The white mat also adds the perfect pop to spotlight the black paper.
Where is your final framed piece hanging? Over my sofa on a giant wall in my living room. It's one of the first things you see as you enter the home, so it's a great way to welcome guests (and declare that creative people live here!).
What are you excited to frame next? I am constantly inspired by my artist-older-sister, Jessica (GuerraGirl), whose incredible work I've been able to collect over the years. For my 18th birthday, she gifted me an amazing watercolor inspired by a vintage textile, and it's been hanging in my room (across 4 different states!) ever since. I can't wait to properly frame it, in addition to the other beautiful prints I've been able to swipe every time I'm home in Houston. Consider this lil sis obsessed ;)