My Story: Boutique Prints
Today's spotlight features a gorgeous Austin, Texas home, some seriously beautiful frames and an incredibly adorable pup.
Meet Beth Vanderkolk. Beth is a Community Manager for InVision, a design service for apps and websites. When Beth isn't nurturing her creativity, she's traveling or spending time at home with her husband, dog and beautiful new baby.

Beth Vanderkolk with her husband, Ryan, and their pup, Fonzie. Photos by Heather Banks for Houzz.
So, how did you find out about Framebridge?
I found out about Framebridge from an interior design blog I was following. It just seemed so easy and I loved the results. I was a little nervous to send off my art (prints that were really difficult to get), but they came back framed so perfectly! And beyond that, customer support was amazing when I touched base while they were being framed.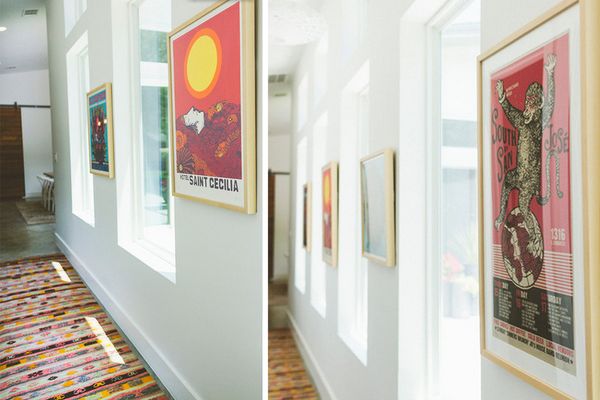 Hallway with beautiful prints in our Marin frame. Photos by Heather Banks for Houzz.
What did you frame with us?
I framed 5 hand-printed, limited edition prints that are all from hotels or events by Bunkhouse Group, based in Austin. The first is a print from the 2007 South by Southwest festival in Austin, the year I moved here. The second is from a festival at El Cosmico in Marfa, TX. The third and fourth are from Bunkhouse boutique hotels here in Austin that my husband and I stay at for staycations. And the fifth is a huge print from a benefit put on after the oil spill in the Gulf.

Left: living room. Right: dining room. Photos by Heather Banks for Houzz.
What makes these prints so special to you?
My husband and I love the design aesthetic at the Bunkhouse hotels and events, so they're really representative of the vibe in our house. These prints are hard to come by, so it's nice knowing I won't see them many other places.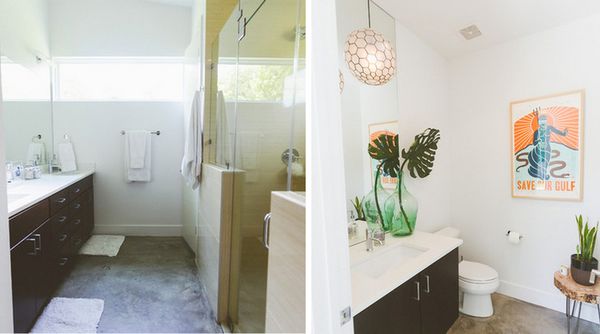 Left: master bathroom. Right: guest bathroom with "Save Our Gulf" print in our Marin frame. Photos by Heather Banks for Houzz.
Which frame style(s) did you choose?
I chose the Marin frames for all 5 prints. The long hallway in our home is flooded with light so I wanted to keep the frames light as well.
Where are your final pieces hanging?
Four of the prints are hanging between windows in a very long gallery hallway in our house. The largest print hangs in the powder bathroom.
What are you excited to frame next?
We have some really great Instagram pics of the baby's first few weeks that we're looking forward to framing!
---
Thanks, Beth! Want to see more of Beth and Ryan's beautiful home? Check out their house tour here. What art represents your home decor vibe? Let us know in the comments below!