Behind the Scenes: Holiday Packaging with Suann Song
As you can imagine, we take the framing experience pretty seriously over here. We want the whole process to be as easy, beautiful, and convenient as it can be. And that includes our packaging. You've probably seen the newest edition of our packaging - made especially for this holiday season - in your recent Framebridge order or over on our gift page. We've got some simple snowflakes jazzing up our boxes, thank you notes, and kraft paper backing. They're the beautiful result of our collaboration with Suann Song of Simplesong Design and (our favorite paper products place) Appointed. Here's a look into exactly how the design came about, straight from Suann!
---
Where is home: Home is Arlington, VA. I've been in the D.C. area (originally from Seattle) for almost 15 years and now pretty much call D.C. home. I've come to love this city and people so much.
What do you do: I'm the founder and creative director of a branding/creative studio called SIMPLESONG Design. And earlier this year I launched a second, product-based company, Appointed. We make simple but beautiful desktop and paper goods.
Where do you find inspiration for your work: I find it everywhere. Whether it's really well-designed packing, to really good typography or a beautiful image on Instagram, I'm constantly looking around me for inspiration.
Your design is very minimalist. How do you go about making the design special while still staying true to the simple aesthetic? Sometimes easier said than done! There's a quote I like: "good design is as little design as possible .... less, but better because it concentrates on the essential aspects ..." which I completely agree with. Whenever I'm designing, because it often errs on the simple/minimalist side, it forces me to look at every single element. Every letter, space, design element, material, etc. serves a purpose. So I think a lot of the time my work is considered very thoughtful as I really do take every thing into consideration.
What are some of your favorite artists/creatives to follow? I love following anyone who is really good at what they do and has passion for it. Its so inspiring to see people create. From local people like Sidra Forman who creates beautiful but understated florals to lettering artists like Mary Kate McDevitt.
How do you begin a project like this? Where do you start? Sketches? Brainstorming? On your computer? I began with the verbal cues from you (Framebridge) and with creating my own inspiration, then moved onto physical sketches, then onto the computer. When I think I'm done I usually then step away for a day or two, if time allows, to look at it with a fresh pair of eyes. I usually end up editing just a bit more.
Can you show us where you started? Rough drafts? Here are some of my process sketches. I always start all designs on paper. It gives me something tangible to go back to and I love seeing how it progresses.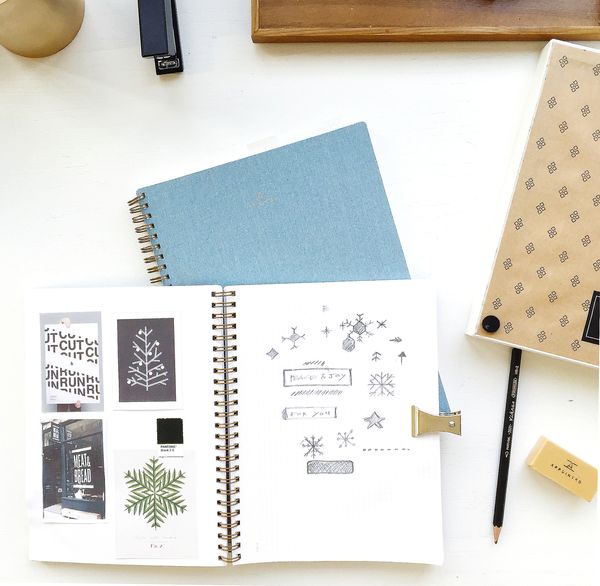 How did you arrive at the final designs? It was definitely a fun collaborative process. Once we narrowed in on the 'snowflake' pattern I knew I wanted really clean and bold black and white. I usually design a lot of options and narrow down as I go. Like all of my projects, I design until it pleases my eyes. And I felt for this project each piece was meant to stand alone but also look cohesive when put all together.
And here's the final product!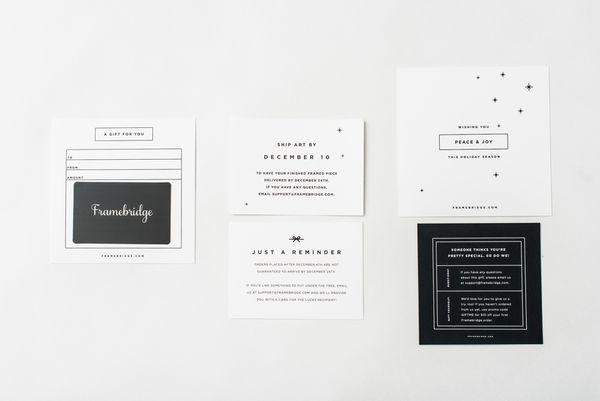 ---
We couldn't agree more: the details matter. To get your sprinkling of holiday cheer just designate your order as a gift when you place your order! Then prepare for a little snowflake to land at your door.