Bringing Fenway Home
Typically, for Lane's birthday, Sarah had a plan: American Ice Co. and then Nats stadium for a baseball game. His favorite bar, his favorite sport—a winning combination.

However, given the times, this version of the celebration was not possible. Still, Sarah was determined to "bring some of that home and celebrate him."

Initially, she wanted to recreate American Ice Co., but felt duplicating a bar successfully was way too difficult—"I was just gonna buy some beer." As they watched "something dumb on TV on a Friday night," and she was scrolling through Pinterest searching for ideas, the idea hit her with the gravity of a walk-off home run. "What if I bring a baseball game home?"

The next step was obvious. It had to be Fenway. Though their shared home is in DC and they enjoy the Nats, they are both Red Sox fans. Sarah is from Boston. Lane's Dad is a die-hard. In fact, The Sawx played a big part in their early courtship.
Two years ago, Sarah and Lane went to Boston for a music festival on the weekend of his birthday. She surprised him with his first trip to Fenway. He loved it, even putting his hand on a plaque and calling his Dad. It was "very touching."

She needed a plan to pull this off as a surprise. Their apartment is shaped like a V, with the bedroom on one side, living room on the other, and a bathroom in the middle. Day of, she told Lane, "Hey at noon, you can't cross this line. You can go to the bathroom. You need to announce when you're going to the bathroom and that is it."

She moved the furniture and started painting. By the time his work day was done, their personal Fenway was ready.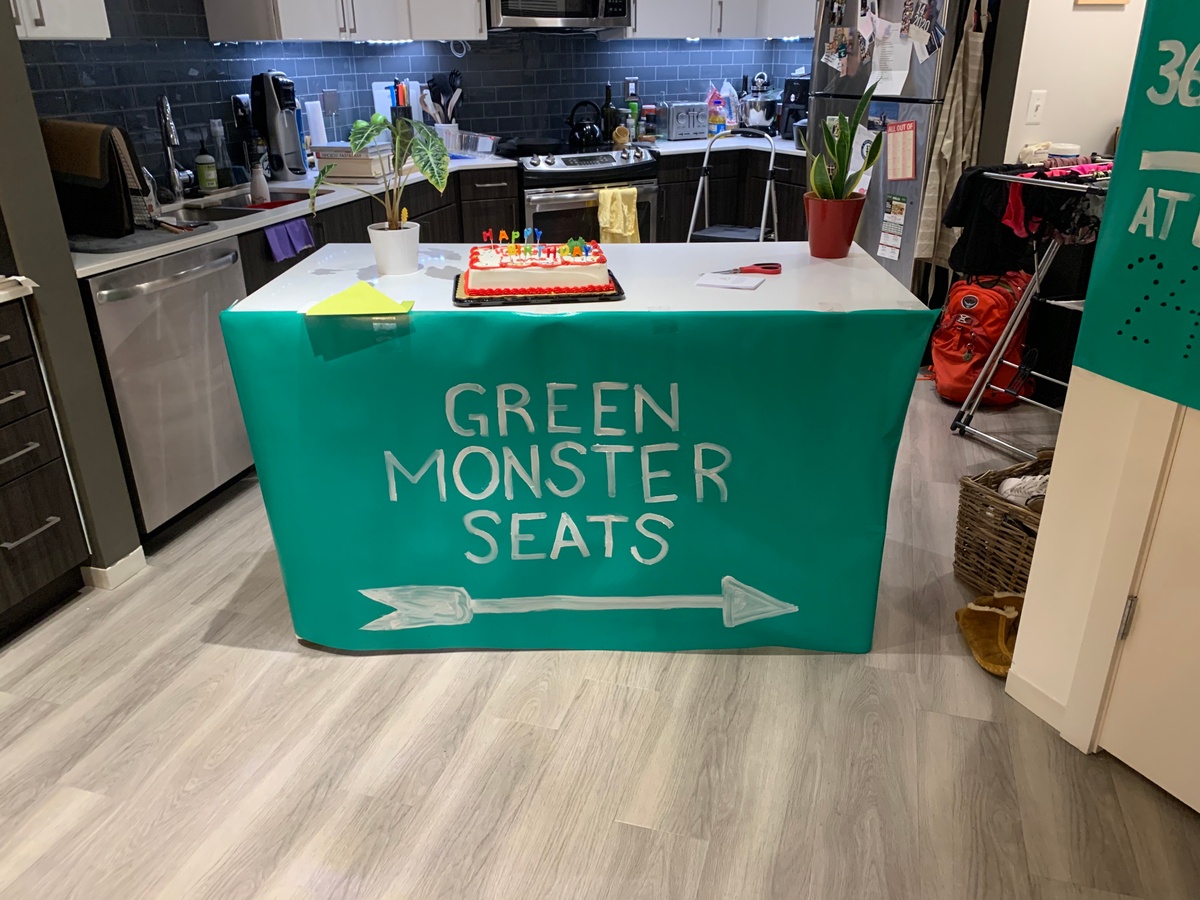 There was beer, hot dogs, cake, Green Monster signage. Sweet Caroline played.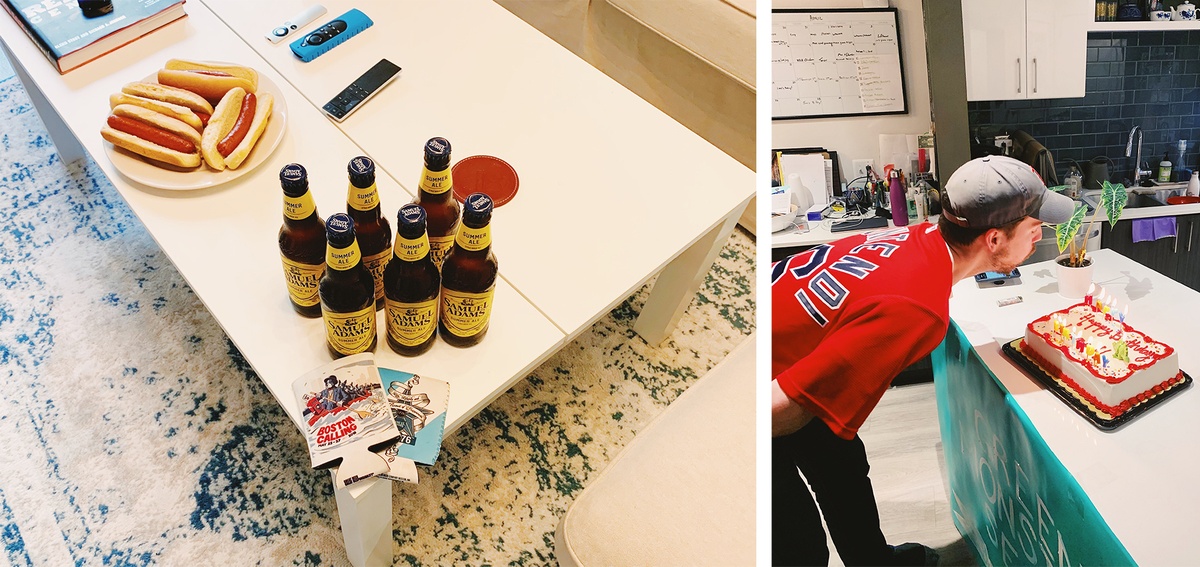 There was even a box score.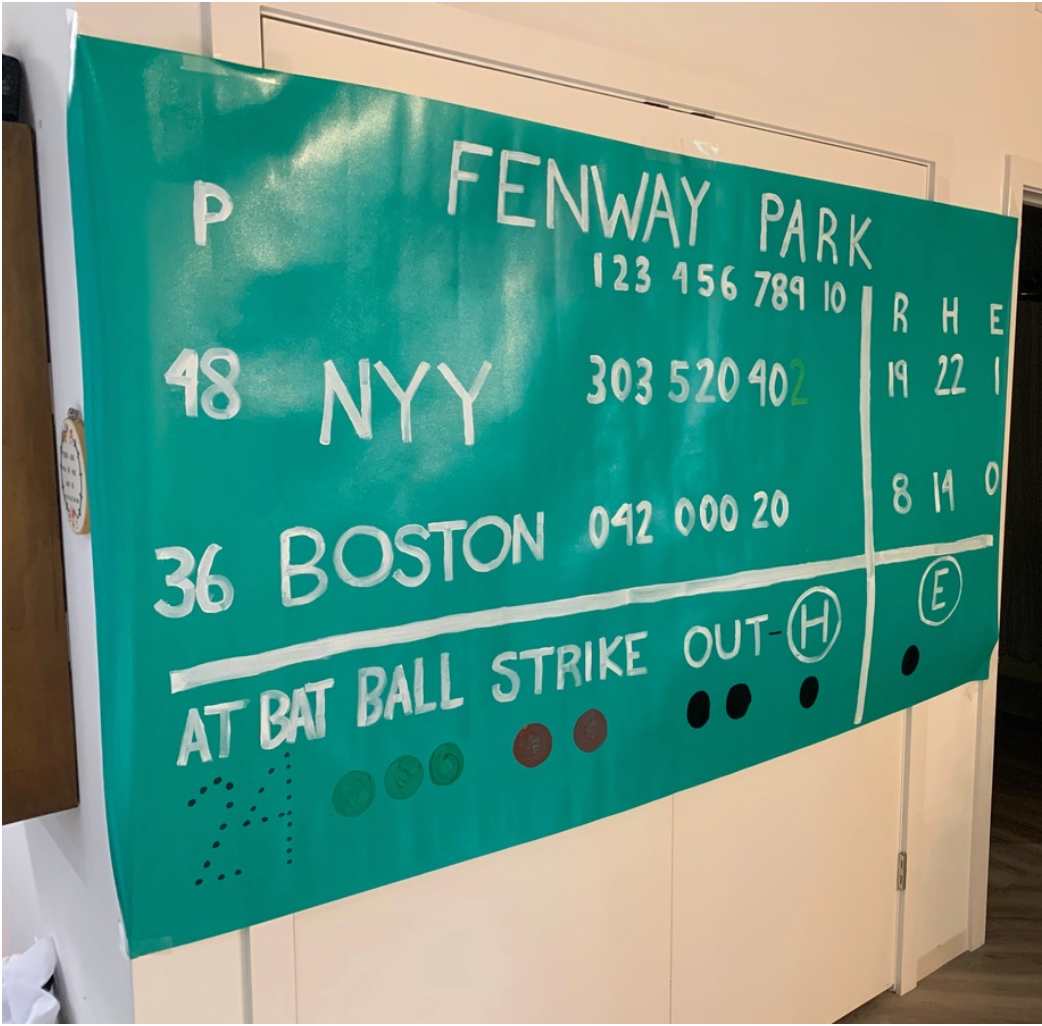 But why a Red Sox loss? It was the score of their final loss before they won the World Series in 2004, lifting the infamous Curse of the Bambino, to the Yankees nonetheless, the beneficiaries of that supposed curse and their bitter rival. AKA the finest Red Sox tribute ever.

He was shocked. He was already wearing a Red Sox jersey at the time, a gift from friends. He did not take it off for two days.

They ate hot dogs, drank Sam Adams (complete with Red Sox koozies), and basked in Red Sox glory. To respect their shared home of DC and Nats stadium tradition, they watched the Nats take last year's trophy home in Game 7.

Not the same as another Red Sox title, but still, it was World Series baseball at Fenway Park, an experience that on this day was uniquely theirs. Needless to say, Sarah knocked it out of the park.