Black Artists Print Shop: Meet Sahara Clemons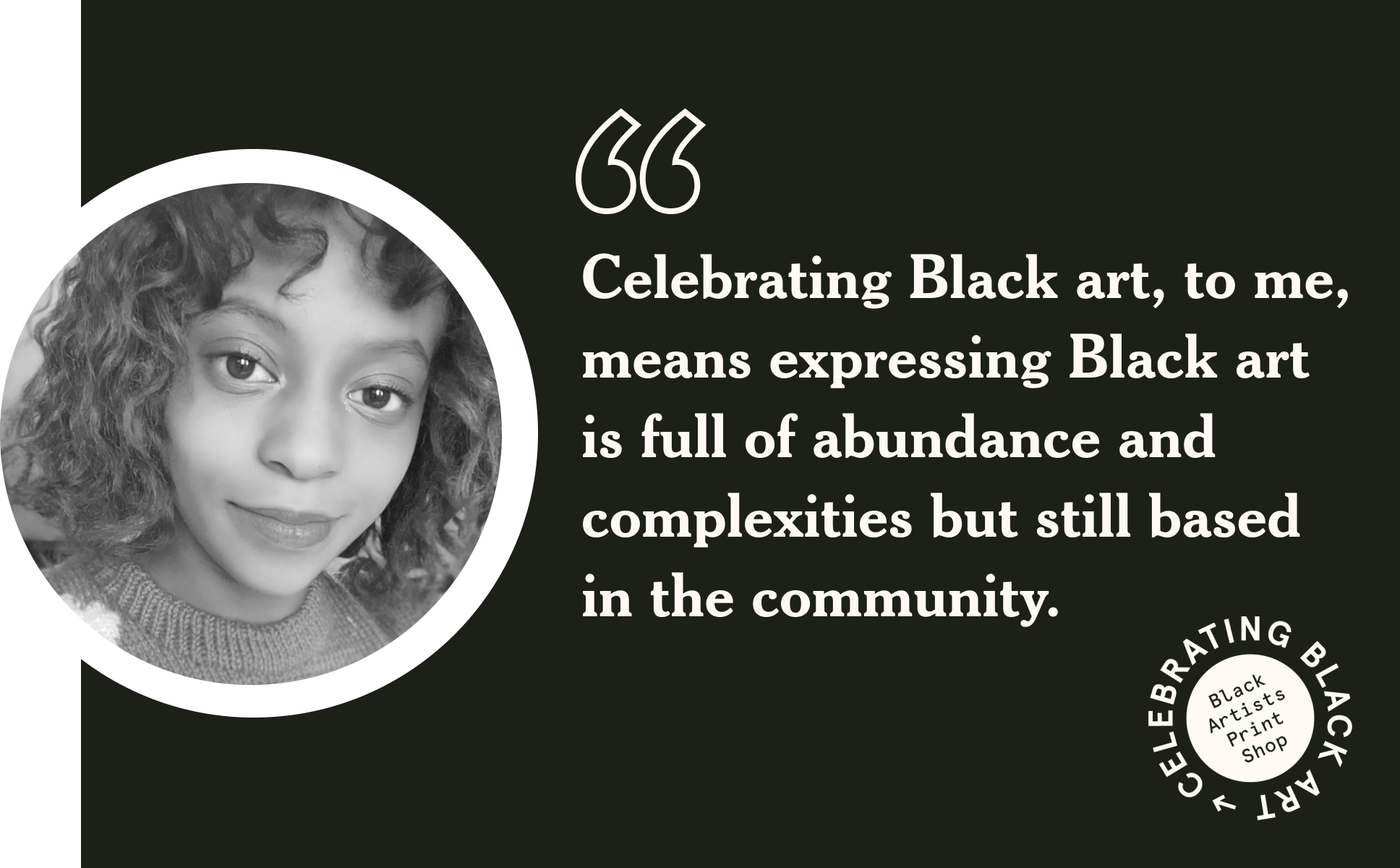 About the Black Artists Print Shop: The Black Artists Print Shop is part of our ongoing work to help advance racial equity within our communities. We aim to create spaces for Black artists—places where you can find their work, hear their stories, and support their businesses. Our fourth collection's theme is celebrating Black art. To do so, we're elevating ten distinct voices by highlighting the artists' answers to the question: "What does celebrating Black art mean to you?" Their answers represent a breadth of opinions on what Black art is, how we can support it, and the importance of representation.
About Sahara: Sahara Clemons is a multimedia artist, designer, and activist born in Washington D.C and based in Charlottesville, Virginia. Playing with both the traditional and unconventional, Clemons creates paintings on wood and fabric, wearable art and fashion design. Her work confronts interpersonal and intersectional concepts and provides commentary on the historic political, and social trauma of people of color and its effect on shaping identity. Her work has been shown at the Virginia Museum of Fine Arts, Second Street Gallery, The Bridge Progressive Arts Institute, and McGuffey Art Center. Clemons is a YoungArts alumni and is currently pursuing a Bachelor of Fine Arts Degree from Rhode Island School of Design.
Your work is multifaceted, you've identified yourself as a multimedia artist, fashion designer and activist. How did you come to embody all three disciplines?
I always enjoyed art and exploring art, but throughout my journey of becoming an artist, I realized I enjoyed more than just the fine arts—I wanted to immerse myself in fashion design as a medium. When I did that, I gained new perspective to not only treat the fine arts and fashion design as separate entities, but as things working together for my themes and progression as an artist holistically.
And I don't know, activist feels like a large word for me—but that identity came about as I was getting responses from my art. I could see that people interpreted my art as something that made an impact. It was larger than what I could see it as myself.
I also want to add to this list performer, because I have been dancing for a while. I hadn't considered myself a dancer because I never danced professionally. But it's still something I enjoy and incorporate into presentations of my work or something to explore on its own.
What is similar or different about your approaches to a project like a mural or a project like designing apparel?
They each have their general planning stages. Concept building, then designing or sketching or creating a mock-up, and then execution. But I would say that with a mural, there are more and different factors. It's not just your vision, it's the community's vision. I need to identify something that will speak to a lot of people, that they'll enjoy on a large scale.
And with apparel, I can be a bit more selfish in my interpretations of what I want to produce. For me, one of the fascinating things about apparel is the trial and error aspect that I do not get as much with my 2D work. Things can change from ideation to execution dramatically because some things are just physically impossible, or there are time constraints, or unexpected things can happen that require revision.
You said that the activism role your art plays was born out of other peoples' responses. Can you tell us more about how that happened?
My work started out as addressing questions I had for myself. I was curious about how I could express my authentic self, how people their authentic selves. I think that is how I got into portraiture.
The dichotomy between appearance and your internal being, and how we always put those things so close together. How we approach others and ourselves. Then it turned into looking at this question and my own past growing up as a Black woman. I looked more towards my own racial identity and my gender identity as going off points to deal with my own approach to my authentic self. And how that can be hindered by outside prejudice.
Eventually, I embraced that and it evolved into thinking not only is it a struggle to have experiences as a Black woman, but also how the experiences can be positive. Working through adversity makes me a better human. I feel like other people can relate to that. I wanted to make pieces that both highlighted this adversity and really showed Black women and the Black community being highlighted as central figures.
So the style that I work with puts these women in these really colorful backgrounds, or in the clouds, looking at it as if they are a higher being of sorts. I feel like that was something that was really critical in my work—bring aspects of lightness and darkness.
That's a nice segway to discuss your work. Much like the mural inspired by your mom in Charlottesville, your pieces Moon Marked & Touched by Sun and Dilemme depict a beautiful, everyday person in a fantastical setting. In your mind, what do these pieces say?
As an artist, you have unconscious decisions that later on you realize are thematic in your work. Upon reflection, I realized I am very much interested in nature and bringing natural forms into these concepts that interact with the people in my pieces.
For some reason, I have an affinity for clouds. I love clouds. I think they're illustrial or ethereal things that don't have physical tangibility but you could think they do. Cloud watching is a feeling of contemplation and rest. Or unrest, when you're all in your thoughts. That experience is something I wanted to attain for my pieces. And audiences could look at them with an attentiveness and awareness of thoughts. But the pictures are at ease. They're not harsh on the eye.
I appreciate a whimsical element. Originally, when I started doing pieces with this style of fantasy, it started out as just tying in my painting with my apparel design. I wanted to paint pieces that showcased women in apparel I was thinking about.
It became a marriage of those two things—wanted to create a world where these designs and these women lived. In all my pieces, I like to sketch what they're wearing first.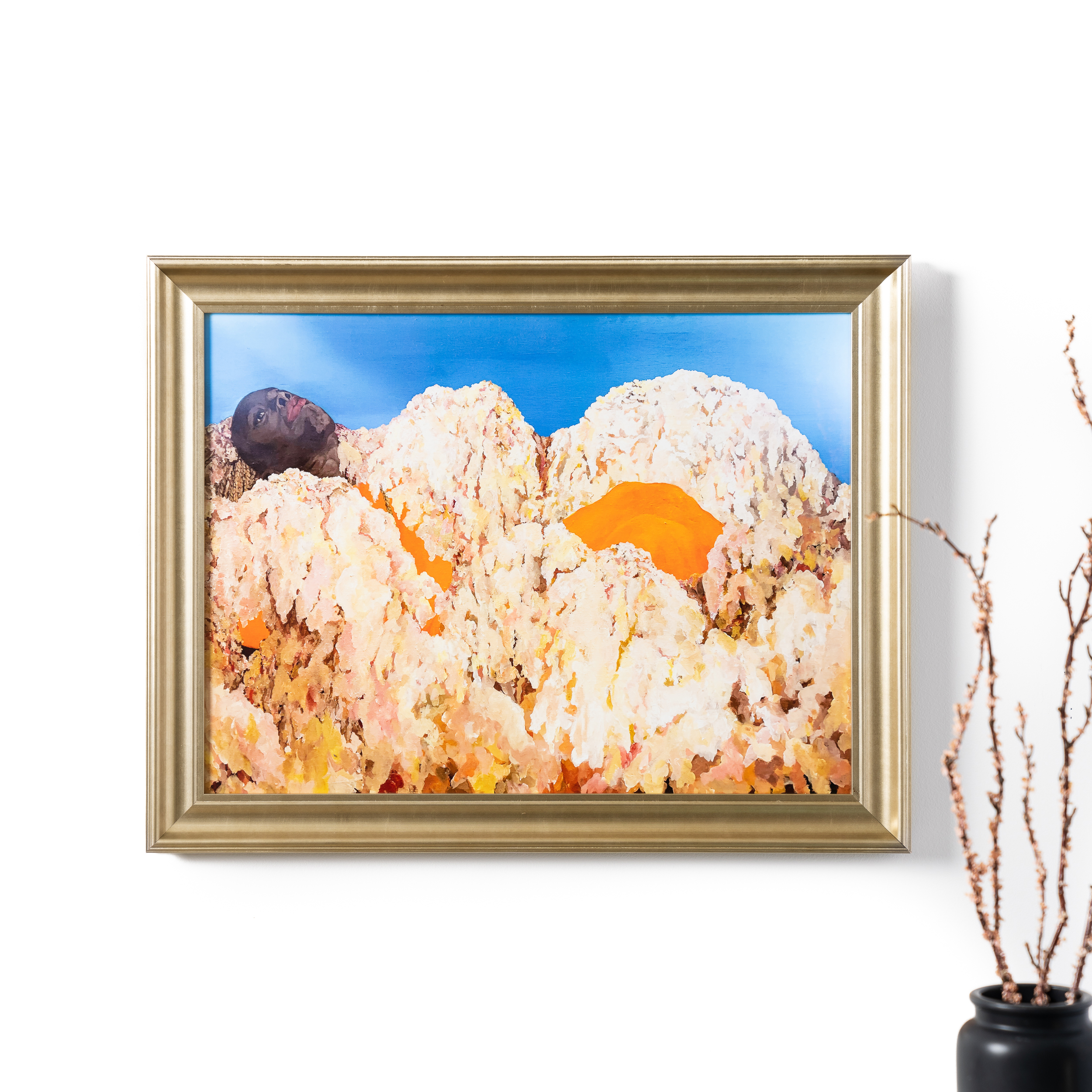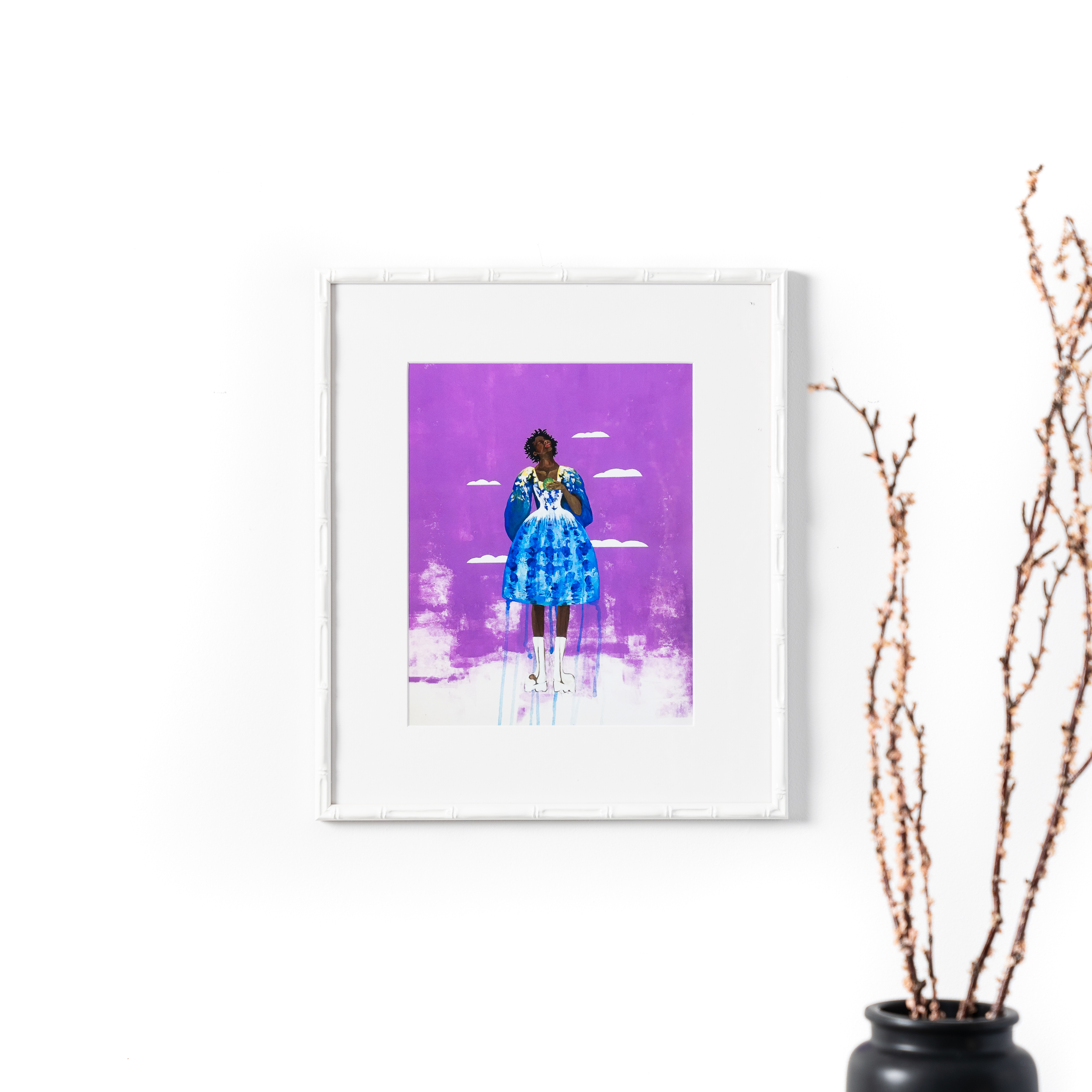 You're currently at RISD. What is it like to be in an academic setting after creating so much art already?
At RISD, I major in apparel design. Originally I was choosing between painting, textiles and apparel. So I am taking textile classes on the side. Whatever I am doing—I still gravitate towards textiles and patterns. It's another layer of uniqueness. People have very particular likes and dislikes when it comes to pattern. So I've always enjoyed that field but never been immersed in it. So I wanted to incorporate it into my educational experience.
I am in my third year and it's been a wild journey with the pandemic. But I have still really enjoyed myself at RISD. First year I was able to experiment and do things with the technology, which was really important because since you go into your major, you're experimenting or concept building within your bubble.
While I had experience in fashion, because it can be difficult in the trial and error stage, where painting feels like a long time for concept building, but only a week to actually produce it.
With apparel, there is an additional layer to figuring out execution. Being here and honing my skills and seeing how I can create pieces that are still true to my mission of uplifting, but having a new idea of intimacy. People will actually be able to wear these clothes.
2D work is often limited to a container—you have to pull people in. With apparel, you still have to pull people in, but you can also have it more up in their faces. And that's something I appreciate—having somebody be able to wear your art.
What does Charlottesville mean to your creative process?
Charlottesville gives me the support system that I need. It's not only that I've been given opportunities here that I am so grateful for, it's also just that the moments when you question yourself—what am I doing? Am I good enough?—Charlottesville has allowed me to feel somewhat secure in myself. It's such a welcoming community—I always carry it with me.
But it's also kind of a double-edged sword. I feel like I can always come here and feel welcome, at the same time, I have to feel like I have to one-up something as the pressure builds as I continue to develop here.
I've grown up here and always loved the small town life. Feeling like everyone knows everybody and you feel comfortable reaching out to people. Ultimately, art is about sharing with people, and Charlottesville has really shown me that.
How do you hope somebody feels when they see your work in a frame?
Someone told me that a painting lasts as long as you look at it. I think that is very true.
I hope that people enjoy the work in a way where they take in the painting and see how the pieces relate to their own stories and own journey as a person.
Photography by Julian Thomas.
Learn more about Sahara, on her website and Instagram.
Browse more artists: