Behind the Scenes: Styling a #Shelfie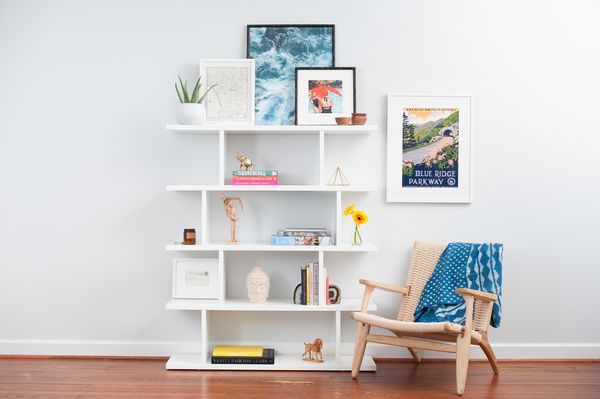 As you might imagine, we style and photograph spaces all. the. time. Beautiful styling plays an important role in showcasing beautifully framed pieces, because it shows how they give life to spaces. It's a really fun part of what we do here at Framebridge, but it's harder than you might expect!
So, we thought we'd share some tips and tricks we've picked up along the way on how to get your #shelfie game on point. Here's a behind-the-scenes look at our trial-and-error styling process.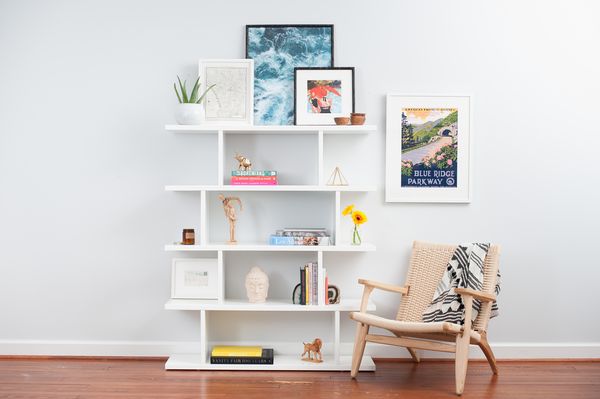 Our first try: We loved the arrangement of the objects on the shelf, but this one didn't feel right because the blue blanket clashed with the other blues in the scene. Something about the heaviness of the chair seemed to throw the balance off a bit, too. All in all, things were just looking a little heavy on the right side.
Our second try: We swapped it for this black and white one. (Which is actually a scarf. Hint: scarves work really well as accents in your decor!) This looked better, but we still didn't feel like it was "there."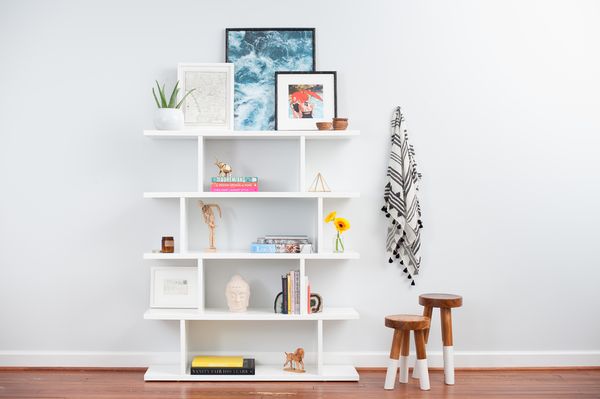 Third time's a charm. This one was our winner. Isn't she pretty?! Swapping the chair for a stool duo, and the frame for the scarf helped to lighten up the right side. We realized in this case less was more.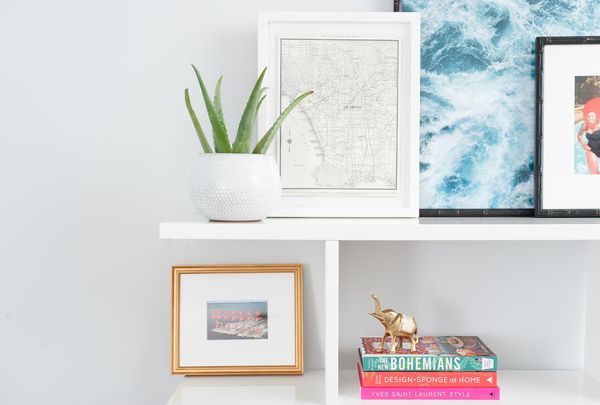 Here are some tips for striking just the right note:
1. Balance: With our first two attempts the right side felt too heavy with the hanging frame and chair. Try to keep things similar in weight to ensure that no single object is dominating the scene.
2. Vary textures and sizes: Incorporate a mix of books and decorative objects to keep things interesting. Play around with grouping objects together, stacking books, and placing frames in different areas.
3. Something green: A small little succulent, an aloe plant, or cute little bouquet of flowers provides the perfect natural punch for your display.
4. Something fun: In this arrangement we included our dog and human model forms. We had a lot of fun moving them around in different positions, and dressing them up with jewelry.
5. Instagram Minis: Shelfies are the perfect home for your Insta Minis. Lean them in different little nooks throughout your shelf to keep some rhythm in your display.
6. Step back: Working up close only gives you part of the picture. When in doubt, take a few steps back to get some perspective. Or, try snapping a photo to diagnose what isn't working. (We do this all the time! Sometimes it's easier to see what's missing in a photo than it is in real life.)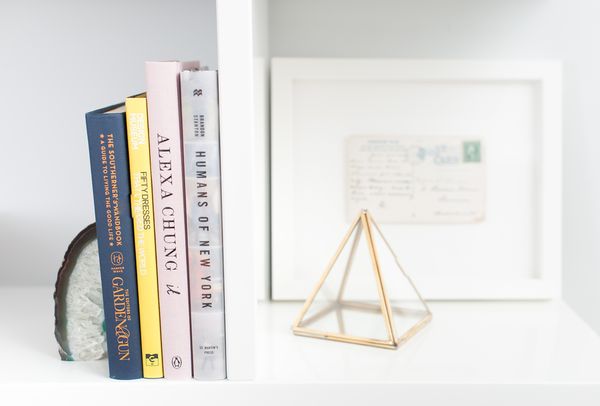 So, what are you waiting for? Get styling, and be sure to share your #shelfies with us on Instagram!