Behind the Scenes: Girl Power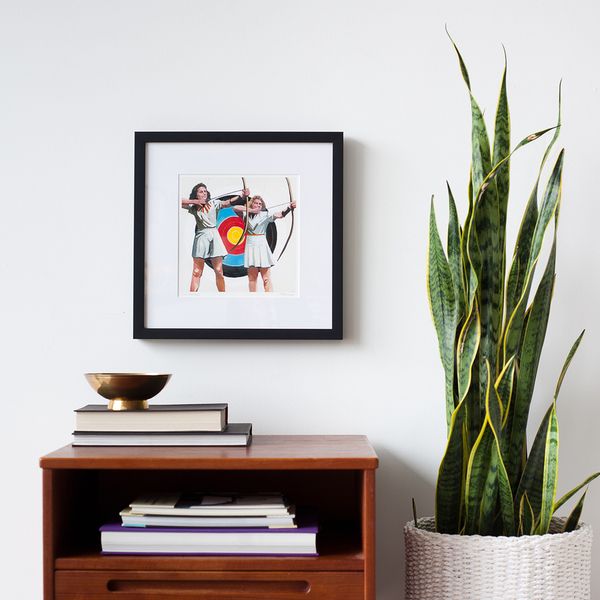 A little story about Framebridge, girl power and why art can mean so much, from our Creative Director, Tessa.

I'm sure you've seen this piece, called "Two Archers" by Samantha French, in our Instagram posts and on our marketing materials. It's one of our all-time favorite art pieces. Not just because it's a fun, bright print by a killer artist, but because it (secretly) represents a little something about our business.

I first discovered Samantha's work a few years ago on SFGirlbyBay's blog and was hooked. Her art is unbelievable--so personal, dynamic, vibrant, and now so recognizable. Last Fall, right after we launched Framebridge to the public, I reached out to see if she'd be open to us photographing some of her prints. She was kind of a bucket list artist for me, so I was thrilled when she agreed.


This piece jumped out because it was different from her other work (which is also amazing, FYI) and I loved how vintage it felt. The primary color palette didn't hurt, either.

After we framed the print and shot it a few times, it started to take on some meaning to me. One thing Susan (our founder and CEO) has said from the very beginning is how important it is to "set your intention" when you work on something you really care about. There's nothing revolutionary here (sorry, Susan)--you want to reconnect with your college bestie? To find a job that allows you to use your illustration skills? To reach 1,000 Pinterest followers? To save enough money to buy that vintage-inspired rosewood credenza with the little brass antler hardware? (guilty). Once you set a clear goal for yourself, outline what you need to do to hit it, and care enough to do the work it takes to get there, it will happen.

In startup world, this is truer than anywhere.

It's cheesy, yes, but kind of awesome and empowering to think of these vintage lady archers setting their sights on something so targeted and specific and just going for it. It's not a stretch to see the moment Samantha captured as an allegory of Susan's message... or at least I don't think so!



For the past year, I've been sneaking photos of "Two Archers" into pretty much all of Susan's important materials. From pitch decks and partnership presentations to creative briefs... nothing is safe. Maybe I'll find a new favorite piece to hide in Susan's decks, but, for now, I think I'll stick with this one. It hangs on the wall in our conference room today, subconsciously reminding all of us (or maybe just me?) to stay focused, think big, and be strong.

Is there a piece of art that means something to you? If you haven't quite found it yet, I recommend you try mine. Not just because it could be your next good luck charm, but because it's a fun, bright print by an amazing artist. And hopefully it brings you a little joy and inspiration, the way it has for me.