At Home With: Marina B.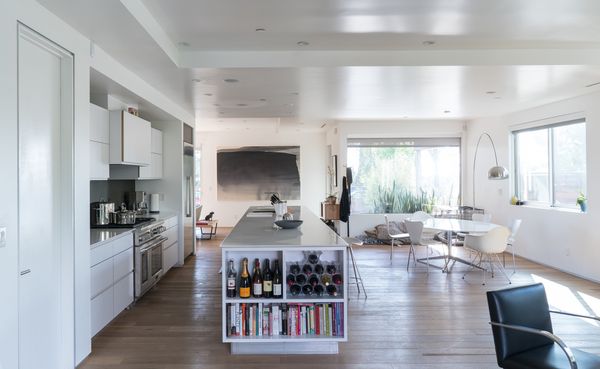 Home tours often showcase how a new homeowner has successfully navigated the nonsensical bones of a new house to create a beautiful, personalized space. Well, welcome to the flip side. Lawyer and art lover Marina B. built her Los Angeles home (Mar Vista to be specific) from the ground up, tailoring it to her dog-mom lifestyle and clean design aesthetic. The result? Great light, airy design, and lots of room for quirky decor touches that made this gorgeous space come alive. See for yourself through the eyes of photographer Brett Lupfer. (Spoiler: there's a gallery wall of dog photos and we're showing you how to get this look for yourself.)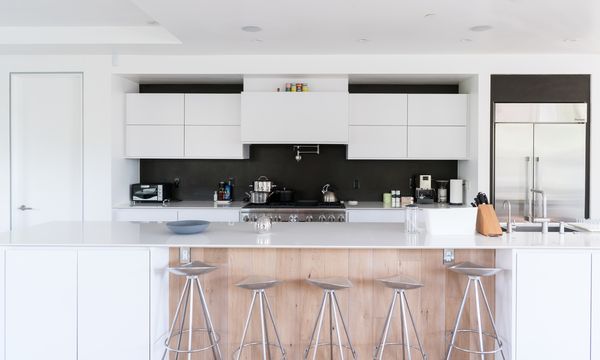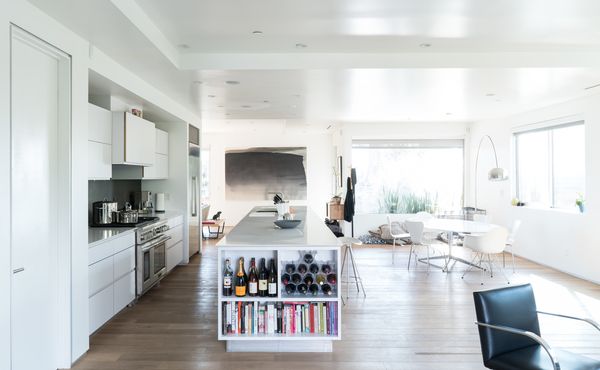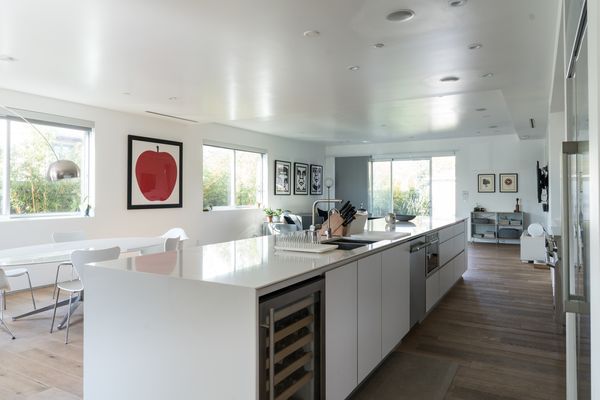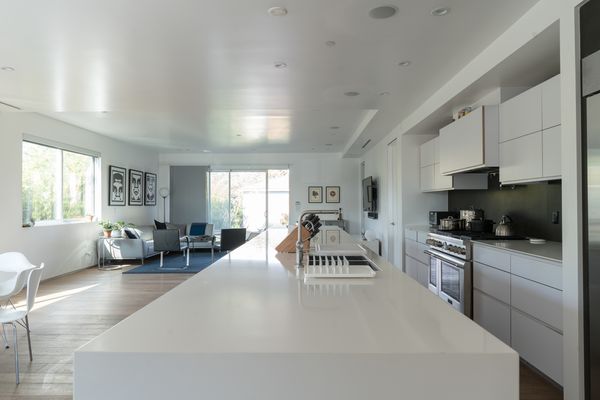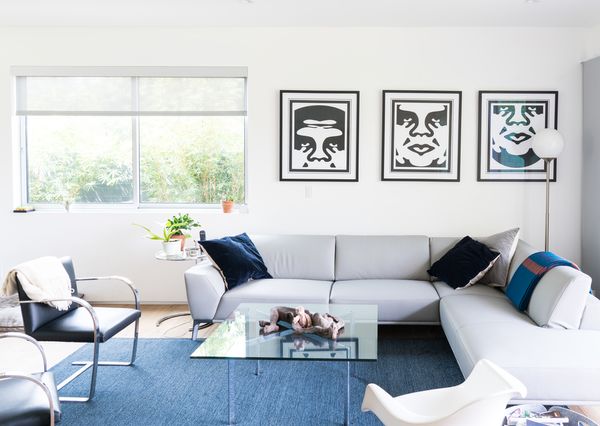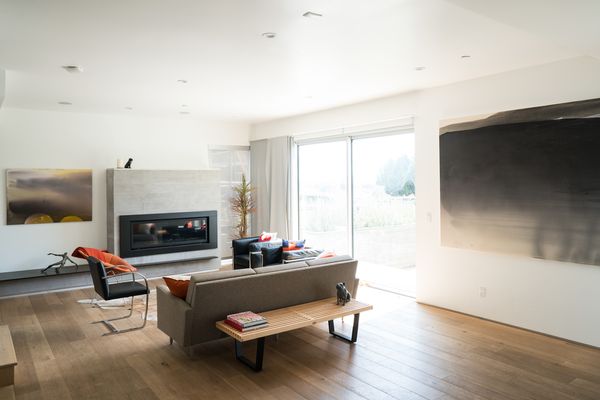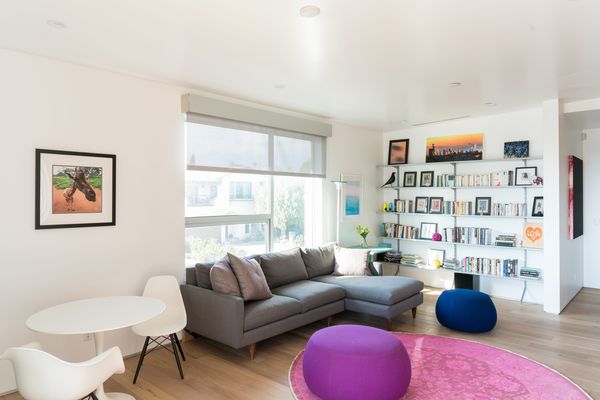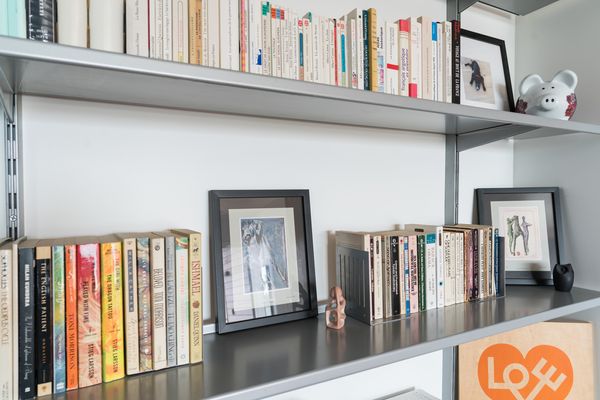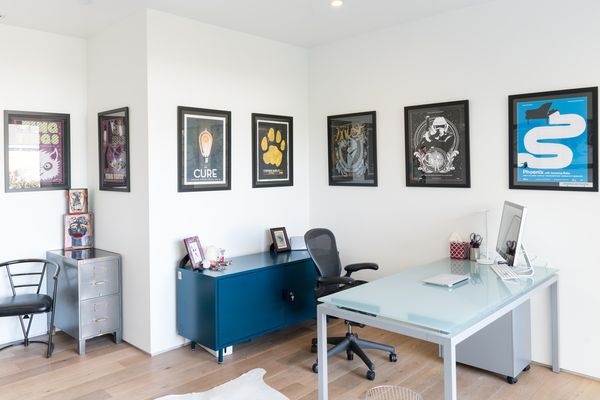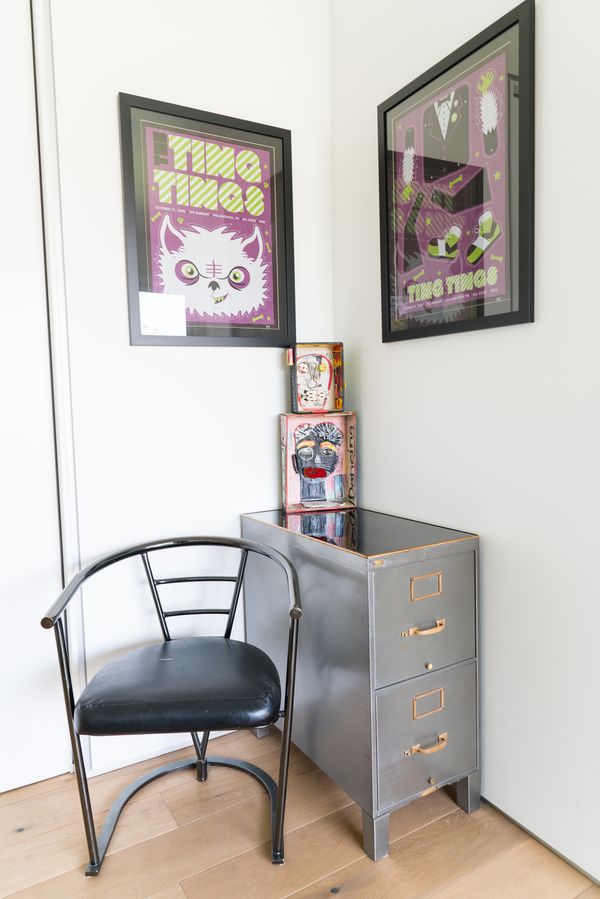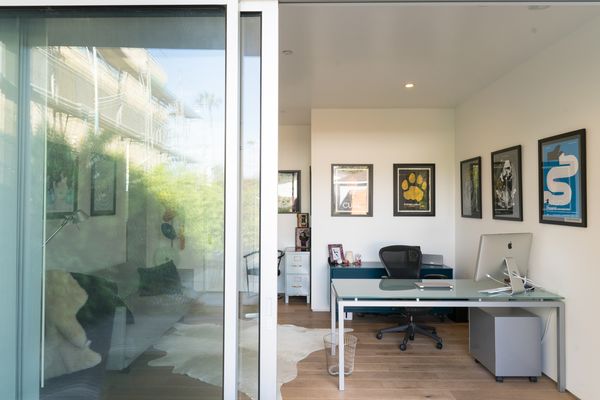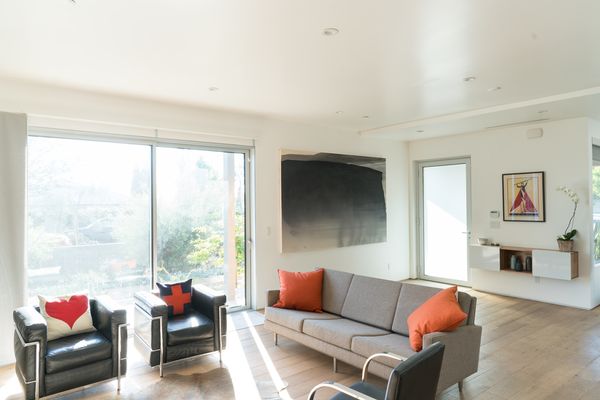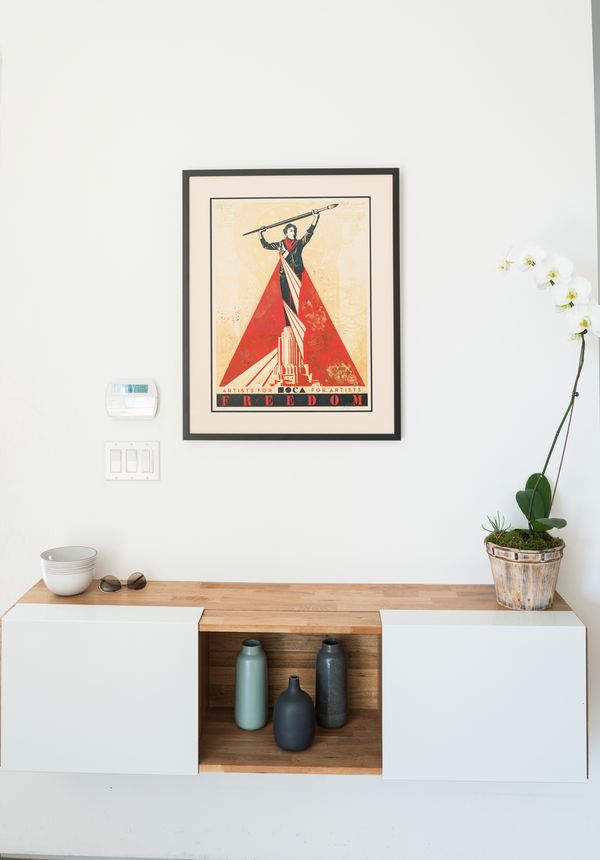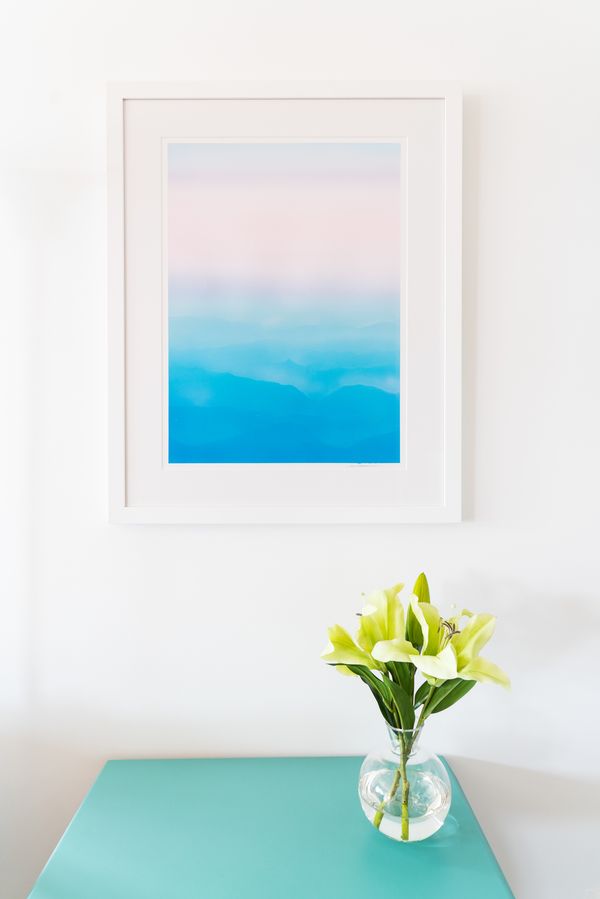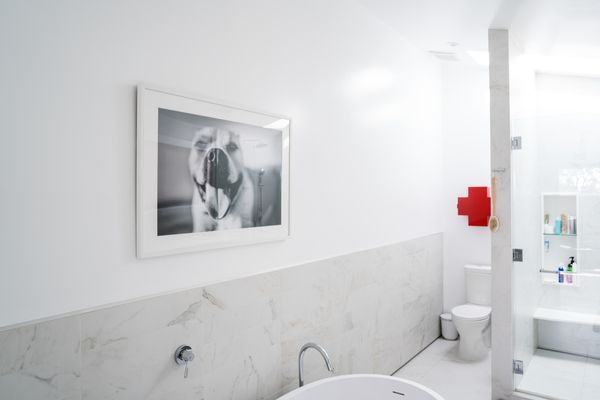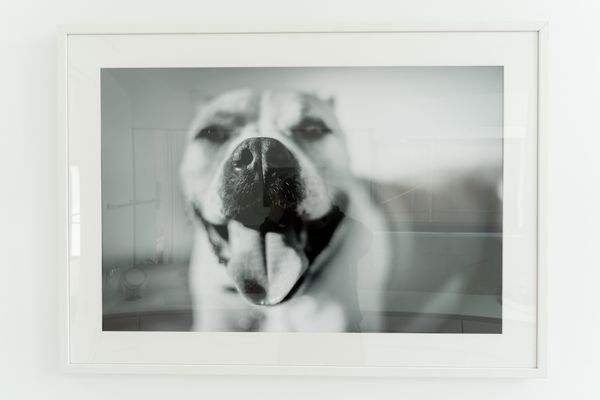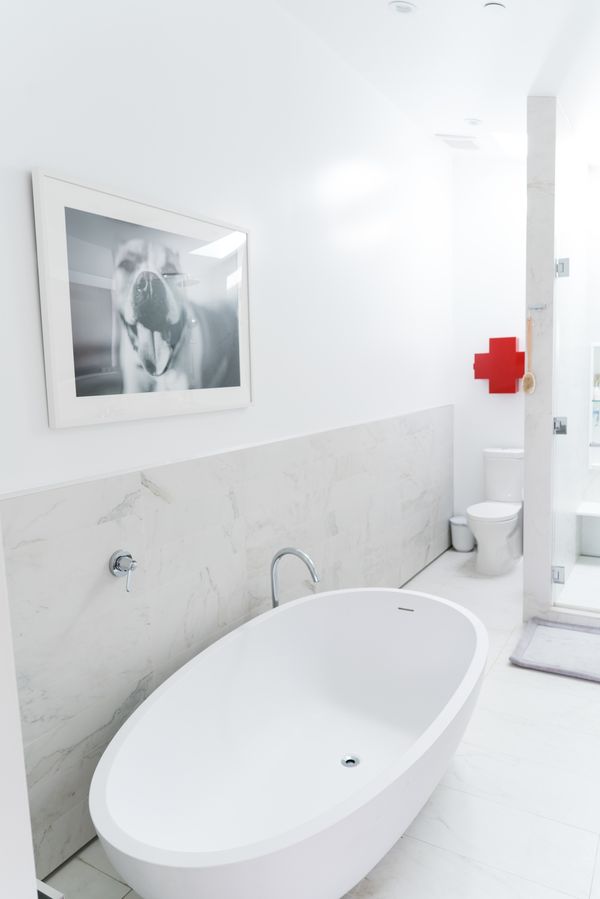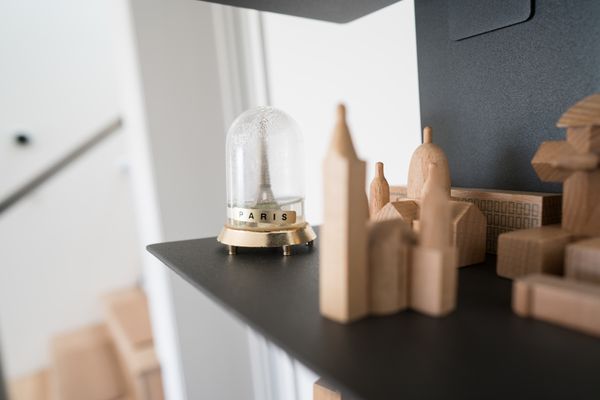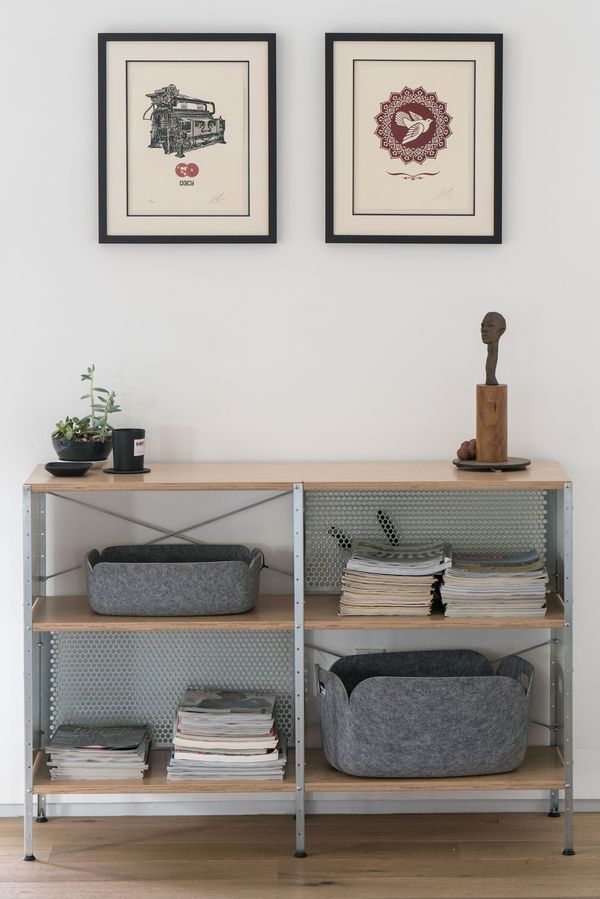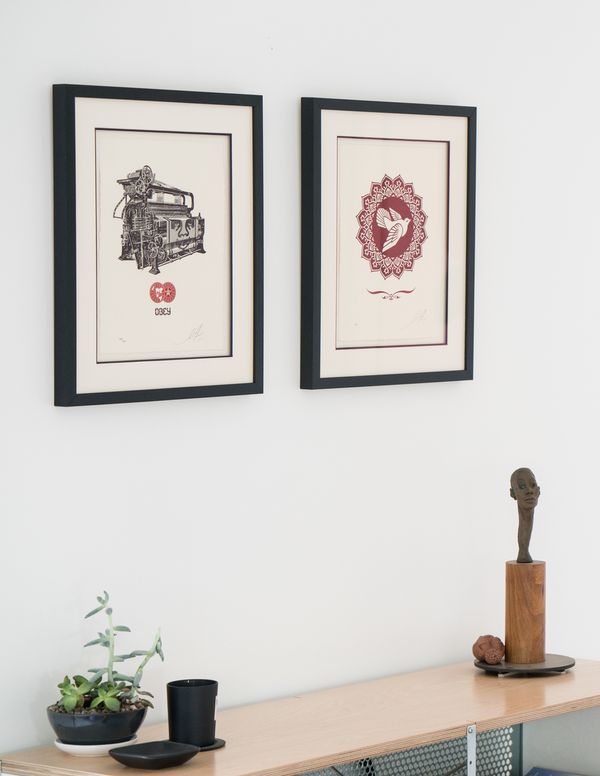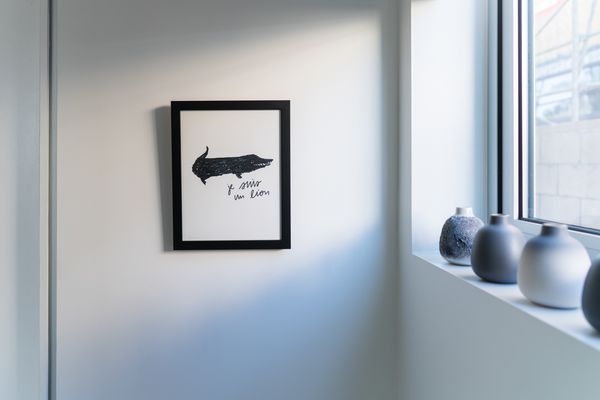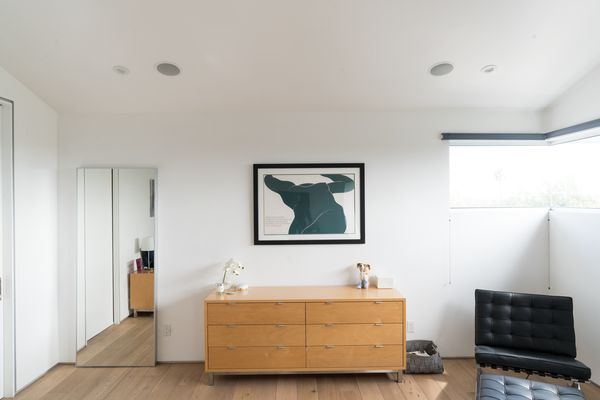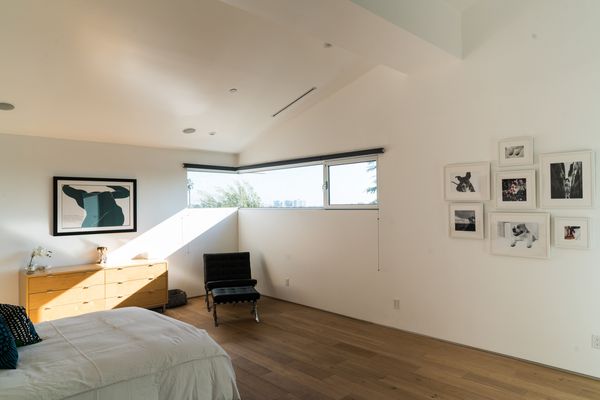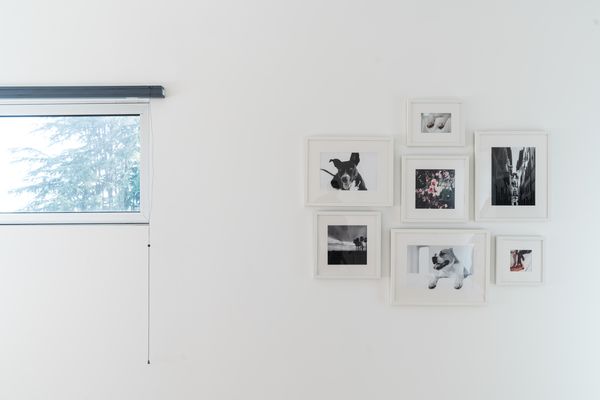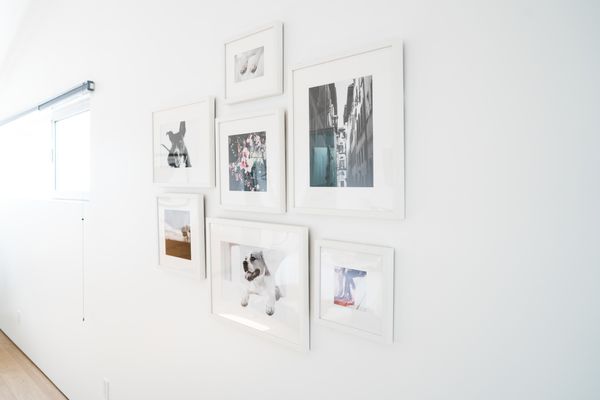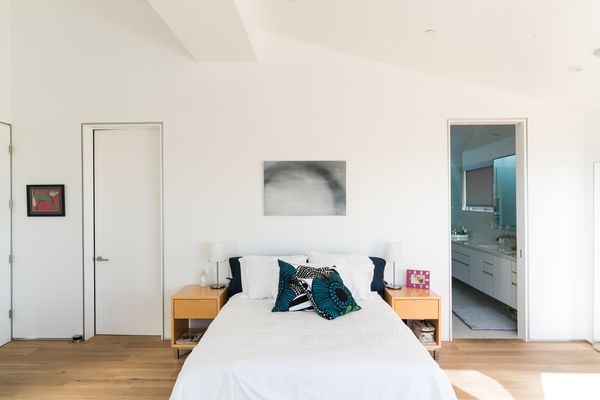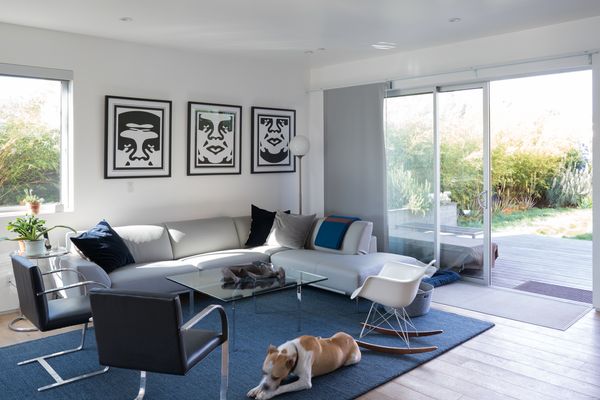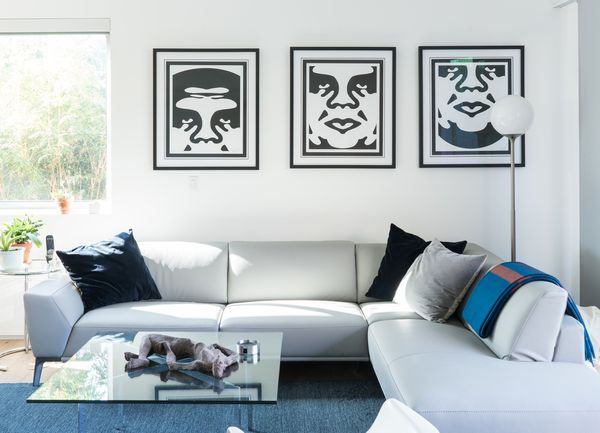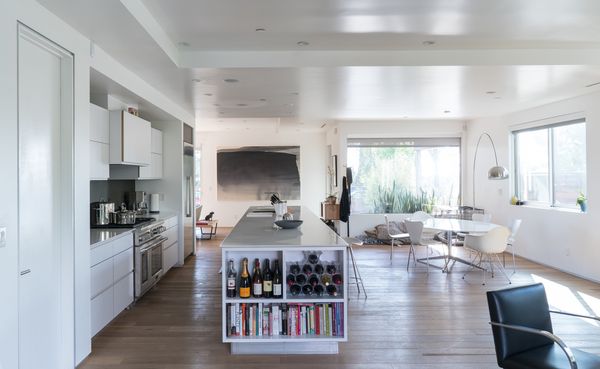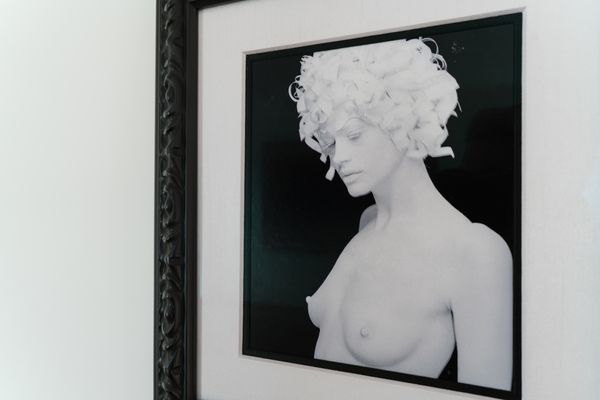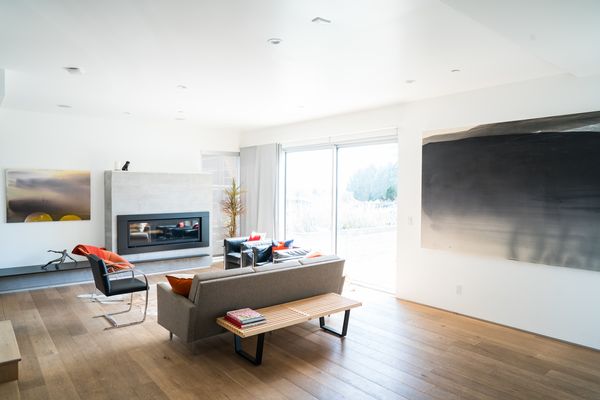 What do you do? Music lawyer for Google/YouTube
Favorite things? Music (all kinds, but right now I'm back in an old-school hip hop phase, with some indie rock thrown in for good measure), dogs (could you tell?), art, furniture and modern design, Pilates
Favorite Instagram accounts? @lotaagaton, @_dr_woo_, @elysianlandscapes, @normarchitects, @friskygeek, @kimlorrainephotography
How would your best friends describe you? Hmmm, I had to ask some friends for this one. Here's what I got: independent, passionate about music, caring, hard-working, lover of food, dogs, furniture, and tequila.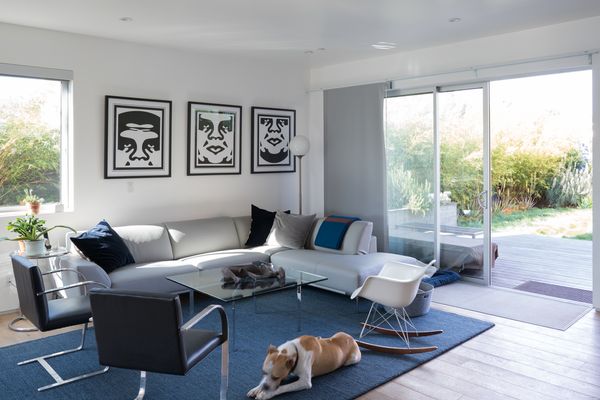 Can you tell us a little about the house? How did you find it? How long have you lived there? I had been hunting for a house for years, but could never find the right house in the right neighborhood. Then one day a neighbor of mine in Westwood (who is an architect) told me he had just purchased a lot in Mar Vista that I might love. He had bought it with a developer and they had already torn down the old house, so the first time I saw it it was basically a pile of mud with some sticks in the ground. You couldn't beat the location at the top of a hill just a couple of miles from the beach and with an ocean breeze all day long - so I brokered a deal to purchase it from the developer and build it myself. I moved in almost two years ago, and plan to stay here as long as possible.
"The first time I saw it it was basically a pile of mud with some sticks in the ground."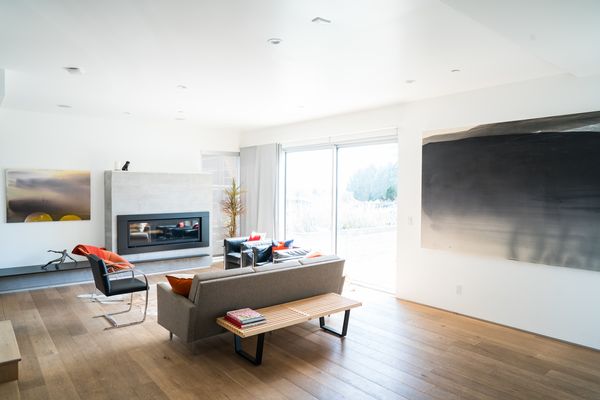 What do you love most about it? There were certain things that were designed around my lifestyle - I had a large dog (now two), so I wanted an open floor plan with lots of room to play. I work a lot, so I wanted a comfortable and bright home office. I listen to music all the time, so I wanted the house to be wired for sound. Having lived many years in Chicago and Boston, I still can't get enough of the LA weather, so it was important for the house to have an indoor-outdoor flow. And since my work life is pretty stressful and hectic, I wanted my home to have a calm, peaceful feeling to it.
I love all the windows, the high ceilings upstairs, the den and outdoor patio off the master bedroom - they make the home feel more like an escape from real life. I wanted the house to be welcoming and comfortable, so outside I worked with my landscape architect (Steve Siegrist) to create a drought tolerant but inviting landscape, and inside I chose mostly white and light grey tones with white oak floors to maintain a sense of simplicity, continuity and comfort throughout each room.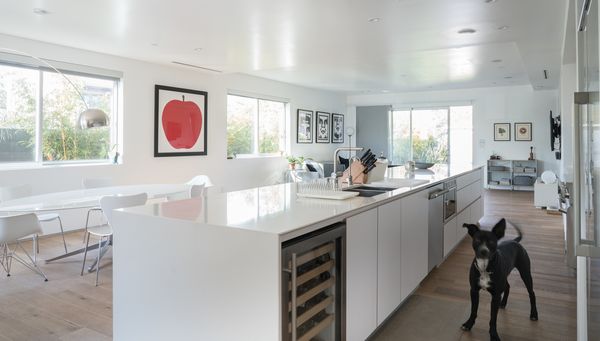 How would you describe your style? I definitely lean strongly towards modern minimalism with a somewhat washed-out palette. I love art and I've collected a few pieces, so I wanted a basic backdrop for those to really stand out. I like a space that is airy, bright and comforting, and that reflects me, my lifestyle and my interests. I think that more than anything, a home should reflect the people who live there - so it shouldn't be perfect, fit for a magazine. It should be personal, and it should remind you of the happy things in your life.
"I have mostly arranged my space according to the art, rather than letting art complement my space."
How has art transformed your space? Home design and art have always been a passion of mine, and I have mostly arranged my space according to the art, rather than letting art complement my space. Each piece, big or small, has personal meaning, and I selected each one carefully. I hope that the art is the focal point of my house. In my home office, I chose to line the walls with limited edition posters from MySpace Music secret shows - I used to work there so they bring back warm memories. The rest of my house is more eclectic, and I'm constantly moving things around to improve the space. My hope has been that my home would reflect me, my personality and my life.


[caption id="" align="alignnone" width="7445.0"]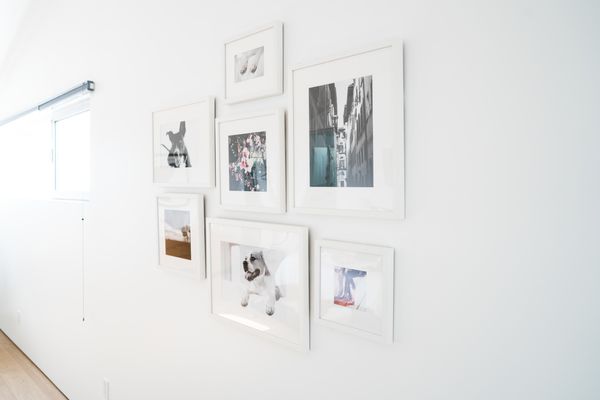 Gallery wall in Irvine Slim[/caption]



Did you know ahead of time where you wanted to hang each photo or piece of art? Only the huge one of my dog Max - that one was a dream I'd had for many years, but never had the right picture, the right wall, or the right service to make it come together. Thanks, Framebridge! I hadn't thought of doing a gallery wall before, but that made perfect sense for my bedroom.
How do you feel when you look at all of these new pieces in your home? Happy! They represent so many happy parts of my life - my friends, my family, my dogs, my travels. I can't wait to add more!






[caption id="" align="alignnone" width="7153.0"]
Gallery wall in Irvine Slim with white mats[/caption]



Get this look: Marina's gallery wall is made up of the following frames all in Irvine Slim with a white mat: 1 extra small, 1 Instagram Mini, 1 small, 3 mediums, and 1 large. Looking for exact frame sizes? Just email us at support@framebridge.com!


[caption id="" align="alignnone" width="7270.0"]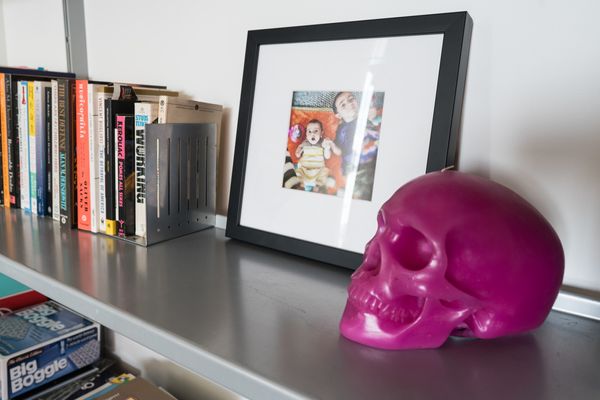 Instagram Mini in Mercer Slim[/caption]




[caption id="" align="alignnone" width="2000.0"]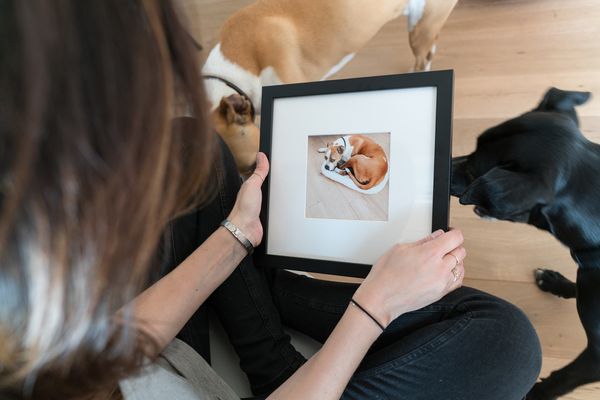 Instagram Mini in Mercer Slim[/caption]




[caption id="" align="alignnone" width="5167.0"]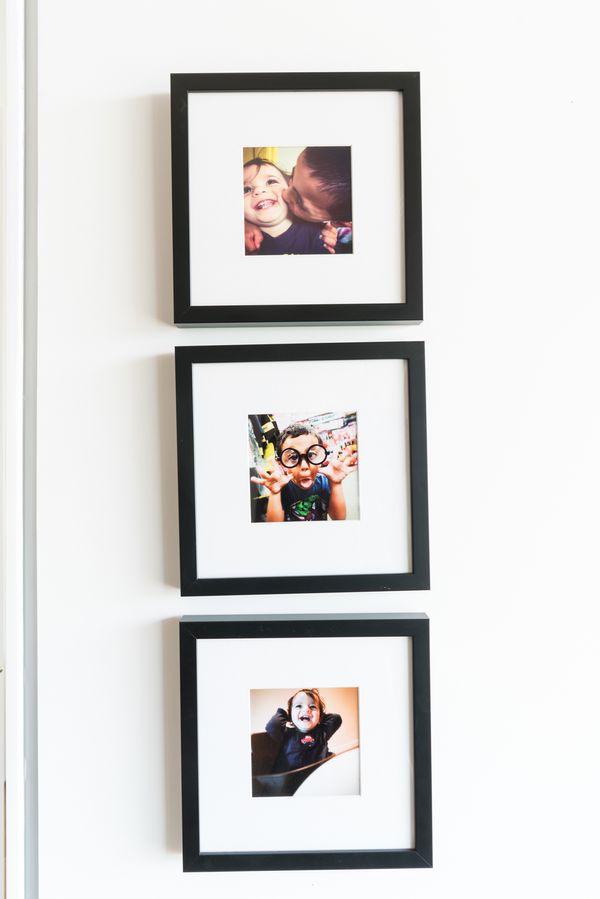 Trio of Instagram Minis in Mercer Slim[/caption]



Get this look: There's nothing more versatile than our Instagram Minis. Frame a bunch of your favorites, and then arrange them in a grid, on a shelf, or in a gallery wall. You can't go wrong.

Entrance: LAX series hanging shelf by Mashstudios (which is actually based just down the street), Large black and white "Odette" painting by Mara De Luca (a Los Angeles-based painter who happens to be the daughter of friends of my parents' from 1970 - small world!), MOCA Artists print by Shepard Fairey
Family Room: Grey leather couch is the Meteor Sofa by Roche Bobois, Coffee table is the Barcelona Table by Mies van der Rohe from DWR, Black leather and chrome Brno chairs by Mies van der Rohe from Knoll, Besta Burs TV console by Ikea, Globe floor lamp behind sofa by Artemide (limited edition remake from about 10 years ago), Dioscuri table lamp on TV console by Artemide from All Modern, L'oiseau wooden bird statue by the Boroullec brothers for Vitra, Rug by Room & Board, Fiberglass rocking Chair by Eames from Modernica, Sculpture on coffee table by Lorraine B., Andre the Giant Triptych above couch by Shepard Fairey, Side glass table by Eileen Grey from DWR
Back Door Entrance: Case Study Shelving unit by Eames from Modernica, Felt baskets by Muuto from DWR, Sculpture by Lorraine B., Prints by Shepard Fairey
Dining Area: Arco floor lamp by FLOS, Florence Knoll marble dining table by Knoll, White chairs at dining table are jake chairs by Room and Board and Eames arm chairs by Herman Miller, Stainless stools are the Jamaica counter stools by Pepe Cortes for Knoll
Living Room: Tweed case study couch by Modernica, Nelson bench by Herman Miller, Black leather chairs by Le Corbusier from Knoll, Black leather and chrome Brno chair by Mies van der Rohe from Knoll, Bertoia burnt orange Diamond chair by Knoll, Sapien Bookcase by DWR, Painting next to fireplace by Mara De Luca
Office: Desk by DWR (no longer available), Credenza by Heartwork, Aeron chair by Herman Miller, Tuck Sleeper Sofa by DWR
Upstairs Den: Continua steel bookshelves by Pallucco, Jasper sofa from Room & Board, Overdyed rug from ABC Carpet & Home in NYC, Poufs/Ottomans from ABC Carpet & Home, Saarinen white table from Knoll, Eames chairs from Herman Miller, Side teal table by Kartell, painting above table by a friend of mine
Master Bedroom: Nathalie Bed by Flou, Entertainment console by Mashstudios from YLiving, Copenhagen night tables and dresser by Room & Board, Night table lamps by FontanaArte, Painting above bed by Mara De Luca, Barcelona chair and ottoman by Mies van der Rohe from DWR
---
Holy Cali design perfection.
Ready to get the look for yourself?