At Home With: Anne Sage
Oh, Anne Sage! Let us count the ways we love you! Not only is Anne an incredibly talented writer with an incredible eye for style and design, she is also a true pleasure to work with. We were thrilled to collaborate with Anne on a very special gallery wall for her home. Each of the pieces she chose has a deeply personal meaning, and highlights what some of the best gallery wall displays can be: a patchwork of art, photos, and mementos celebrating all the facets of your life.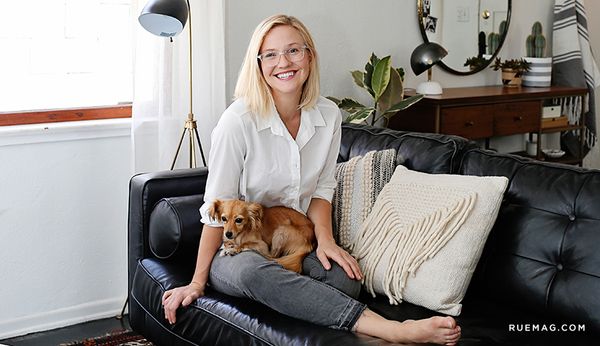 Here is Anne's story:
The entire wall centers around a portrait of my grandmother from the 1950's. She passed away this summer at the age of 85 and I feel the loss quite deeply. When I was at her home in the days following her death I discovered this photo of her, but I only had the original negative and it was in pieces. I was amazed when I sent a scan of the negative to Framebridge and they produced a perfect print! Having a little piece of my grandma with me whenever I'm in this room is so precious to me. From there, it only made sense to design an art wall in which each piece had equally special meaning.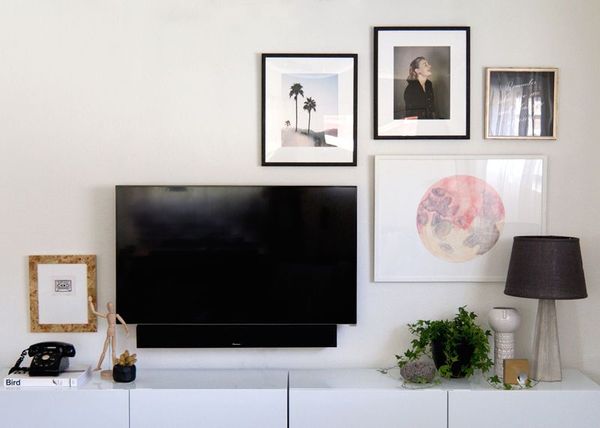 The big moon painting is by Kristine Claghorn, a Los Angeles artist who creates under the name Claggie. When I saw her simple yet striking watercolors, I immediately thought of my dad's love of astronomy. Every time I visit him he sets up the telescope and so we can look at the surface of the moon together! This particular painting was a custom commission, and the largest Kristine has ever done. I knew I wanted something big and bold to balance the TV and this is just what the doctor ordered!
The palm trees photo is by my friend and colleague Nazar Melconian, a gifted film photographer. I knew I wanted to complement the portrait of my grandmother with an environmental shot that paid homage to my current city of Los Angeles, and I immediately thought of the gorgeous travel photos that Naz takes. I chose this shot off his Instagram and he generously cropped and printed it for me!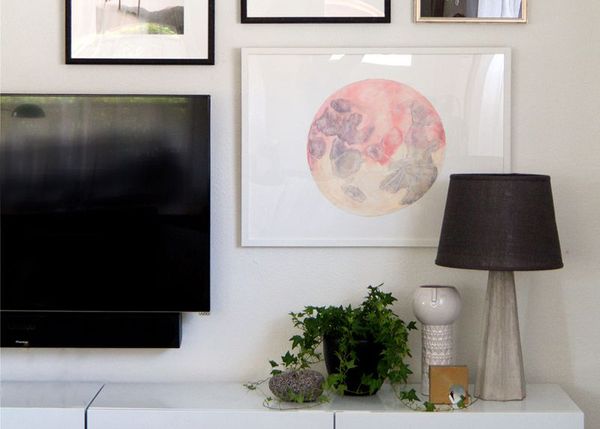 When my grandmother was a young girl, her father would tell her, "Remember who you are and what you represent." She then passed these words on to my father and later to me. In the days following her passing, I commissioned this piece from calligrapher Colore' Grace, who blended samples of my grandmother's handwriting with her own writing style for this graceful homage. I love it so much that I'm considering getting it as a tattoo!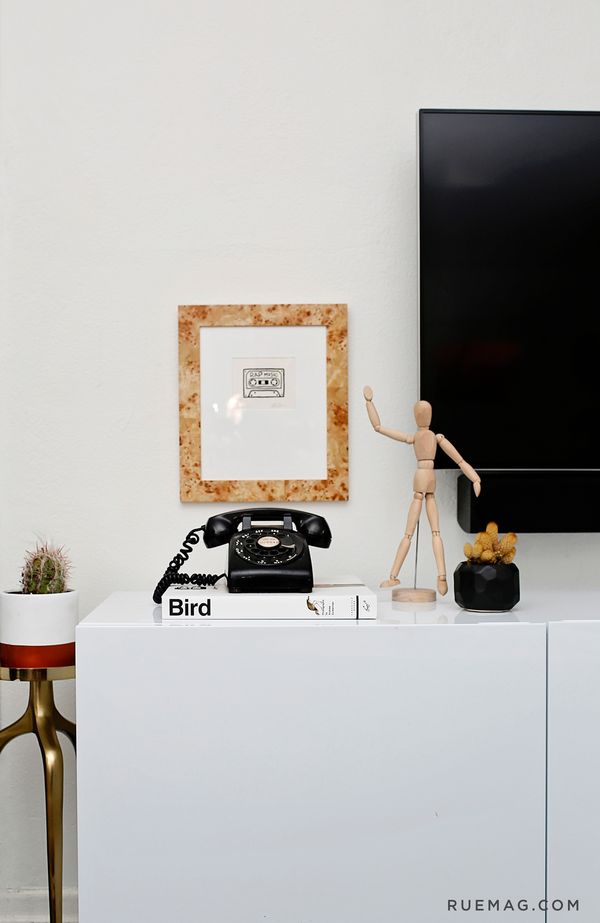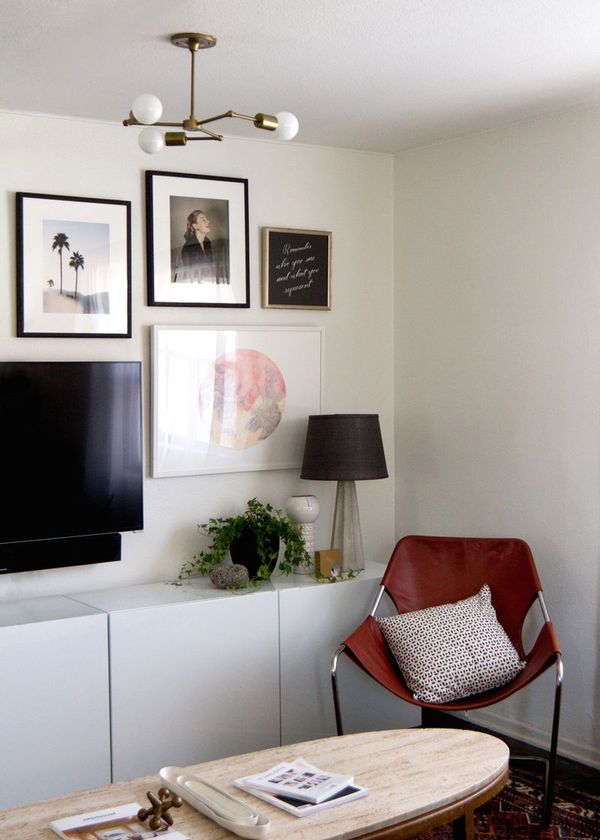 The Cassette Tape Print is by Los Angeles artist Matt Fellows, who is the founder of the MNKR Brand apparel collection. Matt's illustrations are cheeky, simple, and eye-catching; and this one is a wink at my music-obsessed boyfriend. I like the subtlety of it, the fact that you have to get up close to really appreciate its nuance. Art should be engaging, and it should make you smile...just like my boyfriend himself!
When designing an art wall, every piece should have a story. Art is such a personal thing, and when it's on your walls you look at it every day. Selecting art that reminds you of the people, places, and experiences close to your heart is like enveloping yourself in love.
The guidance I received from Framebridge was essential in bringing this wall together. I knew the pieces I wanted to display but not their proportions, the frames, and the positioning. While I don't doubt that I could have eventually come up with a decent arrangement myself, it would have taken me infinitely longer and been so much more agonizing! I adore the mix of materials and styles in the frames we chose. Each one perfectly sets off the artwork within while also feels part of a dynamic and cohesive whole.
---
Thank you, Anne! We couldn't agree more with Anne's art advice and can't wait for our next project together! Check out her full post here, and for more gallery wall inspiration head over here.
Photos courtesy of Anne and Rue Magazine.