Indego Africa frames African landscapes
The best of New York City design with the best of African artisanal skill. That's the idea behind Indego Africa, a New York based shop seeking to empower women in Rwanda and Ghana with their stock of handmade lifestyle goods. By investing all profit from product sales back into education programs for the very women who made them, Indego Africa is able to transform the lives of the women and their families. Colorful woven baskets of all shapes and sizes, chunky knit hats, printed cotton baby clothes, bright hand-dyed textiles and now--framed prints! We couldn't be more excited to work with this beautiful and socially conscious company. To tell ya more about it here's Indego Africa Creative Director, Deirdre King.
---
Can you tell us a little bit about Indego Africa? How did it start? Indego Africa was founded in 2007 with a simple idea: empower women artisans in Africa by showcasing their beautiful craft and investing in the power of education. We team up with groups of women in Rwanda and Ghana to sell products that are designed in NYC and handmade in Africa--using traditional techniques, local materials and genuine artisanal skill--all with a creative voice of playfulness, an appreciation of color, and a desire to bring beauty into the world while uplifting communities at the same time. We invest all of our profits from sales, along with donations, into education programs for the artisans who handcraft our products. Our courses range from business and financial management, to leadership, entrepreneurship, skills-based vocational training for younger women and more!
"The 'design' element, which takes place in NYC, is just as essential to us as the handmade-in-Africa element"
How do you source the artisans you work with in Africa? We always say our local teams are our eyes and ears on the ground! They are constantly scouting out new groups to work with and trying to play matchmaker between our designs, client orders, and artisans throughout Rwanda and Ghana. Finding new artisan techniques or materials to work with is always a plus. We rely on word of mouth, recommendations from our current artisan partners, and the truly expert knowledge of all-things-artisanal by our teams in Rwanda and Ghana.
Have you had the opportunity to meet any of the women who make the beautiful goods you sell? Yes! Meeting these women has been so meaningful to me. I worked at Indego for a couple of years before I had the chance to visit Rwanda. When I went for the first time I was so excited to see for myself what our work "on-the-ground" meant for these women. My trips have made such a huge difference in the way I work--these ladies are inspiring, beautiful, talented and so kind. I haven't been able to get back to Rwanda for a few years and we now work with so many new groups and new artisans, and even work in a new country--Ghana! I am itching to visit again to meet them all! I know my mind will be blown by seeing so much talent and creativity in person. Luckily, though, through our blog, social impact reports and our newly launched Zine I feel like I know them all. We have a great team who makes it a priority to tell our partners' stories in a powerful way, to find out how they are doing and how they are feeling, and to work with them to figure out how Indego can best work with them. These glimpses into their lives are essential for me to be able to do my job well and to make sure their stories and their works are properly showcased.
How do you go about designing and curating your store? We make a conscious effort to make sure that everything is on brand and that all of our products tell the Indego story. With so many different artisans and handmade techniques we support, we need it all to feel cohesive or else our brand vision will get lost. It's important for us to offer unique, well-made products that you wouldn't be able to find just by visiting Ghana or Rwanda. The "design" element, which takes place in NYC, is just as essential to us as the handmade-in-Africa element. We think it's the combination of the two that makes us special. Our line is a mix of categories--everything from art to home decor and storage to baby & kids apparel and women's accessories. Somehow, we need to make it all fit together. I know its cliche to say, but we really are a lifestyle brand, and I want customers to feel like our online shop and product line has the feel of walking into someone's home--someone with distinct (and good!) taste and vision. That's my goal when designing and what I try to keep top of mind!
"Wake up everyday and work as hard as you possibly can to achieve whatever goals you've set."
Where do you find inspiration? Everywhere! These days: pictures in children's stories, old African artifacts, vintage decorating books. The fashion world for color, texture, and trends. My husband's surf "stuff." Instagram (of course!). When I'm thinking about a new collection, I always turn to the beautiful images our Brand Manager takes on her trips to Africa--they make me feel like I'm there, and it never fails to spark my creativity.
We find Instagram to be inspiring too. What are some of your favorite accounts? Ahh I love Instagram. I follow too many but some all time favorites are: @solidandstriped, @yoli_and_otis, @apieceapart, @courtneyadamo, @ullajohnson, @chloefleury, @thesurflodge, @eskayel, @bantuwax, @foxfodderfarm, and of course @indego_africa!
How has Indego Africa affected change? Over the years, we have seen amazing changes taking place in the lives of our partners, their families, and their communities. Since we first started, 89% of our partners have risen above the poverty line, and 92% are now able to send all or most of their children to school (versus only 57% when we first began). Through our education programs, women are not only growing their own artisan businesses, but also becoming entrepreneurs and creating economic development in their communities.
Have any stories that are especially close to your heart? One story that's especially close to my heart is the story of an artisan cooperative called Twiyubake, which means "to rebuild ourselves" in the Kinyarwanda language. This group is made up of 36 amazing ladies in Kayonza, Rwanda who specialize in the art of banana leaf weaving.
Since I began working at Indego Africa, partnering with Twiyubake has been a challenge. As recently as 2015, these artisans were only able to make a few items, like bulky banana leaf boxes and vases, and unfortunately they didn't sell well. I couldn't figure out how to keep them busy with orders, knowing that Indego didn't have enough capital to buy product that wouldn't move off the shelves. We put our heads together and decided to try something new: woven beach bags. After months of sampling and designing, we put forth a collection of palm and banana totes for Spring 2016 and they were a huge hit. The bags instantly took off and all of a sudden Twiyubake's artisans were so busy they could hardly keep up! Now, Twiyubake is one of our busiest partners and they are even participating in our new Vocational Training program to bring new younger artisans into their cooperative.
It has been really special for me to see Twiyubake make this transformation and to be able to sit back and know that by working together, and matching Twiyubake's skills with our customers' desires, we've changed their business, their day-to-day lives and their hopes for the future.
"There is a certain unspoken camaraderie that exists in a room full of women."
What kind of response have you seen from customers? Our customers are the best! They get just as excited about a new basket colorway or collection launch as they do about an innovative education program we are working on or a new story of empowerment we are sharing. This warms our hearts and makes us realize how important our twofold mission is. These days, consumers are looking for more from the brands they support--they want to know the who, what, where and why they should be spending their hard-earned dollars on any given product. We are happy to be able to help them feel good about shopping, knowing they are bringing home a beautiful, handmade product while also supporting our mission of education and empowerment.
As a woman-founded business your mission to empower women is especially close to our heart. What is the most important thing you've learned as a woman in business? The most important thing I've learned is to support other women. There is a certain unspoken camaraderie that exists in a room full of women and I think our all-female NYC team has really embraced that in our relationships and work environment. From a personal standpoint, I've had two kids in two years and recently moved out of the NYC area to have more space for my family, which means I'm primarily working remotely and juggling projects with childcare. It has been incredibly heartwarming to see the support and trust my colleagues have in me by letting me have the flexibility I need to remain a part of the team. Our CEO, Karen Yelick, is one of the most supportive bosses out there and has taught me a lot about leadership, being a working mom and being a woman in business. It's this support that encourages me to keep up with the juggle and learn how to work smarter and more efficiently.
Any advice out there for women looking to turn their charitable causes into their full time gig? The first thing would be to think of it as a full time gig in your mind and forget it's a "charitable cause." Wake up everyday and work as hard as you possibly can to achieve whatever goals you've set. Secondly, make sure you are clear about your vision for your future organization and position. How exactly would you get the funds to support yourself in this position? What would you need to make this happen and not let the rest of your life fall apart? It's not sexy but logistics are everything and you have to be realistic about what you can manage, especially when thinking through a career in nonprofits. Finally, go for it! No one will do it for you and no one else can make your dreams come true (at least not as well as you can yourself!) Also, so what if you fail? No one ever faulted someone for trying too hard to help others.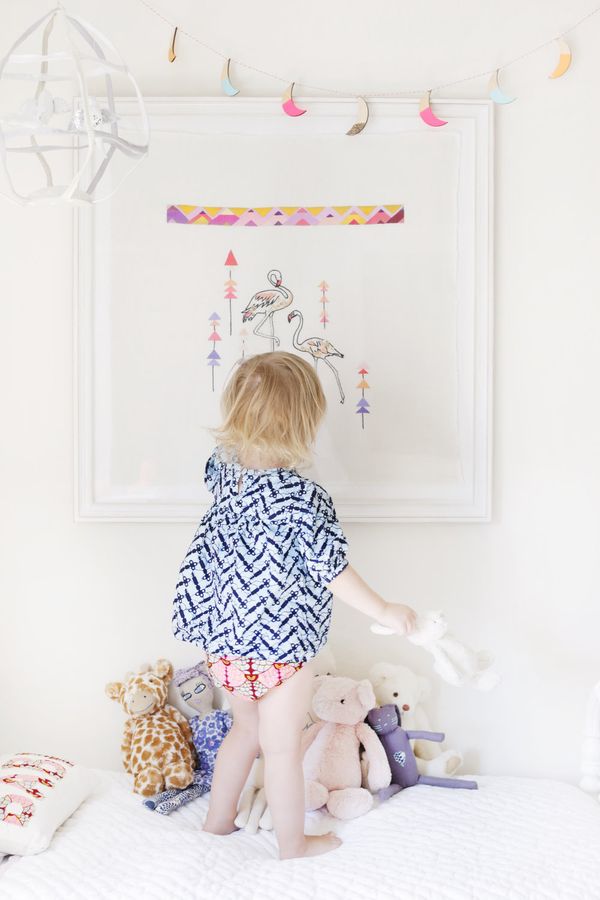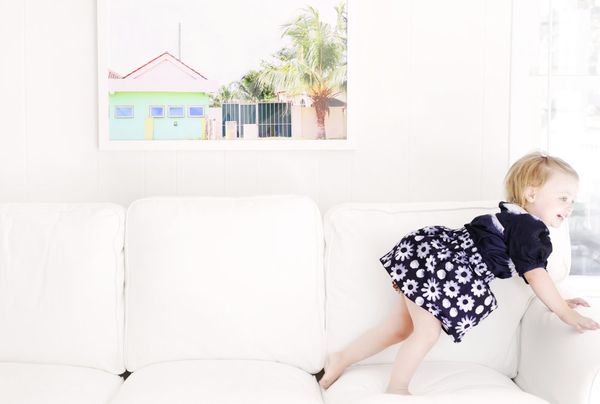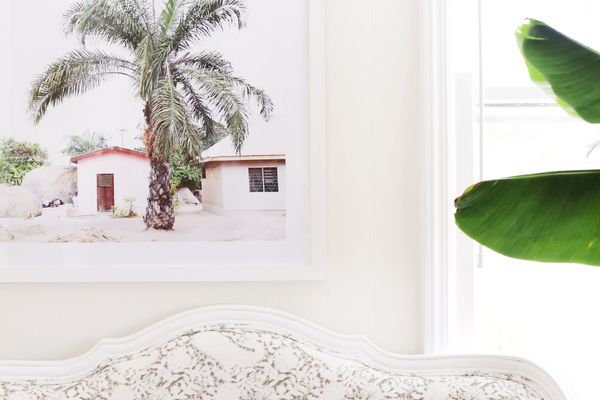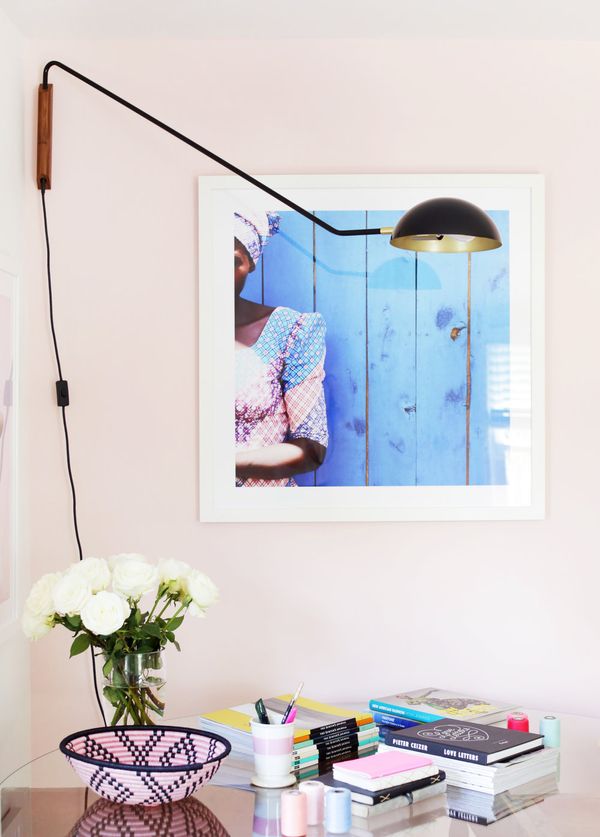 How did you start working with Framebridge? We first launched our embroidered art a couple of years ago and handled the framing ourselves. It was expensive, complicated and required an expertise we just didn't have. After a few months we decided we could only sell in person due to the challenges we were facing, so our pieces were hidden from our growing online customer base. So when we decided it was time to add our beautiful photography to our line and revisit the embroidered art, we knew we needed to launch with a partner who could manage the framing side of things. Naturally we thought of Framebridge, which provides a top-notch service with accessible pricing and a great aesthetic and voice. We reached out and were thrilled you were interested in partnering--it seemed like a match made in heaven!
What sort of framed art will you sell in your print shop? Our Brand Manager, Brittany Barb, is also our staff photographer and she is supremely talented (just take a look at her work on our Instagram and website). During her annual trips to our partner countries she captures beautiful imagery of landscapes, artisans, nature, culture and day-to-day snapshots of life. These photos are not only gorgeous, but they give a glimpse into the inherent beauty of both Ghana and Rwanda, as well as that of the beautiful people who live there.
We will also be selling specialty art pieces, hand-embroidered by women at one of our partner groups in Rwanda, Ibaba. These pieces are delicately embroidered on Belgian linen and, when framed and mounted, truly showcase the intricate handiwork of these remarkable women. We are launching with a whimsical, sequined flamingo piece--who can say no to that?
Any favorite pieces? I'm obsessed with them all. I moved a few months ago and basically decorated my whole space based on where I could hang these pieces. If I had to choose, I would pick one of the Ghana landscapes. I have our "Sea Tones" piece hanging in my son's nursery. It has a cool beach vibe and gives new life to his hand-me-down furniture from his sister!
---
What art would give new life to your space?