Artist's Story: Erin Hanson + Giveaway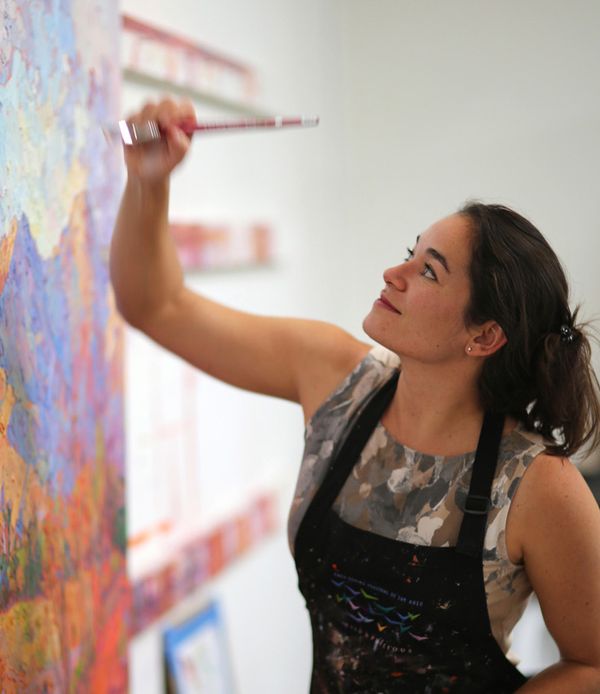 Name: Erin Hanson
Occupation: Artist
Art Medium: Oil on canvas
Favorite studio tool/supply: Kolinsky sable brush
Artists you love: Group of Seven, Van Gogh, Monet, Ansel Adams, Cezanne, Georgia O'Keefe
Sources of inspiration: I get my inspiration to paint by hiking, backpacking, and rock climbing through National Parks and beautiful, hard-to-reach terrains. My latest haunt has been closer to home: the idyllic scenery of Paso Robles wine country.
Most unexpected quality: My startling color choices are the most unexpected quality of my oil paintings.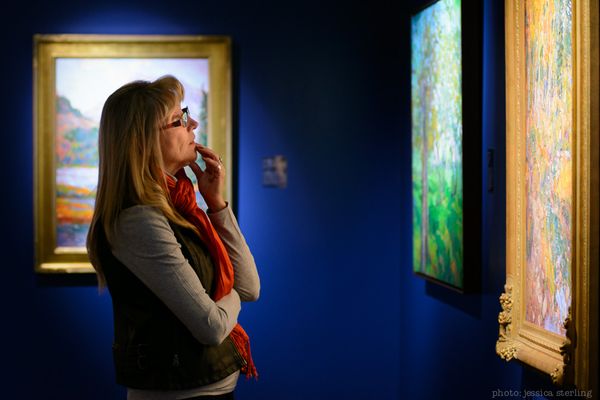 What does your average day look like? I am at my art studio/gallery by 10 AM, where I paint and run the business of being an artist for 12 hours. I like to order breakfast, lunch and dinner from a fantastic diner nearby in Silverlake called "Home." I usually get about 8 hours of painting done and 4 hours of administrative work done every day. There is a surprising amount of legwork needed to actually sell the paintings I create! On the weekends I am usually traveling out of town to sell my paintings at art festivals, galleries, wineries and pop-up shows as far north as Seattle and as far east as Dallas.
How would you describe your creative process/how you go about making art? The first step to creating a painting is getting the inspiration. Several times every year I put down the brush and go out by myself into the wilderness to hike and explore. I visit the Colorado Plateau every year, revisiting some places like Canyon de Chelly and Zion National Park over a dozen times to see the landscape in a new light and search for new compositions in the red rock cliffs. After returning home from a trip like this, my camera is full of thousands of ideas to paint from. I then have to somehow glean from my 2-dimensional and flat-looking photographs what it was actually like to experience the beauty I saw a few weeks or a few months earlier. I have to look back in my mind and try to re-capture those stunning colors and feeling of space and motion that get lost in a camera. After printing out several different photos from my stash, I sketch out an original composition that will transform my equally flat canvas into a three-dimensional miracle of color and light.
" I have to look back in my mind and try to re-capture those stunning colors and feeling of space and motion that get lost in a camera."
What tips would you give someone looking to buy art? I have observed thousands of art transactions, and I believe the customer is happiest when they purchase a piece that uplifts and transports them. Many people like a piece of art to remind them of somewhere they traveled or something unique they experienced in their life. So, I recommend finding a painting that you can fall in love with over and over, and bringing it home. The good news is that it is easy to alter a room slightly to set off a beautiful painting that you fall in love with (with a new paint job, frame, rug, throw pillows, a vase, more paintings by the same artist, etc.) It is much harder to find a painting ready-made that happens to fit the decor of the room you have, and you probably won't love it as much as a piece that speaks personally to you.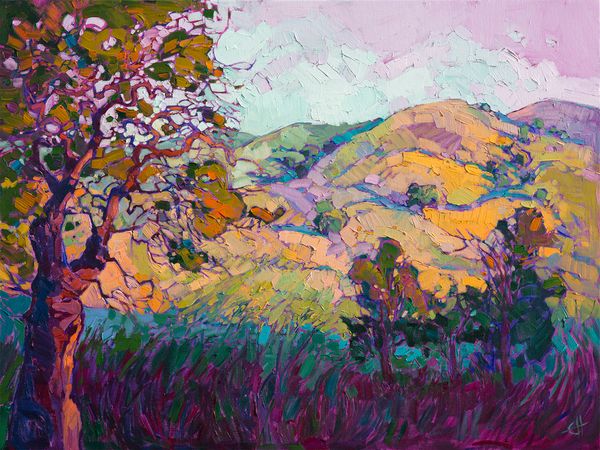 What is your favorite source of inspiration? During the long hours I spend painting every day, I like to listen to books on tape. This lets me un-focus from "reality" and let my mind wander in fictional realms while I create fictional landscapes with my paintbrush.
How do you think the prevalence of technology affects the art world? I believe the internet and mobile phones has allowed artists to get their work in front of more viewers and art collectors than ever before in history. The artist just has to know how to present the work so that it can be properly seen on a screen. My paintings are highly textured, so I photograph my paintings so you can see every detail of their texture. My website then allows browsers to click in and view close-ups of painting's surface, getting close and personal with the details of each painting. I also have a video feed setup for each painting, so I can show how the painting changes with different angles and under different lighting. Finally, I have an "in-room view," which puts the painting into a digital room mockup, above a couch or other furniture, so you can see the actual dimensions of the piece as it would appear on your wall. All these tools make it easy to purchase art online, and I sell many paintings every month through my website. I always love to hear that my collectors are even happier than they thought they would be when they receive the real painting in person.
---
Gorgeous, right?! Head to Facebook to enter to win a gorgeous painting by Erin.