A Gallery Wall for Dad with Laurel & Wolf
[caption id="" align="alignnone" width="5649.0"]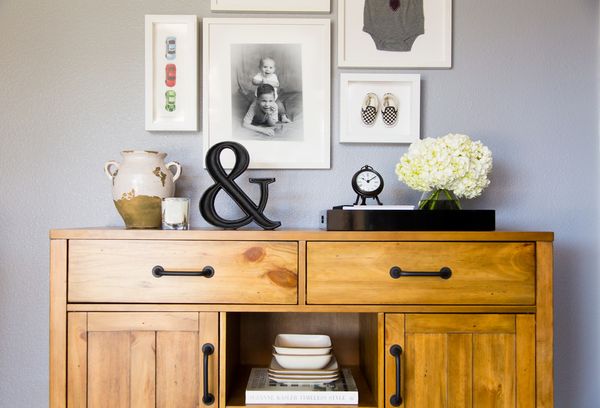 Gallery wall in our Irvine and Irvine Slim frames.[/caption]



It's no secret we love a good gallery wall, a beautiful room redesign, or a great story. Our latest collaboration with the design experts at Laurel & Wolf has all three. Just as we've revolutionized custom framing, Laurel & Wolf has reimagined interior design for the digital age. Their super easy service brings the expertise of a professional interior designer to you - online. So, just in time for Father's Day, we put the power of our online companies together to create a gorgeous gallery wall and room redesign for one California family. Here's their story as told by our friends at Laurel & Wolf.
---
Shaun Foos met now-wife Rachel on a blind date at a dive bar, but decided to take things up several notches, proposing in a helicopter over Los Angeles. They now share a cozy three-bedroom home north of the city with their little ones, Carter, 5, and Miller, 1 and a half.
"Shaun has always been such an amazing dad. He's so loving and fun and active with the kids, we wanted to give him something special for Father's Day," Rachel says.
So she teamed up with Framebridge and Laurel & Wolf to create a gallery wall highlighting some of their favorite family memories. She dug out the beloved onesie and teeny Vans from when the boys were babies. She also pulled out a drawing Carter had made along with a portrait of both boys. Her other favorite objects? The kids' toy cars.
"Both of them are obsessed. Cars, cars, cars, and Shaun is always so patient in playing with them," Rachel says. After selecting the objects, Framebridge mailed Rachel packaging designed to safely transport the objects to their framers. They then worked with Rachel and Laurel & Wolf to properly arrange and frame the objects before sending them back to be hung. Laurel & Wolf designer Ashley Bussell redesigned their space to highlight her new pieces of art, highlighting the modern rusticity of their home and selecting durable, kid-friendly pieces.
The result? A living scrapbook of their family memories.
---
We love a good Laurel & Wolf redesign. Especially when it includes such a sweet gallery wall. In need of some Laurel & Wolf expertise in your space? You're in luck! They're offering Framebridge fans $50 off design services. Use code LWFB2016 now through 12/31/2016.