5 Dreamy Bedrooms with Parachute
Today we're taking it to the boudoir. We're talking nightstand vignettes, above-the-bed statement pieces, and everything in between.
Ready for the key to decorating your bedroom? Even the most beautiful framed art falls flat without a solid foundation. Your bedding makes a large visual statement, and much like our frames, we think that statement should be beautiful, handcrafted, comfortable, and a little luxurious. So, we teamed up with Parachute -- the best in beautiful, affordable, and high quality bedding -- to anchor five different frame setups in high quality "bedrock."
Before getting started on the framing, we had to set the stage. Enter Parachute's Percale Venice Set in Slate. Much like clean white walls, we love a good blank canvas, and something about these gray sheets caught our eye as an alternative to classic white. We opted to mix and match the Slate Sheet Set with White Sateen Shams to strike a beautiful bedding balance. (Every shadow needs its highlight, right?) Soft, lightweight, and stonewashed, these sheets feel like your favorite pair of pants. And you know how the best thing about your favorite jeans is how they look good with pretty much everything? You see where we're going with this. Here are five totally different art arrangements that look amazing in the same bedroom. Read on for tips to get each look.
Make a Statement (Piece)


[caption id="" align="alignnone" width="5728.0"]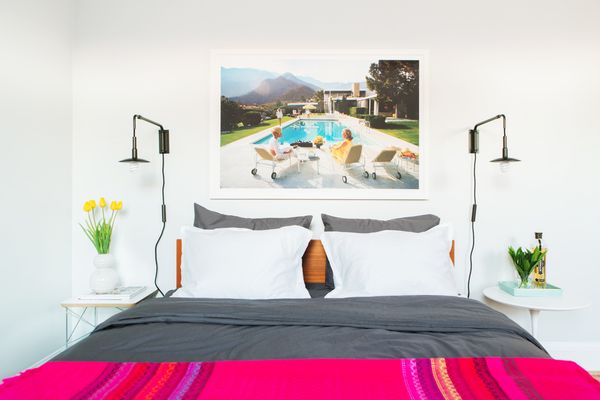 "Poolside Glamour" by Slim Aarons in Irvine. [/caption]



There are really only a couple spots in the house -- above the couch or above the bed -- suited for art of this magnitude, and the scale of this queen fit the bill. We brought the sassy socialite style of Slim Aarons' iconic image out of the frame and into our own space through the fruits of our recent jet set adventure to Mexico... this hot pink serape striped blanket. We also worked in our *favorite* kind of every day luxury with fresh tulips and bright green foliage. Pass a martini, please. We are READY to kickback a la these poolside ladies.
Hanging tip: With a high headboard, hang the frame approximately 5-8 inches above the top. If you have a low profile one (like we do here), treat the top of your pillow as if it were the top of the headboard.
Double Dip (tych)


[caption id="" align="alignnone" width="5760.0"]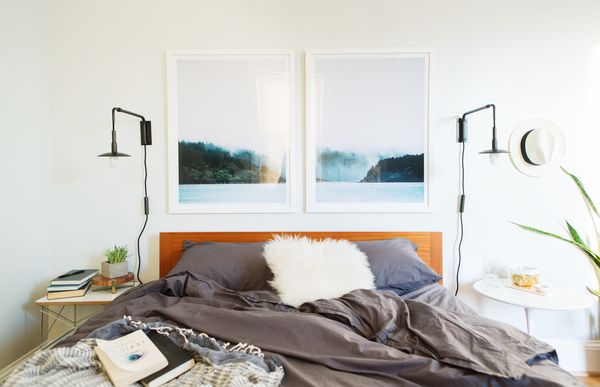 Unsplash photo in Irvine. [/caption]



California dreaming? More like California living. This boho bedroom easily translates to any space, no matter your coast. To create this doubly dramatic composition, we took one high res photo, cropped it into two halves, and framed each half separately. *Slow clap.* This is quite possibly our favorite frame trick because it's just so versatile. Not only can you hang the pair as a diptych for major impact with the convenience of smaller art (each of these will fit in your back seat), but you can always break the set apart and hang (or lean) each piece on its own.
Get this look: Download the halved photo below, upload to our site, choose your frame, order, and hang.
Build a Gallery (Wall)


[caption id="" align="alignnone" width="5760.0"]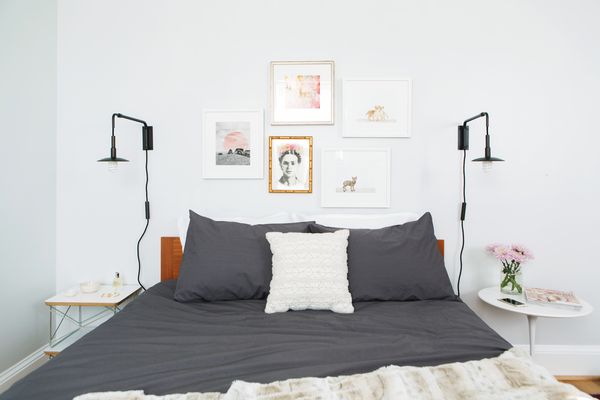 "Wolf Pup No.2" and "Lion Cub Twins" by Sharon Montrose in Irvine Slim, "Cheri" by Parima Studio in Newport, "Modern Desert" and "Flowers" by Michelle Tavares in Irvine Slim and Mandalay. [/caption]



We could talk about gallery walls all day long. Eh, let's be honest, we do. As you know from our projects with Emily Henderson, Rachel Parcell, and Anne Sage, a great gallery wall is built around a theme. In this particular composition, we wanted to keep the size of the art and the color palette relatively consistent. And we can't lie... We love how the nude / blush / gray composition came together. Our clean Irvine Slim gallery frame keeps the layout balanced on both sides, and the mixed metallics in the center add a little somethin' special. And somehow a little Mandalay always brings it all together.
Frame tip: Don't be afraid to mix metallics. You can't go wrong with our Irvine Slim gallery frame and your metallic frames of choice. (We used Newport and Mandalay.) Lay your frames out on the floor to figure out the best arrangement before hanging or work with a Framebridge gallery wall consultant to build a perfectly curated layout.
Rock the Night (Stand)


[caption id="" align="alignnone" width="5760.0"]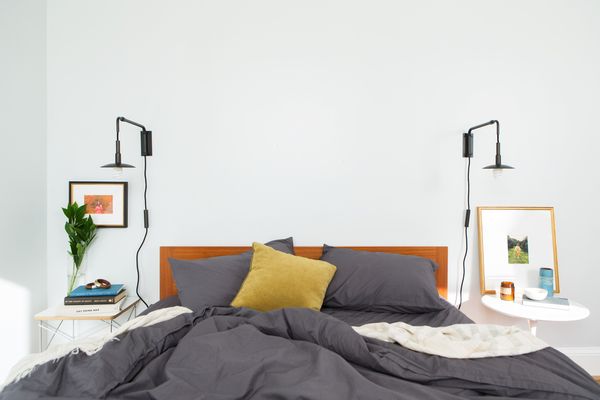 Art by Stephanie Vovas in Providence and Richmond. [/caption]



Call us crazy, but we got a little weird with this one. We mixed up the size and scale of the frames and mats, and styled each nightstand to have its own individual personality. We used two Stephanie Vovas prints of the same size, framing one with a standard-width mat, and the other with a dramatic wide one. Admittedly, we think this "nothing above the bed" look would fit better in a space with a taller headboard, but you get the idea. Perfect symmetry doesn't always have to be the goal.


[caption id="" align="alignnone" width="5695.0"]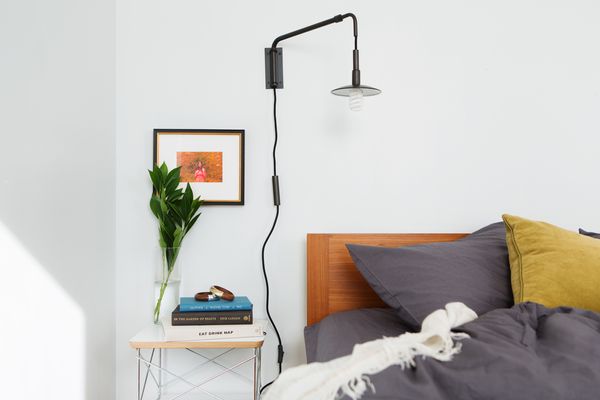 Art by Stephanie Vovas in Providence. [/caption]




[caption id="" align="alignnone" width="5732.0"]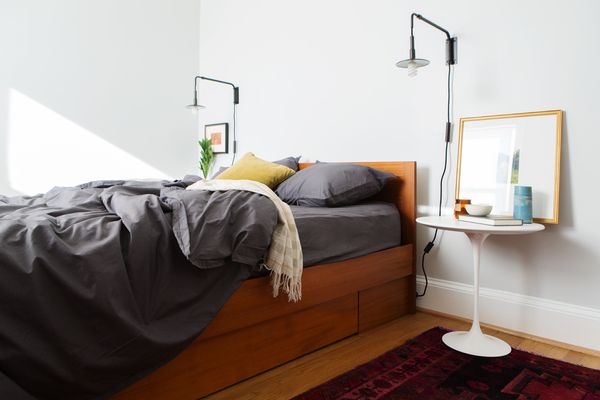 Art by Stephanie Vovas in Richmond. [/caption]



Get the look: Take two of your favorite complementary prints of similar size but different orientation and choose two coordinating frames (we used Richmond and Providence). Place your order, being sure to note in the special instructions section of the cart which piece you would like to have a larger mat and how big you would like it to be. (This one is 5 inches.) Wide mats are one of our favorite ways to add drama and interest to a piece/space/life in general.
Work the Floor (Space)


[caption id="" align="alignnone" width="5760.0"]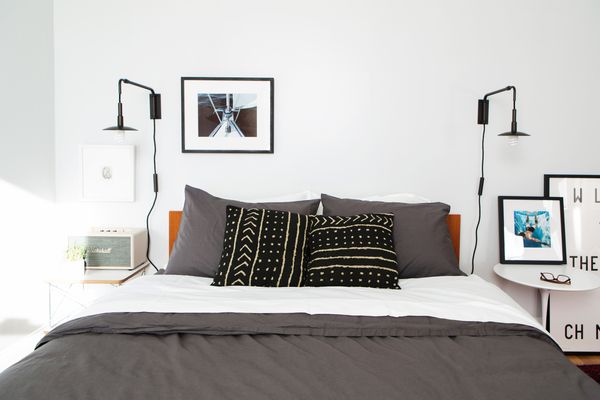 Vintage brain print in Irvine Slim, boat photo via Unsplash in Bolton, "Deep Dive" by Samantha French and "Welcome to the City of Champions" by Playtype via The Poster Club in Mercer Slim.[/caption]



Best for last. We don't play favorites, but if we did, this one might be it. It's just COOL. From the leaning frame combo on the right to the frames hanging outside the confines of the traditional nightstand territory on the left, this arrangement is all about pushing the boundaries of conventional hanging style. Remember: it's about balance, not symmetry. Also, we're obsessed with all of these pieces on their own. Together? Magic.
Get the look: Choose your favorite combo of similarly-sized prints and at least one larger one. Make sure to get a BIG piece (at least 20x30) if you're going to lean it. Think about balancing the visual weight of the leaning piece by hanging a piece with lots of visual interest on the other side of the bed. Be sure to keep the palette in the same color family, the mood of the art consistent, and the frames complementary. The mix of blue, white, and black tones in our clean black and white gallery frames keeps the look cohesive.
Furnishings: Sconces via Crate and Barrel, Saarinen side table and Eames side table via Design Within Reach
---
Oh, what a difference some frames (and bedding) can make! And you're in luck! Parachute is offering $25 off orders of $200 or more now through May 1, 2016. Use code FRAMEBRIDGE at checkout. Get your home essentials now at parachutehome.com - and then get framing!