Framebridge Trendspotting: 2017
2016 has been a loooong year. So let's just cut to the chase. Here are the top ten design trends our Creative Director, Tessa, is looking forward to in 2017.
---
Trend #1: The Reign of Authenticity
Okay, okay... Admittedly, this is not exactly a design-exclusive trend. But we've seen a meaningful shift toward authenticity online and off--toward living in the moment and seeing the human side of things from a less edited, #nofilter perspective. I think we can all just agree now that the days of white white, perfect Instagram flat-lays are numbered. In photography, we can expect to see warmer, darker, truer looks at real spaces in lieu of heavily-lit wide shots with blown-out details.
So how does this translate to design? I think we'll see people designing in ways that are more authentic and original to their spaces. Remember that time Chip and Jojo turned a giant Waco farmhouse into a French Country estate for a couple who really wanted a French Country estate? That was basically the opposite of this. We'll see this trend surface as people begin to choose lighting and hardware that are authentic to a home's era instead of whatever is on trend in giant, open houses in Ojai with glass walls. Not every Federal Style row house needs to or really should boast a trendy brass sputnik chandelier; these spaces sing more beautifully and honestly with classic 1920s wall sconces and understated pendants.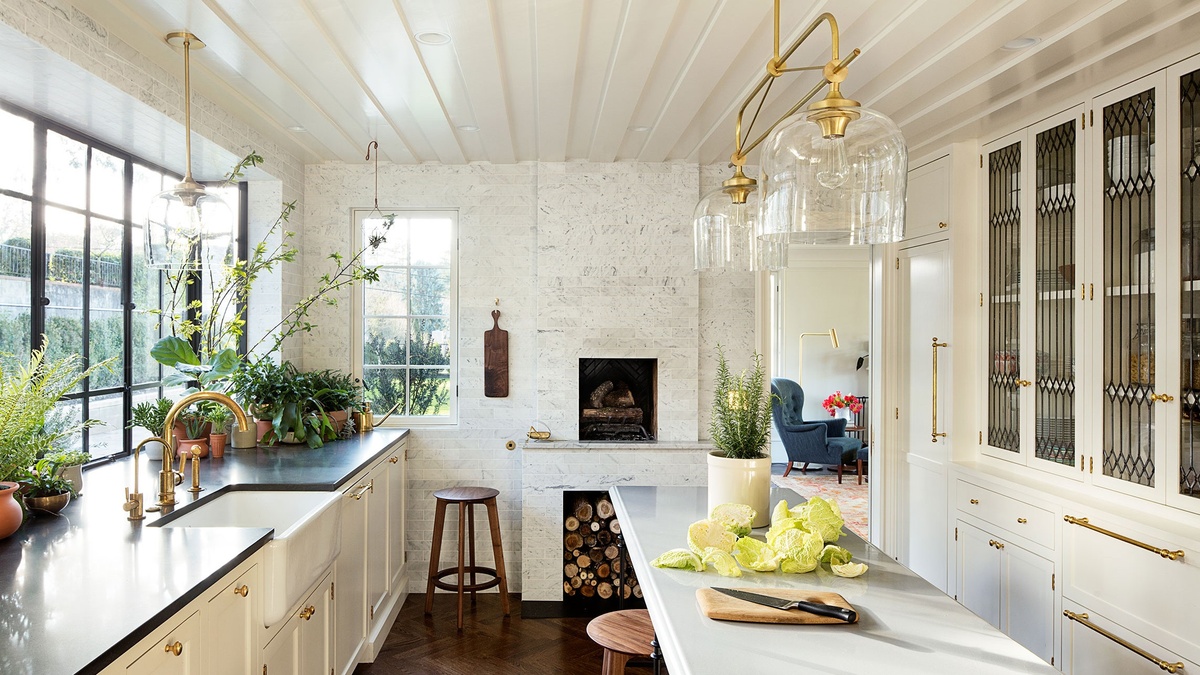 Jessica Helgerson outfits the kitchen of a 1920s Portland home with what appear to be original built-in leaded glass cabinets and age-appropriate pendant lighting in mixed metals.
---
Trend #2: Warm > Cool
As we all know, the recipe for max Instagram likes has always been a composition with a bright, cool white background and pops of pink, blue, green, and black. Until recently. We have to say we're pretty happy to see social photography shift to a warmer place. A place that feels human, lived in, and actually has shadows. We can expect to see paint trends reflect this movement, too. We'll see white walls and cabinets give way to complex taupes and greeny French grays.
Move over, cold whites. Hello, warm neutrals.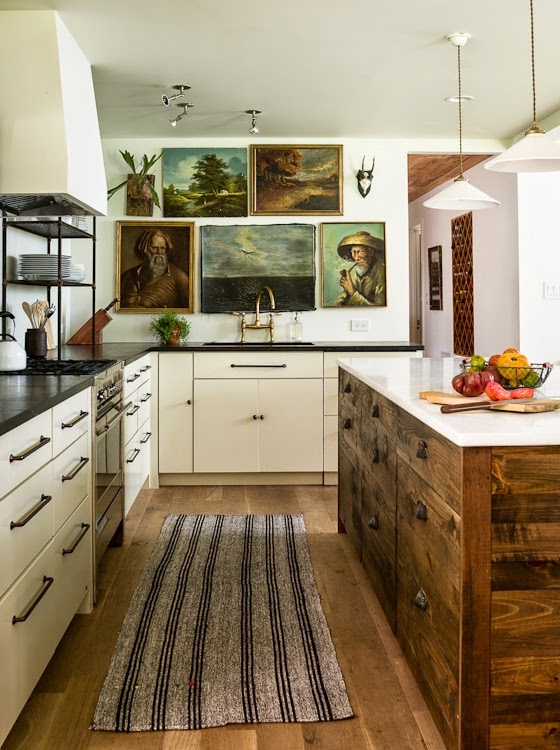 Designer Lauren Liess is the master of layering warm neutrals to create spaces that feel sophisticated and fresh without feeling too brand new.
---
Trend #3: Green! Pantone says.
Remember how everything--bottom cabinets, statement walls, upholstery, etc.--was deep navy for the past few years? Okay, great. Now that's all going to be green. If you think about it, this is perfectly in line with the shift toward warmer tones. We're not saying to go out and immediately buy a couch in Pantone's "Greenery", but do consider darker green shades. Golden yellow undertones bring a sophisticated edge to the deep, deep greens we'll see this year.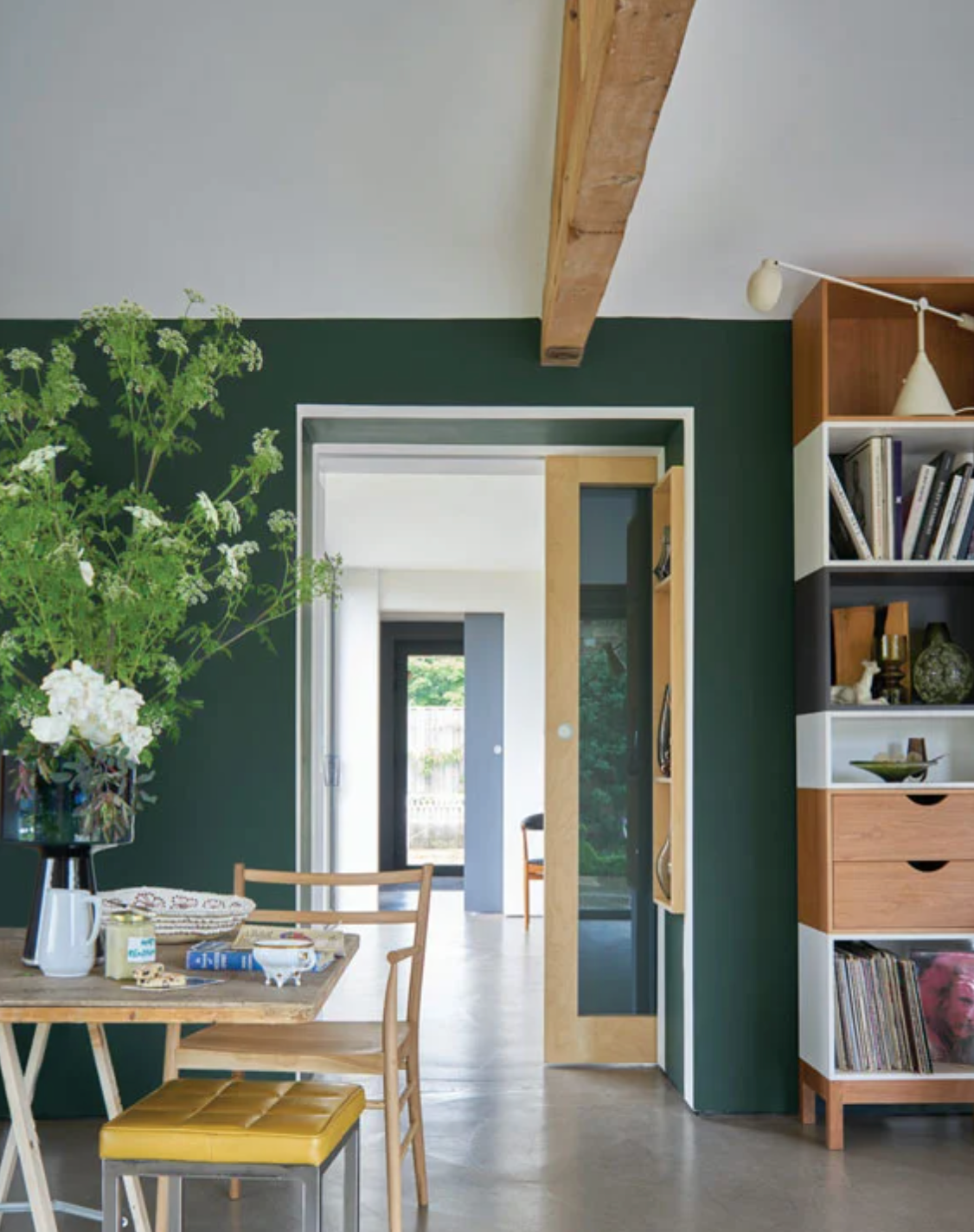 Farrow & Ball's "Studio Green" is the perfect backdrop for glam golds and sophisticated styling.
---
Trend #4: A Return to Tradition
We've had a busy ten-ish years in interior design: from minimal to mid-century to industrial to farmhouse, we've really run the gamut of furniture and accessory trends. Now, I think, is the time to settle in and return to traditional. Don't panic--traditional doesn't have to mean heavy jacquard drapery; the new traditional feel is light. We'll see it emerge through the use of classic hardware that ages with time (hello unlacquered brass... you're still in), understated light fixtures with actual shades, beautifully-patterned wallpaper in light neutral tones, and inset cabinetry. Built-ins will be bigger than ever--whee!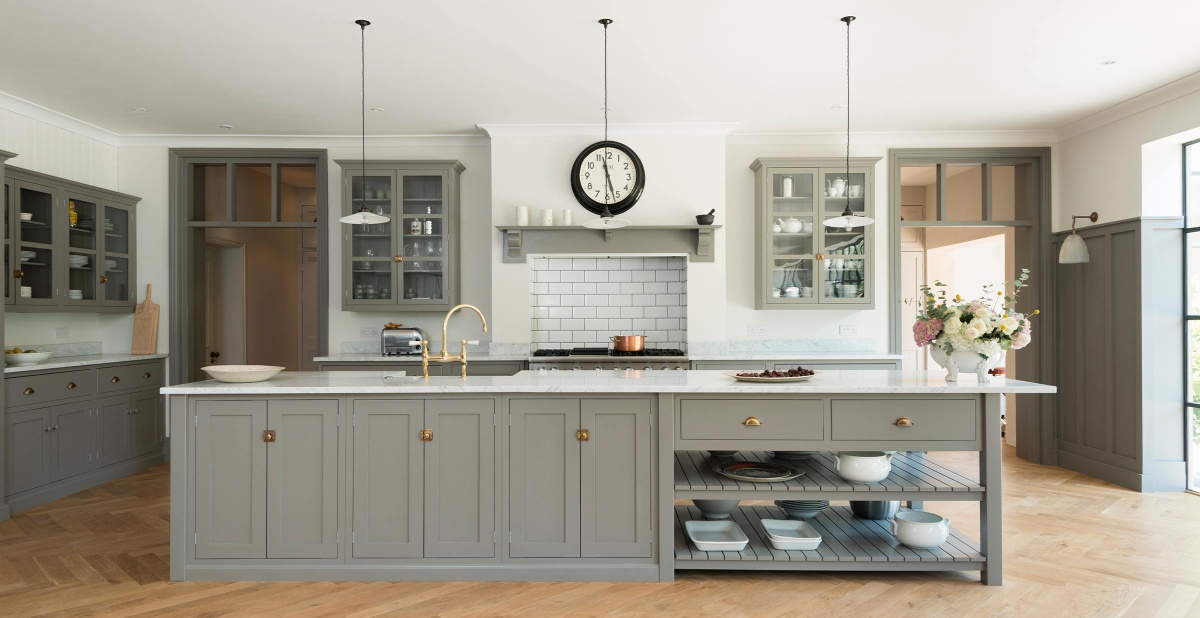 deVOL Kitchens, a UK brand, has won the hearts of many a Pinterester in recent months. Note the light neutral cabinetry in an inset style, the classic faucet, and traditional knobs and drawer pulls.
---
Trend #5: Wood is in. But, like, in a new way.
Surprise! Wood will be huge in 2017. Okay, we know what you're thinking... Yes, wood is always huge. But this time it's different--it's not rustic. It's hard to deny the natural beauty of a raw-edged walnut tabletop and, for that reason, we hope that look lives on forever. But does every home need manufactured MDF reclaimed-wood-look ceiling beams? Sorry – not in 2017. This year's wood is smooth, natural, rich, and a little bit glamorous. A mid-century rosewood credenza > faux reclaimed wood shelving with partially-sanded chalk paint or an espresso stain. Get it? Believe it or not, we're going to start seeing wood kitchen cabinetry again, too. But it will be real, it will be sophisticated, and you will see the grain.
Sleek wood cabinets with visible grain offer this kitchen an extremely fresh and still classic feel.
---
Trend #6: Brass is in, too. With Wood.
Surprise! Brass will also be huge in 2017. Expect to see unlacquered brass metal hardware and lighting that gets better with age paired with deep walnuts and cherry tones. This look, popularized near the end of the original mid-century movement, is just so, so good, and we think it's here to stay--why walk away from something that's genuinely working?
Want to get this look? Go with Framebridge Sonoma and Jambi Frames paired with Framebridge Dorado Frame.
---
Trend #7: Velvet
Isn't it weird how velvet always comes back? It feels like just yesterday that we were wearing crushed velvet leotards (yes, for gymnastics), chokers and babydoll dresses and here we are, 20 years later, a bunch of adults pairing velvet chokers with everything we can. In interiors, we saw a heavy blue velvet trend with the Hollywood Regency movement a few years ago. This year, expect to see it in quieter doses--one or two throw pillows in an avocado velvet; a small round ottoman in a blush. Velvet catches the light beautifully and adds instant texture to a room. Plus, it's great to photograph, which is always a bonus.
A velvet couch in a muted pink feels at once classic and brand new.
---
Trend #8: Gallery Walls
Gallery walls... Oh, gallery walls. Obviously we're major fans, but we know some people are getting tired of the big, wide gallery-over-couch thing. And that's okay! One thing we know for sure is that gallery walls as a general design concept will live on forever. [See: salon-style art hanging in 18th century homes] We can expect 2017 galleries to feel more collected (mix of small framed pieces of art, mementos, and even some unframed photos) designed to fill specific nooks, shelves, and corners. We'll also see lots and lots of gallery grids... You know 'em. You love 'em. And so do we.
A floor-to-ceiling gallery of personal moments and memories fills a tiny alcove in a small city apartment, creating an extra special area in what could otherwise be a forgotten space.
---
Lots to look forward to, right? Okay, 2017. Show us whatcha got.