10 Truly Unique Gifts for Dad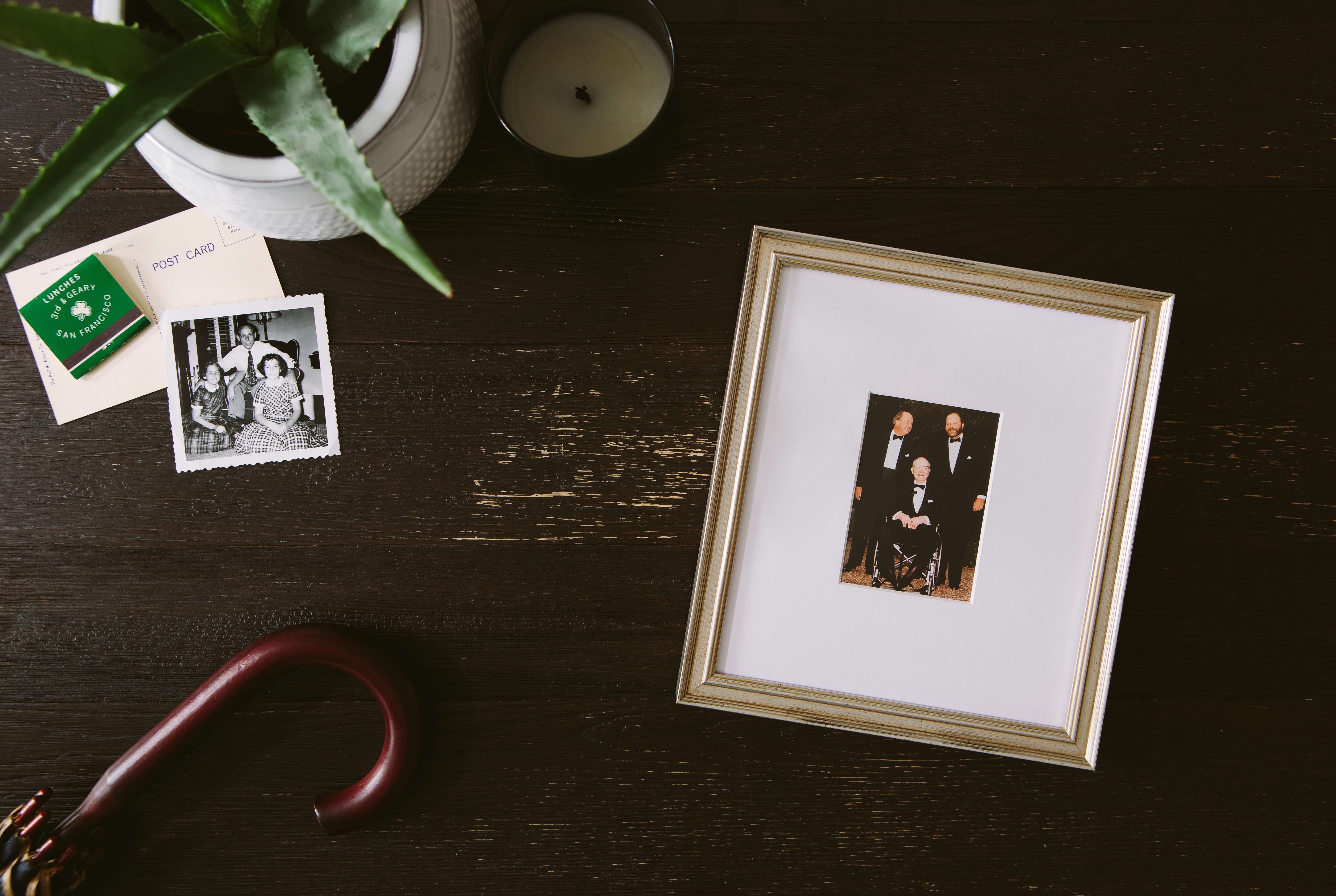 What do you give the man who doesn't like anything?
We get it -- Dads are tough to shop for. You need a gift that is personal, high-quality. Something he'll actually use (and be excited about besides.) No socks, not another tie, not a random gadget for cooking meat out of doors. We'll let you in on a secret: moments matter to dads.
You want to see him complain loudly about "allergies" while wiping tears from his eyes? Remind him of his team, his band, his buddies, his babies. Give him the gift of the Stones concert when he let you sneak half his beer. The gift of the first time he tossed his squealing child into the air. The gift of your shared love of all things Star Wars (watched in the correct order, spoiler-free). Here's how to get Dad a gift he'll really love this year.

Ordering only takes 3 minutes.

1. Select a frame style.
2. Upload a digital file for us to print, or mail us your art.
(We'll send you a free, pre-paid shipper.)
3. We'll custom frame your gift to Dad and ship it to you, or him, for free.
Don't forget the note!

From photos of you together to saved mementos,
here are our ten favorite gifts for Dad.
Still need ideas? We've got you. Here's some of our favorite tried and true gift ideas for Dads (and Grandpas, Uncles, Stepdads, Godfathers, and every other man who has loved, encouraged, and supported you through the years.)

1. Photo of You and Dad Together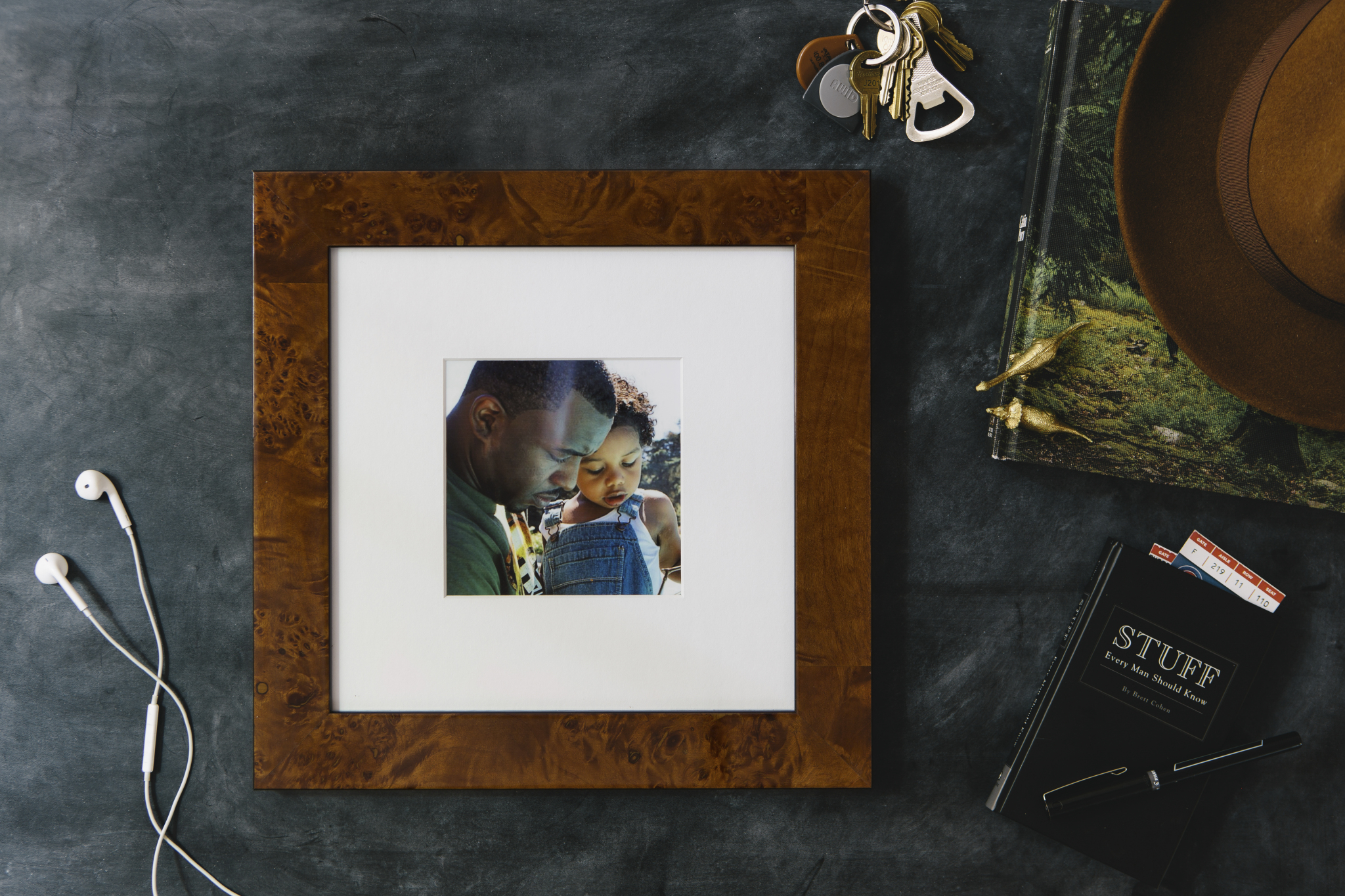 This may seem like the most obvious option for a Father's Day gift, and it's always a winner. It works on a multi-generational level too. You can do a current photo of you with your dad, a throwback photo of when you where a kid, or a photo of your kids with their grandfather. But in general, a "good photo" is well-lit and sharp, but that doesn't mean it needs to be serious! Great options are photos from weddings (especially if it's your wedding), silly or sweet selfies framed in our Instagram Minis, or photos of you both on vacation. Need some tips for editing your photos? Click here. Trying to pick the right photo to frame? Check out this post.

2. Copy of a Vintage Photo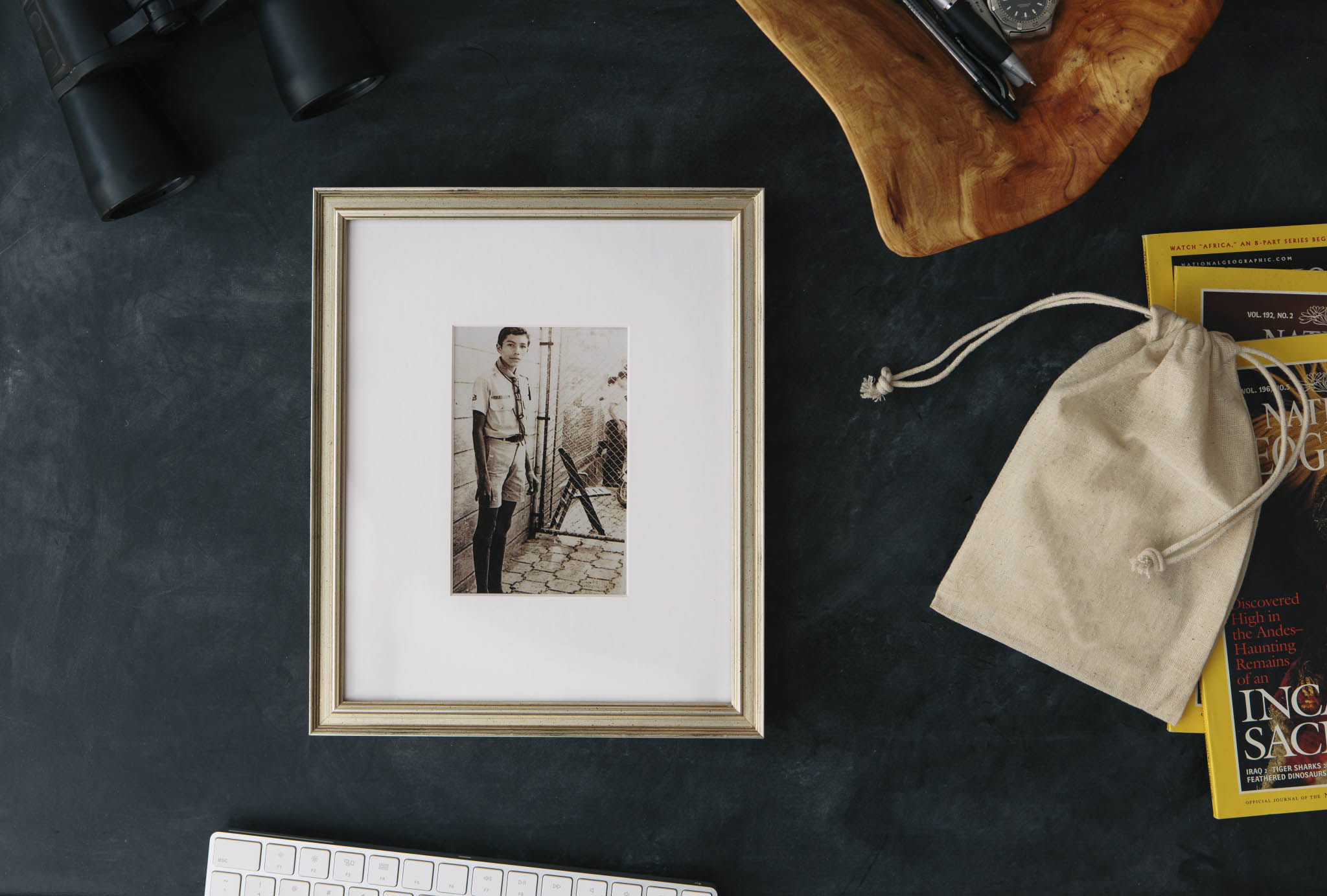 Turn to your dad or grandpa's old photo albums for vintage treasures. There's a few ways to frame old family photos. You can always frame the original - opt for a float mount and a classic frame like Newport, a modern frame like Ventura, or get a little funky with our industrial Bolton frame. But here's the best part: you can easily make copies of old family photos.
Just create a digital version by taking a photo on your phone and uploading the photo to Framebridge. (For an even sharper image, you can scan the photo to obtain a digital copy.) We'll double check the resolution and give you size options for printing. Then we'll print your photo on acid-free paper with archival ink for a fade-free copy of your favorite vintage photos. (Plus, these copies mean you can give the same photo as gifts to different family members!)
3. Kids' Art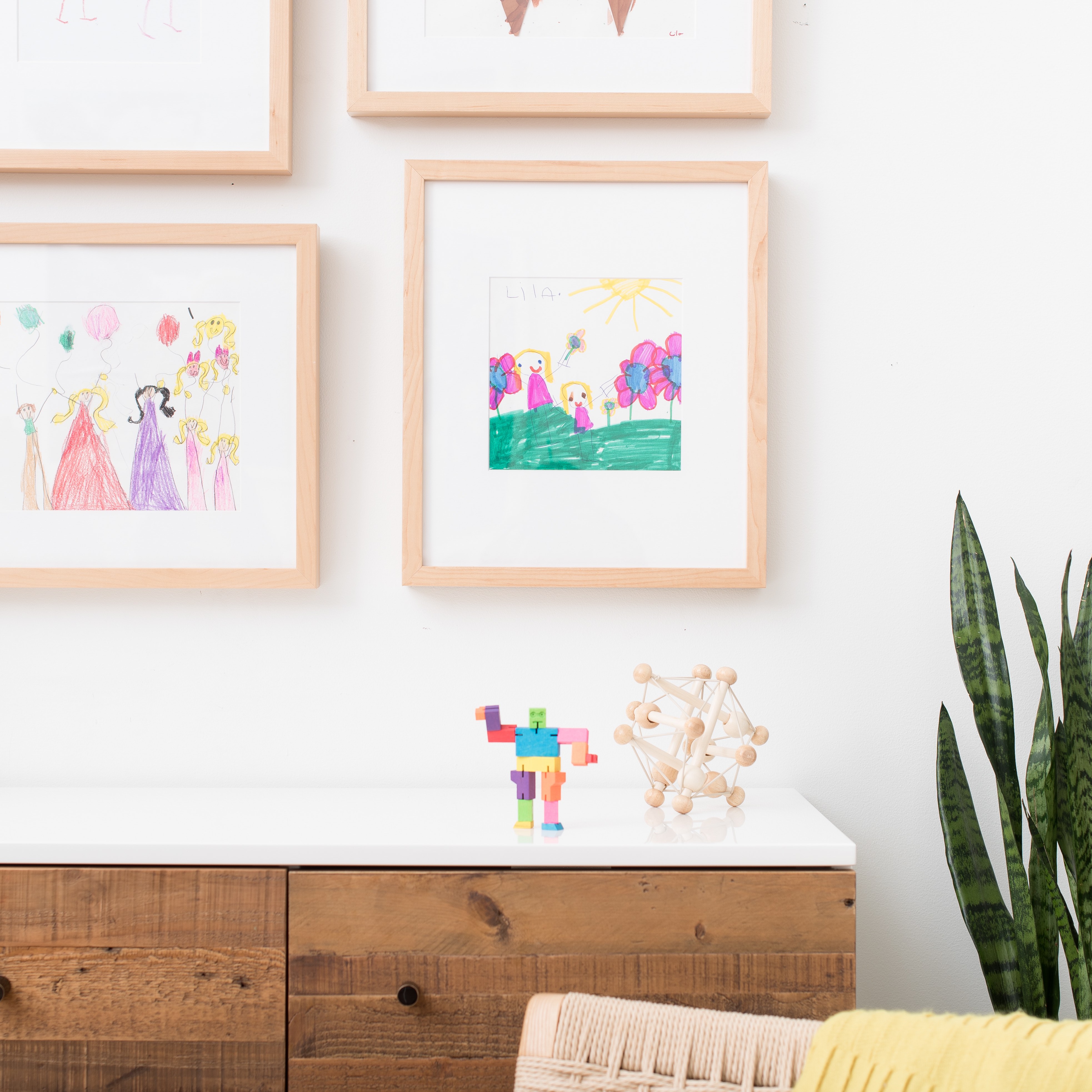 Kids' art is always charming, but it can look totally chic when styled in the right frame. If you have small kids, frame their art as a gift for their grandparents. Another option is to frame one of your throwbacks for a nostalgic gift - think a homemade greeting card you made for your dad when you were eight.
For kids' art, we recommend a clean poster frame like Irvine Slim or Mercer Slim. Our American Hardwoods Collection is also a total winner. (Again, we suggest a float mount for any art with textured edges or even a tentative cursive signature in the corner.)
4. Original Art + Art Prints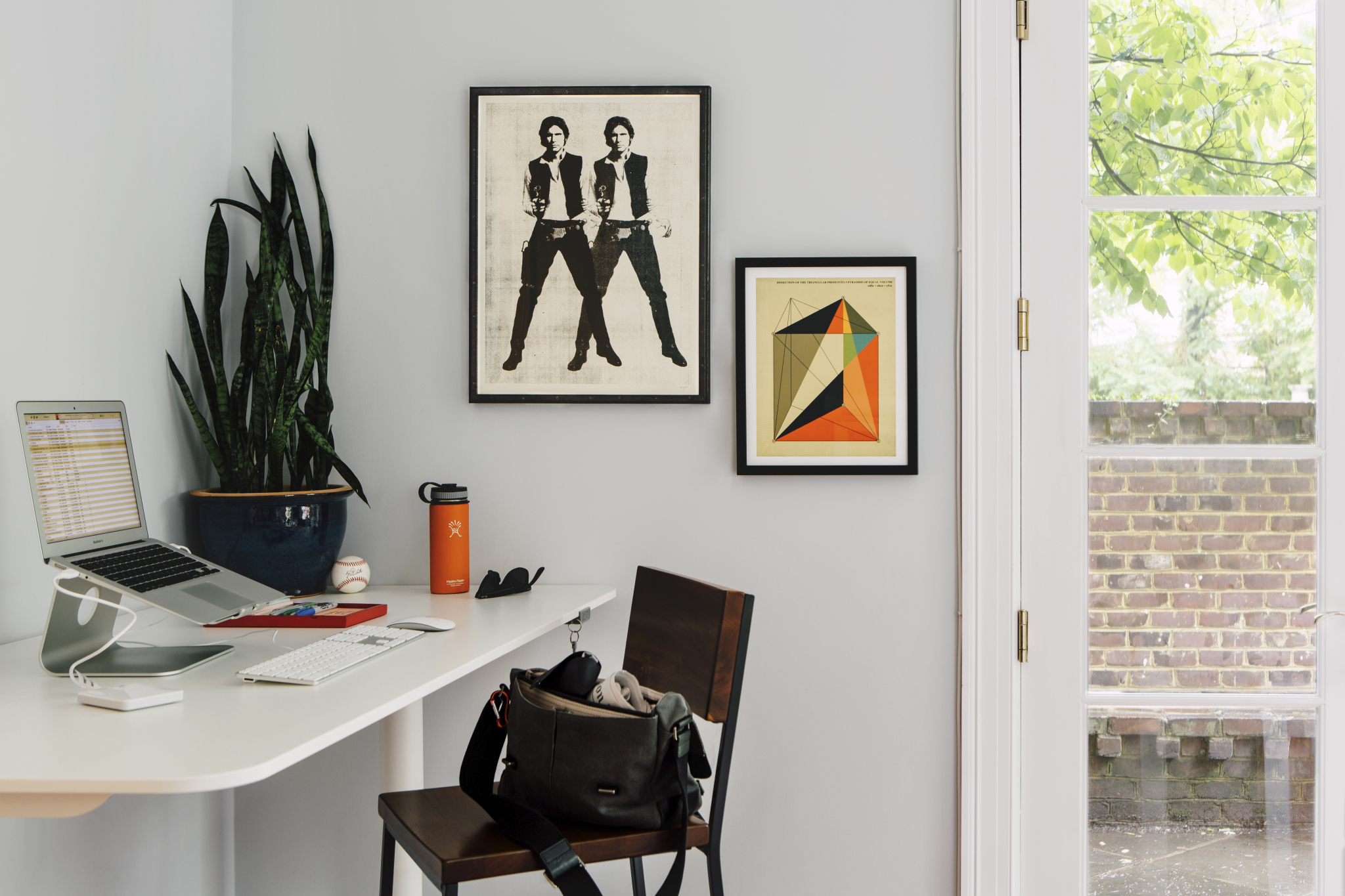 The classiest of classy gifts: original art and art prints. But just because it's a *very fancy* thing to give one's parents doesn't mean it can't be playful. Take the opportunity to nod to your shared passions. Movie art, stylized maps, or even custom pet portraits are all fun ways to give your Dad something that will make him smile every day. Frame it in something sleek and simple to let the art really shine. We suggest anything from our American Hardwoods Collection. Because if anyone is going to appreciate American grown and milled ash wood with miter cut corners, it's Dad.
.

5. Tokens from your travels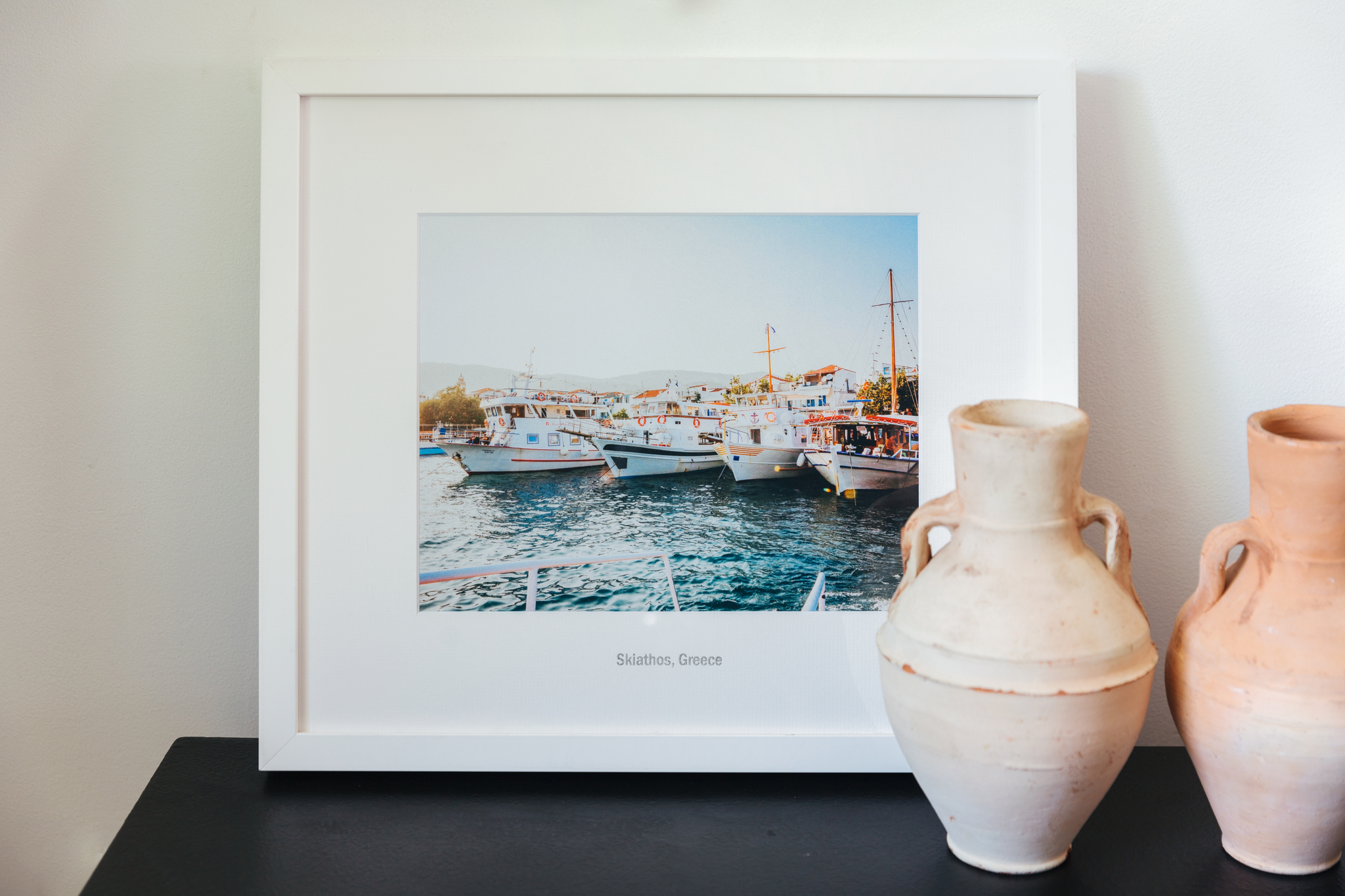 Celebrate adventures you've shared over the years. From climbing mountains to camping in the backyard, photos from vacations you've shared are a fantastic way to keep those memories alive and well. Pick a photo that brings you back to your happy place, print it large, and let it double as art.
Another way to go is framing physical mementos from your travels. Everything from old passports to airline tickets make awesome gifts to commemorate your shared experiences! Not to mention maps, metro cards, postcards and just about anything else that can sit flat in a frame. For these types of mementos, definitely float mount them and be sure to choose a frame with a deep enough profile. If you select "float mount" as your mat option, the frames will automatically resort to ones with enough depth. Still feeling lost? Our expert designers are here to help. Just send us an email at support@framebridge.com.
6. Records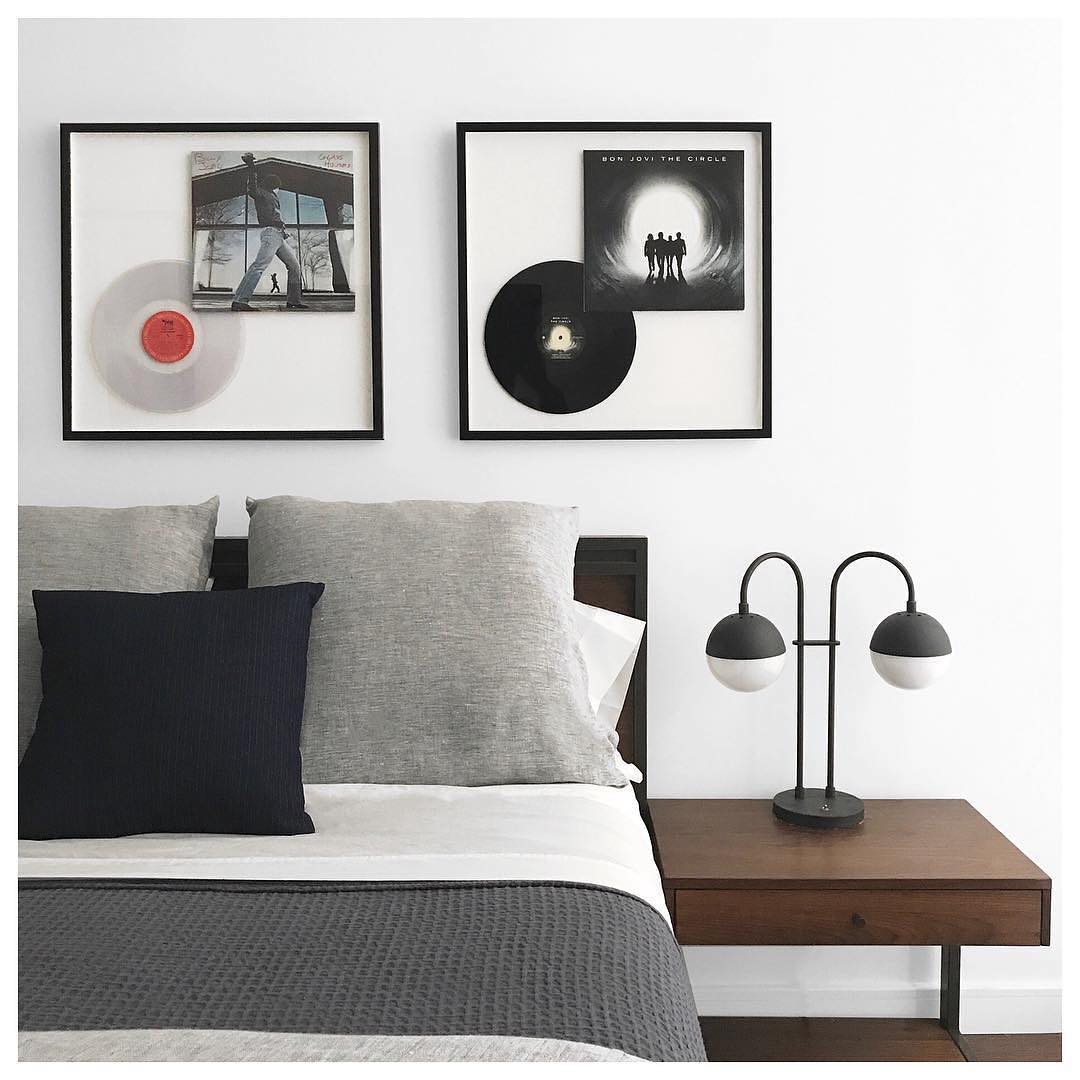 If you're anything like us, your dad had a huge influence on your musical taste. Whether dancing around the kitchen to "I am the Walrus" or shouting Springsteen from the top of your lungs as your fly down the highway, Dad music never goes out of style. Celebrate the greats of his generation by framing some of his old records (provided he doesn't use them anymore, since he's a hip dad who proudly owns an iPod.) Float mount 'em in a clean, sleek frame for a display that will feel right at home in his room / home office / basement corner.
7. Tickets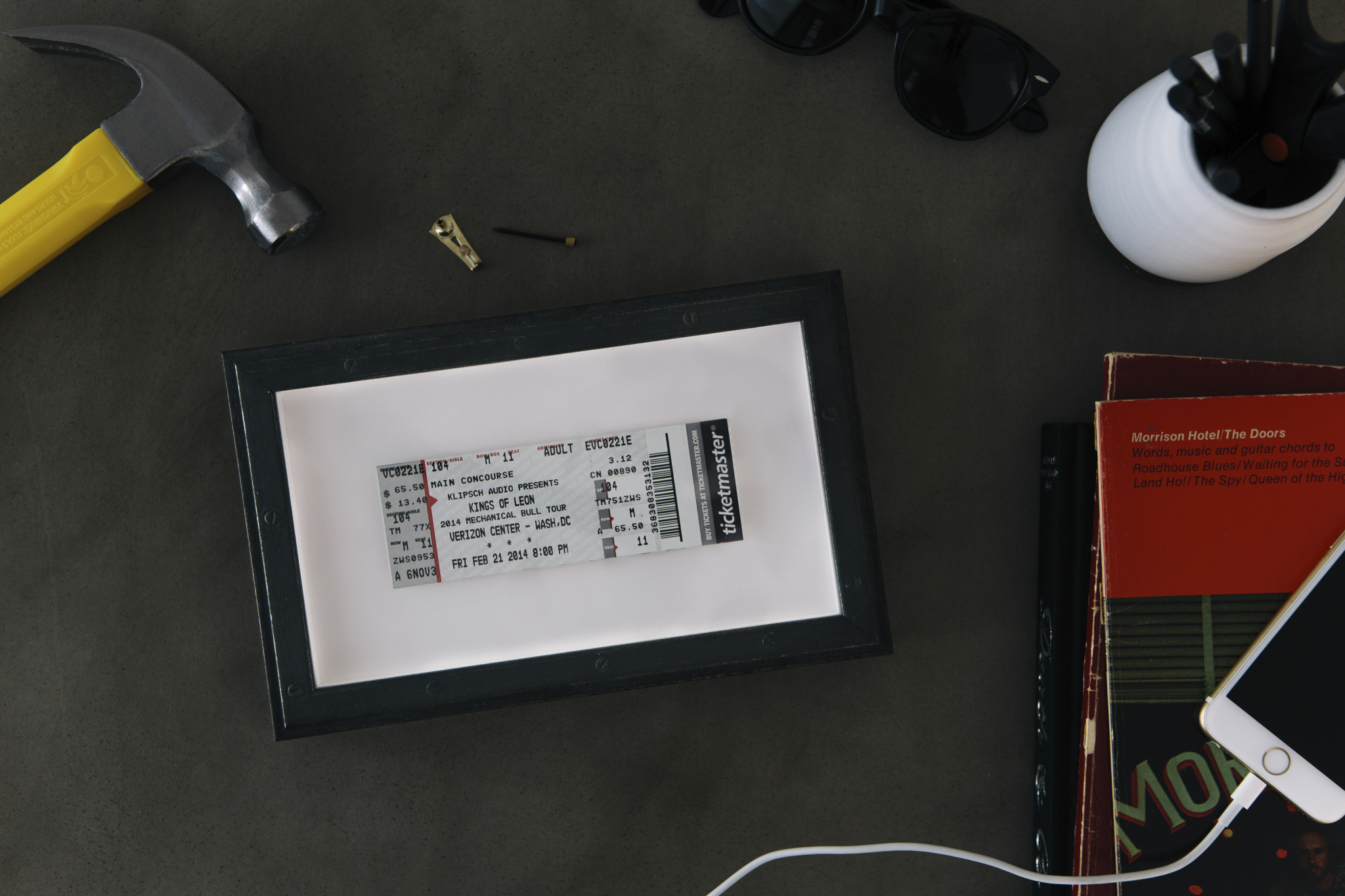 So yeah, your dad loves music. And he probably has taken you to a concert or two. Dig up your old tickets and float mount them for an unexpected and charming gift. Don't limit yourself to concert tickets. Movie tickets, metro passes from a vacation, coat check tickets from a special night, old menus, matchbooks, and literally anything else sentimental and thinner than 3/8" are fair game.
8. Flags and Pennants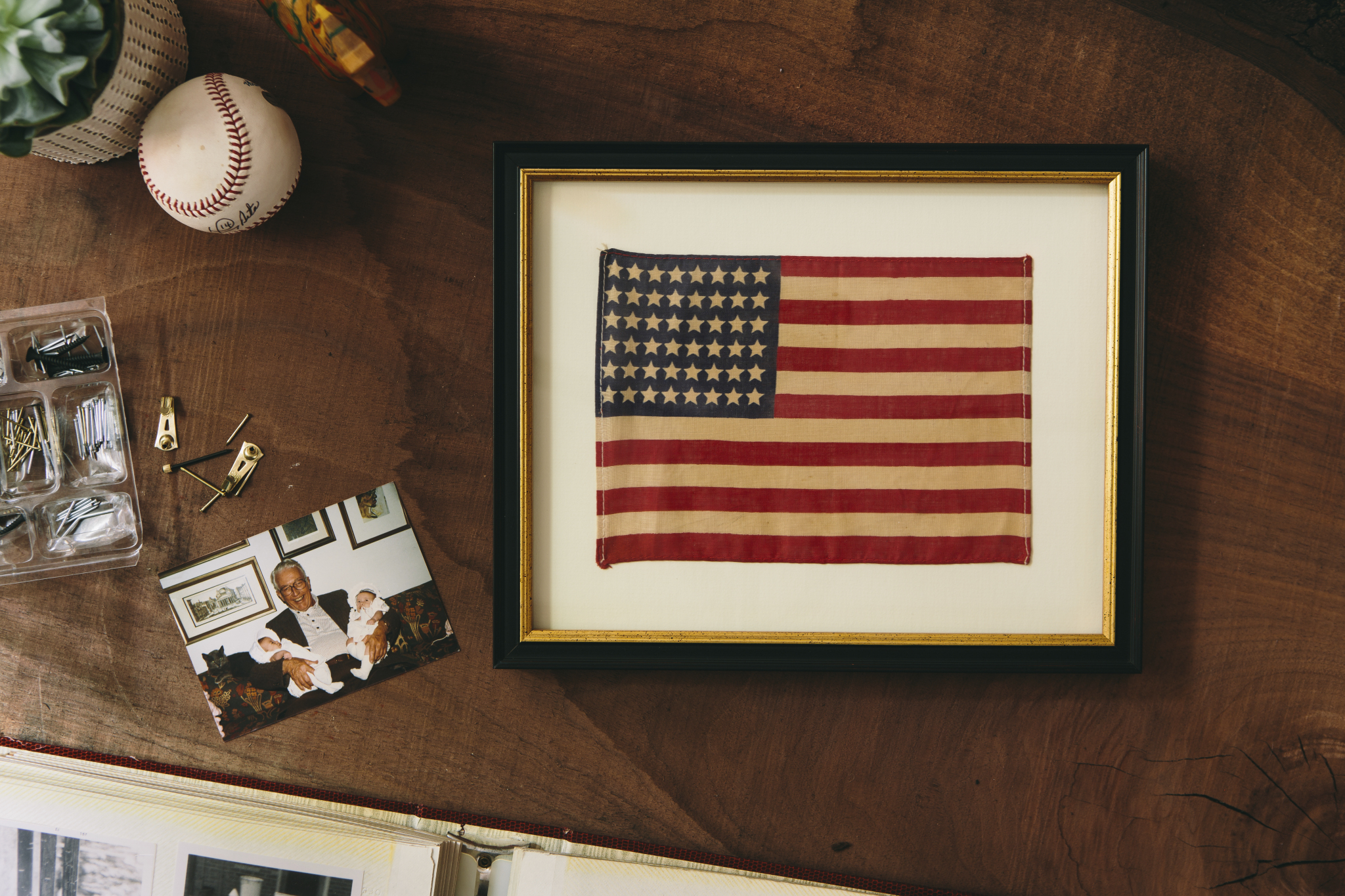 We love the texture of a framed and float mounted flag. Vintage national flag, nautical flags, school pennants, golf flags, and banners all make awesome gifts. They're eye-catching and classy, and hopefully nod to something your Dad is passionate about. Love the idea by don't know where to find a flag? Check out Etsy. You can get school pennants from their online gift shop. Amazon carries lots of nautical and golf flags. Frame them in thin, simple frame style with a classic silhouette to really play into the vintage vibe.
9. Stuff He Loves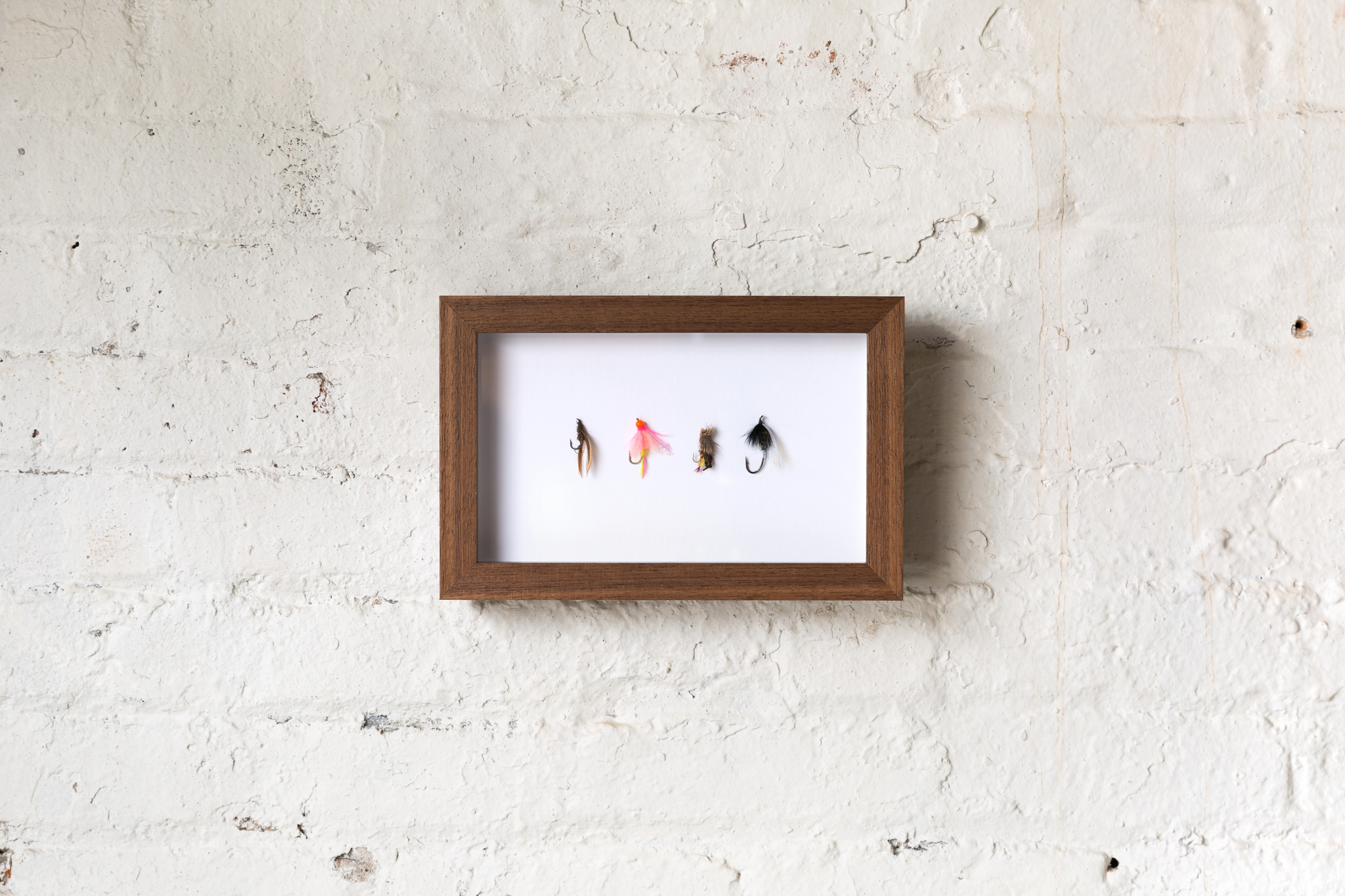 We're betting your Dad has stuff collected in junk drawers, garage cabinets, and bins in the basement. Think about what he really loves? From fishing to woodworking to leading your scout troop once upon a time, dig up his memorabilia and float mount it in a frame for a unique display that looks like art while still celebrating his passions. We'll frame almost anything. Some suggestions for Dad-approved items include playing cards, fishing flies like in the photo above, checkers pieces, scout badges, sports medals, golf tees, small bike parts, arcade tickets, or literally anything else thinner than 3/8" inch.
10. Photos of Him with the Kids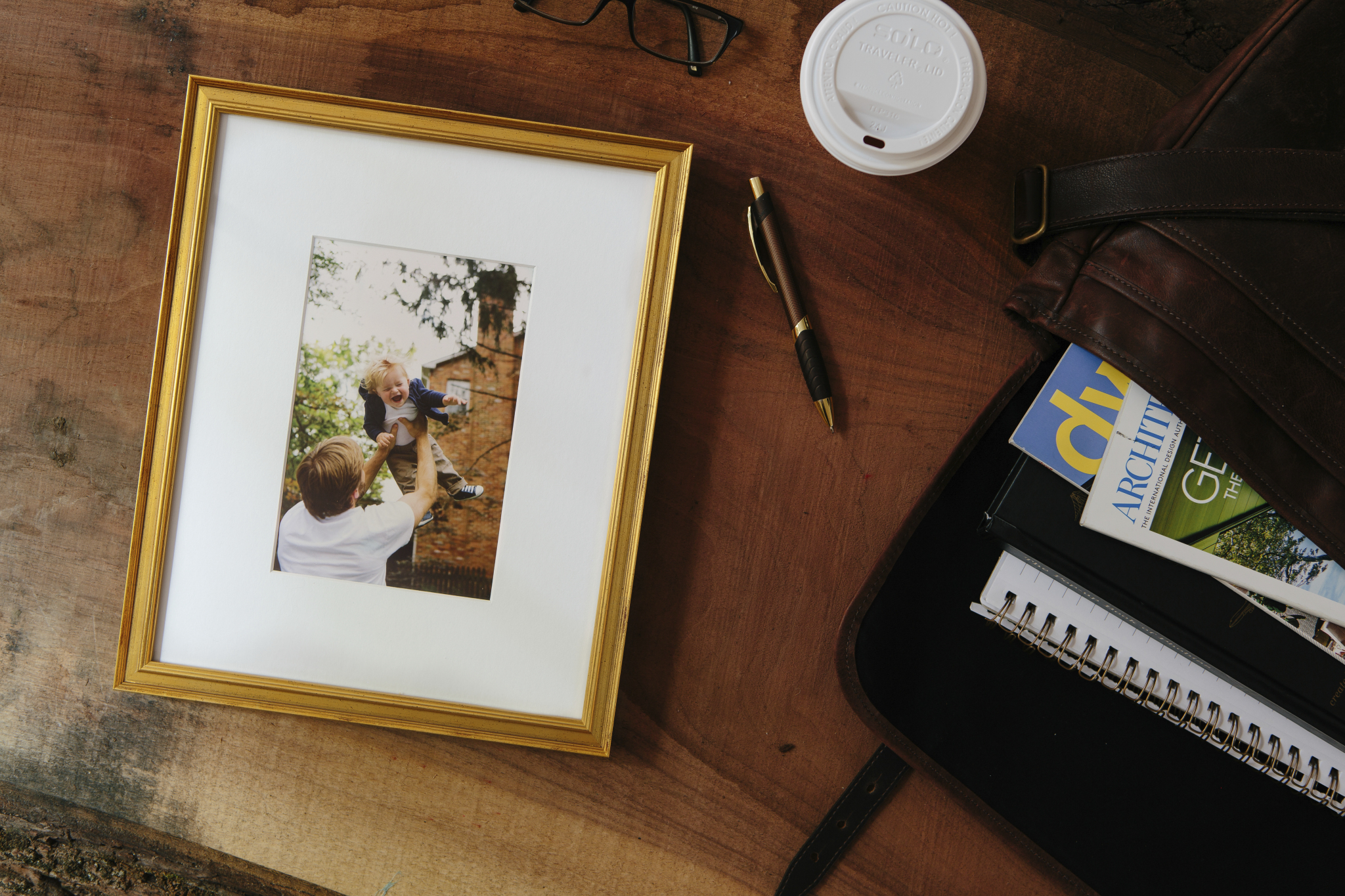 This gift has been proven to bring tears to the eyes of the most stoic grandfathers. When in doubt, give him a beautifully framed photo of a moment shared with the little ones. We especially love candid photos (accidental naps on the couch, playful wrestling, sitting side-by-side at the beach with the exact same posture). We highly encourage iPhone photos. When you upload it to our site, we'll double check the resolution to ensure your print comes out crisp and clear.

P.S. Friendly reminder to order frames for mail-in items by May 23 and digital uploads by June 10 for guaranteed delivery (to your house or his) by Father's Day. And as always, shipping is free.
You Might Also Like...